Five Below (NASDAQ:FIVE) has been one of my favorite picks in the retail space for a long time. The company's tremendous growth trajectory is a huge draw for me and the model is scalable and works just about anywhere. But the FIVE growth story isn't exactly a secret and the stock has been rather expensive for a while at this point, meaning that picking an entry point can be challenging. But after a Q2 report where FIVE's guidance disappointed investors, it seems we may be on the cusp of yet another chance to buy this terrific company.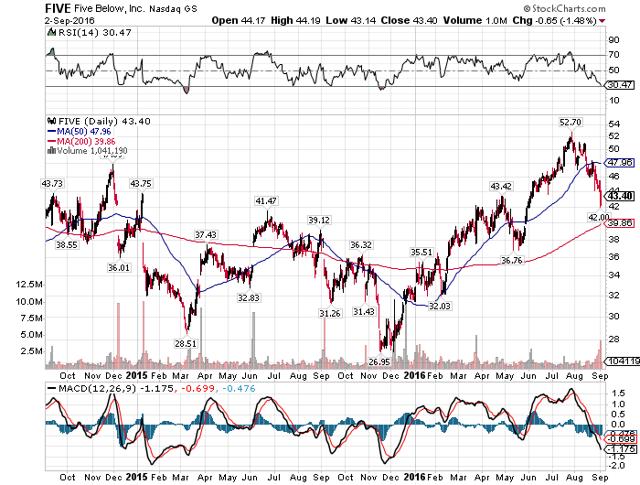 The reason I love FIVE so much is that it has a very rare combination of a growing store base, high comp sales and growing margins. That is very difficult to find and FIVE has done an amazing job on all three fronts, creating an earnings growth machine that is almost impossible to replicate in retail. And in Q2, we saw more of what makes FIVE great, even if the guidance raise wasn't what some had hoped for.
Total sales were up by 21% during the quarter as FIVE continues to add footprint at a rapid rate and combines it with great comp sales. Admittedly, the +3.1% showing in Q2 was a slowdown from Q1, but let's keep things in perspective here. The retail space has been unbelievably challenging of late and I don't begrudge anyone for hitting +3.1%, especially in light of how rough Q2 was for the sector. That being said, if FIVE continues to see comp sales increases decelerate, we'll need to re-evaluate the long-term value of the stock because a huge portion of its value is based upon its ability to grow comp sales. But we are nowhere near close enough to that happening to worry about it now; it is just something to keep an eye on for the time being.
Sales growth is going to be around for a long time for FIVE, but what about margins? That was an equally important piece of the bull case I made in the past and in Q2, FIVE made me proud again. Gross margins were up 50bps to 33.3% as FIVE continues to make progress with its efficiency initiatives. Young, but growing retailers like FIVE can gain tremendous efficiency that shows up in gross margins over time as it leverages supply chain infrastructure to its fullest extent. Things like shipping and warehousing costs can be leveraged over time with higher volumes and FIVE continues to prove it is doing well at just that. I expect we'll see gross margins tick higher for years to come because it is a very long way from being done making the most of its buying and distribution costs. FIVE isn't in a business that will ever see pricing power as a source of gross margin gains, but that's okay; it is all about volume and FIVE has plenty of that.
We even saw the same story with SG&A costs as FIVE added a further 30bps of leverage there. That allowed operating margins to grow by a very impressive 80bps during the quarter to 7.1%. And while that is a decent operating margin number, FIVE has a lot left in the tank, as I've highlighted before. Leverage from all kinds of costs including those in gross margins and back office costs will see this number much higher over time. That is a big reason why I'm so excited about FIVE's growth trajectory because it produces things like the 36% increase in operating income in Q2. As I said, this company's growth is very impressive and it is going to look like this for a while to come.
I didn't find FIVE's guidance to be particularly downbeat but if you were expecting the moon, it certainly didn't deliver that. However, after the selloff back into the low $40s, FIVE is going for 33 times this year's earnings and 27 times next year's estimates. Those are certainly not value multiples, but why would they be? FIVE is one of the premier growth stores in the entire market right now and investors will have to pay for the right to own it. And given that it is going to grow earnings in the mid-20% range for the foreseeable future, the multiple seems downright reasonable to me here.
In addition to continued fundamental momentum, FIVE now has a fairly bullish looking setup on the chart. The selloff has worked off an overbought condition that saw the stock hit $52, and that is good news for the bulls that are looking to put new money to work. The momentum indicators are nearing the levels that have signaled medium-term turning points in the past and along with that, the rapidly-rising 200-DMA is only a few dollars below the stock. That should provide us with some support if the stock bounces around or comes off another buck or two and with the momentum indicators looking tired to the downside, now seems a good time to look at FIVE if you're looking to initiate a long position.
I still very much like FIVE's long-term growth trajectory and I think it is going to grow at terrific rates for a long time to come. But not all believe and those that don't whacked the stock after the Q2 report. Keep in mind that this is a highly priced growth stock and things like this can happen; but overall, FIVE is a special business worth owning. And with the chart looking like a bottom is near, I'm putting new money to work here.
Disclosure: I am/we are long FIVE.
I wrote this article myself, and it expresses my own opinions. I am not receiving compensation for it (other than from Seeking Alpha). I have no business relationship with any company whose stock is mentioned in this article.