Many of my favorite investing ideas usually come from stocks at the center of "Cheap Stock versus Value Trap" disputes. It is often very difficult to figure out whether a stock that looks cheap is actually a bargain or it's trading at low multiples for a good reason. But I always try to analyze these stocks that many investors are avoiding or even shorting because something makes them believe the company is experiencing some sort of decline or will face significant threats. Sometimes they get it right and the fundamentals of the company deteriorate, with the stock price spiraling down. Other times their thesis is wrong, or the company puts in place some actions that change the picture.
I would like to share some thoughts about a few cheap stocks (or value traps) that I came across and that sparked my interest. They are all well-known stocks with a good market capitalization trading in the US that look cheap according to valuation multiples such as P/E and P/FCF.
Michael Kors Holdings (NYSE:KORS)
TTM P/E = 11.75
TTM P/FCF = 9.48
Disclosure: Long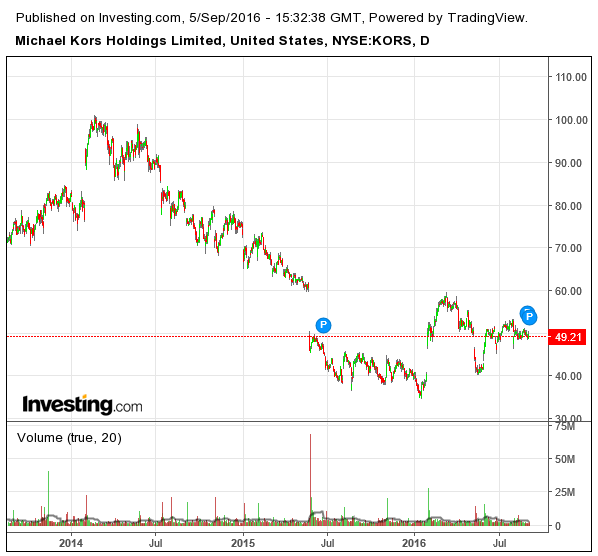 This stock is a former growth investors' darling that has experienced a slowdown due to several factors, such as a strong dollar, weak spending from tourists, a slight shift in consumer spending from fashion to other categories. The stock peaked in early 2014 and fell together with the general fashion and retail industries to a bottom of $35 in January 2016. It's currently trading around $50.
The Value Trap thesis is based on the belief that Michael Kors is a fad that will experience shrinking sales. The reason is that the brand is expected to lose its premium status and attractiveness as a consequence of an excessive commercialization and discounting from department stores.
The company has a strong balance sheet, a good history of profitability and generation of free cash flow. The stock price discounts a future with basically no growth/slight decline, and the only region to show a slowdown/decline in sales is North America, while the company keeps showing modest growth rates in Europe and has recently taken the first steps in the Chinese market.
As I wrote in a recent article, while the market seems to be discounting a very negative scenario made of stagnating sales and profitability, the company has several cards to play for unlocking growth, such as expansion in China, where it has only recently started to develop its own retail network, and growth in other product categories that are still underpenetrated but that can benefit from Michael Kors' brand strength.
You can read more about my long thesis on Michael Kors in this article: "Michael Kors: Asymmetric Risk/Reward with A 40%+ Potential Upside."
Fossil Inc. (NASDAQ:FOSL)
TTM P/E = 9.77
TTM P/FCF = 7.46
Disclosure: No position to disclose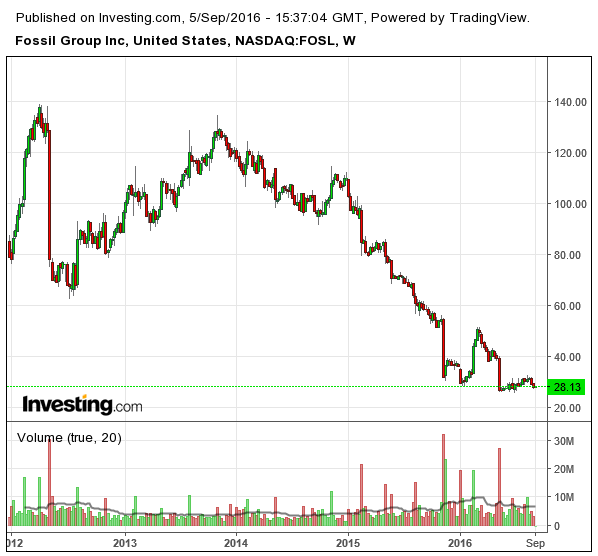 Fossil Group is the fourth-largest producer of watches and the world largest licenser of watches and jewelry. The stock is trading almost 80% lower than the peak reached in April 2012.
The company's sales declined 8% from 2014 to 2015, and recent results confirm significant weakness. In Q2 2016, sales declined by 7%, or 6% in constant currency. Watches reported a 10% decline QoQ, and it has little importance that both the jewelry and leather segments reported low growth, since the watch segment still accounts for 75% of total sales.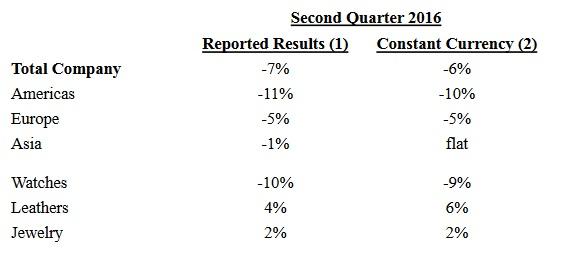 The very weak performance was due to several factors, such as wholesale channel weakness due to weak foot traffic, declining tourism and tourist spending, inventory destocking and the shift in consumer spending towards smartwatches.
Even if I am sure a general weak environment in the retail and fashion industry has its share of responsibility for the recent bad results of Fossil, the threat coming from smartwatches is too high to ignore. The company announced the launch of several lines of wearables this year, but the move is late and I believe only in part useful. Competition against giants such as Apple (NASDAQ:AAPL) and Samsung (OTC:SSNLF) is tough, especially if you come late to the game. Even if tourist spending improves, I have doubts about the possibility of the company to really benefit from that. While increasing tourist spending can benefit luxury watches as it did in the UK following sterling's depreciation, most of the watches produced by Fossil are not luxury watches, but belong to more affordable segments that are more exposed to competition from wearables and smartwatches.
I was bullish on Fossil a few months ago, after the announcement of the launches of wearables, but after digging further, I realized the company might be a poor pick at the moment. Although it looks cheap and it's still profitable, there are simply too many negative factors still in place, with competition from smartwatches being the most important one, since it could represent a long-term threat.
GameStop Corp. (NYSE:GME)
TTM P/E = 7.6
TTM P/FCF = 12.84
Disclosure: No position to disclose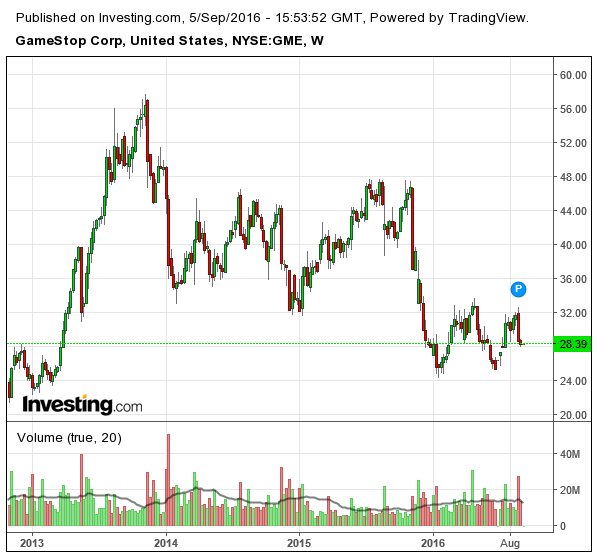 This is a stock that has been at the center of Cheap versus Value Trap disputes for years. Despite skepticism on the company's future and the belief that a digital revolution would soon make its business model obsolete, GameStop is still here. By the way, recent results didn't seem so exciting. During Q2 2016, the company experienced declining sales in all its three main product categories: new video game hardware, new video game software, pre-owned and value video game products. In Q1 2015, these three categories together accounted for 76.7% of total sales. As of July 30th, 2016, they accounted for 70% of total sales.
The debate between bull and bears is interesting. GameStop supporters believe the decline in the brick-and-mortar video game business won't be as fast as many expect, and/or that other segments such as tech brands, digital publishing and collectibles will offset the decline. The fact that the company is free cash flow-positive and has a 5% dividend yield helps the bull thesis.
Bears believe that the decline in the brick-and-mortar business is set at a high pace, and that the company's business will keep shrinking, since the tech brands and the other division won't be able to offset the loss.
The market knows that the physical video games and consoles market is shrinking, and that will probably become a niche in the future, or probably disappear. The discussion is about the pace of this decline and the possibility of offsetting such decline through other segments (tech brands in particular).
As far as I am concerned, I would like to wait for a catalyst that could improve the situation in the brick-and-mortar video games segment before I would consider buying. The launch of a new generation of consoles could help.
Gilead Sciences (NASDAQ:GILD)
TTM P/E = 6.78
TTM P/FCF = 6.5
Disclosure = Long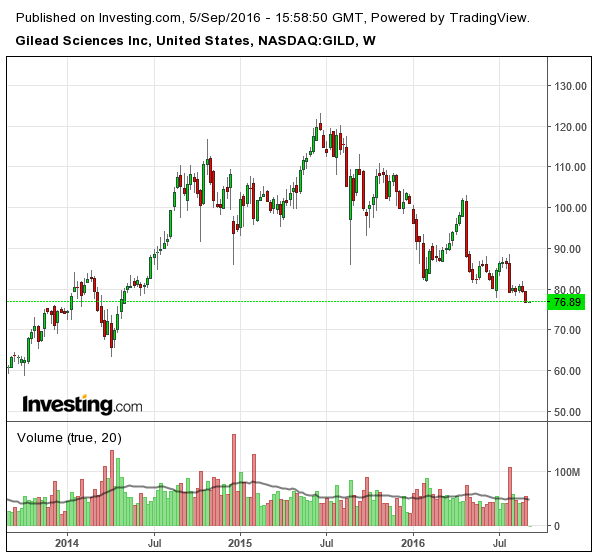 The mother of all Cheap versus Value Trap debates! Gilead's revenue and profits have skyrocketed during the last few years as a consequence of the successful launch of two medicines for hepatitis C: Harvoni and Sovaldi.
The reason why the company is at the center of the debate is related to the expected decline of the HCV franchise (which accounts for more than 55% of total revenue) as an effect of increasing competition from substitute drugs from AbbVie (NYSE:ABBV) and Merck (NYSE:MRK) and fears of price regulation.
Q2 results were actually quite negative for the HCV franchise, since sales for the segment were just $4.0 billion compared to $4.9 billion for the same period in 2015, primarily due to a decline in sales of Harvoni.
At the same time, HIV and other antiviral product sales were $3.1 billion compared to $2.7 billion for Q2 2015 as a result of increasing sales of tenofovir alafenamide (TAF)-based products such as Genvoya, Descovy and Odefsey.
While the market is pricing a perpetual decline in Gilead's total sales and profitability, the non-HCV antivirals franchise keeps growing at a good pace (18.5%+ during Q1 and 15%+ during Q2). The non-antiviral franchise, although still small, is also in constant rise and now accounts for about 7% of total sales.
I believe the long opportunity is compelling. The market is pricing a constant fall in the company's sales due to a high level of uncertainty in the HCV market. By the way, the non-HCV business keeps rising and now accounts for 44% of total sales. At the same time, Gilead's launch of Epclusa should help offsetting the decline. Epclusa is the first drug approved for treatment of all six major forms of HCV, and with the exception of patients with moderate to severe cirrhosis, it doesn't require nasty ribavirin. Moreover it doesn't require genetic testing of the patient's virus. This could help the company's sales in several emerging markets, where genetic testing is not a common practice due to the high costs.
There are several catalysts that could unlock Gilead's results and share price, such as increasing penetration of HCV products in Europe or positive performance of Epclusa. Above all, we must consider that the company sits on $24.6 billion in cash, cash equivalents and marketable securities, and has generated $4.9 billion in operating cash flow in Q2 alone, which should translate to $4.5+ billion of free cash flow. At the current price, cash and cash equivalents on the balance sheet correspond to more than 25% the current market capitalization, giving the company huge firepower for acquisitions and buybacks.
Bed Bath & Beyond (NASDAQ:BBBY)
TTM P/E = 9.3
TTM P/FCF = 10.2
Disclosure = Long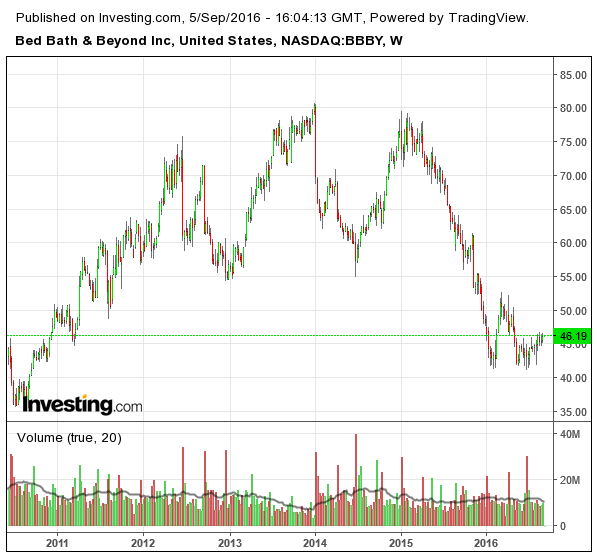 This is a retail stock that has reported tremendous growth in the last decade, but that has recently experienced declining net income and stagnating sales. Several factors affected the company's results, such as a general weakness in the sector resulting from declining tourism and tourists spending, weak foot traffic and increasing competition from online players such as Amazon (NASDAQ:AMZN).
While some of these factors, such as declining tourism and part of the weak foot traffic, are probably short-term in nature, it's no secret that competition from online players must be faced, as increasing penetration of online retail at the expense of brick-and-mortar retail is a clear trend. Therefore, it's necessary for the company to demonstrate constant effort (and success) in the online channel. In Q2, comparable sales decreased by 0.5%, with comparable sales through online websites and mobile applications reporting a 20%+ QoQ increase, while those for the in-store segment declined by low single digits. According to my calculations, the amount of total sales coming from the online segment is still slightly less than 10%, but growing at a good pace.
As I showed in a recent article, the market is pricing a significant decline in the company's results, despite an increasing share of revenue coming from the online segment and flat/rising retail sales in the country.
I believe the stock is a good buy at current levels, as the market is discounting very negative results in the brick-and-mortar business, while there are many catalysts that could unlock the share performance, such as growing online sales, recovery in tourism and spending from tourists, and above all, the stock buybacks that the company can still put in place in an amount that corresponds to about 30% of the current market cap.
For more information about my bullish thesis on BBBY you can read my article: "Bed Bath and Beyond: Very Negative Expectations Price In, Probable Asymmetric Risk/Reward."
Where is the Value Trap?
These are 5 cases that I consider interesting for investors who are looking for cheap stocks. And some of them might actually be value traps. I shared my thoughts and disclosed my positions. I would like to read your comments on these stocks.
Disclosure: I am/we are long BBBY, GILD, KORS.
I wrote this article myself, and it expresses my own opinions. I am not receiving compensation for it (other than from Seeking Alpha). I have no business relationship with any company whose stock is mentioned in this article.