When investors think about emerging markets, Ukraine is not the first one that comes to mind. It is commonly known in political news and less so in the investment arena.
The Ukraine is the second largest country in Europe and has celebrated its 25th independence anniversary this year. Throughout its history, Ukraine has fought and continues to fight for its independence. In addition to a painful transformation from communism into the capitalism in the post-USSR era, the Russian invasion of Crimea and subsequently into Eastern Ukraine brought more political and economic instability. The latter caused the national currency to weaken and yield on the U.S. dollar debt to increase.
How risky is an investment in Ukrainian Sovereign debt?
The Ukraine is a risky place to invest, however, with a high-risk investment can be rewarded with high returns. Most global investors are attracted by the high yields as compared to the near zero interest rates of the most developed countries. The biggest debt holders are the investment managing firms, not a sovereign borrower: Franklin Templeton (NYSE:BEN) and Fidelity Investments (not publicly traded).
The list of the largest debt-holders: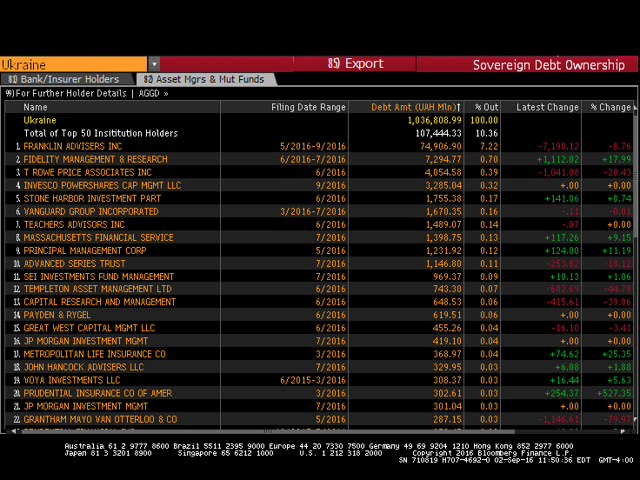 Source: Bloomberg Terminal
Ukrainian debt is traded around par, meaning that the market doesn't consider the investment to be too risky.
Sovereign issues are rated CCC (Fitch)/Caa3 (Moody's)/B-(S&P); the lowest credit rating is granted by Moody's with a stable outlook. Credit rating is approximate of the risk: Caa3 for an oil company in a current low price environment will likely lead to the default. It's only a matter of time: Energy XXI Gulf Coast Inc (EXXI), Goodrich Petroleum Corporation (NYSEMKT:GDP), who defaulted in a couple of months after Moody's downgraded issues to Caa3.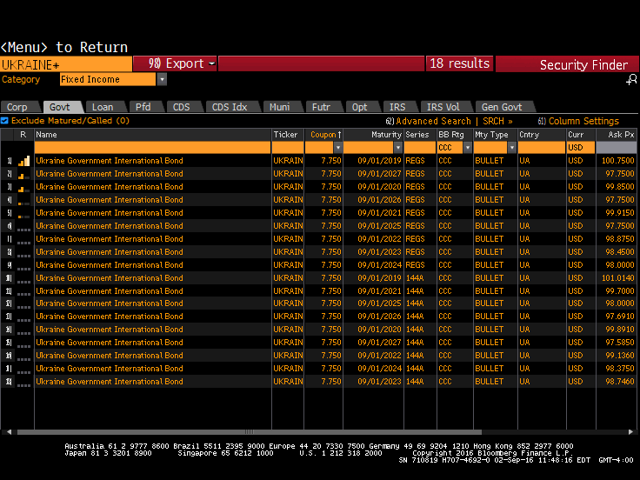 Source: Bloomberg Terminal
Also, fixed income markets are slower to react than the equity markets (that usually overreact on any positive/negative news). Credit rating is a pure reflection of activity after any significant event had happened.
Indeed, Ukrainian Moody's upgraded credit rating on 11/19/2015 from Ca to Caa3, proving that even though that there is a high probability of default, any potential investor must keep in mind, Ukraine has a potentially strong back up from the IMF and U.S. Government.
The rationale for the upgrade rating agency explained in their letter posted on their web-site.
What is the return on Ukrainian sovereign debt?
A year ago Ukrainian Eurobonds returned 25% after an $18 billion debt-restructuring deal due to the upcoming $40 billion IMF financial aid package. Market participants were surprised with a sharp increase in the price of 15 cents to 70 cents on the dollar for the $2.6 billion notes on July 2017 notes.
Ukraine outperformed other Eastern European emerging market countries; Moreover, China performed worse due to the unexpected devaluation of the yuan, based on the information from Bloomberg News.
What are the current concerns any potential investor should have?
There are multiple concerns regarding long-term investments in Ukraine:
Uncertainty due to the increasing political tensions between Ukraine and Russia due to the Crimea recent conflict.
Investors look closely for any news associated with a possible escalation of the conflict and react respectively. Ukrainian bonds started a rally after President of Russia Vladimir Putin accused "Ukrainian agents" to be engaged in the terror in the Crimea earlier this August that may be used by Russia to justify the further escalation of the conflict. The yield on the government bonds decreased to 7.60% after the sharp increase on the 08/10/2016 due to the President Petro Poroshenko announcement regarding possible Russia military intervention.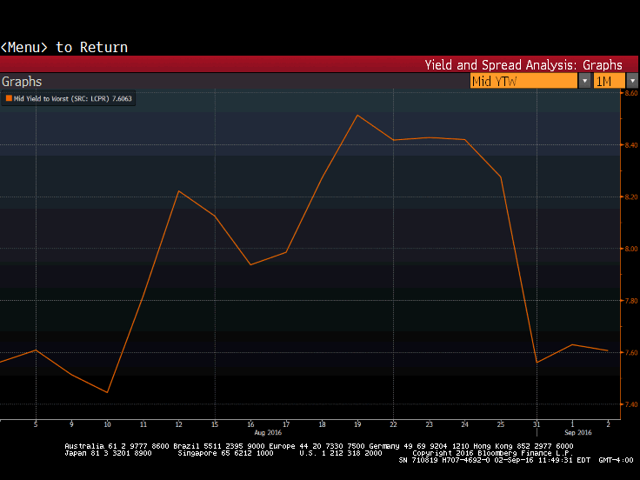 Source: Bloomberg Terminal
German counselor Angela Merkel and French President Francois Hollande are "extremely concerned" with the situation and expected to discuss the situation in Ukraine on September 4-5 at the G-20 summit, based on the recent news in Reuters. Results of the meeting can lead to a possible volatility in the markets.
As of 01/09/2016 the U.S. imposed new sanctions against Russia for the support of the rebels that should calm markets for a short period.
IMF delays bailout tranche for Ukraine
Ukraine is currently waiting for the next $1.7 billion tranche; Since October 2015 Ukraine hadn't received any new IMF disbursements from the bailout package approved in April last year.
Ukraine is very close to getting a $1.7 billion according to the Finance Minister Oleksandr Danylyuk and Ukraine will stick to the IMF program to keep investors' confidence. Danylyuk informed Reuters that $1bn would be used to issue Eurobonds guaranteed by the U.S. Most of the investors are assured with a significant holding by Franklin Templeton (7.04% of aggregate Ukrainian debt), who is the largest debt-holder.
Investors should keep in mind that after a change of the power in Ukraine, when a former President Viktor Yanukovich left the country, a new team came to the power with the focus on changes. However, reforms are moving not in line with IMF requirements that is the primary cause of delay in tranches.
Economic forecast
In 2015 Ukrainian economy contracted 9.9% following 6.6% contraction in 2014; inflation was 48.5% in 2015. The national currency depreciated against the U.S. dollar by a total of 67% putting the pressure on real, financial and public sector balance sheets. Real GDP growth is expected to be 1% in 2015 and 3% in 2018.
Current account deficit decreased from 9.2% in 2013 to -0.3% in 2015 and expected to increase to -2.3% in 2017.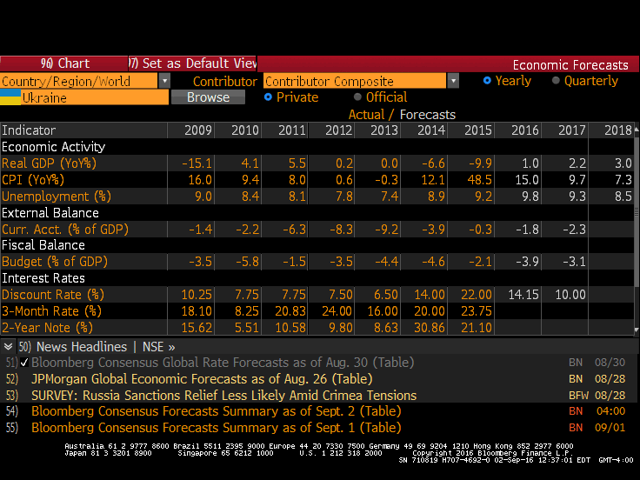 Source: Bloomberg Terminal
Despite all the concerns, Ukraine is prepared to pay a coupon on its restructured debt of $500 million. The interest rate is 7.75% per annum. Interest income is accrued and paid twice a year - March 1 and September 1 with the next payment occurring March 1, 2016.
Finally, financial support from IMF, back up from the U.S. and successful restructure the program in 2015 mitigate default and repayment risk, makes an investment in Ukrainian Eurobonds a reasonable investment for any risk taker.
Disclosure: I/we have no positions in any stocks mentioned, and no plans to initiate any positions within the next 72 hours.
I wrote this article myself, and it expresses my own opinions. I am not receiving compensation for it (other than from Seeking Alpha). I have no business relationship with any company whose stock is mentioned in this article.