Jim Corbett with the "Bachelor of Powalgarh" Man-Eater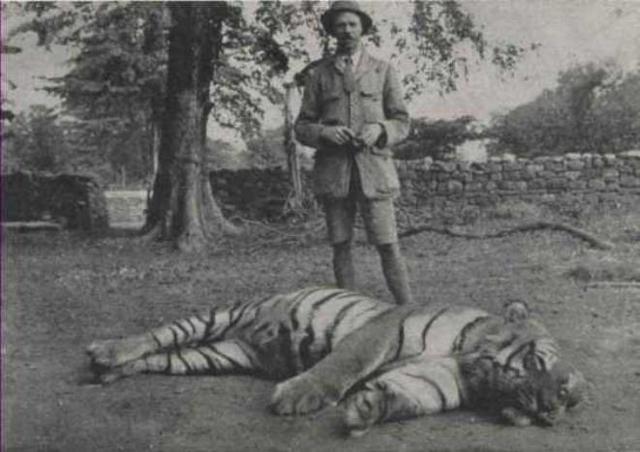 Source: en.wikipedia.org
World-famous outdoorsman and hunter Jim Corbett accepted the responsibility for hunting down a series of man-eating tigers and leopards in northern India between 1907 and 1938. In all, he killed 19 tigers and 14 leopards; these big cats had killed over 1,200 men, women, and children who were subsistence farmers in the Kumaon foothills of the Himalayas (Jim Corbett, 1946, The Man-Eaters of Kumaon, Oxford University Press, New York, 235p). Corbett was a conservationist as well, founding two wildlife conservation groups, and promoting a new national park in India that was renamed after him upon his death in 1957. Long before he ended the careers of all these man-eaters, he had learned enough about the jungle and the habits of his adversaries to at least have a fighting chance when he took them on. Corbett preferred to hunt them alone and on foot, an "extreme sport" one might say, that only a few people in the world could have survived. Some of his hunts only lasted for a few days, but many lasted for weeks or even months on end; these were periods spent at a very high level of stress. Sometimes a break was required even though it probably cost more lives; however, this was occasionally made necessary by the extreme conditions of the hunt, including physical exhaustion and lack of sleep.
Bengal Tiger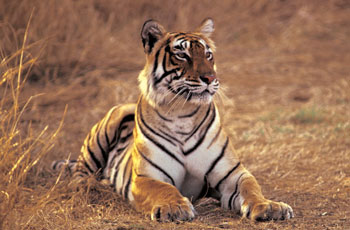 Source: hitours.in
In his book, Corbett noted some alarming differences in the behavior of big cats that have turned man-eater. They are universally seriously injured in some way, making them unable to hunt their regular prey, and thus prone to go after something easy like goats, cattle or humans. All humans killed in daylight in India were probably killed by tigers; all killed at night were probably killed by leopards. Those big cats that owed their injuries to having been wounded by careless big game hunters were not just man-eaters: they appeared to have sought out confrontations with any hunters sent after them. The risk for Corbett was absolutely appalling every time he went out, because unlike regular tigers and leopards, man-eaters, regardless of the cause of their debilitating injury (e.g., porcupine quills, broken teeth, etc.), are not at all afraid of man and merely stalk him instead of running away at his approach. He was closely tracked by man-eaters a number of times, and several of his final encounters took place at a distance of 15 feet or less under fantastically bad circumstances. A mistake would have been fatal, but in all of those years of hunting man-eaters, he didn't make any worth mentioning.
Indian Leopard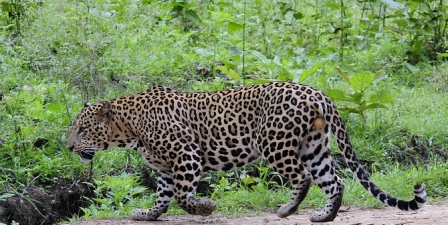 Source: indianlink.com.au
If I can be permitted to use the man-eaters of India as a metaphor, I believe that investors are facing a market with similar man-eating tendencies right now. No mistakes will be ignored by this market, and many portfolios will eventually be attacked (and even "eaten") by it before we're done. And I believe that the danger is elevated far beyond the normal risk in the markets, much as a man-eater is far more dangerous than a healthy tiger or leopard. Specifically, the growing divergence between earnings and market prices for various market segments is dangerous and suggests that those seeking growth at any price will end up paying that price. Growth is almost as sought-after as yield recently, especially by the more adventurous bulls, but its foundation appears to be crumbling now, based on weak earnings. Valuations are extremely high as a result, and they are clearly unsustainable (Charts 1 and 2).
Chart 1: Valuation on Median EV/EBITDA is Extreme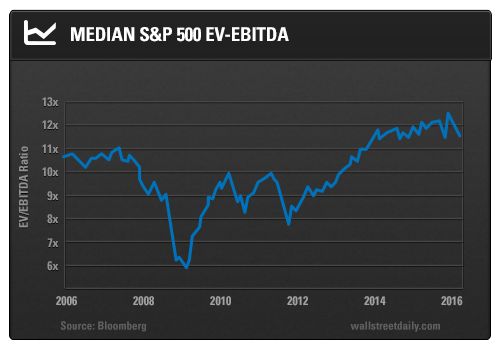 Source: wallstreetdaily.com
Chart 2: Reported P/E Ratio (Blue) is Extreme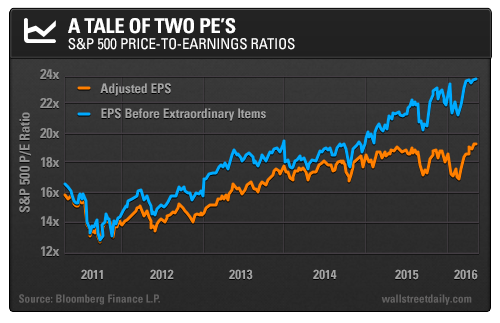 Source: wallstreetdaily.com
Of special concern is the fact that earnings and prices have recently been sharply diverging in yet another clearly unsustainable pattern (Chart 3). Not only is there a divergence between earnings and prices, but in addition, there is an increasing gap between Wall Street's operating earnings reported quarterly and the GAAP earnings that represent standard accounting measures (Chart 4). This calls into question both the level of real earnings and the valuations investors rely on for their analyses.
Chart 3: Strong Divergence Between Earnings and Prices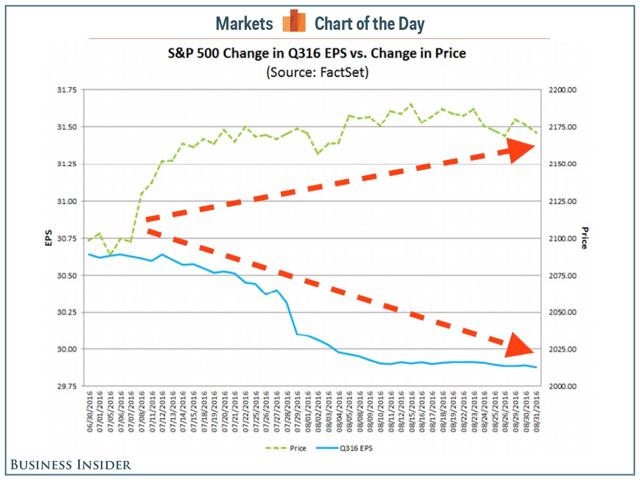 Source: businessinsider.com
Chart 4: Increasing Gap Between GAAP & Non-GAAP Earnings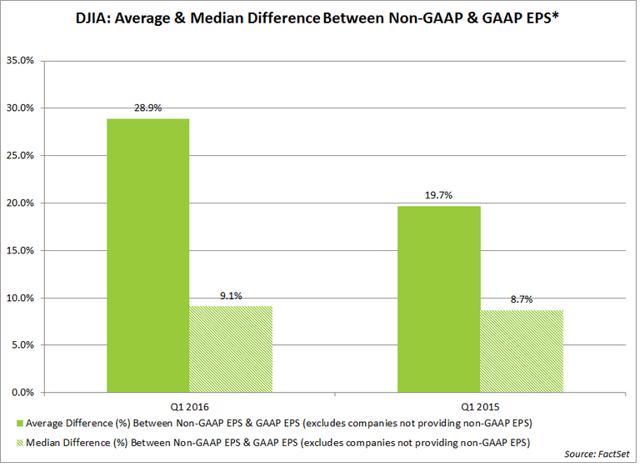 Source: factset.com
Furthermore, several sectors, market segments or asset classes are at especially high valuations, even relative to the extremely rich valuations of the S&P 500. For example, the energy sector, in spite of a bear market that has seen losses of over 40% for most energy stocks, is still valued at a P/E ratio of about 68. This is a scary level of valuation that makes this sector a likely value trap and a probable "man-eater" if anything else goes wrong (Chart 5).
Chart 5: Energy Sector Fwd. P/E Ratio Spiking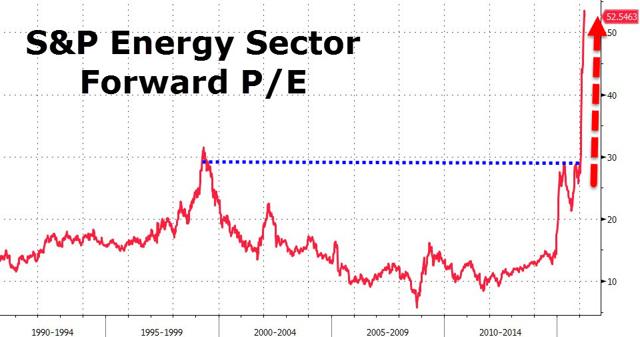 Source: zerohedge.com
The yield-seeking behavior of millions of investors has transformed certain sectors of the market from regular "big game" that merely requires some caution in its pursuit to an injured and extremely dangerous prey capable of "stalking" the average stock "hunter" without provocation, and potentially inflicting fatal wounds to his or her portfolio. The sectors I have in mind are utilities, telecoms and consumer staples. These sectors have attracted those driven to seek safety, and those feverishly seeking yield at any cost. It is my contention that these sectors are not only over-valued, but dangerously over-owned in the event of a pullback. This means that they may not follow their normal pattern of behavior, much like the man-eaters of Kumaon. Chart 6 illustrates the recent extreme valuations for the utilities sector. Chart 7 shows the same thing for the consumer staples sector, and Chart 8 shows the extreme valuations in the telecom sector. The recent sharp pullback for these sectors may serve as a warning sign of how dangerous they have become.
Chart 6: Utility Sector Fwd. P/E Ratio Is Extreme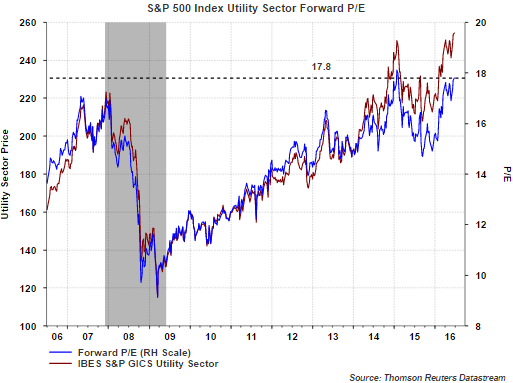 Source: seekingalpha.com
Chart 7: Consumer Staples Sector Fwd. P/E Ratio Is Highest Ever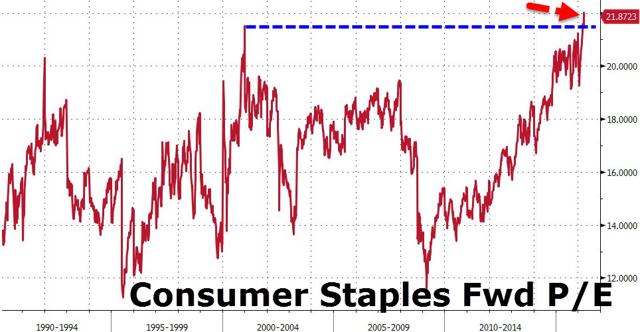 Source: zerohedge.com
Chart 8: Telecomm Sector Fwd. P/E Ratio Is Extreme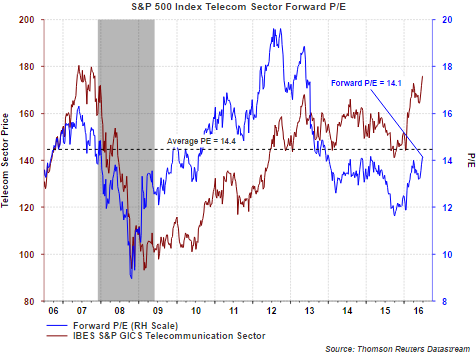 Source: seekingalpha.com
Finally, the difference between the raw P/E ratio (which includes companies with negative earnings) to the reported P/E ratio for the Russell 2000 small-cap index (Chart 9), which uses only the positive results, has grown to an astounding level, according to the Zero Hedge blog. The overvaluation for small-cap stocks using all data is dangerously extreme, and qualifies this asset class as another potential "man-eater."
Chart 9: Huge Gap Between Raw P/E (red) and Adjusted P/E (green) Ratios for Russell 2000 Index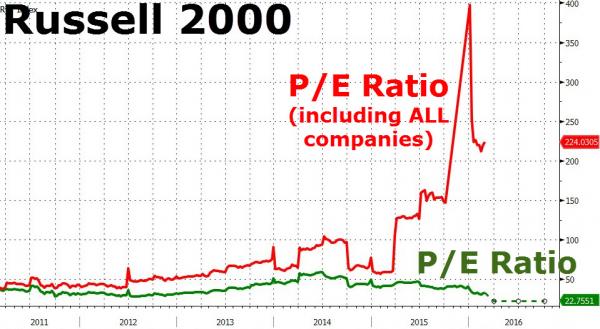 Source: zerohedge.com
I would not hold overweight allocations to the energy (e.g. Energy Select Sector SPDR ETF (NYSEARCA:XLE)), consumer staples (e.g. Consumer Staples Select Sector SPDR ETF (NYSEARCA:XLP)), utilities (e.g., Utilities Select Sector SPDR ETF (NYSEARCA:XLU)), or telcom (e.g. iShares US Telecommunications ETF (BATS:IYZ)) sectors at this juncture, although as trades they might be fine in the short run; they are all headed towards collapse ("man-eater's status") in the long run. The same goes for the US small-cap asset class (e.g. iShares Russell 2000 ETF (NYSEARCA:IWM)). Otherwise, I would remain defensive, so it makes sense to hold some intermediate to long Treasuries: the iShares 20+ Year Treasury Bond ETF (NASDAQ:TLT), the Vanguard Intermediate-Term Bond Fund (NYSEARCA:BIV), the PIMCO Total Return ETF (NYSEARCA:BOND), and the SPDR DoubleLine Total Return Tactical ETF (NYSEARCA:TOTL); also defensive sector funds like the PowerShares S&P 500 Low Volatility Portfolio ETF (NYSEARCA:SPLV), and the iShares Edge MSCI Minimum Volatility USA ETF (BATS:USMV); also some liquid alternatives like the Otter Creek Long/Short Opportunity Fund Inv. (MUTF:OTCRX), the AQR Long-Short Equity Fund (MUTF:QLENX), the AQR Managed Futures Strategy Fund N (MUTF:AQMNX), and even some sophisticated hedge-like closed-end fund strategies like the Nuveen S&P 500 Buy-Write Income Fund (NYSE:BXMX).
Disclosure: I am/we are long OTCRX, QLENX, AQMNX, BXMX, BIV, BOND, TOTL. I wrote this article myself, and it expresses my own opinions. I am not receiving compensation for it (other than from Seeking Alpha). I have no business relationship with any company whose stock is mentioned in this article.
Additional disclosure: This article is intended to provide information to interested parties. As I have no knowledge of individual investor circumstances, goals, and/or portfolio concentration or diversification, readers are expected to complete their own due diligence before purchasing any stocks or other securities mentioned or recommended. This post is illustrative and educational and is not a specific recommendation or an offer of products or services. Past performance is not an indicator of future performance.