I hope this article will allow you to grow your assets.
CyrusOne Inc. (NASDAQ:CONE) is an REIT. It owns, operates, and develops enterprise-class, carrier-neutral, and multi-tenant data center properties. CyrusOne provides mission-critical data center facilities that protect and ensure the continued operation of IT infrastructure for 952 customers or more, including more than 177 Fortune 1000 customers. CONE now counts every one of the largest "Cloud" companies as a customer. CONE has a portfolio of 31 data centers across the U.S., Europe and Asia, comprising over 3 million square feet of net rentable area. 63% of revenues in Q2 2016 were generated by investment grade customers. The charts below give a good description of the customer base and its growth history.

The chart and table below show that CONE is also geographically well distributed.

CyrusOne prides itself in providing: 1) scalable, flexible data center solutions that match proper space and power to evolving business and applications needs, 2) savings through innovative technologies, high-density footprints, reliability such as 2N redundancy, and robust, low cost connectivity over the CyrusOne National Internet Exchange ("IX"), and 3) exceptional service. CONE pays a 3% annual dividend.
Most recently the overall equities market has been acting toppy, especially with many concerned about a possible FOMC hike of the Fed Funds Rate at its meeting September 20-21, 2016. After the August Non-Farm Payrolls miss on September 2, 2016 by almost 30,000 jobs (a report of 151,000 new jobs added), the Fed Funds Futures fell noticeably. The probability of a September 20-21 Fed Funds Rate hike stood at only 21% as of September 3, 2016. Few are expecting a November rate hike due to the elections in November, so if we get by September, the Fed Funds Rate would be expected to be stable until at least December 14, 2016. Without the worry of a rate hike turning the market direction negative, the overall US equities markets may continue to grind higher for the near term. If they do this, CONE, which has retraced a bit recently, may be one of the stocks that lead the markets higher.
CONE's most recent earnings data (Q2 2016) were good to great. CONE grew Normalized FFO/Share by 34% to $0.67/Share year over year. Revenues were up 46% year over year to $130.1 million. In absolute terms this was an increase of $41.0 million, although it included $5.0 million in lease termination fees. Adjusted EBITDA was $69.7 million (up 48% year over year). Adjusted EBITDA Margin was 53.6% compared to 52.9% a year earlier. Net Income was $9.1 million, which was up $15.6 million year over year. CONE is a young and quickly growing company. Net Operating Income was $85.3 million. This was up 52% from $56.3 million in Q2 2015. The charts below pictorialize some of the above.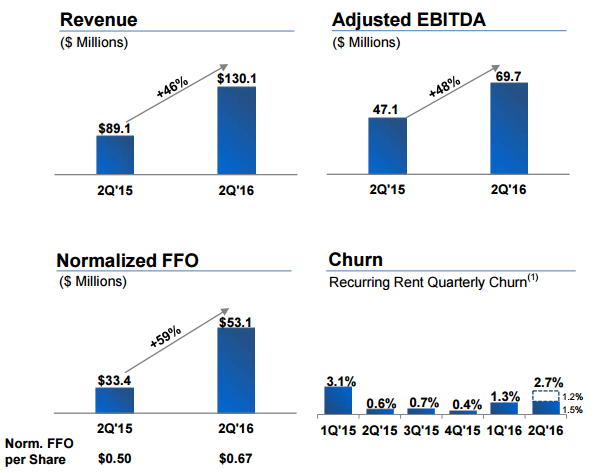 Revenue growth was driven by increases in leased colocation sq. ft. and annualized rent of 44% and 39% respectively. The higher churn rate in Q2 2016 was misleading. 1.2% of the 2.7% was company initiated. 70% of the space was re-leased to two Fortune 500 customers. The expected churn rate for FY2016 (net of the company initiated churn) is expected to be about 8%.
Some of CONE's accomplishments in Q2 2016 were:
Leased 282,000 colocation sq. ft. and 40 megawatts ("MW"). This totaled $58 million in annualized GAAP revenue. It included pre-leasing 2 MW and 75%+ of colocation sq. ft. under construction at the recently acquired Chicago - Aurora I data center.
Grew its backlog to $82 million in annualized GAAP revenue. This represented about $730 million in total contract value.
In the early weeks of July, CONE leased another 12 MW; and it purchased a shell for development of a fully pre-leased data center in Northern Virginia in addition to the already announced 40 acre land purchase in this area. This extra $14 million in annualized GAAP revenue brought the total backlog to $96 million. This backlog already represents 18% growth over the Q2E 2016 annualized revenue run rate.
The charts below show CONE's strong leasing behavior in Q2 2016.

In Q2 2016 the MW and the colocation sq. ft. leased were up 150% and 143% compared to the prior four quarter average. That's huge. The MRR (monthly recurring revenue) signed more than doubled with a weighted average lease term of more than 9 years.
The pictures below show examples of some of CONE's most recent development efforts. Both their costs and timelines are impressive.

The ability to deliver capacity quickly and at low cost solves problems both for CONE and CONE's customers. CONE believes its costs of less than $7 million per MW are industry leading.
The lease lengths and the lease expirations charts show that CONE investors have some worries.

The charts look a bit risky. However, readers should note that the average lease term has nearly doubled from the time of CONE's IPO in 2012, if you include the backlog. 20% of the portfolio has a lease term of 10+ years. Remember too that the most recently signed revenues had an average lease term of 9 years. The length of lease situation is improving.
Relevant to the above picture, Amazon's (NASDAQ:AMZN) cloud business grew by nearly 60% year-over-year in Q2 2016 to $2.9B. Microsoft's (NASDAQ:MSFT) cloud business grew by 100% sequentially, increasing by an estimated $1B annualized. The aforementioned are only two companies. The cloud space has many more; and there appears to be a lot of room for CONE to grow, especially when it can produce results quickly and cheaply for large customers.
The table below shows some of CONE's new facilities under development as of June 30, 2016.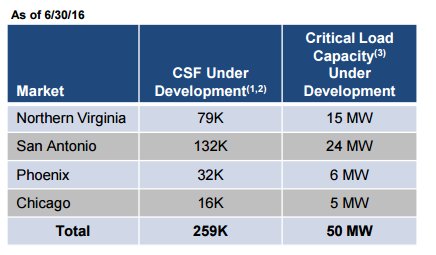 Investors have to be reassured that for the above developments over 95% of colocation sq. ft. have already been contractually committed to customers.
Investors should also be reassured when they see CONE's capital structure and debt maturity schedule (below).

Note the first debt matures in 2019. That should leave CONE in good shape for any near term economic downturn in the US, if one comes. Further CONE has available liquidity of $571 million. The Net Debt to Adjusted EBITDA ratio is a stable 4.0x. S&P upgraded CONE's corporate credit rating from B+ to BB- on August 17, 2016. It's still not investment grade; but that rating is a decent one for a recent IPO. Plus the rating is moving in the right direction; and S&P's outlook for a future upgrade is positive. The comment from S&P Global Ratings credit analyst Rose Askinazi was, "The ratings upgrade reflects our increased confidence in the cash flow stability of the business, stemming from the company's improved contract terms, higher revenue backlog, and strong demand for data center services."
The table below contains the FY2016 Guidance Update.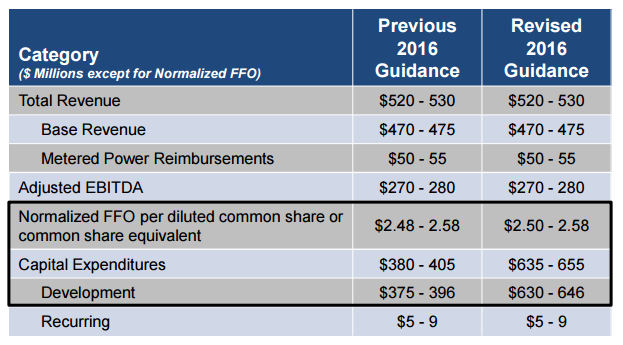 CONE raised the Normalized FFO per diluted common share range from $2.48-$2.58 to $2.50-$2.58. In other words it raised the bottom of the range for Normalized FFO by $0.02/share. It also raised its expected CapEx considerably (see table above). CONE believes this should help it sustain its double digit Normalized FFO growth in 2017. That should make investors happy.
In sum CONE has been growing quickly. Yet it does not seem to have over extended itself. That is a good combination. It has not announced any new big deals; but I am sure it is looking for new deals like the Cervalis one in 2015. Plus it is trying for good organic growth (see new CapEx estimate above). Investors should be happy with the management. The end of 2016 Price to Normalized FFO is about 20, using the midpoint of the current guidance. This is a bit high for a normally growing REIT; but it seems reasonable for a data center REIT that grew revenues 46% year over year and Normalized FFO/share by 34% year over year. The level of growth may slow. However, CONE appears to be reasonably valued at its current price. With its approximately $96 million backlog, it is perhaps more than reasonably valued. CONE could perhaps support a Price to Normalized FY2016 FFO of 23-25. This might suggest stock price growth of about 15%-25% in the next year in addition to its approximately 3% annual dividend. CONE's Beta of only 0.81 is attractive too. The above makes CONE a buy.
The two year chart of CONE provides some technical direction for a trade/investment.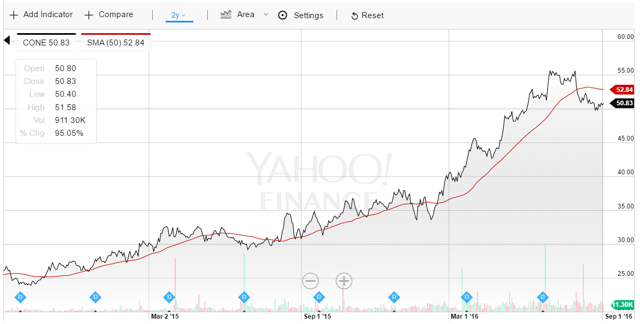 The recent dip is a sign of weakness. Plus the overall market has been weak of late. The August 2016 jobs report miss of about 30,000 jobs to 151,000 was taken by many as a sign that the Fed is unlikely to raise its Fed Funds rate at its September meeting. Many feel that the US equities markets may grind a bit higher due to this situation. Data Center REITs should be a particular beneficiary of a "no raise" in September 2016 by the FOMC. Their finances are helped by low interest rates. Their customers (often technology companies) are also helped by lower interest rates. The dip seen in the chart above may be a good buying opportunity.
In sum CONE appears to be a BUY. However, the overall market is overpriced; and CONE's stock price will likely follow the overall market. According to FactSet, the forward twelve month PE of the S&P 500 is 16.9. The 5 year average FPE is 14.8; and the 10 year average FPE is 14.3. That means the overall market is approximately 14%-18% over valued at this time. The overall market could easily take CONE down with it, if it adjusted. That makes CONE a LOW BUY at this time. The likely growth in the data center business due to the outlook for future cloud growth make CONE a good to great long term investment.
NOTE: Some of the fundamental fiscal data above is from Yahoo Finance.
Good Luck Trading/Investing.
Disclosure: I/we have no positions in any stocks mentioned, but may initiate a long position in CONE over the next 72 hours.
I wrote this article myself, and it expresses my own opinions. I am not receiving compensation for it (other than from Seeking Alpha). I have no business relationship with any company whose stock is mentioned in this article.