By Melda Mergen
Real estate just became the 11th Global Industry Classification Standard sector. The move validates real estate as a distinct asset class and may prompt investors to rethink their equity allocation decisions going forward.
Companies that invest in real estate and whose shares are publicly traded on a stock exchange have finally gotten their own category within the Global Industry Classification Standard (GICS). Up until now, real estate had been lumped together with banks and insurance companies under the broad "financials" sector. The reclassification affirms that real estate is a separate and distinct asset class; it also recognizes that allocations to real estate investment trusts (REITs) and other real estate assets are advantageous for portfolio diversification.
Meaningful effect expected on stock market indices
The newly created real estate sector includes all equity REITs and real estate management and development companies. Mortgage REITs (companies that invest in mortgage-backed securities) will continue to be classified under the financials sector. The effect of this new sector is likely to vary across equity indices, but we expect the reclassification to have a substantial impact. For example, let's take a look at two benchmarks closely followed by equity investors: the S&P 500 and the Russell 2000 Value.
Before and after
In the S&P 500, real estate now has a market weight of over 3% - larger than both telecommunication services and materials.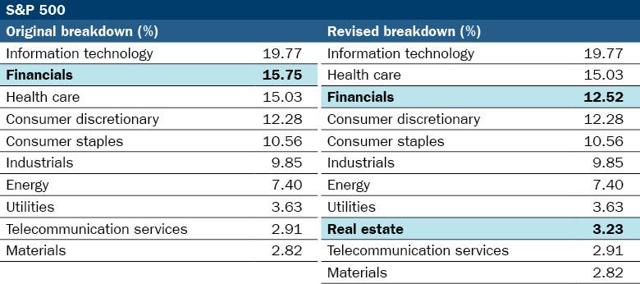 Source: FactSet, as of 06/30/16
The change will be even more dramatic in smaller cap indices; real estate is now one of the largest sectors in the Russell 2000 Value, as well as a significant weighting in other small-cap Russell indices.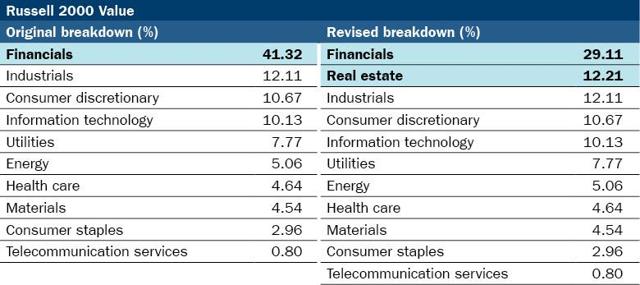 Source: FactSet, as of 06/30/16
Three potential outcomes for real estate securities and investors
1. Increased demand
Investors may be underweight REITs in part because the asset class was not a headline sector until now. That could quickly change as benchmark-sensitive investors adjust their portfolios to reflect the new real estate sector. According to Morningstar, there is over $4 trillion in ETFs and mutual funds benchmarked to the S&P 500. Even a small rebalance in benchmark-sensitive strategies could produce significant flows into real estate securities.
2. Higher visibility
Investors may have overlooked REITs when they were categorized in the financials sector. That's regrettable because REITs have shined relative to financials over the last 15 years.
REITs have dramatically outperformed other securities in the financials sector



Source: Citi Investment Research, 06/30/16
With their own headline sector, real estate securities stand to benefit from a raised profile and an investor base interested in more analysis and information on REITs. A potential uptick in visibility may also trigger more coverage on Wall Street.
3. Less volatility
Equity REITs have experienced periods of unintended volatility from investors transacting in financials sector ETFs and mutual funds. These vehicles are often traded frequently in reaction to global macroeconomic events. A common example would be trading in financials ETFs in anticipation of or reacting to changes in interest rates. Now that REITs have their own distinct sector, the group may experience smoother trading, which could dampen volatility in the sector over time.
Bottom line
Making real estate a GICS sector validates the continual development and growth of this asset class and may help it become more visible and better understood. By affirming that allocations to real estate have a place in a well-diversified portfolio, the new sector is very good news for investors.
Disclosure: None.
© 2016 Columbia Management Investment Advisers, LLC. All rights reserved.
With respect to mutual funds and Tri-Continental Corporation, investors should consider the investment objectives, risks, charges and expenses of a fund carefully before investing. To learn more about this and other important information about each fund, download a free prospectus. The prospectus should be read carefully before investing.
Investors should consider the investment objectives, risks, charges, and expenses of Columbia Seligman Premium Technology Growth Fund carefully before investing. To obtain the Fund's most recent periodic reports and other regulatory filings, contact your financial advisor or download reports here. These reports and other filings can also be found on the Securities and Exchange Commission's EDGAR Database. You should read these reports and other filings carefully before investing.
The views expressed are as of the date given, may change as market or other conditions change and may differ from views expressed by other Columbia Management Investment Advisers, LLC (OTC:CMIA) associates or affiliates. Actual investments or investment decisions made by CMIA and its affiliates, whether for its own account or on behalf of clients, may not necessarily reflect the views expressed. This information is not intended to provide investment advice and does not take into consideration individual investor circumstances. Investment decisions should always be made based on an investor's specific financial needs, objectives, goals, time horizon and risk tolerance. Asset classes described may not be suitable for all investors. Past performance does not guarantee future results, and no forecast should be considered a guarantee either. Since economic and market conditions change frequently, there can be no assurance that the trends described here will continue or that any forecasts are accurate.
Columbia Funds and Columbia Acorn Funds are distributed by Columbia Management Investment Distributors, Inc., member FINRA. Columbia Funds are managed by Columbia Management Investment Advisers, LLC and Columbia Acorn Funds are managed by Columbia Wanger Asset Management, LLC, a subsidiary of Columbia Management Investment Advisers, LLC.
Columbia Threadneedle Investments is the global brand name of the Columbia and Threadneedle group of companies.
NOT FDIC INSURED · No Bank Guarantee · May Lose Value