This article is part of my series keeping tabs on my public portfolio, Ian's Million Fund "IMF." It aims to be a better index fund, outperforming the S&P 500 by 1-2% a year through stock selection and timing.
Each month's buys are published here at Seeking Alpha (see August's buys), and I periodically review how things are going on a broader scope in these month-end articles. First things first, let's check how the fund is doing against the market.
Still Ahead Of S&P 500, Narrowly
In July, my fund pulled in front of the S&P 500 (NYSEARCA:SPY). This month, it retains the lead, albeit a small one.
The IMF sits at $9,240 in value, on $8,500 in contributions, amounting to a gain of $740. This comes to a total overall gain on contributions of 8.7%. Of course, early months' contributions are up more than that, and recent months have seen smaller gains, as the market steadily rises. However, on the whole, a dollar contributed this year is up 8.7%.
This compares favorably with the S&P 500, which has posted a gain of $680, or 8%, on its $8,500 investment. The IMF maintains a lead of 0.7%, which is somewhat below the 1-2% annual outperformance I aim for. However the year isn't over yet, and I expect to widen my lead if the market corrects.
Notably, the S&P 500 has started to trail the other control portfolios. The Vanguard Total World Stock (NYSEARCA:VT) portfolio is now up $785, or 9.2% - a 0.4% lead on the IMF. Illuminati Investment's two suggested model portfolios are also performing strongly. Dollar cost averaging the same $8,500 into Berkshire would leave you with a $780 gain - also 9.2%. A buy and hold approach into Apple (NASDAQ:AAPL) is up $978, or 11.5%.
My portfolio's stated goal is to beat the S&P 500 - which it is doing - so I am pleased. However, I'd prefer to also beat the other model portfolios, which I'm not achieving at the moment.
Portfolio Review: Performance Detractors
The biggest overhang for the portfolio remains the IMF's hedge position in the ProShares UltraShort Oil and Gas ETF (NYSEARCA:DUG). This position is down $513. Excluding the hedge, the IMF would be up 14.7% year-to-date - trouncing all competition.
However, it's too easy to say that I regret the hedge. We use hedging positions to protect ourselves against falling markets. Had the market fallen, the hedge would have seemed prescient. And as for oil specifically, it's still barely hanging onto the $45 level. There's a huge disconnect between energy shares and the price of the actual energy commodities. If and when this closes, the hedge should gain significantly in value.
On a different but related note, the portfolio has seen slower gains in recent months due to my focus on defensive stocks. I've been heavily buying telecoms, regional banks, and alcohol stocks, among other such safe haven plays.
These stocks are great for paying dividends and holding their value in unsteady times, but they don't keep up with a raging bull market to the upside. I expect these shares to work like shock absorbers, cushioning the IMF during the next bear market. But for now, they're a drag on performance.
Finally, one individual holding took a big hit this month. Computer Programs & Systems (NASDAQ:CPSI) slumped from $40 to $26 following bad earnings and a dividend cut. This had been a 2% position in the IMF that turned into a 1% position after almost getting cut in half. Regarding the stock itself, I've been on vacation and haven't decided what, if anything, to do with it.
As for the broader portfolio, large losses on individual stocks are irritating, but they are an unavoidable part of being an investor. Particularly if you buy small-caps, which you should if you want to maximize returns, you'll get both big losers and even bigger winners. Here's the top 5 winners and 5 largest losers on a percentage basis in the IMF (stock prices as of September 6th close):
Graña y Montero (NYSE:GRAM-OLD) +264%
Credicorp (NYSE:BAP) +85%
Birner Dental Management (OTC:BDMS) +68%
Navios Maritime Partners (NYSE:NAP) +47%
Colfax (NYSE:CFX) +46%
...
First Guaranty (NASDAQ:FGBI) -1%
Northrim (NASDAQ:NRIM) -2%
Brown Forman (NYSE:BF.A) -3%
Orbital ATK (NYSE:OA) -11%
Computer Programs & Services -45%
Of course, 2016 has been a strongly bullish year for the market, so it's not a surprise that the big winners far exceed the biggest losers. Still, the point stands - if you buy a lot of smaller quality firms at good prices, you'll get many big winners along with the occasional big loser. Don't fear the big loser, it will be more than outweighed by the big winners.
Portfolio Review: Performance Enhancers
As you can see from the winners above, Peru continues to lead the way, with Graña y Montero and Credicorp both up huge. The two combined have contributed a 2.5% overall gain to the IMF this year. Banking giant Credicorp will quite possibly be the second firm to double within the IMF, joining its Peruvian peer Graña, which is trying to hit 4-bagger status by year-end.
At #3 in the biggest winners, we have Birner Dental, which reminds us of the benefits in buying around bad news. This spring, the company suspended its dividend and delisted from the Nasdaq. Since then, the stock is up from $9/share to $16 today. It's a classic case of sentiment getting way out of whack, as yield hunters fled the stock and value players finally stepped in far below fair value.
While I share many tenets with the dividend growth investing "DGI" crowd, I strongly disagree with the notion of selling instantaneously on any dividend cut. In fact, dividend cuts are often a time to buy. Albeit with the key caveat that the underlying business is still healthy and facing short-term problems rather than permanent impairment.
Finally, it's worth noting that the five largest winners in the IMF, on a monetary gain basis, are all foreign holdings. Since I resumed writing here at Seeking Alpha regularly last summer, I'm been hammering the theme that foreign stocks are significantly cheaper than US ones at present.
We're really starting to see this play out now. The US market continues to advance, but many foreign markets - particularly emerging ones - are starting to leave the S&P 500 in the dust. The US market still has plenty of stocks capable of safeguarding your money and offering modest gains over the next couple years, but for explosive upside, it's much easier to look abroad nowadays.
How's The Yield?
While this portfolio isn't primarily designed to capture yield, in practice, I'm still aiming for a 3% current yield. Given its sizable holdings in high-yielding foreign companies and defensive US names, it is currently yielding a touch over 3% despite the S&P 500 as a whole offering substantially less than that.
With current investments of $8,500 and assets of about $9,200, I need to generate around $23/month to hit a 3% current yield, and about $21/month to generate a 3% yield on cost. I'm fairly close to hitting those targets: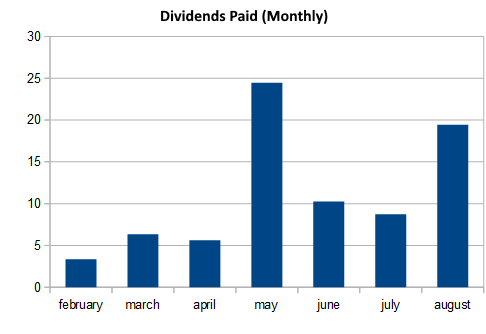 Of course, in a portfolio like this, dividend payments will be quite unequal. August was helped by two large payments from China Life (NYSE:LFC) and National Grid (NYSE:NGG) that accounted for half the month's dividend payments. Neither of these are quarterly dividends, so next quarter (November) won't necessarily be as strong.
My single biggest payer, Grupo Aeroportuario del Pacifico (NYSE:PAC) pays dividends in May and September this year, an offbeat schedule that results in yet more lumpiness.
Regardless, things are trending nicely higher, as we'd expect. I expect there won't be any future months below $10, and I anticipate at least one $25+ month of dividends by year-end.
As a reminder, I'll be investing the accumulated dividends in ETFs, offering me access to stocks and sectors I can't get from just US listed individual stocks (that being what my broker, Motif, offers). I'll be making the first such dividend investment this month.
Finally, I'd like to give a tip of the hat to Brown-Forman for being the first stock in the IMF to split. It's easy to look at the small number of shares I hold in many of the portfolio stocks and say it's small peanuts. And that's true - for now. However, regular contributions, combined with ongoing compounded growth will cause many of these positions to swell to much larger sizes over the years.
A big part of the process will be stock splits, which while doing nothing to change the economics of my holdings will make many of my positions move toward being full lots over time.
And as an addendum, since it was widely requested last month, here's a table with all the portfolio's individual holdings, with stock prices as of September 6th, market close. If you want the excel version of this, message me privately: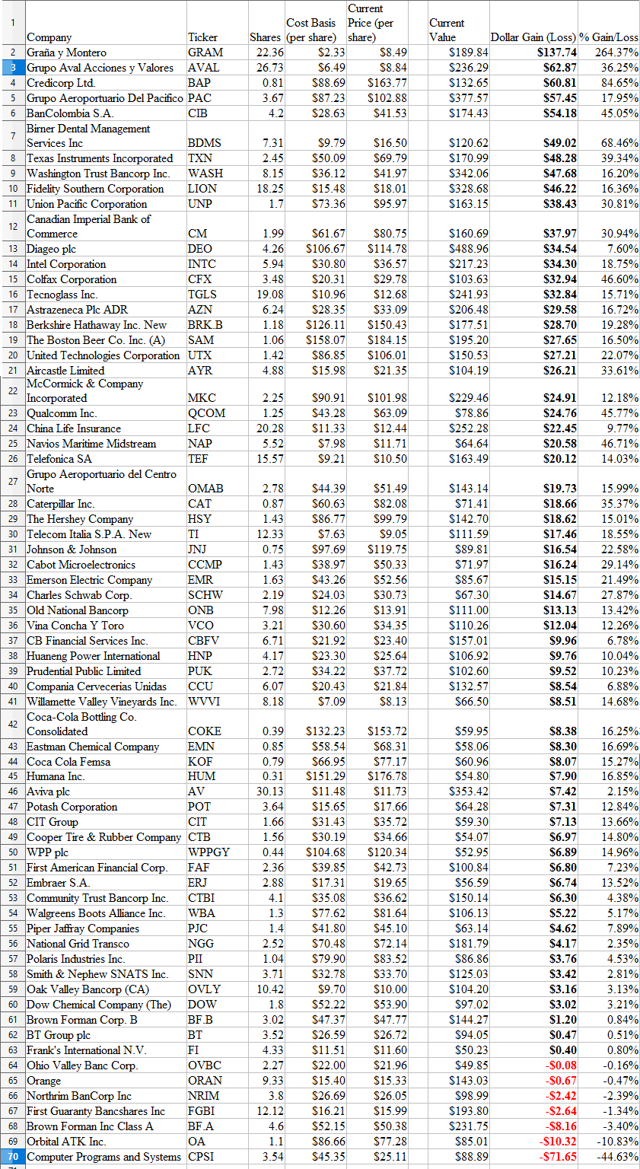 Disclosure: I am/we are long ALL STOCKS MENTIONED EXCEPT AAPL. I wrote this article myself, and it expresses my own opinions. I am not receiving compensation for it (other than from Seeking Alpha). I have no business relationship with any company whose stock is mentioned in this article.
Additional disclosure: No position in SPY or VT.
Editor's Note: This article covers one or more microcap stocks. Please be aware of the risks associated with these stocks.