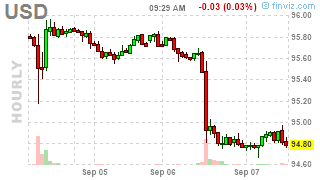 Yawn.
I wish I could get enthusiastic about the rally but the volume on the SPY yesterday was just 51.5M vs. the already low 90M 3-month average, so not even 60% of a normal day AND the dollar collapsed from 95.80 to 94.80 so that's down 1% in the thing our stocks are priced in which means the stocks have to gain 1% just to be even.
I know a lot of people don't really get this concept so let's look at it very simply. Let's say you have a cake recipe that has to be EXACT to work and it calls for 100 teaspoons of sugar and you measure it out and make your cake. Simple, right? Now, let's say you have some sort of metric teaspoon that you know for a fact is 1% smaller than a regular teaspoon - now how many teaspoons do you put in? 101, right?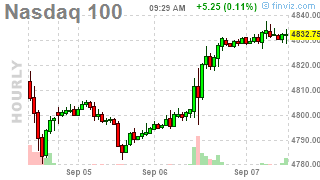 Well, if I have a stock that was $100 yesterday and today each of those dollars has lost 1% of their value - then I want $101 for my stock, don't I? That's because, ultimately, it's not the dollar I want per se but the buying power of that dollar - the things I can turn around and exchange it for. If the dollar loses value, then it will take more of them to make me happy.
So, yesterday, when I said 4,800 would not hold on the Nasdaq, the dollar was 1% higher so today, with the dollar 1% lower, I need to see 4,848 because, frankly, the 0.625% move to 4,830, though impressive looking, was actually a 0.375% loss in a steady-money basis. This is another HUGE flaw in TA, because it doesn't take into account currency fluctuation.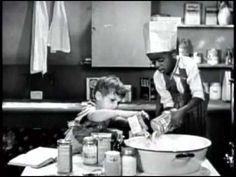 That's like you baking cakes and not worrying about whether you are using a teaspoon or a tablespoon to measure things with - you'll end up with something - but it won't be the cake you expected unless you LUCKILY happened to use the right spoons at the right time - giving you the very dangerous impression that your "system" works.
So, with that in mind, we are still shorting our indexes in anticipation of a Dollar bounce back over the 95 mark and we have 18,550 on the Dow (/YM), 2,185 on the S&P (/ES), 4,830 on the Nasdaq (/NQ) and 1,255 on the Russell (/TF) to work with and, of course, we can't short the Nikkei (16,950) if the Dollar is getting stronger.

Remember, 3 of 5 must be under and we short the laggards with tight stops - we'll be doing a Live Trading Webinar at 1pm, EST, but it's members only this week.
Not too much going on at the moment. We have PMI at 9:45 and tomorrow is Consumer Comfort and our oil and natural gas inventories. I was on FaceBook Live from the Nasdaq yesterday and it was 6 months ago that we called the long in Natural Gas on the ETF (NYSEARCA:UNG) and in the Futures (/NG) at $1.56 and we got out at $3 in late June but even now, at $2.72, it's up $11,600 PER CONTRACT and yes, we like it long again off the $2.70 line (tight stops below).
As noted in the interview, we still have our long-term UNG trades but, meanwhile, we've switched to Coffee (/KC) - as noted in our Top Trade Review last Wednesday and that gave coffee a small pop but WOW - look what happened when I mentioned it on Facebook:

Hopefully the move will be sustainable and wasn't entirely due to me mentioning it but we were way ahead of the curve on /NG and we don't really expect coffee to take off until after the fall harvest in October but most coffee countries won't report until March, so a very long-term trade on this one.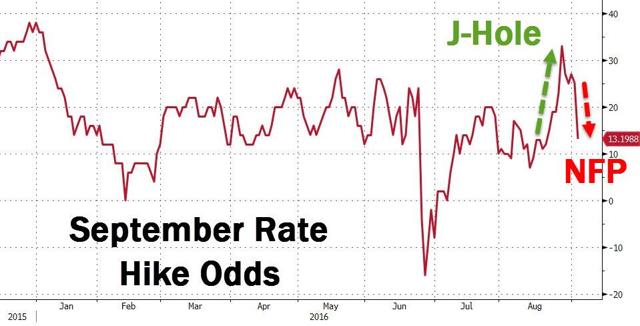 Amazingly, the markets no longer seem to believe what the Fed says. Just last night, SF Fed's Williams said the economy is in good shape and a rate hike is warranted. Williams is usually a dove but he said in his speech that if Fed officials wait too long to remove monetary accommodation, they "hazard allowing imbalances to grow, requiring us to play catch-up, and not leaving much room to maneuver."
Of course, our Corporate Masters are thrilled to keep the low interest rates for as long as possible. In fact, Europe's Henkel AG (OTCPK:HENOY) and Sanofi (NASDAQ:SNY) just became the first corporations to sell negative-rate bonds. Henkel sold a €500 million ($558 million) bond that matures in two years, while Sanofi sold a €1 billion bond that comes due in January 2020. Both deals are priced with a yield of NEGATIVE 0.05% meaning that, if you give them $1M today, you will get back $990,000 in two years - if all goes well - they could still default, of course!
Do I really have to explain why we are still shorting this madness?
Disclosure: I am/we are long UNG, SJB, SQQQ, TZA, SDS. I wrote this article myself, and it expresses my own opinions. I am not receiving compensation for it. I have no business relationship with any company whose stock is mentioned in this article.
Additional disclosure: Positions as indicated but subject to RAPIDLY change (currently mainly cash and an otherwise bearish mix of long and short positions - see previous posts for other trade ideas). Positions mentioned here have been previously discussed at www.Philstockworld.com - a Membership site teaching winning stock, options & futures trading, portfolio management skills and income-producing strategies to investors like you.