Every month I publish an ETF chart review video that takes a hard look at some of the most interesting sectors of the economy. While this format works for some people, it's also nice to step back and look at a big-picture overview in (electronic) print as well.
This exercise can help underscore existing trends, spot troublesome areas, and provide a much needed dose of perspective. I know I often find myself staring at individual trees rather than taking in the view of the whole forest.
Without any more preamble, let's dive in…
Large-Cap Stocks -- SPDR S&P 500 ETF (NYSEARCA:SPY)
Large-cap stocks continue to show a supportive uptrend on both intermediate and long-term time frames. SPY is above its 50- and 200-day moving averages despite the sharp mid-summer dip that resulted from the Brexit vote.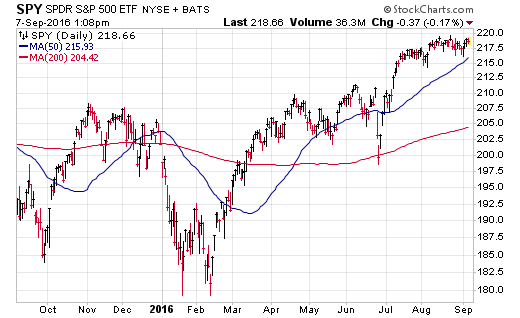 After hitting new all-time highs in August, SPY has started to flatten and consolidate in a narrow channel. Many market technicians have pointed out that SPY has gone quite a long time without a 1% move in either direction. This rather tepid price action has resulted in a slow steady grind higher.
You know what they say -- never short a dull market.
Small-Cap Stocks - iShares Core S&P Small Cap ETF (NYSEARCA:IJR)
If you are still looking for a broad-based area of the market showing momentum, your best bet may be small-cap stocks. IJR is the largest ETF in this category with $20 billion in assets under management and tracks the S&P Small Cap 600 Index.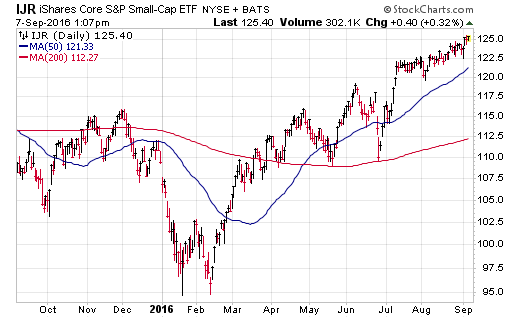 Since the February low, IJR has added about 10% in excess performance over SPY and continues to show signs of technical strength. This index is well above its moving averages, which are also both sloping meaningfully higher. The momentum divergence in small-caps from the recent flattening action in large-caps is a signal that "risk-on" still remains intact.
Volatility -- CBOE VIX Volatility Index ($VIX)
It should come as no surprise that volatility has been steadily trending down all summer as well. This chart of the VIX shows that fear has heavily dissipated as the major domestic indices grind higher. Price action in stocks has been relatively muted on the upside as well, which helps compress this index even further.
It's worth noting that consolidation near $12 on the VIX has been pretty common near market highs. However, this index can continue to muddle sideways or even modestly lower for quite a long time in its current state. Picking a spot on this VIX to coincide with a top in stocks may not be your best bet.
Furthermore, it's worth pointing out that examining charts of funds that track volatility futures such as the iPath S&P 500 VIX ST Futures ETN (NYSEARCA:VXX) is difficult for many reasons. The persistent decay in the underlying contracts, high expenses and tracking error make for consistent price erosion over time.
Bond Market -- iShares Core U.S. Aggregate Bond ETF (NYSEARCA:AGG)
I've written a lot about the price action in bonds this year. Much of that has been driven by the new all-time low established in several U.S. Treasury bond yields and the concept of tempering expectations for future returns.
The chart below of AGG shows the recent peak combined with flattening price action over the last several months. It feels like we are going to see a bigger move here, although it remains to be seen which direction prices will travel.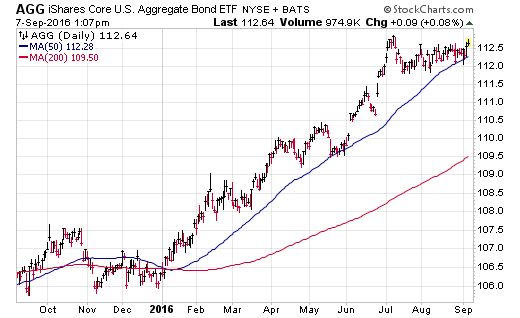 Investors have turned to fixed-income with the expectation that it will protect them from volatility in stocks or allow them to ride the momentum train higher. Nevertheless, the sentiment for this asset class seems to be running on the hot side and a modest dip would not be unexpected. This may come on the heels of stocks again surging higher, action by the Fed, or some other unexpected event.
Commodities -- PowerShares DB Commodity Index Tracking Fund (NYSE:DBC)
Commodities are always tough to conglomerate together in one basket because they are often driven by varying forces. Oil prices can have significantly diverging price action than precious metals, agriculture, etc…
Nevertheless, looking at the big picture, DBC has come a fair distance off its lows established near the beginning of the year. This ETF tracks 14 of the most heavily traded commodity futures contracts and has $2+ billion under management.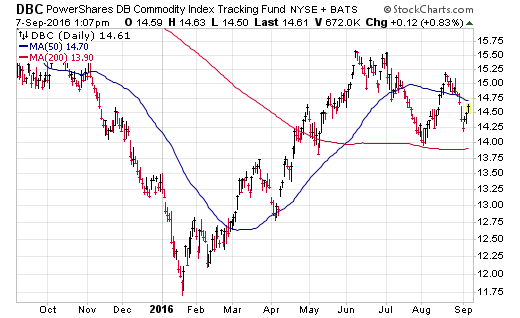 DBC has managed to turn its 200-day moving average flat and now appears to be fighting a tug of war between its underlying components. The choppy price action suggests some indecision on the ultimate direction of this index. Nevertheless, it continues to be an interesting area of the market to watch.
As an aside, I'm not a big fan of DBC as an investment vehicle because of the tax treatment. All shareholders in this fund are considered limited partners and are treated with a K-1 tax statement at the end of the year. My preference would be to use an exchange-traded note such as the iPath Bloomberg Commodity Index Total Return ETN (NYSEARCA:DJP), or similar equivalent. This structure allows you to skirt the tax issues, but comes with other potential risks as well.
The Bottom Line
It seems like things are pretty quiet out there overall right now. September is historically one of the worst months for market returns and the current setup may favor a pickup in volatility. Of course, when everyone is expecting a certain outcome, it's fair to be skeptical of the ultimate resolution. The market loves to humble even the best of us.
Disclosure: I/we have no positions in any stocks mentioned, and no plans to initiate any positions within the next 72 hours.
I wrote this article myself, and it expresses my own opinions. I am not receiving compensation for it. I have no business relationship with any company whose stock is mentioned in this article.
Additional disclosure: David Fabian, FMD Capital Management, and/or clients may hold positions in the ETFs and mutual funds mentioned above. The commentary does not constitute individualized investment advice. The opinions offered herein are not personalized recommendations to buy, sell, or hold securities.