The 5.60 magnitude earthquake that rattled Oklahoma in the outskirts of Cushing may be felt further than six states away as regulators begin to question the unusually high number of earthquakes occurring since fracking began.

(Source: Bloomberg)
Fracking, short for hydraulic fracturing involves pumping high pressure water into the ground to fracture the bedrock and let oil flow out from reservoirs too small to be otherwise economically viable to tap.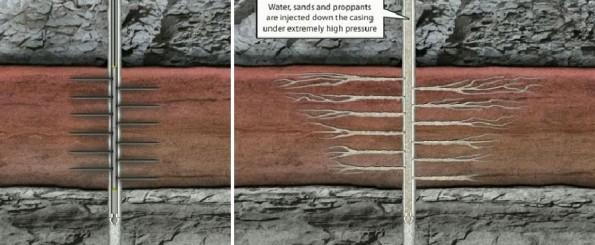 (Source: American Oil&Gas Historical Society)
To complete a new well, explosive charges are lowered by a wire line to perforate the steel casing, cement and producing formation. After the charges are electronically fired, hydraulic fracturing greatly enhances oil and natural gas production.
The ground-breaking nature of fracking has enabled the US to produce oil at a record rate. The graph below shows the ratio of Department of Energy total crude oil production and total OPEC production over the last 30 years. We can see that this has allowed US crude production to exceed its twenty year old relative high point.

(Source: Bloomberg)
The number of small earthquakes has become worrisome, however. In Ohio, the earth shakes where it had been steady for millennia. In fact, it has been shown that these were induced by fracking operations.
The September 3, 2016 incident in Oklahoma may jolt regulators into reconsidering the benefits of fracking. The US Geological Survey recorded seven additional tremors in the aftermath. Oklahoma Governor Mary Fallin issued a state of emergency and oversaw the shutdown of wells in a 725 sq. mile area. Among the companies impacted are Exxon Mobil (NYSE:XOM), Chevron (NYSE:CVX), and ConocoPhillips (NYSE:COP).
While Governor Fallin signed into law a bill preventing towns and cities from banning fracking and the White House's position on this extraction method remains unchanged, it is possible that these stances could be reversed as communities in shale basins tire of the earth shaking.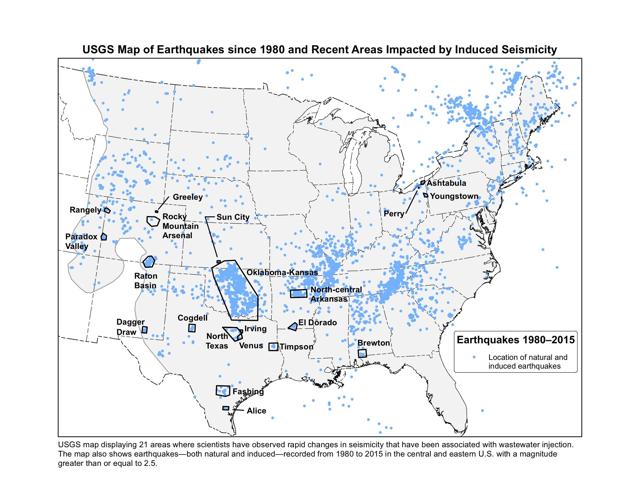 (Source: USGS)
The US Geological Survey had this to say on seisms in Oklahoma:
Seismicity rates have increased sharply since 2009 in the central and eastern United States, with especially high rates of activity in the state of Oklahoma. Growing evidence indicates that many of these events are induced, primarily by injection of wastewater in deep disposal wells. The upsurge in activity has raised two questions: What is the background rate of tectonic earthquakes in Oklahoma? How much has the rate varied throughout historical and early instrumental times? In this article, we show that (1) seismicity rates since 2009 surpass previously observed rates throughout the twentieth century; (2) several lines of evidence suggest that most of the significant earthquakes in Oklahoma during the twentieth century were likely induced by oil production activities, as they exhibit statistically significant temporal and spatial correspondence with disposal wells, and intensity measurements for the 1952 El Reno earthquake and possibly the 1956 Tulsa County earthquake follow the pattern observed in other induced earthquakes; and (3) there is evidence for a low level of tectonic seismicity in southeastern Oklahoma associated with the Ouachita structural belt. The 22 October 1882 Choctaw Nation earthquake, for which we estimate Mw 4.8, occurred in this zone.
A change in US legislation may be an underpriced risk factor for crude producers and their contractors and may present an underpriced upside risks to insurers.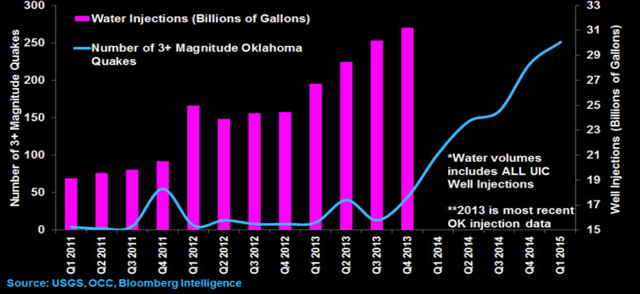 Even if legislation doesn't change, the increasing frequency of fracking-induced earthquakes may present downside risk to producers and contractors. When drilling activity ceases, when wells are shutdown, or when there is damage to infrastructure, energy companies suffer.
Disclosure: I/we have no positions in any stocks mentioned, and no plans to initiate any positions within the next 72 hours.
I wrote this article myself, and it expresses my own opinions. I am not receiving compensation for it (other than from Seeking Alpha). I have no business relationship with any company whose stock is mentioned in this article.