The 7th largest container shipping line on the planet is bankrupt. The media has focused on the sexy things. You know, like what will happen to those big ships that Hanjin (OTC:HNJSF) had via charter, and the impact on world trade and the global supply chain.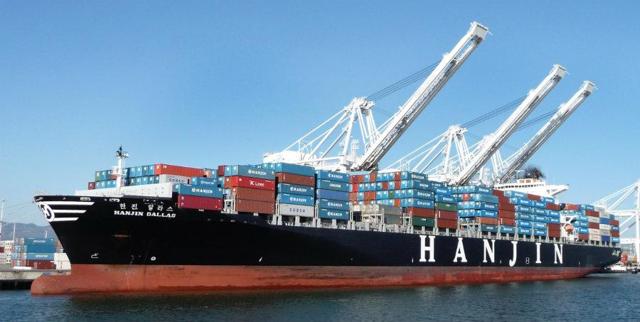 That's all important and there's been some excellent coverage in all these areas. See these news items/articles if you are interested:
But what I'm invested in and concerned about is the impact on container lessors. In the last 2 months, I've provided coverage on all three publicly-traded container leasing companies:
I own TGH and CAI and think all three stocks are cheap. So I have incentive to make something of this mess, but I also want to write about it because it's something readers and the investment community are interested in. There's been several mentions on SA and I received this question on my Triton article:

With that, let's explore what this bankruptcy means for them.
What Happened
Hanjin had been struggling for months and was mentioned in numerous media outlets and in Textainer's Q2 conference call a month ago.
There are two big South Korean shipping companies: Hanjin and Hyundai Merchant Marine (KRX:011200). HMM had been struggling as well, but in Textainer's Q2 call they said that HMM never reached out to container lessors seeking concessions, restructured successfully, and was no longer a major concern. Hanjin on the other hand, had reached out to Textainer, and at the time of the call the companies were still in discussions and management couldn't really discuss it.
Things must have escalated because on Wednesday August 31, Hanjin filed for receivership after a banking syndicate led by state-run Korea Development Bank gave up on them. Ports started refusing Hanjin's ships entry and the company was concerned that its ships would be seized, so it quickly and largely successfully filed for bankruptcy protection in many jurisdictions across the globe.
There's solid rumors that HMM (the same company that also recently underwent restructuring) is thinking of taking on Hanjin's assets. This would mitigate the already significant disruption in the global supply chain and probably universally be supported, but it's not 100% this will happen yet.
Impact on Container Lessors - Tough to Say
It's easier to say whether the bankruptcy will be good or bad than to determine magnitude. While there is a foreseeable scenario where the bankruptcy and disruption in vessel capacity creates a shipping shortage and freight rates skyrocket, increasing liner profitability, liner creditworthiness in the eyes of lessors, and general demand for boxes, that's not very likely. It's safe to say this is bad for lessors. The question is: how bad?
Insurance
Of tremendous importance is the fact that it is the standard in the industry for insurance to be maintained on boxes. In fact, usually there are two layers of insurance with the lessee paying for some and the lessor having its own high deductible blanket policy. I was able to confirm this in each of CAI, TGH, and TRTN's filings.
If we are to believe the policy structures are similar, which is likely, then there are $3mm deductibles per incident and the insurance can cover everything from repositioning costs, unrecoverable containers, recovery costs, uncollectables, up to 180 days of lost rental income, etc.
We have an excellent precedent that these policies have "worked" in the past. In August 2015 Textainer had a pretty substantial customer that defaulted. Between container values, recovery costs, lost lease rental income, and bad debt expense, the loss would have been $16.9mm in the absence of insurance, but insurance ended up covering $11.4mm or 67%.
Financials are Inspiring
While the lessors profit numbers look pretty poor right now due to big impairments on old containers that are being dumped to avoid storage and repositioning costs (consider that it costs like $700 to move an old container probably worth $700-800 right now from Shanghai to California!), their historical credit numbers actually look really good. Here's a quote from TGH's 20-F regarding recoveries:
During 2011 through 2015, we recovered, on average, 77.2% of the containers that were the subject of defaulted contracts which had at least 1,000 CEU on lease. We typically incur operating expenses such as repairs and repositioning when containers are recovered after a default. However, recovery expenses are typically covered under insurance and we are reimbursed above our deductible amount. Due to the above, over the last five years, our write-offs of customer receivables for our owned and managed fleet have averaged 0.6% of our lease rental income over such period.
TGH's charge-offs are still running below 1% today. The same is true of CAI and TRTN.
I think it's really helpful that these companies are turning over their receivables fairly quickly - over 5x per year, which limits the accumulation of uncertain debts from any one shipping line.
CMA CGM is the biggest risk, not Hanjin
While Hanjin is a major shipping line, it is not a top 5 customer for Textainer. TRTN and CAI did not disclose their top 5. They only disclose their number 1 customer.
Interestingly, the French shipping line CMA CGM is the largest customer of CAI and TGH and it was for TAL prior to the TAL-Triton merger, so if TRTN was also leasing to them, they may still be #1 for the combined company and are a major customer regardless. They are a 11.6% revenue customer for CAI, 16% for TAL pre-merger, and 11.5% for TGH.
CMA CGM is not the largest container shipping line. That title belongs to Maersk (OTCPK:AMKAF). Maersk must own much of their container fleet though, which may be why CMA CGM is the biggest lessee of three of the largest container lessors.
This makes CMA CGM a big credit risk and one worth watching. While we are thinking about container lessors and credit risk, let's consider CMA CGM's creditworthiness.
CMA CGM is a private company but posts their financials and has bonds that trade. The company just posted 2nd quarter financial results. If the bonds are any indicator, there is definitely risk here and the results were bad. The 725mm euro 2021 bonds are trading at 71% of face value and declined in reaction to the results as well as the recent substantial acquisition of Singapore-based liner, NOL or Neptune Orient Lines for $2.5B USD.
If CMA CGM were a public company and the stock traded at book value (very generous given current profitability and the significant intangibles lumped into that BV), the Altman Z score would be 0.73 right now, well below the all-important 3.00, which indicates substantial bankruptcy risk.
The company also has a quick ratio under 1 with $4.9B current assets against $7.6B current liabilities. Total liabilities / assets are 0.74x, which is already high, but if you pull out intangible assets, liabilities are 86% of tangible assets. This company is levered like a bank!
CMA CGM currently has net debt of $8.9B. In 2014 and 2015 they posted some okay profits, with EBITDA of $1.3B in each year, but profitability has dramatically deteriorated of late, with the LTM number as of Q2 2016 just $490mm. So on trailing numbers, debt/EBITDA is 18x and even before the stair step lower in profitability, leverage was heavy at 6.8x.
Leverage was much lower prior to the NOL acquisition and we haven't seen a full 4 quarters of P&L contribution from NOL, so maybe the situation isn't as bad as it looks, but I don't need to mention any more numbers for it to be obvious that CMA CGM is a massive credit risk for the lessors.
Conclusion
Hanjin Shipping's bankruptcy is significant to the container lessors and may result in direct losses for all three public players, but more concerning to me is that it highlights how much difficulty major container shipping lines are experiencing. CMA CGM is the biggest credit for CAI, TGH, and TRTN and that company appears to be in dire straits. I am still very bullish on the container lessors and continue to think they are attractive risk/rewards even though the risk/reward is very high and there is tons of uncertainty. They should certainly be sized very small as positions. That said, I think I initially underappreciated how much distress these shipping lines are in, particularly CMA CGM. Insurance will help and the lessors have good track records of high recoveries and low charge-offs, but there is no denying that risk is elevated and that is the big message I take away from this Hanjin debacle.
Disclosure: I am/we are long CAI, TGH. I wrote this article myself, and it expresses my own opinions. I am not receiving compensation for it (other than from Seeking Alpha). I have no business relationship with any company whose stock is mentioned in this article.
Editor's Note: This article discusses one or more securities that do not trade on a major U.S. exchange. Please be aware of the risks associated with these stocks.