Oil inventory is the highlight of the day. Over 14 million barrels are gone from commercial stocks compared to a week ago.
As the API reported a big draw yesterday, today's news isn't totally unexpected, despite such headlines.
But why?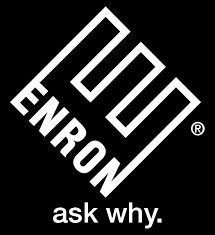 Source: Dear beloved Enron.
It could be Hurricane Hermine. I thought it went on the East Coast but it could have impacted oil production as some wells were shut-in in the Gulf of Mexico. This isn't the most significant to me.
It could be related to the Hanjin (OTC:HNJSF) bankruptcy (thanks Snake99 and sonicted for your thoughts). Some vessels could have been stranded in ports, unable to unload their oil cargo in Texas and Louisiana.
I could be related to U.S. oil exports picking up as Brent was getting more and more expensive compared to WTI.
All in all, 14 million barrels doesn't change much in oil and liquids globally. Of course you will see a short-term bump today. However, given current OECD inventories of 3.1B barrels, it's a drop in a bucket.
This brings me to another point: nobody knows the total worldwide liquids inventory. We're in the dark as some major producers (Russia, Saudi Arabia, etc.) and other major consumers (China, India, etc.) simply don't report liquids inventory (or hide it).
Let's take a look at what we know for sure.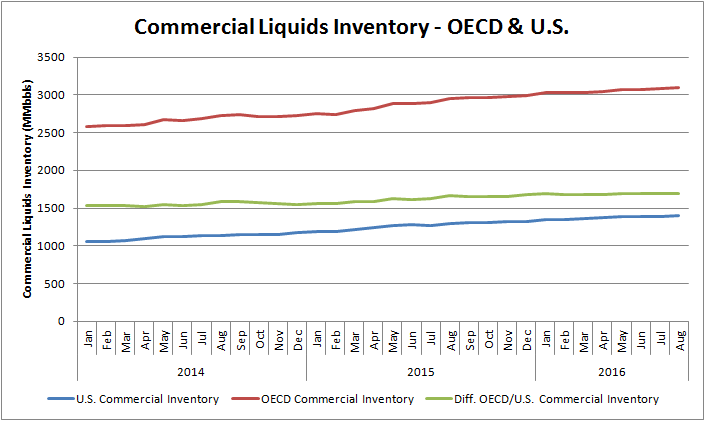 Source: EIA Short-Term Energy Outlook (September 7 release).
U.S. inventory is at record high. OECD stocks are slightly above average. In other words, the liquids inventory glut is concentrated in the U.S.
Most onshore refineries can't process light oil. Oil exports are only beginning. As a result, inventories keeps accumulating as shale oil drillers hangs on and imports swell to new heights to meet demand.
Despite what I said earlier, it is possible to have some information on secret oil inventories. Indeed, major OPEC oil producers are drawing on their oil storage, namely Saudi Arabia and Iran.
So look: As alarming as the situation in the U.S. is, the glut is concentrated there. The picture gets better looking at inventories from OECD (non-U.S.) and major OPEC nations.
Don't stop looking at the U.S. inventory situation as it's the most reliable data available. Plus oil is traded globally: Arbitrage could take place anywhere in the world. Cheap crudes will get sold to more expensive markets. In other words, if American crude gets too low, it will be sold to more expensive markets.
If you liked this article, please follow me using the link next to my name on top of the page.
Disclosure: I am/we are long PDPYF, MEGEF, PIFYF, RRENF.
I wrote this article myself, and it expresses my own opinions. I am not receiving compensation for it (other than from Seeking Alpha). I have no business relationship with any company whose stock is mentioned in this article.