In my August 17th post I provided three decades of bank data showing that rising rates have never resulted in the expansion of bank net interest margins which is a key driver of the industry's profits.
As a follow-up to the prior article, this post focuses on 14 big banks to answer five questions:
What have the 14 big banks said about their exposure to interest rates?
What happened to the profit margins of these 14 banks the last time rates rose?
What are the balance sheet characteristics of banks best positioned to benefit from rising rates?
If an investor insists banks will be more profitable when rates rise, which of the big banks are the best bets?
And finally, is there a bank outside the big 14 that is the most likely beneficiary of rising rates?
Before answering these questions, it would be wise for investors to consider two recent concerns expressed by the regulatory community regarding interest rate risk:
"Long-term U.S. interest rates have declined to ultra-low levels, which can motivate excessive risk-taking and borrowing" writes the Office of Financial Research (OFR) in its July 2016 biannual update of the risks threatening financial stability. The OFR goes on to highlight that Interest Rate Risk is the only major risk category that is "red" (indicating increasing risk) in the Financial Stability Monitor dashboard for both reporting periods in 2016.
On August 30th FDIC Chairman Martin Gruenberg had this to say about interest rates and banks:
Community banks continued to hold a larger share of longer-term assets on their balance sheets than the overall industry. This has helped community banks sustain their net interest margins in a low rate environment, but it has left them more vulnerable to higher short-term interest rates. This heightened exposure to interest-rate risk continues to be a focus of supervisory attention.
Students of banking know the industry has a history of struggling with unintended consequences. Just when investors thought banks were safe again, be advised that rising rates could lead to unintended consequences.
"Market Risk" and 14 big banks
Let's examine the 10K's of 14 big banks that were submitted to the SEC earlier this year. The analysis will look at the following banks:
Our focus begins with an examination of "Market Risk." The principal form of market risk is interest rate risk which results from timing differences in the repricing of assets and liabilities.
Table 1 shows the results from my examination of the Market Risk section of the 14 big banks' 10K's.
How to read Table 1.
There are four columns.
The first column indicates the percent improvement banks will realize in Net Interest Income (NII: difference between interest income and interest expense) when interest rates rise 100 or 200 basis points.
The second column translates the change in NII into after-tax profit improvement. The calculation assumes that the NII benefit drops 100% to the bottom line, less the tax rate paid by each bank in 2015. It should be noted that Wells Fargo is the only bank that indicates the change in NII is realized over two years versus one.
The third column - arguably the most important - shows the percent improvement in after-tax earnings. The percentage takes the after-tax benefit from NII improvement and divides it into 2015 earnings.
The final column highlights just one of the many critical assumptions made by the banks in their forecasts. Differences in assumptions make comparisons difficult and perhaps no assumption is more critical than the determination of the timing of rate increases.
Table 1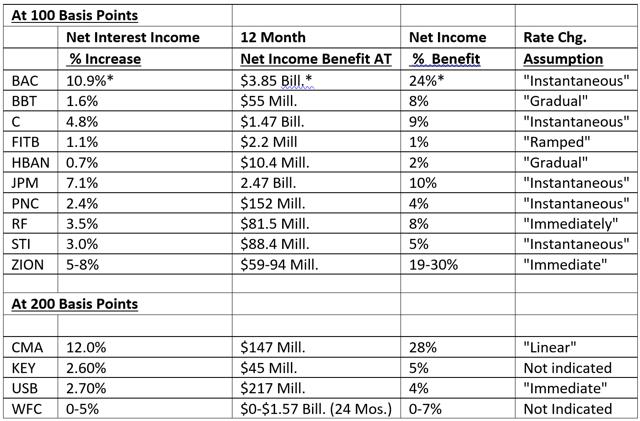 Source: 2015 10K for each bank. See Market Risk.
Caveat Emptor
Before digging too deep in the numbers, here are three key caveats.
First, although all banks report Market Risk and provide some quantification of interest rate risk, they do not use the same formats. Apples-to apples comparisons are difficult. Here's an important example: Most banks modeled a 100 basis point increase in interest rates for their 10K's in 2015; however, Comerica, KeyBank, U.S. Bank, and Wells Fargo modeled 200 basis points.
Second, because there is inconsistent reporting for interest rate risk, the results presented in Table 1 require some measure of judgment on the part of analysts. The data presented in Table 1 is correct to the best of my knowledge.
Third, the banks must make assumptions in order to estimate the impact changes in rates will have on bank profits. In fact, they must make assumptions based on assumptions based on assumptions. Some banks are up-front about the challenges of forecasting interest rate changes and impacts.
One of Warren Buffett's favorite banks. M&T (NYSE:MTB) noted in their 10K that:
The assumptions used in interest rate sensitivity modeling are inherently uncertain and, as a result, the Company cannot precisely predict the impact of changes in interest rates on net interest income.
Commerce Bank (NASDAQ:CBSH), a rare bank that has actually increased its dividend annually for more than ten straight years, was especially forthcoming in their analysis of interest rate risk in their 2015 10K. Commerce offered "Simulation A" and "Simulation B." The former showed that a 100 basis point bump in interest rates would increase net interest income by 1.26% while the latter showed a decline of .41%. Quite accurately, CBSH notes that:
Projecting deposit activity in a historically low interest rate environment is difficult, and the Company cannot predict how deposits will react to rising rates.
CMA writes that "assumptions used are inherently uncertain." Both CMA and KEY note that "actual results may differ…" ZION acknowledges that "modeled results are highly sensitive to the assumptions."
ZION, KEY, CMA, M&T and CBSH executives are quite right. No one - bankers, the Wall Street Journal, bank regulators or even Janet Yellen -- knows for sure what impact rising rates will have on banks. There should be no question that this uncertainty is a major risk factor for bank investors.
Though no one knows for sure what rising rates will do to bank profits, we can identify the characteristics of banks that are most likely to benefit from rising rates. Though I contend the industry overall will not see a material change in net interest margin over any extended period of rising rates (as has been true in the past), there is hard data suggesting a few banks are better positioned for rising rates than other banks. Conversely, some banks are positioned to suffer from rising rates. And it is that story that may prove to be the big story about interest rates and banks. But that's a subject for another day.
Key findings from 10K's
Four banks have estimates that indicate after-tax earnings will increase at least 10% annually when rates go up: CMA, Bank of America, Zions and JPMorgan Chase.
The big winner appears to be CMA which estimates that a 200 basis point jump in interest rates will improve after tax earnings by 28%. Why? Here is what the 10K says:
Approximately 85% of the Corporation's loans were floating at December 31, 2015…. This creates sensitivity in interest rate movement due to the imbalance between the floating loan portfolio and the more slowly repricing deposit products.
CMA is clearly asset-sensitive when 85% of assets float with prevailing interest rates. There is no question that, at least short-term, CMA is well-positioned for rising rates.
The next big winner appears to be BAC with an estimate that produces a 24% increase in after-tax earnings. However, investors would be wise to read the fine print in the 10K.
BAC provides two critical insights about its estimate. First, their sensitivity analysis "assumes no change in deposit portfolio size or mix from the baseline forecast in alternate rate environments" noting that "any customer activity resulting in the replacement of low-cost or non-interest-bearing deposits with higher yielding deposits or market-based funding would reduce the corporation's benefits in those scenarios."
Secondly, BAC writes that "Our overall goal is to manage interest rate risk so that movements in interest rates do not significantly adversely affect earnings and capital." In other words, the bank does not want to take extraordinary interest rate risk, although the bank adds that "we continue to be asset sensitive to a parallel move in interest rates with the majority of that benefit coming from the short end of the yield curve."
BAC, like most the other banks, goes on to note that "higher interest rates impact the fair value of debt securities" which "may adversely affect accumulated OCI and thus capital levels under the Basel 3 capital rules." They add that "the near-term adverse impact to Basel 3 capital is reduced over time by offsetting positive impacts to net interest income."
Said another way, what's good for the income statement is not necessarily good for the balance sheet. Thankfully for banks, since the Financial Crisis, accounting rules have been modified so that assets, notably bonds and other fixed rate investment securities, are largely not subject to mark-to-market adjustments. Therefore, the banks are not required to take an accounting charge to capital when rates rise. Nonetheless, as rates rise, these securities do indeed lose value.
Returning to Table 1, the next big winner from rising rates looks like ZION. Among the 14 big banks in this study, ZION provided the most detail regarding their assumptions in the 2015 10K. One problem interpreting ZION's estimate is that the bank assumed a "static balance sheet size." While ZION actually posted its deposit assumptions as a separate schedule ("deposit beta"), their net interest income simulation assumed no change to deposits (if I read their comments correctly). Consequently, like virtually all banks, it is difficult to get a good handle on the true and net impact rising rates will have on ZION.
Notwithstanding this hurdle in ZION's estimate, investors should know that ZION's 10K notes that the bank's "focus on business banking (i.e., floating rate commercial and industrial lending) also plays a significant role in determining the nature of the Company's asset-liability management posture." At year-end 2015 "approximately 80% and 78%, respectively, of the company's commercial lending and CRE portfolios were variable rate."
Clearly ZION has a loan portfolio positioned to benefit from rising rates and this is the most important takeaway from the 10K commentary about interest rate risk.
JPM would appear next in line for benefiting when rates go up. Unfortunately, their 10K provides the least detail of any of the big 14 banks, and as a result, it is difficult to draw solid conclusions about the reasonableness of their estimates. We will return to JPM later.
As for the other banks, here are the most significant comments drawn from their 10K's.
Regions (RF): "moderately asset sensitive to both gradual and instantaneous parallel yield curve shifts."
SunTrust (STI):"variable rate loans…after giving consideration to hedging related actions, were approximately 48% of total loans."
BB&T (BBT): "The asset/liability management process is designed to achieve relatively stable NIM (net interest margin) and assure liquidity by coordinating the volumes, maturities or repricing opportunities of earning assets, deposits and borrowed funds."
Huntington (HBAN): "The NII (net interest income) at risk reported at December 31, 2015, shows that HBAN's earnings are not particularly sensitive to these types of changes in interest rates over the next year."
Fifth Third (FITB):"the Bancorp's net interest income would benefit in year one and two under parallel ramp increases… attributable to the combination of floating-rate assets, including the predominantly floating-rate commercial loan portfolio."
Wells Fargo : "In general, the Company is positioned to benefit from higher interest rates." However, according to the Financial Times in June 2016, the bank's CEO said "we plan not around what we hope rates will be, but around what rates are." In the same Financial Times the CEO said the bank was prepared for "lower for longer" and compared US rates to Japan which has suffered from "18 years of this." SA investors in WFC, and there seem to be a lot based on my perusal of articles and comments, must recognize that WFC executives are clearly taking a different posture toward interest rate risk than some of their major competitors. As will be shown shortly, WFC has been right in the past and perhaps they will prove correct this time as well.
Although moderately helpful, the 10K's of the big banks are not a sufficient source of insight for the intelligent bank investor seeking to identify the one or two banks best positioned to benefit from rising interest rates.
Bank investors need more insight. Let's go back to 2004-2006, the last time interest rates rose in the US. Data from this time provide valuable insight that could pay dividends for the investors willing to do their homework.
2004 to 2006: Interest rates and lessons learned from 14 big banks
My SA article of August 17th provided a 32-year history of the relationship between interest rates and bank profit margins. Highlighted in the article were 30 months from 2004 through 2006 when the Federal Reserve Open Market Committee (FOMC) engineered ten rate hikes. You would think that such a dramatic increase in rates would have ushered in expanding margins and greater profitability. But it didn't.
The key to understanding the impact of rates on bank profitability is to study Net Interest Margin or "NIM" for short. As a reminder, NIM is one of the industry's key determinants of profitability. NIM is calculated by subtracting the "cost of funds" i.e., (interest paid on deposits and other borrowed money) from a bank's "yield on earning assets" (i.e., the interest earned on loans and investments).
Chart 1 is a repeat from my prior article and sets the stage for the charts that follow. It shows two critical data points. First, the blue line shows the Fed Funds rate from Q1 2004 to Q2 2006. Note the steady stair step increase in the Fed Funds rate which corresponds with the FOMC's ten rate hikes during the time. Second, the red line shows the banking industry's NIM - as reported by the FDIC -- for the same time period. Clearly, NIM actually shrank modestly even as the Fed jacked up rates.
Chart 1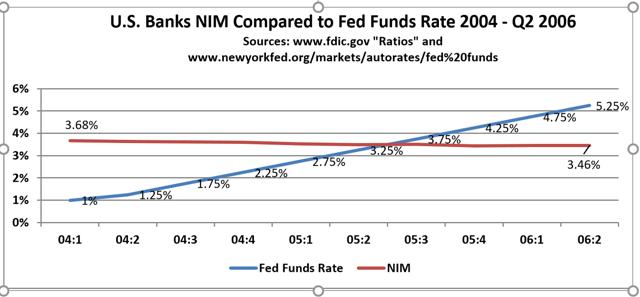 The next chart dissects the industry's NIM during 2004 to 2006 by examining NIM trends for 14 big banks. The data is from bankregdata.com which draws all its data directly from FDIC quarterly Call Reports. Several critical observations can be drawn from this chart:
9 of 14 banks experienced a decline in NIM even as interest rates went up.
Citibank's NIM fell by 192 basis points.
Led by WFC's 79 basis point improvement in NIM, only five banks saw NIM expand from the Q1 2004 to Q3 2006.
Chart 2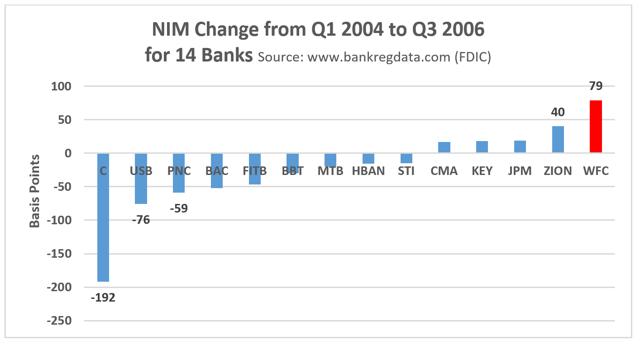 Even as the FOMC imposed ten quarterly rate hikes of 25 basis points beginning June 29, 2004, chart 2 shows that only five banks expanded NIM. Again, staying with the 14 big banks, Chart 3 breaks NIM down into its two key components: Yield and Cost of Funds.
If you understand this chart, you begin to understand why investing in banks is not easy. Even though all 14 banks live in the same rate world, chart 3 shows that each bank's NIM -- and consequently profitability - responded differently to the changing rate environment from 2004 to 2006. The blue bars represent the increase in the cost of funds for the 14 banks from Q1 2004 to Q3 2006 while the red bars show the increase in yield.
Chart 3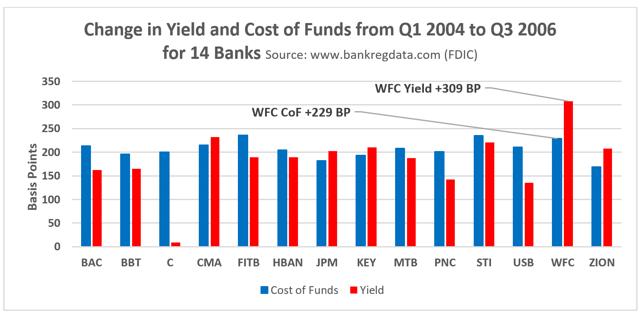 Here are several highlights from chart 3:
First, rising rates were not a free lunch to bankers from 2004 to 2006. Yes, yields on earning assets increased, but so too did the cost of funds (i.e., deposits and other bank borrowing).
Second, 9 of the 14 banks saw their cost of funds increase faster than their yield on earning assets from 2004 through 2006. The big challenge for bankers with rising rates is that deposit costs tend to float with prevailing rates in contrast to earning assets that include variable rates and fixed rates of different durations. Bankers who stretch for yield by locking in longer term, fixed rate loans and investment securities can get hammered if deposits costs rise faster than earning asset yields.
That's exactly what happened to the Savings & Loan industry in the early 1980s. And this is what worries bank regulators in 2016. And it should worry bank investors. After nearly a decade of declining and low rates, some banks could face big risk in a rising interest rate environment.
Bank's don't get above-market returns without tolerating higher risk. Sometimes the risk works out and sometimes it does not. Consider Citibank from 2001-2006.
Citi saw virtually no yield improvement from early 2004 through 2006. Why? Prior to the FOMC's decision to increase rates, Citi took an asset-liability gamble that back-fired. At the end of 2003, according to FDIC data, Citi's yield on earning assets was 100 basis points better than other big banks. That's a whopping big difference and indicates a tolerance for risk greater than competitors.
Rising rates exposed this risk. Even as interest rates rose from 2004-2006, the yield on Citi's earning assets barely moved. It appears that credit quality was not a major factor at the time. Instead, the major problem appears to have been the decision to lock down fixed rate loans -- linked to a big push into home lending -- in 2002 and 2003. These loans did not gain greater yield as rates rose. Investors in Citi were punished.
On the opposite end of the asset-liability risk spectrum, WFC's management bet right by shrinking their holding of home loans and concurrently increasing loans that float with prevailing interest rates. The big drop in home loans held on the balance sheet was offset by a spike in loans classified as Commercial & Industrial (C&I), Construction & Development (C&D), and Credit Card. It was a brilliant move which allowed Wells to reposition its balance sheet for rising rates. Though their cost of funds actually increased 229 basis points (third greatest of all 14 banks), the jump in yield more than offset the higher cost of funds. WFC's yield improvement was a remarkable 77 basis points better than the next highest bank, CMA.
Staying with CMA, it must be noted that the key to its improvement in yield can also be seen on the balance sheet at the time. In 2004-2006 half of CMA's loans were C&I. In 2004-2006 and 2016 CMA held and continues to hold the highest percentage of C&I among the big 14 banks. Because this type of loan floats with LIBOR or "Prime," they are well-positioned to increase in yield when the Fed raises rates. Notice, however, that CMA did not exactly strike it rich when rates rose in 2004-2006 despite the heavy exposure to floating rate C&I loans. There's a reason for this that we will examine shortly.
Summarizing, the following observations can be drawn from 2004-2006:
The majority of banks chose to avoid significant asset-liability risk. Loan yields and deposit costs moved in tandem for the industry. This was true in 2004-2006 and likely to remain true in 2016 given intense regulatory scrutiny of not only capital and asset quality, but importantly, liquidity.
In the early 2000s Citi made a big push in home lending, tying profitability to longer duration earning assets. Initially this strategy paid off. However, when rates rose, they were stuck with too many fixed rate assets funded by variable rate deposits and debt.
Masterfully repositioning their balance sheet, WFC took less interest rate in 2004-06 and came away as the top winner among the big 14 banks. It is very interesting that this same management team has made the strategic decision in 2016 to not position the bank for rising rates. They were right once on rates and time will tell if they are right this time.
A bank's asset mix matters a lot in determining if a bank is positioned to benefit from rising rates.
As a rule of thumb, banks with big holdings of residential loans do not benefit and banks holding variable rate loans, especially C&I, do. A bank's balance sheet says a lot about a bank's tolerance for interest rate risk.
Which of the 14 big banks is best positioned to benefit from rising rates in 2016-2017?
Leveraging knowledge of 2004-2006, we now examine four bank metrics to identify banks best positioned for rising rates. The metrics are:
Loan-to-deposit ratio
Commercial loans as a percentage of total loans
Cost of funds
Cash-to-Asset ratio
Chart 4 shows the loan-to-deposit ratio for the 14 banks. Banks have been divided into three groups. Banks depicted by the black bars have loan-to-deposit ratios exceeding 90%. It seems unlikely that these banks will benefit from any long-term upward trend in interest rates. Why not? They cannot afford to see deposits bleed off. This is a key element of liquidity risk. If rates rise, you can be absolutely certain that their management teams will monitor deposit flows daily. They will be prepared to raise rates, particularly CDs, immediately if they lose deposits.
The second group of banks are noted by the blue bars. If the FOMC raises rates just once or twice, it is possible that these banks could enjoy a short-term boost to net interest margin. This assumes two things.
First, these banks are willing to let some deposits bleed off when competitors with high loan-to-deposit ratios raise CD rates. Given bankers' attention to liquidity these days, it is possible that even these banks will be quick to raise deposit rates in the event of deposit outflows.
Second, the increase in rates is only a one or two-time event. Assuming these banks are willing to accept a higher loan-to-deposit ratio, at least temporarily, they are likely in a position to benefit short-term from rising rates. However, if the FOMC increases rates repeatedly and steadily over the next year or two and loan demand remains brisk, it is near-certain that these banks will have no choice but to pass higher interest rate payments onto their depositors.
JPM and Citi are identified by the green bars. Both banks had loan-to-deposit ratios less than 70% as of June 30. It should be noted, however, that Citibank's loan-to-deposit ratio will soon increase when it absorbs the Costco credit card portfolio. Based on June 30 loan-to-deposit ratios, JPM appears to be the bank with the most ability to withstand a loss of deposits.
Chart 4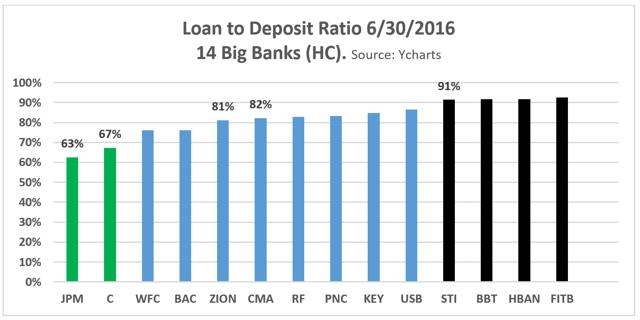 Let's take the analysis further. As already noted, for banks to take full advantage of rising rates, they need to hold more "variable" rate loans as opposed to "fixed". The loan product most identified with variable rates is the Commercial & Industrial loan (C&I).
Chart 5 examines each bank's exposure to Commercial & Industrial (C&I) loans as of June 30. There are three key advantages of C&I lending. First, as noted, C&I loan pricing generally fluctuates with prevailing interest rates, and therefore, C&I lenders rarely face interest rate risk. Second, over the past 15 years these loans have generated superior risk-adjusted returns (source: Investing in Banks, Parsons 2016). Third, banks with heavy C&I lending activity also generally have significant non-interest bearing business deposits (source: FDIC Call Reports). These deposits are especially valuable in a high rate environment.
All 14 of the big banks have much larger C&I exposure than the overall industry. This is one of the reasons these big banks are in a better position than most banks to not be hurt, and possibly be helped, by rising rates.
As was the case in 2004-2006, CMA continues to hold more than 50% of its loans in C&I. FITB and KEY are not far behind. Among the three, at least in the short term, CMA, with the lowest loan-to-deposit ratio, appears to be in the best position for rising rates.
Chart 5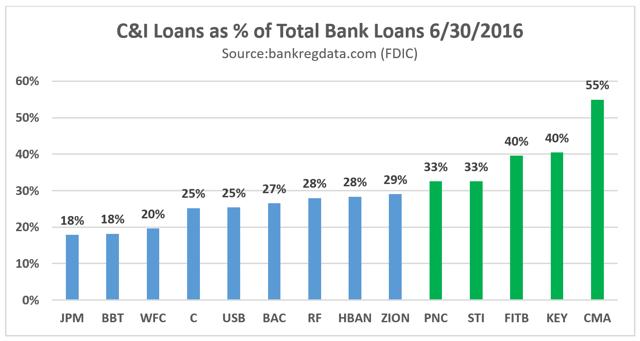 Another advantage that the 14 big banks have over the majority of the industry is their low cost of funds. My research of the nation's 724 publicly traded banks shows that the average bank pays $.45 for every $100 in deposits. (This is equivalent to 45 basis points.)
As chart 6 shows, as of June 30, only Citi has a cost of funds greater than the industry average. Citi's cost of funds is an Achilles' heel and reduces the likelihood the bank will be a big winner if interest rates rise. Unlike almost all their big competitors, Citi lacks a robust deposit-gathering machine. Having recently picked up the massive Costco loan portfolio, the bank gains the advantage of a large block of variable rate loans, however, it also assumes the challenge of funding these loans. Institutions dependent of big credit card portfolios like Capital One (NYSE:COF) and American Express (NYSE:AXP) have higher deposit rate costs than other big banks.
Banks with the lowest cost of funds are ZION, BAC, and CMA. Paying less than 15 cents per $100 of funding is a competitive advantage in an industry that measures success in basis points.
Chart 6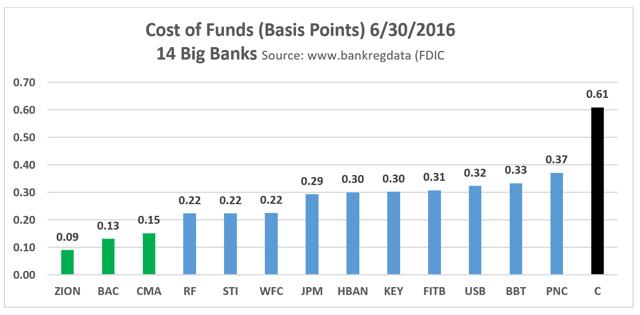 If you have been keeping score you may conclude that CMA is in the best position among the 14 banks to benefit from rising interest rates. They have a moderate loan-to-deposit ratio, high exposure to C&I loans, and a remarkably low cost of funds. In addition, CMA has reasonably strong geographic diversification with branches in Michigan, Texas, and California. But the bank also faces three challenges.
First, arguably too much of its C&I exposure is to the energy industry. Although their overall credit quality metrics look pretty good today, CMA could suffer if energy prices decline. This is exactly what happened in Q1 2016 when the bank booked $149 million in loan loss provision. The big hit to provision sparked a minor shareholder revolt.
Second, responding to activist shareholders, the long-tenured board hired outside consultants to sharpen the bank's strategy. The initial findings from the consultants were shared with investors during the second quarter earnings call. Adopting a copycat strategy now common among large banks, CMA is committed to "relationship banking." Time will tell whether this strategy really makes a difference. Investors should be wary when a bank hands over strategy to outside consultants.
Third, CMA's stock price is up about 50% from its low in February. At a trailing 12-month P/E of 20 and a price-to-book value of 1.1, CMA does not have a bargain basement price. The best thing that can happen to CMA is for interest rates to tick up moderately and oil prices to firm up. Neither are certainties.
One of the biggest balance sheet differences between today and 2004 for some of the big banks is their willingness to hold cash. One motivation is the regulatory scrutiny of liquidity risk. Today no big bank holds more cash than JPM as can be seen in chart 7.
As of June 30th 15% of the JPM's assets, equal to $365 billion, were classified as cash and equivalents. Though cash may be trash for some, for JPM it provides an instant opportunity to increase interest income when interest rates rise. With the lowest loan-to-deposit ratio and massive cash holdings JPM has the most flexibility of the big banks to deal with rising interest rates. If they choose, they could benefit significantly in the short term from rising interest rates.
Chart 7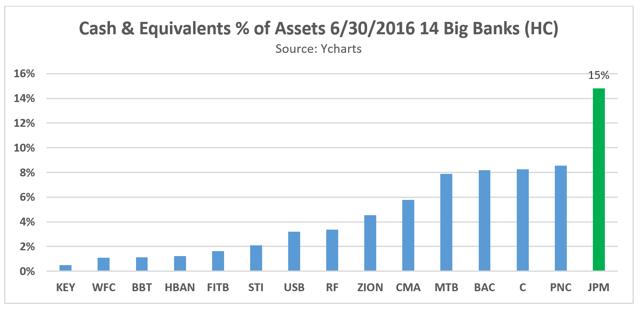 As the data suggest, JPM has the lowest loan-to-deposit ratio and could harvest deposits. Offsetting this action is the reality that JPM's loan growth has been on a tear this year. In their massive Consumer-Commercial Banking Group, core loans in the second quarter of 2016 grew a staggering 23% year-ever-year. During each of the past three quarters JPM's loans are up more than 10% over the prior year. This is in contrast to low single-digit growth during the prior five years. Funding the big loan growth has been a precipitous drop in the JPM's cash holdings which peaked on March, 31, 2015 peak at $529 billion. Double-digit loan growth means even JPM management cannot be cavalier about protecting deposit share.
Best bets for rising rates
JPM is the best bet among the 14 big banks to benefit from rising interest rates, at least in the short term. With the lowest loan-to-deposit ratio and massive cash holdings, JPM has the most flexibility of the big banks to deal with rising interest rates. If they choose, they could benefit significantly in the short term from rising interest rates.
ZION is the next most likely beneficiary of rising rates among the 14 banks. With a loan-to-deposit ratio of 81%, best-in-class cost of funds of only 9 basis points, and a reasonably high percentage of floating rate earning assets, ZION is a reasonably safe bet for expanding NIM when rates go up.
For the more risk tolerant, Comerica could benefit from rising rates.
An even better bet than JPM
JPM is a reasonable bet to benefit from rising rates, but it is not the best bet among banks. To determine the bank most likely to benefit the most from rising interest rates, I filtered banks based on six criteria (sources: ycharts.com for the Loan-to-Deposit and Cash to Assets ratios; bankregdata.com for C&I, Cost of Funds and Texas Ratio; and Seeking Alpha for quarterly earnings transcripts.) My criteria included:
Loan-to-deposit ratio less than 70%
Cost of funds less than .15 (15 cents per $100)
Texas ratio less than 6 (measures credit quality)
C&I Loans greater than 20%
Banks larger than $1 billion in assets
History of NIM expansion during 2004 - 2006
One bank meets all six criteria: Silicon Valley Bank (NASDAQ:SIVB) as of June 30, 2016:
Loan-to-deposit ratio: 49%
Cost of funds: 2 basis points
Texas ratio: 3.57
C&I Loans: 51%
Asset Size: $42.5 billion (29th largest bank in the US)
Strong NIM expansion 2004-2006
Chart 8 shows how SIVB navigated rising interest rates from 2004 to 2006. Note that NIM expanded by 217 basis points, nearly triple the expansion experienced at WFC during the same time. Owing to its big checking account deposit base, the bank's cost of funds increased slowly when rates rose from 2004 to 2006. In contrast, thanks to their large C&I loan book, earning asset yield increased with rising rates.
Will that happen in 2016? Given that there is no evidence that SIVB has materially changed strategy or tactics during the past decade, the answer is likely yes.
Chart 8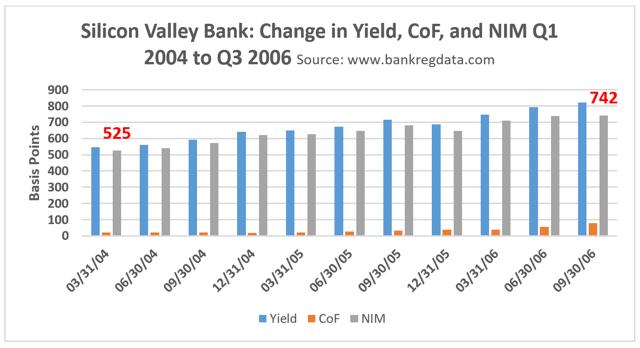 SIVB's 2015 10K, like the big 14 banks, includes a table estimating the net interest income impact of rising rates. Table 2 shows a summary of the data. It indicates that a 100 basis point instantaneous increase in rates produces an estimated 11.1% increase in net interest income ($131.9 million). With a 2015 tax rate of 37.9% (one of the highest taxed banks in the country, by the way), the improvement in net interest income improves after-tax net income by $82 million or 24% over 2015 actual.
Table 2

Let's be clear, there are no sure-bets when it comes to banks. Caution is advised. SIVB makes this point in its 10K:
As with any method of measuring interest rate risk, certain limitations are inherent in the method of analysis… The interest rate risk we are exposed to includes changes in the shape of the yield curve (yield curve risk), fluctuations in asset cash flows (prepayment risk) and differences between specific benchmark interest rates (basis risk) ... no model fully captures all risks…. The results in the preceding table can be referenced as an estimate of sensitivity to changes in interest rates, but should not be relied upon as a precise indicator of actual results from changing market interest rates.
Acknowledging the uncertainty of interest rate risk, SIVB continues to have an aversion to long-duration, fixed rate earning assets. As a result, SIVB may be the single best bet for bank investors looking to take advantage of or hedge rising rates.
Further evidence can be found during the bank's Q3 2015 earnings call. On the call an analyst asked the bank's CFO if it would be appropriate for SIVB to adopt a "barbell strategy" that assumes an "outlook for interest rates continuing to push out further lower for longer."
Here is the CFO response:
Well, I wish we knew exactly what was going to happen so you could make definitive judgments on where to invest. But having said that, we all know that's not going to happen. So, one of the things we're always very, very conscientious is the size of our investment securities portfolio. And so when you have a size of the portfolio as we do, approximately say 55% to 56%, plus or minus, in that range, you really got to be very focused on liquidity in the shorter-term duration. So that's what our philosophy has been for the last several years and it's served us very well and will likely continue to maintain and keep that shorter-duration security and managing that duration extension risk until we get more clarity on where rates are going to go…. it's very difficult to understand how our clients will be thinking about what will happen when rates do go up, because nobody has been around these last few years to even understand what an interest rate is. So the behavior is a little bit uncertain.
In this response the CFO provides investors with two critical insights.
First, he recognizes no one knows how depositors will react if and when rates go up because we are in unchartered waters. Second, holding a large block of investment securities in addition to the bank's commercial loans, SIVB has no appetite to lock those securities into longer duration positions. The implication is that the bank will forego a short term boost to income in favor of the flexibility to adjust to rising rates. This is a conservative, cautious risk profile akin to an investor who refuses to hold bonds with durations longer than a year or two.
For the investor concerned about rising interest rates, SIVB represents as good a hedge as any bank. That said, the bank's stock price has been on a roller coaster since 2015 as seen in chart 9. The volatility reflects, among other things, investor concerns about SIVB's strategy that is unique among banks and should be fully understood before investing.
Chart 9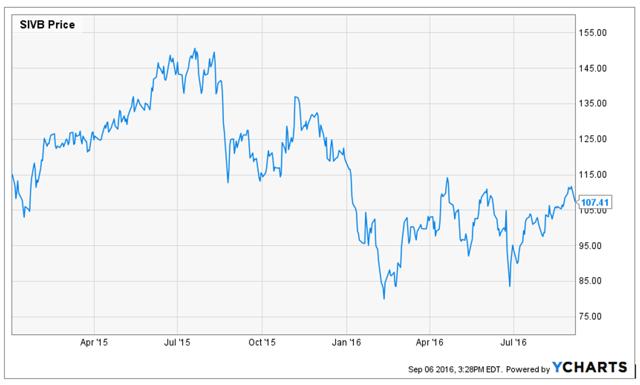 Closing Thoughts
Rising interest rates have not improved bank profit margins in the past and investors need to be skeptical that future rising rates will deliver a different outcome.
However, a few banks have certain balance sheet characteristics that make them solid choices for investors wishing to hedge the risk of rising rates.
These banks have a lot of cash or cash equivalents, a low current cost of funds, relatively low loan-to-deposit ratios, and a high percentage of earning assets that float with interest rates.
Among the biggest banks, JPM appears to be the safest bet for benefiting from at least a short term increase in interest rates. ZION and CMA are the next most likely of the bigger banks to benefit from rising rates.
Among smaller banks, SIVB may be the best positioned for a sustained increase in interest rates.
Disclosure: I am/we are long PNC, JPM, SIVB, FITB, HBAN, USB, AND CBSH. I wrote this article myself, and it expresses my own opinions. I am not receiving compensation for it (other than from Seeking Alpha). I have no business relationship with any company whose stock is mentioned in this article.
Additional disclosure: *As a retired (2011) 31-year employee of Bank of America (BAC), I have ongoing financial interest in BAC, but I am not a current shareholder. I do not offer investment thoughts about BAC, although I will from time to time post data germane to BAC as I did for this article.