EUR/CZK Floor
Czech National Bank introduced the floor 27.000 on EUR/CZK currency pair in November 2013. The objective of this additional monetary policy instrument (weakening of CZK) is to prevent deflation and ensure that the inflation target 2% is achieved. CNB keeps CZK interest rate deposit at 0.05% and does not intend to move it to negative levels now. Instead, it is using the exchange rate as a tool to reach inflation target.
CNB officially communicates that it will not abandon the floor before the end of 2016. Current inflation stays at 0.30% (February 2016), however, the prognosis of CNB points to 2017 when inflation could reach the target. Reaching of the inflation target will imply the end of EUR/CZK floor as it will not be necessary anymore.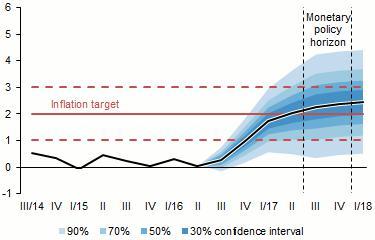 Source: Czech National Bank
Forecasts of bank analytics show the same picture. Inflation can reach the target of 2% in 2017.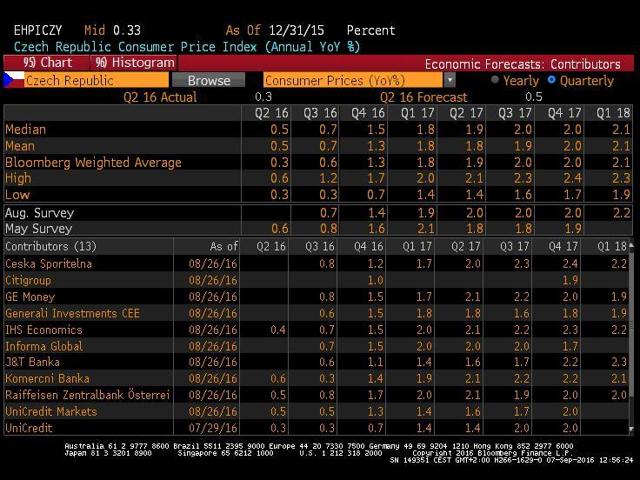 Source: Bloomberg
Similar floor policy was adopted also by Swiss Central Bank (SNB) on EUR/CHF currency pair from September 2011 to January 2015. The decision to abandon EUR/CHF floor 1.2000 on 15th of January 2015 caused a strong appreciation of Swiss Franc against the Euro. It moved from 1.2000 to 0.8600 CHF per 1 Euro that day. Now, EUR/CHF is trading at around 1.0900, 10 percent stronger than the floor kept by SNB till 2015. In addition to canceling the floor, SNB introduced deeply negative interest rates (-0.75%) on Swiss Franc deposits in an attempt to depreciate the currency.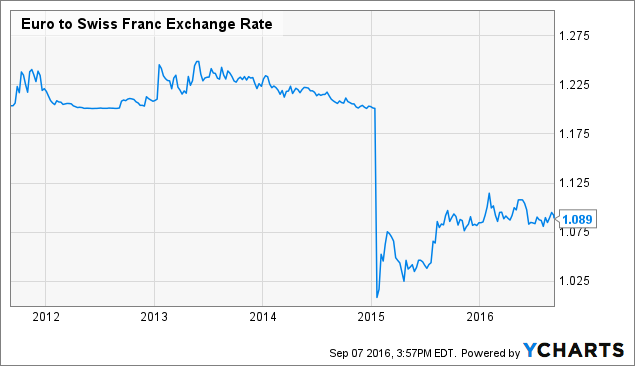 Euro to Swiss Franc Exchange Rate data by YCharts
I expect that CNB will follow SNB's path in abandoning the floor (as it does not have any other choices). Removal of the floor will not be announced in advance.
I expect that after the floor removal, CZK will appreciate strongly. 10 percent appreciation is my expectation, resulting from historical levels of EUR/CZK before introducing the floor.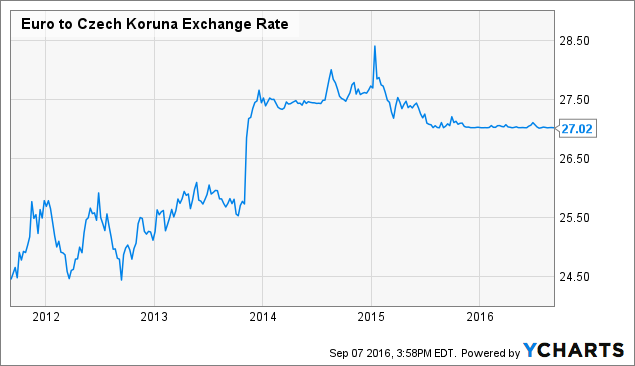 Euro to Czech Koruna Exchange Rate data by YCharts
I do not expect that CNB will cut interest rates on CZK (opposing to SNB's policy) as it did not communicate any will to do it in the past. However, even this possibility could not be absolutely excluded.
How to profit on EUR/CZK floor removal?
The most common way is to buy CZK and sell EUR (or USD) and wait till CZK appreciates. However, thanks to CNB's interventions on FX market, there is a big surplus of CZK on the markets. You will not be able to place your CZK on term deposit with a positive interest rate. Additionally, banks will charge you fees for keeping your CZK on current account.
Swap market mirrors the deposit market situation, with negative swap points for longer maturities. With an unknown time frame of the floor removal, any short selling of EUR/CZK can cause higher costs at the end.
Therefore, you have to find CZK-denominated asset bearing positive interest with a maturity longer than one year. Bonds denominated in CZK with investment rating and positive yield will be my target investment.
Buy CZK NET4GAS bond, maturity 2021, YTM 1.20%
I searched the CZK bond universe to pick up a bond which has a positive yield and reasonable maturity (three to seven years) and has an investment rating. The Czech Republic government bonds have AA Investment Rating (Standard & Poor's), but yield to maturity is negative for maturities until eight years.
There are not so many corporate bonds in CZK with investment rating traded on a secondary market. I pick NET4GAS CZK bond, maturity 01/28/2021, coupon 2.25%, current price 104.41, yield to maturity 1.21% p.a.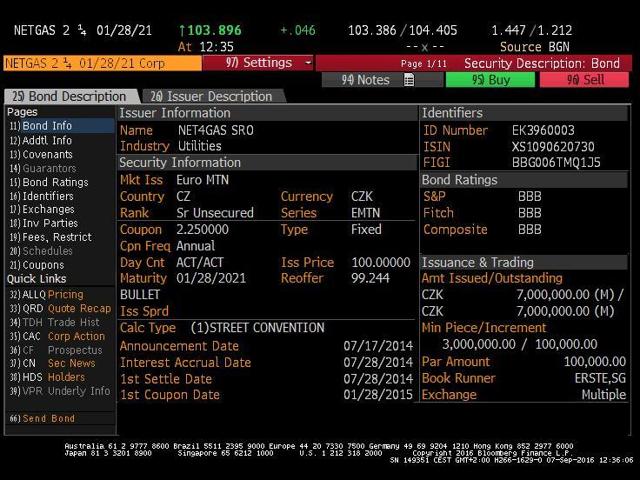 Source: Bloomberg
NET4GAS owns and operates only gas transmission systems in Czech republic. It carries out international transit of natural gas across the Czech Republic (routes Slovakia to Germany, Poland to Austria) and national transmission of natural gas in the Czech Republic. NET4GAS operates more than 3,800 kms of pipelines, three border transfer stations, and nearly a hundred domestic transfer stations. Its business is based on the long-term transit contracts with visible cash flows. The company is owned by Allianz Capital Partners (asset investment platform of Allianz Group (OTCPK:AZSEY) - Europe's largest insurer) and Borealis Infrastructure (infrastructure investment arm of OMERS, one of Canada's largest pension funds).
NET4GAS Group1 key financial figures (CZK mil.) according to IFRS
| | | | | |
| --- | --- | --- | --- | --- |
| in CZK millions | 31. 12. 2015 | 31. 12. 2014 | 31. 12. 2013 | 31. 12. 2012 |
| Total assets | 49,846 | 51,334 | 56,784 | 57,701 |
| Revenues | 9,879 | 8,781 | 9,012 | 10,089 |
| Operating profit | 5,307 | 4,495 | 4,777 | 6,073 |
| Net profit | 2,762 | 3,076 | 3,506 | 4,566 |
| Headcount | 506 | 506 | 516 | 558 |
1The NET4GAS Group includes NET4GAS, s.r.o. and BRAWA, a.s.
Net4Gas's EBITDA margin is stable at around 80%, the company does not plan any substantial investments in the following year, and CAPEX in 2015 reached 584 million CZK in 2015.
The company is rated BBB (investment grade) with a stable outlook from Standard & Poor's and Fitch.
Source: NET4GAS
Yield to maturity at 1.20% with maturity slightly over four years makes me feel pretty comfortable when adding this bond to my portfolio.
Conclusion
I recommend converting EUR (or USD) to CZK at the current level of 27.000 CZK per 1 EUR (24.000 CZK per 1 USD) and buy the CZK-denominated bond of NET4GAS, with maturity 2021, and yield to maturity 1.20%.
I expect that in 2017, CNB will remove the floor on EUR/CZK currency pair and CZK will appreciate by 10 percent. I recommend to exit the position right after the Czech National Bank cancels the floor.
My baseline profit scenario is 1.20% p.a. yield from holding the bond as I do not expect any change in interest rates in next two years. I see additional currency profit at 10% (in absolute terms) after the day of removal.
I see another possible positive impact on bond price in case of interest rate decrease by CNB, however, I put very low (10%) probability on such a scenario.
The risk lies in possible delay of EUR/CZK floor removal by CNB in case that inflation target is not reached. In this scenario, the bond will bear its 1.20% yield, as we do not expect any change in interest rates then. NET4GAS CZK bond with a maturity January 2021 provides sufficient time space to cover any possible delay.
Worst-case scenario is the depreciation of CZK against Euro in the following years. However, with the development of inflation figures and interest rate development in Eurozone, I put a low probability on this scenario.
Disclosure: I/we have no positions in any stocks mentioned, and no plans to initiate any positions within the next 72 hours. I wrote this article myself, and it expresses my own opinions. I am not receiving compensation for it (other than from Seeking Alpha). I have no business relationship with any company whose stock is mentioned in this article.
Editor's Note: This article discusses one or more securities that do not trade on a major U.S. exchange. Please be aware of the risks associated with these stocks.