Latin American airline profits came in for a hard landing last year as the region's economic woes grounded would-be passengers. Brazil-based GOL Linhas Aereas (NYSE:GOL) posted a record-breaking loss of more than R$4.4 billion for the year, while Chile's LATAM Airlines (LFL) reported a loss of US$219 million of its own. But this year promises loftier profits for the industry. And the prognosis is as simple as they come: As macroeconomic conditions improve across the region, Credit Suisse says airlines' profit margins and stock performance will follow.
Brazil's battered economy, the largest in the region, looks set to finally start growing again next year, while Argentina's economy is expected to grow 3.2 percent, rebounding from this year's decline. The first part of the airline investment argument really is that simple: The healthier a nation's economy, the more its people will take to the air.
But the argument has a kicker: Currencies. The Brazilian real has surged more than 20 percent this year, driven by improving commodity prices as well as growing optimism that Brazil's troubled government is on the mend. (Embattled President Dilma Rousseff was finally impeached on Aug. 31; her replacement, Michel Temer replaced the cabinet, installed a new economic team and has promised fiscal reforms.) Both the Colombian and Chilean pesos have appreciated as well, with respective year-to-date gains of 7.4 and 4.6 percent through August. The currency movements matter because many customers of Latin American airlines pay for their tickets using those local currencies while a large part of the airlines' costs and debts are denominated in U.S. dollars. As the airlines take advantage of favorable exchange rates to speed up repayments of dollar-based debts, both profit margins and leverage ratios should improve.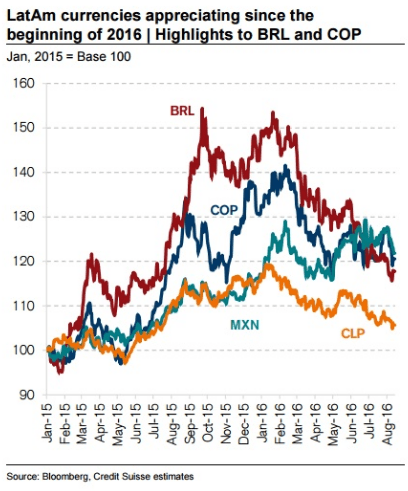 Another boon for the airlines: Oil prices that, while up for the year, remain low by historical standards. Brent crude has traded between US$45 and US$50 a barrel in recent weeks, up from this year's low of US$27 in January. But that's still considerably lower than the US$100 to US$120 that Brent traded for between 2010 and 2014. Assuming prices hold steady, the Bank estimates that fuel expenses should account for 22 to 26 percent of airlines' total operating expenses in 2016, compared to 35 to 40 percent in 2014.
Of course, during the tough times, the airlines couldn't simply assume that currency appreciation was around the corner and that low fuel prices would persist. So starting last year, Latin American carriers began instituting cost-cutting measures to cope with weaker demand. They shrank their fleets or pared back planned increases to reduce leasing costs and capital expenditures. They also aggressively reduced capacity on unprofitable routes. The cutbacks have been most significant in Brazil, where Credit Suisse estimates that capacity declines on domestic routes will reach an all-time high of 6 percent this year. The airlines also put international routes - most of them to the U.S. - on the chopping block. That belt-tightening should serve the airlines well in the months and years ahead, say the Bank's equity strategists, who expect the "more balanced supply/demand in the region" to bolster revenues.