The last couple of days have been a scorcher. I live in an old apartment building on the top floor and whatever the temperature is outside - it will be like 10 degrees hotter in my apartment. Even worse, there is no air-conditioning in my room, so falling asleep can be quite the challenge on those hot days.
Last night I had trouble falling asleep due to the heat. Not being able to fall asleep is never good and can get really annoying - quick. Other times, lying in bed, not being able to sleep, allows me to think. While I was lying in bed last night, I thought to myself that bank investors reading content on CompleteBankData may enjoy a dividend portfolio.
It's sad to say, but not everyone wants to, can, or would consider investing in obscure tiny community banks - that I have been covering. Furthermore, value is not just in these tiny one branch banks and can be found in yield worthy dividend payers. With that being said, I created a High Yield Portfolio - made up of banks yielding >3.85%.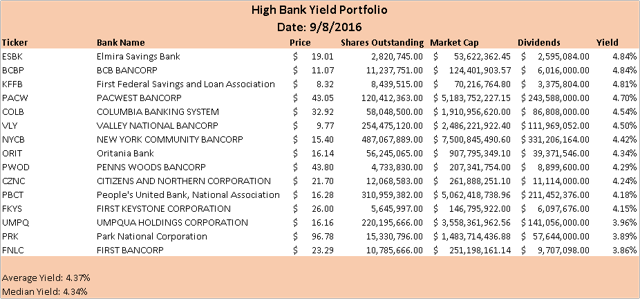 Companies within the portfolio are - from highest yield to lowest: Elmira Savings Bank (NASDAQ:ESBK), BCB Bancorp (NASDAQ:BCBP), First Federal Savings and Loan Association (Kentucky First Federal Bancorp (NASDAQ:KFFB)), PacWest Bancorp (NASDAQ:PACW), Columbia Banking System (NASDAQ:COLB), Valley national Bancorp (NASDAQ:VLY), New York Community Bancorp (NYSE:NYCB), Oritania Bank (Oritani Financial Corp. (NASDAQ:ORIT)), Penns Woods Bancorp (NASDAQ:PWOD), Citizens & Northern Corp (NASDAQ:CZNC), People's United Bank (People's United Financial (NASDAQ:PBCT)), First Keystone Corp. (OTCPK:FKYS), Umpqua Holdings Corporation (NASDAQ:UMPQ), Park National Corporation (NYSEMKT:PRK), First Bancorp (NASDAQ:FNLC).
The average aggregate yield is 4.37% and the median aggregate yield is 4.34%. The portfolio doesn't consist of those tiny banks you unusually see me writing about either. The average and median market cap of the portfolio is $1.9 billion and $907 million, respectively.
Given the fact that these banks have a higher market cap than what I typically deal with and attractive yields, wouldn't it make sense for there to be a significant amount of investors jumping all over these securities on Seeking Alpha? Actually, it's quite the contrary. The average and median amount of articles written on these banks is seven and four, respectively. Moreover, the average and median number of followers for each of these banks is 1,688 and 558, respectively. Just from these assumptions, it is clear that many dividend hungry investors haven't really looked into these high yielding banks.
So should you run out and call your broker - buying every single one of these banks for your portfolio? Absolutely not! I have done zero due diligence on these companies and have not determined if any of these companies represents an attractive investment opportunity. Furthermore, readers should always do their own due diligence before buying a company - no matter how attractive someone has made their outlook, be from an article/investment report.
The plan going forward is to individually cover these banks - determining if their yields are worthy of an investment. Moreover, in the next few months, there should be a 'back of the envelope' valuation of a good majority of these banks. As for now, here is our list of fifteen high yielding banks. Feel free to comment your thoughts on the aggregate mix. Furthermore, let us know if you think bank 'X' is a good investment or a lemon.
Disclosure: I/we have no positions in any stocks mentioned, and no plans to initiate any positions within the next 72 hours.
I wrote this article myself, and it expresses my own opinions. I am not receiving compensation for it (other than from Seeking Alpha). I have no business relationship with any company whose stock is mentioned in this article.
Editor's Note: This article covers one or more microcap stocks. Please be aware of the risks associated with these stocks.