Oilfield Drilling Rig Showing Traveling Block, Swivel, & Hoist Lines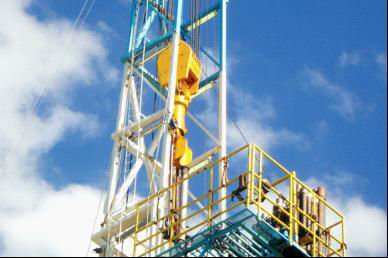 Source: goldeman.en.alibaba.com
Many years ago, when I was a petroleum geologist, I had the experience on several occasions of discovering what a "nine-line bind" is. It refers to a predicament that you can't readily get out of, and can be used as a metaphor for major messes that will stop you in your tracks and take lots of time to clean up. Anyway, the classic nine-line bind in the oil business occurs when the steel hoist lines that are used to lift the drill string (pipe) out of the drill hole become fouled or tangled.
On most rigs, there were commonly as many as six or eight lines (each made out of steel cable) that were used to pull the traveling block vertically away from the deck and up the mast, lifting the entire drill string (held by the swivel) with it. If those get so tangled that even the use of multiple additional lines can make no difference, then one is truly in a nine-line bind.
Even on a relatively small rig (rated to 8,000 foot drilling depths), the drill string weighed as much as 120 tons or so, making the tension on the hoist cables pretty spectacular. I remember seeing a line snap one day, and aside from threatening all of our lives, it got snarled in the other lines, and in general made one heck of a mess. It took a great deal of time (days) to cut everything apart and re-rig the cables.
By the way, the danger was caused by the fact that the steel cable can cut a person in half when it whips across the deck. In another accident on a rig, I saw the three-ton swivel suddenly plunge violently to the deck, hitting with an impact that literally made the entire rig jump. No one got hurt in either of the cases I'm speaking of, but it didn't always work out so well.
Now if one can imagine the mess made by nine completely snarled heavy steel cables with as much as 120 tons of tension on them, then one can start to see the size of the mess that the economy is in right now - indeed, it's in a nine-line bind. I decided that this is the right metaphor for our current troubles after reading a great article by Viktor Shvets, a strategist at Australian bank Macquarie Group (2016; as republished by Matt Turner on Business Insider).
A somewhat different version of this was published at the Zero Hedge blog also. Shvets points out that developed countries have been unable to grow their economies without resorting to a destabilizing level of debt (e.g., Chart 1). As a result, global productivity has been declining for many years (e.g., Charts 2 and 3), as I have discussed in detail elsewhere.
Chart 1: Decreasing Efficacy of Debt-Driven Growth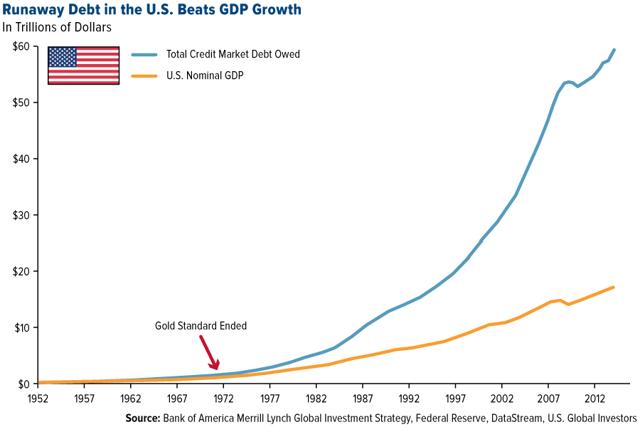 Source: BofAML; US Global Investors
Chart 2: Declining US Productivity Over Time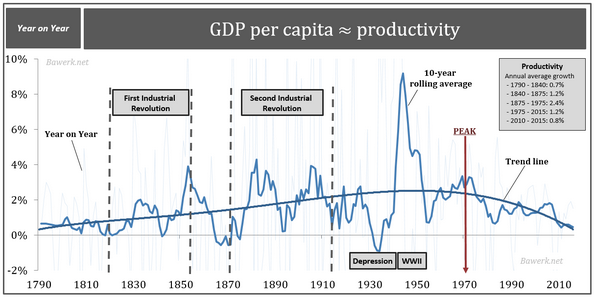 Source: zerohedge.com
Chart 3: Negative Correlation Between Debt/GDP and Productivity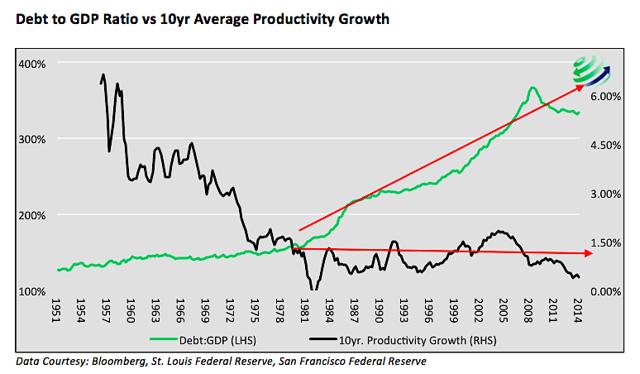 Source: seeitmarket.com
Shvets maintains that the "return on humans" is falling as a result of the so-called Third Industrial Revolution (robotics, automation, and AI; cf. Chart 4). Society appears to have "decided that neither income nor wealth of the current generation should suffer, and instead we all decided to bring future consumption [forward]."
Global leverage (debt/GDP) has doubled since 1992 and has climbed steeply since 2008 (Chart 5) because "societies refuse to adjust capacity and instead insist on trying to grow demand to match excess capacity." Chart 6 shows an example of sustained industrial overcapacity that is straining the global system.
Chart 4: Rise of Robots and Decline of Humans in Manufacturing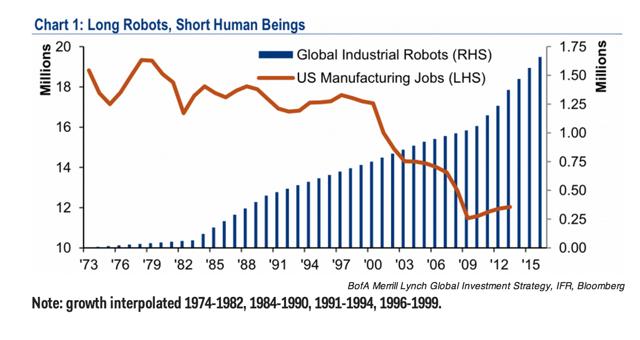 Source: robotenomics.com
Chart 5: Global Leverage Has Massively Increased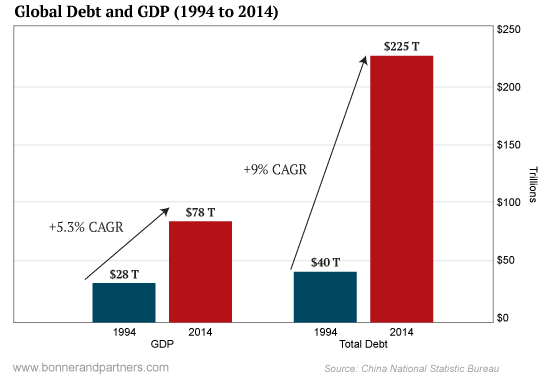 Source: bonnerandpartners.com; seekingalpha.com
Chart 6: Steel Capacity Utilization Has Fallen for Years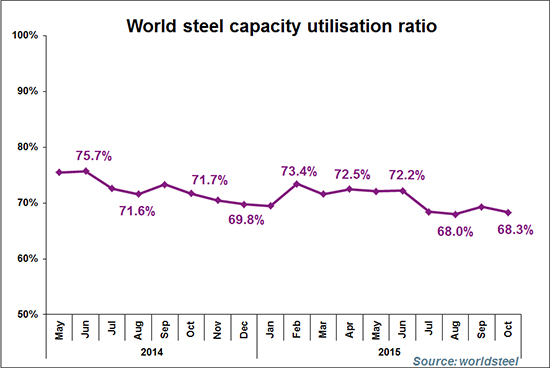 Source: citizen.co.za
Real median incomes have fallen sharply since 2000 in response to the overcapacity and increasing leverage in the economy (Chart 7). As a result of these declining incomes, there has been a steady rise in the inequality of income (Chart 8). The distortions to the labor market caused by these structural changes may be one reason why the Fed can't seem to estimate labor slack with any confidence, according to Shvets.
He goes on to say that if we are indeed in another Industrial Revolution, then there are probably extensive lags between the onset of the revolution and the realization of productivity gains. So what we are going through was also seen in the 1890s (i.e., the Second Industrial Revolution; Chart 9). The rate of change now appears to be progressing at a geometric rate (Chart 10), according to Shvets.
Chart 7: Sharp Decline in Real Median Income Since 2000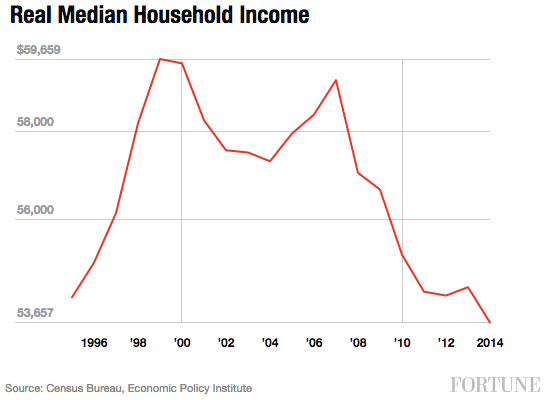 Source: fortune.com
Chart 8: Income Share of Top 1%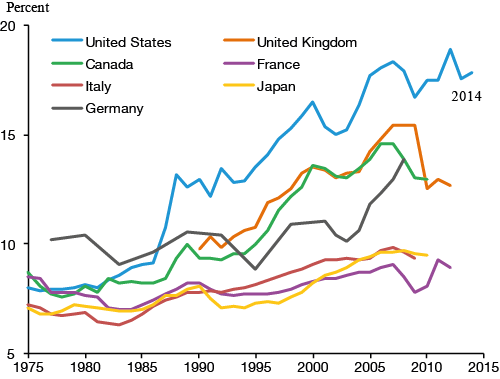 Source: voxeu.org
Chart 9: Dip in Productivity in Industrial Revolutions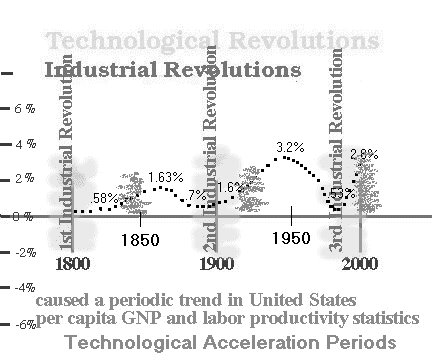 Source: sciencejunk.org
Chart 10: Geometric Rate of Change in Technology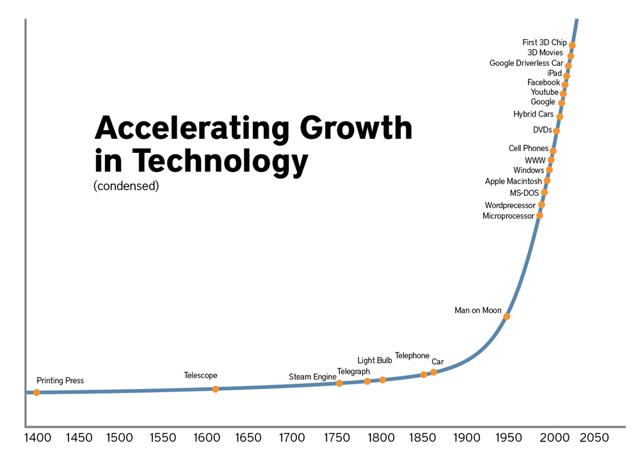 Source: blog.interactive-schools.co.uk
Shvets maintains that political attempts to cope with these structural challenges have led to an increase in nationalism, expressed perhaps in the nationalization of capital markets. This suggests that sovereign states will support consumption with income guarantees and pension assistance going forward, which may mean that government transfer payments will continue to increase so that the social fabric doesn't tear apart (Chart 11).
According to analyst David Stockman, the rate of increase of US transfers has been double that of wages since 2000. The effect of all this may be to cause a gradual move towards de-globalization as governments try to keep the workers from rebelling against their circumstances. The implications of this trend towards de-globalization for investors may be significant.
For example, as I have mentioned elsewhere, infrastructure projects may become highly favored by governments because of the jobs produced by that kind of spending, and the need for upgrading current infrastructure in order to promote consumption. This might be similar to the trends seen in the 1930s and the late 1960s.
Chart 11: US Govt. Transfer Payments (%GDP)
Source: asepp.com
The burgeoning debt problem has been pushing the viability of the global fiat currency system towards the abyss, as many authors have opined. For example, analyst Alasdair Macleod has suggested (Chart 12) that the huge increase in total Fiat Money Quantity ("FMQ") in the US (which includes hard currency and Federal Reserve-created base money parked at US banks), has undermined people's faith in the currency and is driving the widespread interest in gold.
There seems to be a real "race to the bottom" for global currencies right now, and it will get much worse if Europe or Japan expand their monetary stimulus actions any farther. Of special concern is the potential for a major devaluation by China, which needs to either devalue, cut median wages, or climb the value chain to improve competitiveness, according to Viktor Shvets.
In my opinion, it is more likely than not that a Chinese devaluation is on the way, as evidenced by their creeping, slow devaluation over recent months, and their sharp devaluation a year ago (Chart 13).
Chart 12: Fiat Money in the US System Has Exploded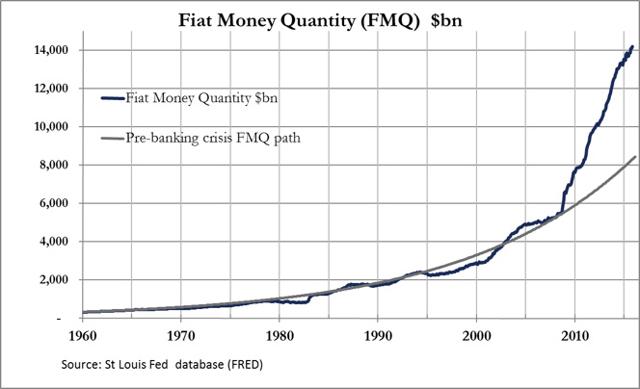 Source: silverbearcafe.com
Chart 13: Episodic Chinese Currency Devaluation Over Five Years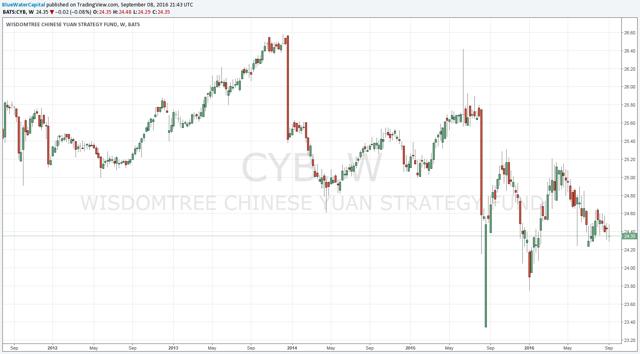 Source: tradingview.com; Author
In summary then, we have discussed nine issues that could get us all tangled up economically:
Global productivity declines that are structural and long-lasting.
Massively increasing global leverage that has increasingly burdened economies.
Huge industrial overcapacity on a global basis.
Declining median incomes in many countries due to the Third Industrial Revolution.
Increasing wealth inequality due to financial repression and overcapacity.
The rate of change in the new industrial revolution has gone geometric.
A new trend towards de-globalization will drive increased infrastructure investments.
Governments will increase transfer payments to individuals to maintain social cohesion.
The global fiat currency system is under stress and will likely fail in the next few years.
Thus, we appear to have nine lines all right, to take the metaphor literally, and they are definitely in a bind right now.
I like certain ETF names like the iShares Global Infrastructure ETF (NYSEARCA:IGF), the SPDR FTSE/Macquarie Global Infrastructure 100 ETF (NYSEARCA:GII), the Guggenheim S&P High Income Infrastructure ETF (NYSE:GHII), and the ProShares DJ Brookfield Global Infrastructure ETF (NYSEARCA:TOLZ). Unfortunately, there don't seem to be many publicly traded US-focused funds. The US holdings of the above ETFs are listed as 38%, 39%, 39%, and 50% of assets, respectively.
Mutual funds focused on infrastructure include the Deutsche Global Infrastructure Fund (MUTF:TOLIX), which holds 51% US assets, and the Nuveen Global Infrastructure Fund (MUTF:FGIYX), which holds 35% of its assets in US stocks. I would also consider Eagle Materials Inc. (NYSE:EXP), Martin Marietta Materials (NYSE:MLM), Vulcan Materials Co. (NYSE:VMC), Headwaters (NYSE:HW), Fluor Corp. (NYSE:FLR), Jacobs Engineering Group Inc. (NYSE:JEC), and EMCOR Group, Inc. (NYSE:EME). For each of these, careful attention should be paid to earnings projections and current valuations.
For those who want to embrace the new technology revolution in the pursuit of fun and profit, there are a number of interesting robotics stocks to look at. Those that follow will not necessarily end up as the winners because it is early goings in what looks like a revolution.
But they are worth looking at: Alphabet Class A (NASDAQ:GOOGL), Ford Motor (NYSE:F), General Motors Company (NYSE:GM), Toyota Motor Corp. (NYSE:TM), Tesla Motors Inc. (NASDAQ:TSLA), Fanuc Corp. (OTCPK:FANUY), iRobot Corporation (NASDAQ:IRBT), AeroVironment Inc., (NASDAQ:AVAV), Lockheed Martin (NYSE:LMT), Northrop Grumman Corp. (NYSE:NOC), Boeing Company (NYSE:BA), and ReWalk Robotics Ltd. (NASDAQ:RWLK). Many other companies are working on robots but are privately held.
Winners in the near future may also include genetics-driven biotech firms, which are not directly taxed by the ACA and do not depend solely on it for support. It's not an entirely clear field of play for them, but their newer patents protect their margins, as long as they can keep them coming. The two much beaten-down ETFs in this industry, the iShares Nasdaq Biotechnology ETF (NASDAQ:IBB) and the SPDR Biotech ETF (NYSEARCA:XBI), or the Closed-End Fund Tekla Healthcare Investors (NYSE:HQH) may be the ticket here.
Disclosure: I am/we are long HQH.
I wrote this article myself, and it expresses my own opinions. I am not receiving compensation for it (other than from Seeking Alpha). I have no business relationship with any company whose stock is mentioned in this article.
Additional disclosure: This article is intended to provide information to interested parties. As I have no knowledge of individual investor circumstances, goals, and/or portfolio concentration or diversification, readers are expected to complete their own due diligence before purchasing any stocks or other securities mentioned or recommended. This post is illustrative and educational and is not a specific recommendation or an offer of products or services. Past performance is not an indicator of future performance.
Editor's Note: This article covers one or more stocks trading at less than $1 per share and/or with less than a $100 million market cap. Please be aware of the risks associated with these stocks.