A couple of years after we started tracking mergers and acquisitions to profit from the arbitrage opportunities offered by them, we received a question from a reader about the number of deals that fall apart so that he could estimate the risk associated with this strategy. If you are not familiar with Merger Arbitrage, you can check our introduction to merger arbitrage or this entertaining video that explains the strategy in simple terms.
We wrote the following in response to his question back in 2012:
There is always the risk of a deal falling through and there is a reason this strategy is also referred to as "risk" arbitrage. Check out this post on MarketFolly.com discussing the risk in risk arbitrage. After querying our database, I found that 209 mergers completed successfully in 2010 and 13 mergers failed. The success rate was 94%. In 2011, 175 deals completed successfully and 7 failed, implying a success rate of 96%.
In the ensuing years, merger activity declined before picking up significantly in 2015 as you can see in the table below. With interest rates as low as they are and earnings growth difficult to come by, it appears that 2016 is on track to be another record year for mergers. On a related note, the private equity firm Apollo Global Management (NYSE:APO) has announced the acquisition of a company in each of the last three months including Diamond Resorts International (NYSE:DRII), Outerwall (NASDAQ:OUTR) and Rackspace Hosting (NYSE:RAX).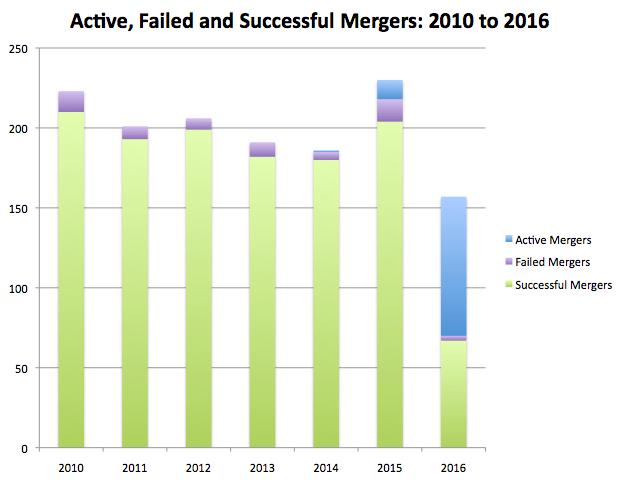 * Please refer to the notes section at the bottom of this article regarding the methodology used to generate this table.
The success rate has stayed consistent with what we saw back in 2012, ranging from a low of 94% to a high of 97%. While double checking this data I realized that since we close mergers as failed if another offer shows up and add a new merger in the database for the new offer, the success rate is likely to be slightly higher. Out of the 59 failed mergers, 13 received another offer and hence the actual failed mergers were just 46 out of a total of 1,381, implying a success rate of 96.67% for the entire data set.
While the success rate is very high, the impact of a failed merger can have a significant impact on your portfolio, especially if it is a concentrated portfolio. Considering spreads have been narrowing for some time now, the risk/reward payoff may be even more skewed.
Some people might consider the merger arbitrage strategy akin to collecting pennies in front of a bulldozer. If the deal goes through you pick up a dollar here or a dollar there but what happens if the deal falls apart on account of regulatory issues, shareholder dissent, financing problems or the inability of either company to execute on the terms of the merger agreement (revenue covenants, etc.)?
In many cases, this may result in a loss as large as 30% and in some instances you may lose half of your investment or more. There are several steps arbitrageurs could take to mitigate these risks including avoiding foreign deals, deals that require raising a lot of debt, deals that could run into anti-trust issues and in general avoiding deals that have large spreads. While the opportunity to profit from large spreads is appealing, those spreads are large for a reason. In this case, the market is more often than not right.
I have adopted some of these strategies to help improve my batting average but have still been hit by balls that came out of left field or in Taleb's words, a "black swan" event. I will discuss that in another article that looks into the benefits and pitfalls of building a diversified portfolio vs. a concentrated one.
To end the article on a positive note, for every failed deal, there is also the possibility that a higher offer may materialize. In some delightful cases (Pep Boys, Polycom, Dollar Thrifty and Starwood Hotels come to mind), the bidding might last several rounds much to the pleasure of arbitrageurs.
Notes:
We have used the announcement date to identify the year a merger falls under. If a merger was announced in late 2011 and completed in 2012 or 2013, it is counted in the year 2011.
The numbers in the table may differ slightly from the post we wrote in 2012 as there were probably active mergers that completed or failed after we published that data.
Success rate for 2014 through 2016 excludes currently active mergers.
2016 data is through September 6, 2016.
While we take great care to make sure our data is accurate, it is entirely possible that we missed a few mergers or did not accurately track the completion or failure of mergers.
Disclosure: I/we have no positions in any stocks mentioned, and no plans to initiate any positions within the next 72 hours.
I wrote this article myself, and it expresses my own opinions. I am not receiving compensation for it (other than from Seeking Alpha). I have no business relationship with any company whose stock is mentioned in this article.