While there are many risks endemic to the bond market, a commonly cited one today is probably duration risk in a rising rate environment. As we saw three years ago, rapidly rising yields can have a profound deleterious effect on bond pricing. Individual bonds, ETFs, CEFs, as well as open-ended mutual funds all got whacked by the end of 2013.
Three years later, however, we find Treasuries back to the level track where we first entered the "taper tantrum" inspired roller coaster hill climb. If you invested money in long-term bonds during the winter of 2013-14, you are likely sitting on some very attractive gains that have eclipsed equity index returns.
10-Year Treasury Since 1-1-13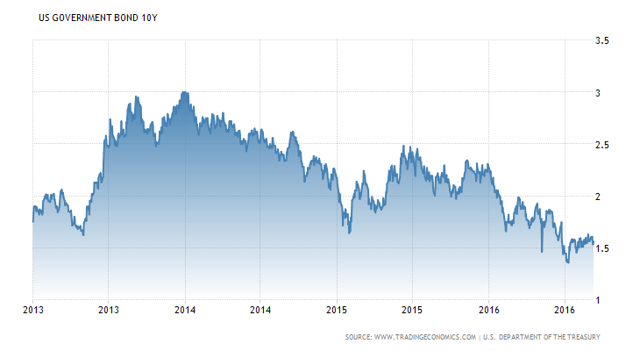 Whether you should take those gains and move on at this point is somewhat beyond the scope of this article, but clearly, one cannot ignore the potential severe opportunity costs of owning long duration bonds during a rising rate environment.
To mitigate that risk, investors can keep blended portfolio duration short, so that if rates do rise, there will be "sooner rather than later" opportunity to reinvest matured bonds at higher interest rates. However, if we are in a secular low rate environment that persists for decades, short duration itself would present the opportunity cost, as it sacrifices the higher-yields available in longer dated bonds.
The Specific Problem With Bond Funds
Bond funds are an interesting animal in that there is generally no guarantee on what you will receive should you decide to sell. Unlike an individual bond which specifies potential issuer call or final maturity dates, bond fund net asset value fluctuates daily based on the underlying asset pricing and operating costs.
If I buy a 10-year newly issued bond today with no call feature, I'll get back my initial investment back on 9-9-2026, assuming I choose to hold to maturity. If I buy an ETF or CEF and hold 10 years, what I'm able to sell shares for at that time will be predicated on managerial performance and underlying moves in the bond market.
It is for this reason that an individual bond has a huge capital visibility advantage compared to any kind of fund.
A Response To That Problem
To combat the problem of return of capital visibility, there is a small group of closed-end funds possessing a defined term feature that may be worth considering. They don't solve the problem to a T, but represent a viable alternative for the investor seeking the diversification, potential discount, and convenient, cheap leverage attribute of a closed-end fund with an associated defined wind-down date.
If you examine a defined maturity fund and can assess current yield, discount/premium, UNII, and other fund-specific data, one can try to analytically determine if the total income/total return proposition will be superior to that of individual bonds trading at the current market.
Below are two lists of term maturity bond funds as compiled by CEFconnect.com. The first list contains municipal funds, and the second, taxable bond funds, as well as a few equity-related term issues. The list should not necessarily be considered complete.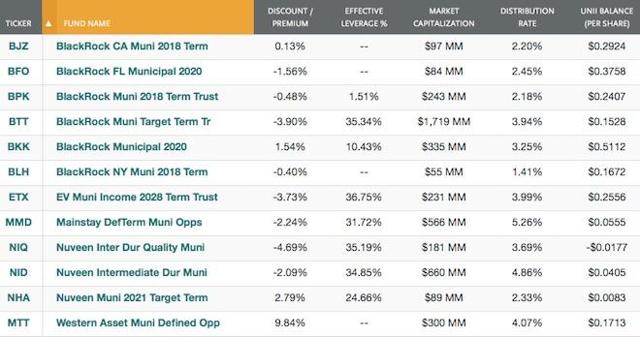 Taxable/Equity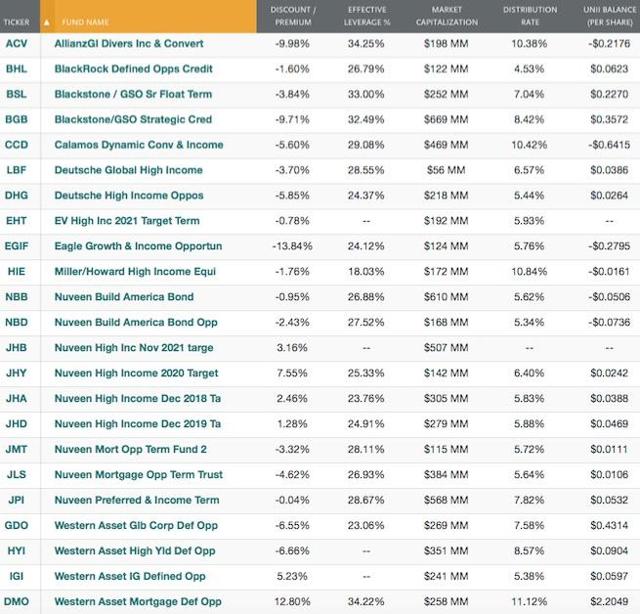 Some of the fund names include the year that the fund is expected to terminate, for the rest, you will need to do additional research via fund literature to figure (example). As one might expect, the taxable distribution rates are generally much higher than in the muni list. In line with much of the rest of the CEF space, about 4 of 5 of these funds add leverage to the mix.
To determine further comparative investment value, one must also consider the underlying blended credit quality of the fund in question. For example, JHY - the Nuveen High Income 2020 is 60% composed of S&P 'B' rated bonds, while GDO - the Western Asset Global Defined Opportunity is heavily weighted (~65%) towards investment grade offerings and isn't slanted to liquidate until December of 2024.
Investors should look at JHY as a 4-year 'B'-rated junk bond equivalent, while GDO should be viewed as roughly an 8-year 'BBB' bond equivalent - both levered to the tune of about 25 percent.
To determine net potential YTM, the current distribution/yield, the current discount/premium to NAV, and current UNII (undistributed net investment income) must all be considered and weighed as part of the analysis. Unfortunately, we aren't privy to the actual trading decisions or velocity in which cash may be raised in advance of liquidation.
Further, UNII, while accurate at the time of publication, can vary on a month-to-month basis, dependent on the schedules that the fund is receiving interest income from its bonds. Also we need to assume that the current asset mark to market is fairly accurate in terms of the current published premium/discount.
Also, the longer the maturity, the more impact the management fee may have over potential forward returns.
Sample Analysis
As an example of how one might go about generating an expected return model, let's take on an analysis of - the high-yield fund that, according to Nuveen's website, is expected to liquidate on November 1, 2020, a little over four years from now.
Directly from Nuveen.com: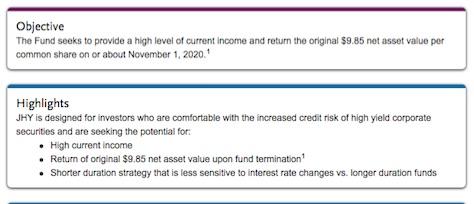 Here's what we know about JHY today:
NAV Premium: ~7%
Per Share Distribution Rate: .0555 monthly; .666 annualized
Yield: 6.35% annualized at market ($10.40)
UNII: .0242 (as of 7/31/16)
Current NAV: $9.69
Expected Liquidation: 11/01/2020 - roughly 50 months out w/ $9.85 expected NAV return
We'll proceed with the assumption that the fund liquidates with its current $9.69 net asset value, thus confirming the current 8% premium. Whether that happens or not is clearly not guaranteed. If you think rates will fluctuate wildly over the next four years, it might be appropriate to model some NAV adjustment depending on what you expect to occur. Since we're looking at very short duration here regardless, NAV adjustment, if any, should be minimal.
It should be noted that despite the positive UNII posted in July, that the fund just dropped its rate of distribution 2.6%, from .057 per month to .0555 per month for next month's distribution, which we've taken into account above. The drop in bond yields over the past nine months, coupled with scant upcoming maturities will likely continue to pressure the fund's distribution.
The next step is to examine the fund's holdings to assess how much maturity/call pressure may be exerted. This can be accomplished through the fund's latest comprehensive report. Scanning JHY's holdings, it appears the vast majority of bonds mature in '19 and '20, which indicates that the yield should hold up fairly well for the next two years. Still, the fund's details report, shows that there is significant call risk over the next two years - as much as 50% of the portfolio.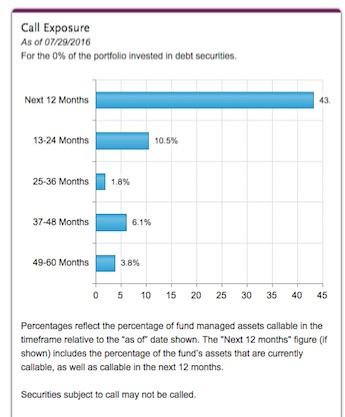 Source: Nuveen
Predicting which bonds might be called would be a rather tedious process. But assuming bonds are called, that could put potentially even earlier pressure on the distribution. And we're already assuming that 2019 and 2020 could be very weak yield years.
Putting things together is fairly complicated and amounts to a lot of projection on how things will ultimately shake out. The fact that bonds yields have generally diminished over the past nine months will not help matters, either. Although, of course, as I write today, bond yields have sprung to life for the first time in quite some time, amid hawkish fears.
Putting things together, I'm going to assume 4.5 cents per month of distribution until liquidation (~1 cent less per month than today's yield), although even that might be optimistic if stars were to negatively align. If you disagree, you can factor in more optimistic or pessimistic yield capture scenarios.
Four-and-a-quarter cents works out to $2.25 of total distribution, or 21.6% of yield-to-maturity over 50 months of remaining operations. Keep in mind, however, shares are trading at a 7% premium currently, so we need to deduct that premium from the yield, assuming shares liquidate at current NAV.
We are left with 14.6% of net yield capture, which amounts to a net total return prospect or annual net yield to maturity of roughly 3.5 percent. If you were to assume that the distribution remained constant at .0555, quite unlikely in my opinion, the return would be about 5.2%, annualized, until liquidation. Again, all of this assumes one purchases today and no reinvestment until 11/1/2020.
If you went straight to the bond market and looked at BB- or B+ credit, here are some examples of what you might find:




Source: Ameritrade
Assuming Frontier (NASDAQ:FTR) doesn't fall off the face of the earth in five years, that, to me, clearly seems a better alternative here, with an above 6% YTW call on 6/15/20 and better on final maturity. Donnelley (NYSE:RRD) might be a flip of the coin, while MGM Resorts (NYSE:MGM) wouldn't appear to possess much value, comparatively speaking.
Still, JHY is diversified, which means that if one of its bonds runs into a specific problem, it would have negligible impact compared to the investor who opts for a single issuer that happens to default. But you must also factor the 25% leverage component which, to some extent, increases risk here.
All totaled, I don't see compelling comparative value in JHY, despite its risk mitigation attribute. The somewhat universal unknown prospect for yield trail-off close to liquidation seems to cancel the benefit of the term feature in this case. The steep premium is also a large hurdle right now.
Recommendations/Summary
There were a couple of funds that stuck out in the above pictured lists in my opinion. One was Blackstone/GSO Strategic Credit (NYSE:BGB). The fund trades at a 10% discount, seems to possess substantial UNII, and yields 8.45 percent. It liquidates in almost exactly 11 years.
Another was aforementioned GDO - Western Asset Global Corporate Defined Opportunity, weighted towards investment grade bonds, with a discount of 6.6%, 7.6% yield, and again, large apparent UNII. It liquidates in 8 years.
These two would seem to offer a good start for further due diligence. Keep in mind however, that the CEF bond fund universe has had a sizeable rally over the past 12 months, with combined NAV advance and discount narrowing across the board.
To sum up, while an interesting concept, term closed-end bond funds offer an added layer of analytical confusion and uncertainty to a space already dominated as such. Locking into defined maturity would seem to have capital benefit in a rising rate environment compared to the majority of perpetual bond-related CEFs. However, the wind down process leaves capital somewhat impotent compared to individual bond brethren when heading into liquidation.
Like other CEF products, understanding what you might be getting yourself into is only half the battle. The other half is determining whether what you are considering getting into, is actually worth, well, getting into.
Disclosure: I/we have no positions in any stocks mentioned, but may initiate a long position in ANY SECURITY MENTIONED over the next 72 hours. I wrote this article myself, and it expresses my own opinions. I am not receiving compensation for it (other than from Seeking Alpha). I have no business relationship with any company whose stock is mentioned in this article.
Additional disclosure: Disclaimer: The above should not be considered or construed as individualized or specific investment advice. Do your own research and consult a professional, if necessary, before making investment decisions.