In Friday's edition (Feb 24, 2012) of Lightning Round on his Mad Money program, Jim Cramer was bullish on 4 stocks and bearish on 2. In this article, I will ignore his bearish calls and analyze the bullish calls to determine if following his advice on these individual stocks makes sense at current levels. For those interested, Cramer was bearish on Cellcom Israel (NYSE:CEL) and Oncothyreon (ONTY).
The companies selected for analysis are shown below.
Some basic information about the companies is presented in the table that follows:

COP is the largest firm on the list with a market capitalization of $98 billion. The other energy firm on the list is Sandridge. The company is going through some tough times and currently posts a negative TTM EPS. In contrast to SD, KORS, which recently became a public company and started trading on the NYSE in December 2011, has had an incredible run since its IPO and has delivered a return of 81% to its shareholders.
Next, I observed the historical growth rates of revenue, income and book value, and the projected long term earnings growth rates. These are summarized in the table shown below:
GG is the only consistent performer on list with its income and revenues both rising at a double digit pace over the last 5 years. The book value growth rate however trails the EPS and revenue growth rates and is a negative in my opinion. COP's earnings have been flat over the last 5 years. Its EPS and revenues were up significantly during the last 12 months. Going forward, analysts expect COP to grow at an annual rate of 4%. My growth expectations from GG and SD are far more optimistic compared to COP. I project a 30% annual growth rate from current levels for GG and a 60% growth rate for SD.
The next step in the fundamental analysis was the evaluation of margins and operational effectiveness of the 6 companies. The table that follows presents the evaluation results.

COP is the only company on the list with a return on investments greater than 10%. GG and SD have delivered poor returns on assets and investments. Based on these returns, I would only consider opening a position in the two companies if they are trading a significant discount to fair value. Since KORS has limited trading history, margins and operational data was not available at the time of writing.
Having developed a good idea about the fundamentals of the 4 companies, the next step was to perform relative valuation. The multiples used in the analysis were based on historical analysis of individual company and industry multiples.
The table below presents the valuation analysis results.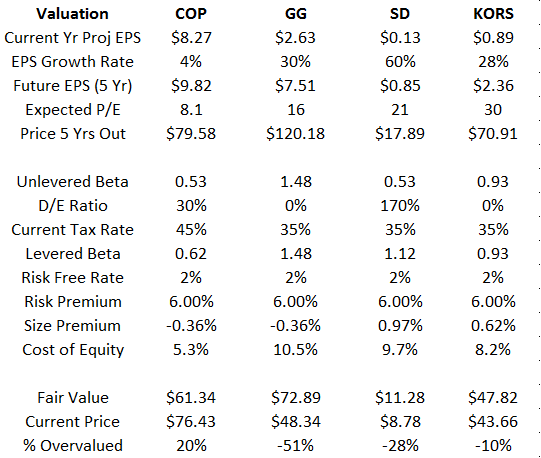 As shown in the table above, GG and SD are significantly undervalued at current levels. KORS also trades at a discount at a discount to its intrinsic value. COP is overvalued by 20% and should be avoided in my opinion. Although I consider the fundamentals of both GG and SD weak, based on the price discount, these companies look attractive to me at current levels.
Disclaimer: Kindly use this article for information purposes only. Please consult your investment advisor before making any investment decision.
Disclosure: I have no positions in any stocks mentioned, and no plans to initiate any positions within the next 72 hours.