By Parke Shall
Turmoil hit the markets on Friday as all of the major indices sold off on fears that the Federal Reserve is going to soon be hiking interest-rates. Friday it got ugly, and it stayed ugly.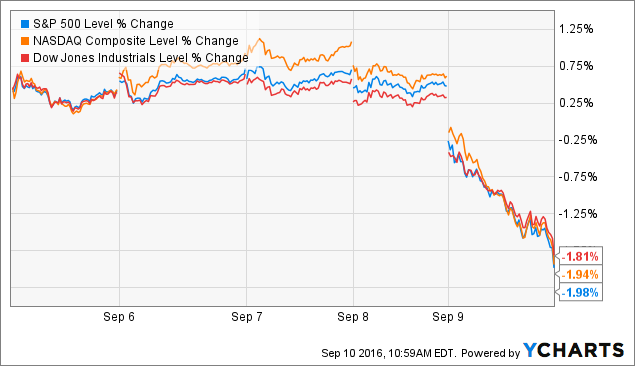 The Fed raising rates is a phenomenon that we will not believe until we see it, pardon our skepticism, we do think there is a bit more likely of a chance of rates rising before the end of this year then there was previously. We recently wrote a scathing article criticizing the Federal Reserve about their lack of spine which you can read here. As you will be able to tell from our demeanor in that article, we will not be surprised if the Fed winds up doing nothing until next year. But that is another complaint for another day.
With the market selling off on Friday, many investors are looking for a spot to deploy some capital. We're skeptical about this, as we are not sure that the market has much more room to grow going forward from here.
S&P multiples are at highs and it seems to us that the market needs to take a breath before it is going to be able to move up. We have been incorrectly predicting a 10% to 20% correction for the last six months. We still continue to believe this is on its way and that it will be catalyzed by rate hikes, bubbles in high-yield credit, and potentially a bubble in the automobile financing market.
So when we think about piling into stocks here, it kind of gives us an uneasy feeling. Even the ripest of sectors are being priced too aggressively for us at this point. We see plenty of short candidates as we look, but less and less value to the long side. We also feel like many long investors at this point in the market are just simply trying to pick the best of a bunch of the worst ideas.
We were discussing last week at the end of the week what type of companies we would feel confident in buying at this stage in the game for the long-term. It was almost unanimous that financials were really the only game in town. They have steady balance sheets, they offer small yield, many of them are trading below what appears to be fair value, and they are the natural beneficiaries of any coming rate hike.
On a price/book measure, Bank of America (NYSE:BAC) and C both continue to be cheap,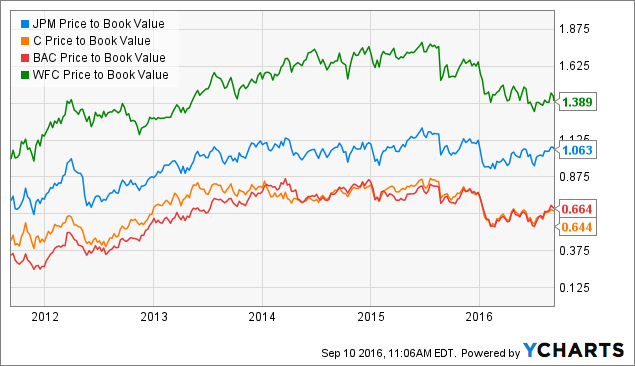 JPM Price to Book Value data by YCharts
On an earnings basis, Citigroup (NYSE:C) trades at 10x forward earnings while the rest of the big names are parked around 11x to 12x forward earnings,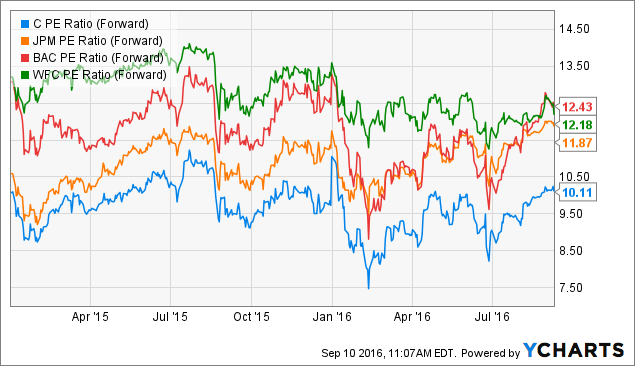 C PE Ratio (Forward) data by YCharts
As you can see, the equity in all of the major banks has grown signficantly since 2008, giving them an even firmer foundation to stand on,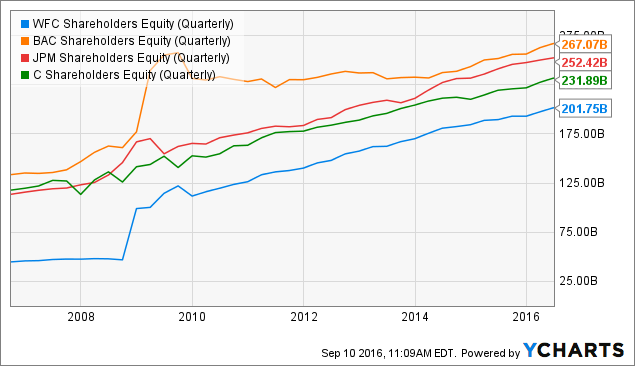 WFC Shareholders Equity (Quarterly) data by YCharts
Over the last year financials have underperformed major sectors like Healthcare and Technology (light blue is the XLF financial ETF),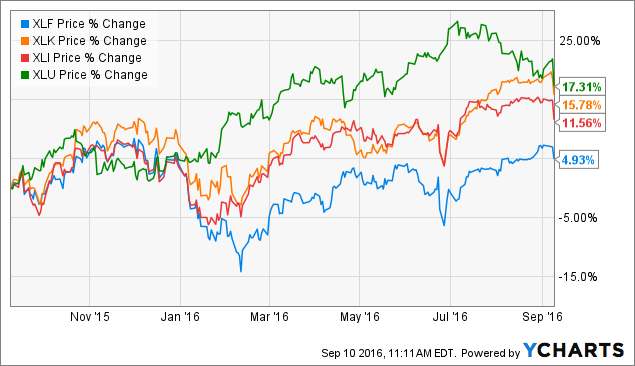 The best part is these banks have learned to survive and produce decent results without a rate hike. So, in either situation, we don't mind holding financials here.
Banks have been holding up and performing well while net interest margins aren't anywhere near what they have been in the past. Net interest margins that are usually closer to 3% have been 2%-2.25% for major banks for a while, yet our financial institutions have found a way to flourish, namely by underwriting a lot of investment banking deals in this low interest-rate environment. As the Fed ponders raising interest rates, banks will stand to benefit from a larger spread on the money that they are borrowing versus the money they are lending.
We think an investment in the banks here gets you the best of both worlds. When trying to look at the financials that we would invest in specifically, we like to gravitate towards the banks that are trading below book value, C and BAC.
One way or another, banks are going to pick up if the Fed raises rates. In the interim, banks have been holding steady and producing a small yield whie they're parked.
People should also be conscious of the fact that banks that have a lot of exposure to high-yield debt may be good banks to avoid going forward. Also, online lenders and banks that primarily do a lot of business online are names that one should probably avoid. We don't want to be anywhere near banks like Opus (NASDAQ:OPB) or Bank of Internet (NYSE:BOFI) at any point, regardless of what interest-rates are.
That said, focusing on the firmly established large financial institutions could be a great way to allocate capital in a market that is already looking frothy and is leaving little to no fantastic long ideas for investors at this point.
Disclosure: I am/we are short BOFI. I wrote this article myself, and it expresses my own opinions. I am not receiving compensation for it (other than from Seeking Alpha). I have no business relationship with any company whose stock is mentioned in this article.