Friday's 300 point drop had me looking about for bargains to add to my portfolio. The first bargain that I added to the array of portfolios I manage was Rayonier Advanced Materials, 8.00% Series A Mandatory Conv Preferred Stock (RYAM-A). I had purchased a few shares at $97.00 per share soon after the initial offering. As I watched it descend on Friday, I began adding shares to my own portfolio and to other portfolios I manage at $87.50 to $89.00 per share since at $89.00 per share it offers a 9% yield.
This stock has several interesting provisions not often found in other preferred issues. The first is that its dividend is eligible for the 15% tax rate and the second is that it must be converted to common stock on 8/15/2019. (Quantumonline.com) At the time of conversion one gets 6.5923 shares of Rayonier common if the price equals or exceeds $15.17 per share or 7.7459 shares if the market price is $12.91 or less. Conversions between these two prices will be apportioned dollar for dollar, or in other words one will get common shares that will equal $100.00, the original offering price of the preferred. Because of the mandatory conversion RYAM-A will likely track the common stock price more closely than is usual among preferred issues and will increasingly do so as the conversion time nears.
Rayonier Advanced Materials, Inc. (NYSE:RYAM) is the leading supplier of high-purity cellulose specialty products with plants in Georgia and Florida. The company produces acetates used in plastics, films, textiles and filters, ethers used paint, industrial coatings, food and pharmaceuticals, fluff pulp used in baby diapers and other absorbent pads and other products used in tires, food products and automotive filters.

Source: Investor Presentation, Rayonieram Web Site
RYAM's latest full year guidance offered on 9/1/2016 is shown below: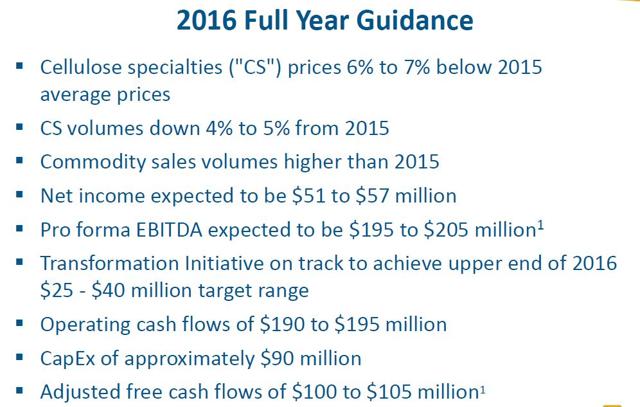 Source: Investor Presentation, Rayonieram Web Site
RYAM has targeted $75 - $90 million in cost improvements to implement over the next 3 years as well as a 10 year plan to develop new products that will enhance revenues by 20%. (Investor Presentation 9/1/2016) The company has also reduced its debt load from $941 million to $646 million since mid-2014 when RYAM became a standalone company. While the company does not appear to be growing at the moment, management appears to be on the right track to maintain cash flow and eventually increase sales.
The preferred stock of RYAM appears to be a safe bet for the $2.00 quarterly dividend it offers over the next 3 years. On the other hand, I will likely sell the preferred prior to the mandated conversion to common shares unless the stock is selling above $15.00 per share.
The second bargain I picked up on Friday was One Liberty Properties Inc. (NYSE:OLP) since its market price dropped nearly 5%. OLP yields 6.8% at its current price of $24.00 per share and appears to be in a growth spurt. OLP is a REIT that engages in the acquisition, ownership and management of commercial real estate properties in the U.S. (S&P) As of April the company owned 112 properties encompassing 8.2 million square feet. Occupancy was running at 98% with an average lease term of 7.9 years. (Investor Presentation April 2016) OLP's growth is depicted below.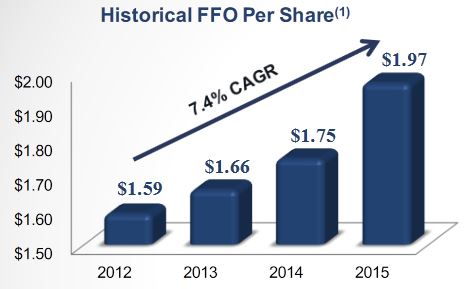 Source: Investor Presentation April 2016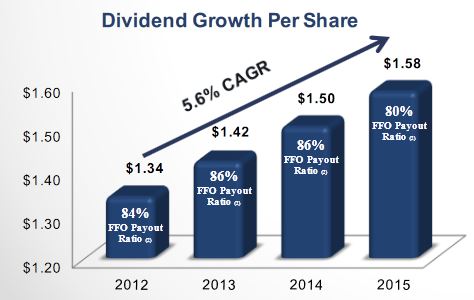 Source: Investor Presentation April 2016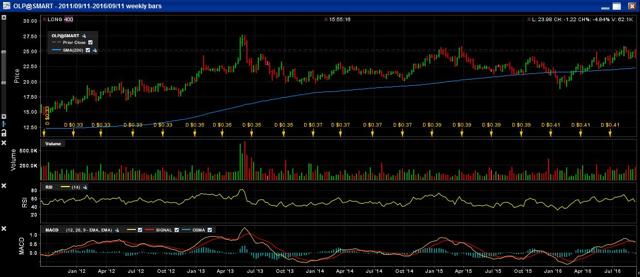 Source: Interactive Brokers Web Site
Since April the company purchased 7 properties, 4 free standing retail properties in Ohio, 1 shopping center in Minnesota, 1 apartment unit in Ohio, and 1 industrial distribution center in Tennessee. During the same period OLP sold 2 properties where the company profited to the tune of $7.5 million. (Acquisition News - 1Liberty.com) The fact that OLP management and insiders own about 22% of the stock is another strong indication that one can have confidence in the company. In OLP one can purchase a company that offers both a terrific yield and excellent growth; Friday's decline made it seem like a great bargain.
Disclosure: I am/we are long RYAM-A, OLP.
I wrote this article myself, and it expresses my own opinions. I am not receiving compensation for it (other than from Seeking Alpha). I have no business relationship with any company whose stock is mentioned in this article.