There are a couple of issues providing the offshore drilling industry with some serious headaches: OPEC's continuous oil production and shale's ever-improving economics.
OPEC Production
The last oil price struggle, prior to the one we are currently going through, was in 2008/2009. Prices fell from $145 per barrel to $32 in the span of 5 months. OPEC stayed true to its mission statement to "... ensure the stabilization of oil markets in order to secure an efficient, economic and regular supply of petroleum to consumers, a steady income to producers and a fair return on capital for those investing in the petroleum industry." OPEC, led by Saudi Arabia, cut its production by roughly 10% between the second half of 2008 and early 2009: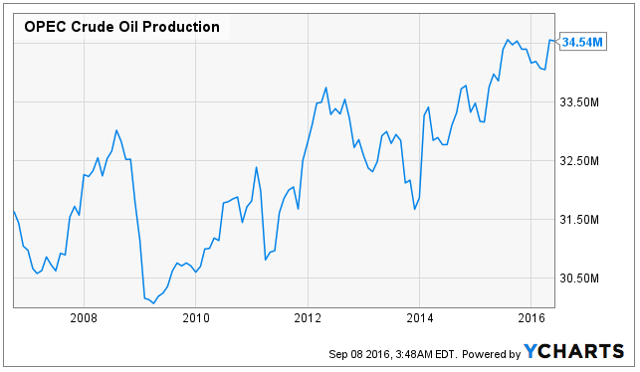 Source: YCharts
For whatever reason (maybe to destroy US producers), OPEC decided not to cut production this time around. Interestingly, CNN recently reported that many of the OPEC members are actually feeling the pain from the depressed oil prices. Regardless of where oil prices go, offshore drillers will still be in a tough spot, at least in the short term, because offshore drilling is both capital intensive and time consuming.
Shale Economics
There are many advantages to shale when you compare it with offshore drilling. A shale well can be up and running in weeks compared to offshore rigs taking months. When oil prices drop like a rock, it's easier to drop 7-figure shale rig contracts (or just stomach the losses) vs. 8-9 figure offshore rig contracts. When oil prices soar, it's easier to get into 7-figure shale rig contracts vs. 8-9 figure offshore rig contracts.
So far, the only real advantage that offshore drilling has over shale is that offshore wells tend to produce for a longer period compared to onshore wells.
Between reduction in well cost and improved EUR per well, Rystad Energy reports that shale's breakeven price has gone down: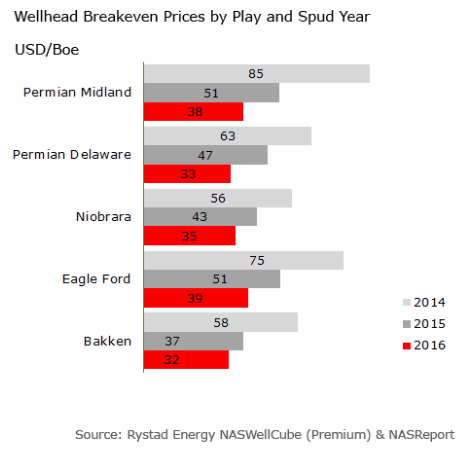 Source: Rystad Energy
Over the past 3 years, shale production costs have almost been cut in half. In the meantime, offshore oil seems to be floating around at a $60/barrel breakeven cost. To be fair, shale costs will likely increase in the event of another boom when companies are competing for workers.
When you're in the commodity business, you have no price control. Inevitably, time is a critical element to business because commodity prices can fluctuate wildly while your production costs generally remain constant. It's more confidence-instilling if a producer can start a project, make a profit quickly, and have the option to get out of the project without major contractual obligations when commodity prices go below production costs.
What does this mean for offshore drillers?
It is easier for oil companies to sign a shale contract compared to a offshore contract. This is mainly due to the lower capital commitment, shorter time commitment, and better economics that shale offers. If oil went back to $80/barrel tomorrow, shale would be able to act on it in a few weeks. On the other hand, it may be months before you manage to get oil out of an offshore rig. Since nobody really has control over prices of oil, cheap, minimal commitment is the better way to go. What this means for offshore drillers is that, even if oil prices were to slowly recover, it's the shale contracts that will be signed before companies have enough confidence to pull the trigger on offshore contracts.
So are offshore drillers… done?
Probably not. Offshore was 30% of annual global oil production just a year or so ago. While shale has made breakthroughs in production economics, it won't eliminate offshore drillers from this world. There has been some talk about fracking and its connection to the rise in frequency of earthquakes recently. Maybe it was a coincidence that Oklahoma got shaken with the largest earthquake recorded in the state, but even the smaller, sub-3 magnitude earthquakes do noticeable damages to homes and buildings, as noted by USGS:
"Increased seismic activity, whether defined as induced or natural, produces high hazard. Conversion of ground shaking to seismic intensity indicates that some places in Oklahoma, Kansas, Colorado, New Mexico, Texas, and Arkansas may experience damage if the induced seismicity continues unabated."
Source: USGS
It's safe to say that shale has its own set of problems, which is a positive for offshore drillers. Having said that, there are plenty of offshore rigs out there and not a lot of contracts. Diamond Offshore (NYSE:DO) CEO Marc Edwards mentions the oversupply of sixth-gen assets more than a few times in the Q2 2016 call. With many of the offshore drillers stacking their assets, it may be years before one or two of them step up as the obvious winner(s).
What's an investor to do?
With offshore rig counts and contracts dropping like a rock, it's difficult for any investor to jump into oil with any amount of conviction. However, if rig counts are rising and contracts are getting signed, you've already missed the train. Frankly, the oil industry has seen multiple booms and busts in the past. Offshore drilling is basically in a doomsday scenario today and it looks like it'll be a little while before we see any sign of recovery. Nobody's feeling particularly good about it, but these are the times when the financially fit companies weather through the hardships and the others file for bankruptcy. The good news here is that most of the management teams seem to be working on housekeeping chores while remaining optimistic about the oil industry's recovery. Assuming prices are universally depressed among offshore drillers, the best thing to do here is to look for bomb-proof balance sheets and operational strength.
The main players in the industry are:
Noble (NYSE:NE)

Ensco (ESV)

Transocean (NYSE:RIG)

Diamond Offshore

Seadrill (NYSE:SDRL)

Rowan (NYSE:RDC)
Personally, I prefer looking at metrics over the longer term (10 years or so). As for balance sheet strength, I'd look at things like:
Debt to Asset ratio: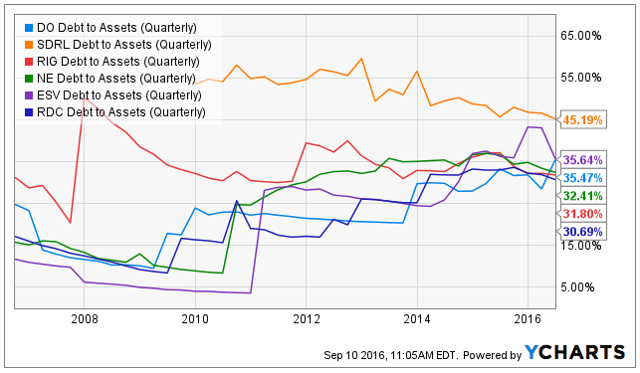 Source: YCharts
With the exception of Seadrill, every other player is within a 5% range from one another. Perhaps this isn't much of a coincidence, but there have been talks about Seadrill facing bankruptcy in the near future. While that may be a little bit of a stretch, the point is that its balance sheet isn't looking all that good compared to its competitors.
As for operational strength, I'd look at things like fixed asset turnover ratios: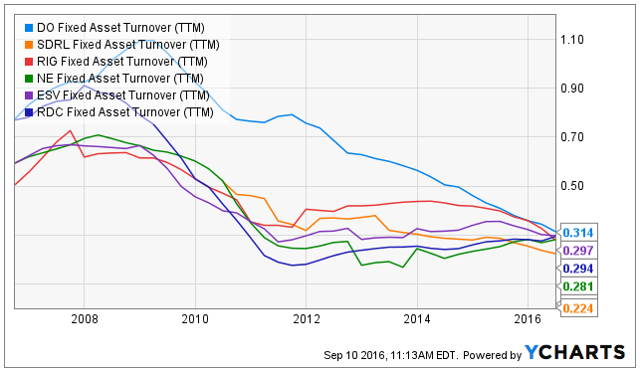 Source: YCharts
Although many of the companies are in the same range again, Seadrill has the lowest fixed asset turnover ratio of them all. Diamond Offshore had quite the lead there back in 2009, but came back down to the industry average in recent years. Based on these simple metrics, I'd take a closer look at Diamond Offshore and Ensco. Although, I am currently invested in Diamond Offshore (my cost basis is around $37… but you live and you learn, right?), I really can't say whether it is in that much of a better position compared to its competition.
Conclusion
Shale has made some major improvements, but there are a few serious issues like earthquakes and environmental safety. Shale having its own set of problems is good for the offshore drilling industry, but it is not an immediate benefit. While I cannot recommend that anybody invest in any of the offshore drillers unless they're prepared to sit tight for the long haul, the industry is here to stay. Between shale's improved economics and a generally oversupplied offshore drilling industry, it may be a long way to healthy and comfortable profitability for many of the offshore drillers.
Disclosure: I am/we are long DO. I wrote this article myself, and it expresses my own opinions. I am not receiving compensation for it (other than from Seeking Alpha). I have no business relationship with any company whose stock is mentioned in this article.