With global stock indices trading near all-time highs and bond yields reaching all-time lows, investment income has become increasingly more difficult to obtain. Spurred on by low interest rates and stubborn growth in the overall global economy, it is becoming ever more clear that lower rates may be sustained for some time to come. With the pursuit of an above average yield and a stable income component in mind, one such investment that investors may want to consider is Compass Diversified Holdings.
Compass Diversified Holdings (CODI) is a partnership that owns and manages numerous subsidiaries that span across a wide spectrum of expertise. The company seeks out middle market business opportunities in North America with a criteria of identifying leaders in niche markets. Preferred acquisition criteria include transactions between $75 million to $500 million, positive and stable EBITDA of at least $10 million, and highly defensible positions in their target markets. As a result of their acquisition strategy, the company owns a diverse range of market leaders spanning across hemp-based foods, environmental services, magnets, baby-based products, home and gun safes, medical support surfaces, and printed circuit boards to name a few.
The unique thing about Compass Diversified Holdings is that it seemingly operates like a business development company [BDC], although in many ways it is not. BDCs tend to invest and lend to developing companies by borrowing capital at lower interest rates and then lending to these companies at higher rates. They can also take equity investments, and primarily target private companies. The benefit for investors is that BDCs offer access to private and small public firms that have low trading volumes and which are often difficult to invest in by themselves.
Yet Compass Diversified Holdings is distinct in that it is a trust investing in small to middle market companies. Compass aims to acquire the majority interest of private companies and those which public investors would have difficulty gaining access to. Apart from acquiring controlling interests, the company also lends to its subsidiaries, and gains cash flows from the interest paid on these loans.
Compass Diversified Holdings utilizes the cash flows generated by its subsidiaries to invest in the long-term growth of the company and to make cash distributions to its shareholders. When taking into account the income returned to investors, the company's strong performance becomes abundantly clear. This can be noted in the chart below.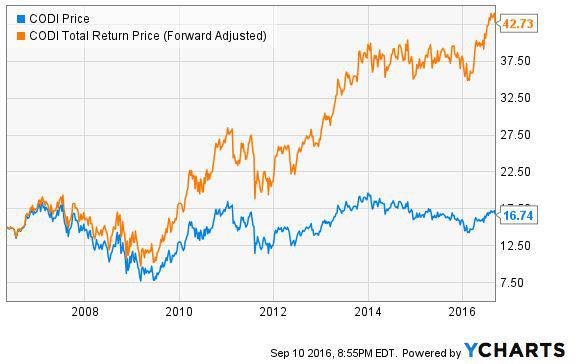 Today, the company owns a total of 10 holdings largely spanning across consumer and industrial markets. Apart from its 23% interest in Fox Factory Holding Corp. (FOXF), the remaining positions represent majority-owned subsidiaries by the company. Although Compass takes ownership interests in companies with the intention of holding them, Compass has done an excellent job of exiting out of its acquisitions in order to free up needed capital. The following are a list of its exits:
Crossman Acquisition Company (2007) - Net gain of $36 million on net proceeds of $110 million.
Aeroglide Company (2008) - Net gain of $34 million on net proceeds of $95 million.
Silvue Technologies Group, Inc. (2008) - Net gain of $39 million on net proceeds of $64 million.
Staffmark Holdings Inc (2011) - Net gain of $89 million on net proceeds of $217 million.
HALO Branded Solutions (2012) - Net loss of $0.5 million on net proceeds of $66 million.
Fox Factory Holding Corp. (2013-2016) - Through ongoing divestments from a former majority interest, Compass has retained a 23% interest in Fox while generating net proceeds of more than $253 million.
CamelBak Products, LLC (2015) - Net gain of $165.3 million based on net proceeds of $368 million.
American Furniture Manufacturing, Inc. (2015) - Net loss of $14 million on net proceeds of $23.5 million.
Altogether, the company has realized over $465 million for shareholders through its divestitures since its IPO after taking into consideration its related losses. Compass also continues to make ever larger strategic acquisitions in order to further fuel its portfolio. Most recently, the company closed on the acquisition of 5.11 Tactical for the purchase price of $400 million. In the trailing 12 months ended April 2016, 5.11 Tactical reported net revenue of $293 million and EBITDA of $38 million. The new subsidiary specializes in uniforms, tactical clothing, and tactical gear targeting professionals in law enforcement, first responders, and military personnel.
What makes Compass an intriguing investment has been its steady mix of both growth and income characteristics. A look at the trust's distributions show a steady stream of income returned to investors. As of the end of 2015, Compass had distributed a combined $13.20/unit since the trust's IPO. Most impressively, Compass was able to continue this high distribution rate throughout the Great Recession.

Yet more importantly, Compass has been able to steadily grow despite returning such a high income component. As noted in the chart below, Compass has seen its total assets grow to $1.43 billion and book value grow to $826 million as of the end of 2015. Free cash flow has steadily increased as the holdings portfolio continued to develop. This continues to allow for the trust to expand its horizons through future acquisition opportunities while still providing a meaningful yield for existing investors.

Compass Diversified Holdings now trades with a market cap of $909 million based on the closing price of $16.74 as of September 9, 2016. The company supports a low trailing price-to-earnings ratio of 6.21 and a rather modest price-to-book ratio of 1.17. Compass carries a strong current ratio of 1.99 and trades at a rather low price-to-sales ratio of 1.05. A look at the company's current rate shows that distributions have largely been covered through its free cash flow and appears to be sustainable for some time going forward. With continued growth to the holdings portfolio, distributions may even be able to grow down the road.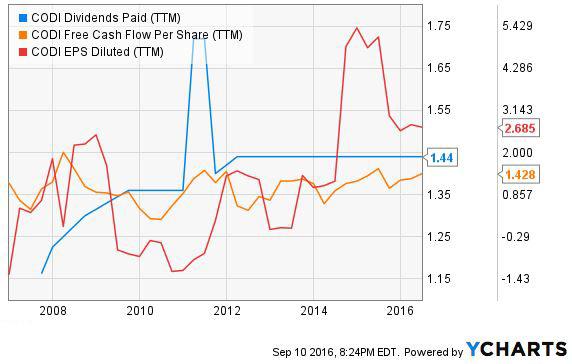 Investors should bear in mind that as a publicly traded partnership, Compass does issue a Schedule K-1. It may be beneficial for some investors to consider putting their positions in a IRA account in order to negate some of the tax filing hassles that often result from such partnership investments. Naturally, this presumes that the total amount of unrelated business taxable income which results from these positions do not exceed $1000. General tax information pertaining to Compass Diversified Holdings can be found here.
Final Thought
In many ways, Compass Diversified Holdings offers a stable growth and income play for investors looking for yield. Despite its rather high yield in excess of 8%, the company has historically been able to sustain its distribution rate while also improving the holdings portfolio. In a low-interest rate environment where yield is becoming increasingly more difficult to find, Compass appears to offer a unique opportunity for income investors. Not only does the company satisfy with a high income component, but it provides investors with access to a diversified portfolio of niche market leaders. To date, the company's ability to identify, grow, and rotate out of these positions has been impressive to say the least. Going forward, there doesn't appear to be any immediate reason to believe that this trend can not continue.
Disclosure: I am/we are long CODI.
I wrote this article myself, and it expresses my own opinions. I am not receiving compensation for it (other than from Seeking Alpha). I have no business relationship with any company whose stock is mentioned in this article.