Of all the asset classes commodities are perhaps the most at mercy of the seasons and crude oil is no exception. Price seasonality tends to run fairly consistently in the commodity space due to seasonal fluctuations in supply and demand that are often driven by physical forces such as weather. Crude oil tends to have its weakest months in the back end of the year and its strongest months in the earlier part of the year, as can be clearly seen in the chart below.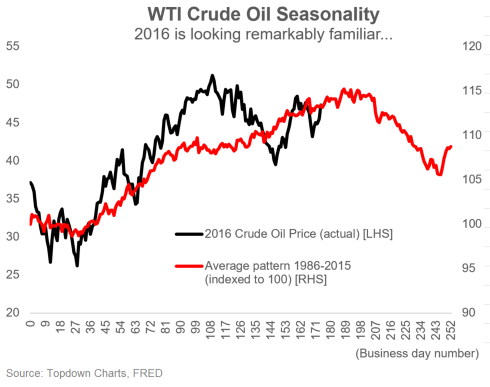 What's also clear about the chart, and perhaps surprising to some, is how well WTI crude oil has tracked its historical seasonal pattern. If you take it literally it would suggest perhaps a month, at most, of positive or neutral price activity followed by the typical weakness that characterizes the December quarter.
A key reason behind seasonal weakness in crude oil is the pattern of refinery demand. Typically refineries scale down production into the Northern Hemisphere winter, this can be clearly seen in the chart below.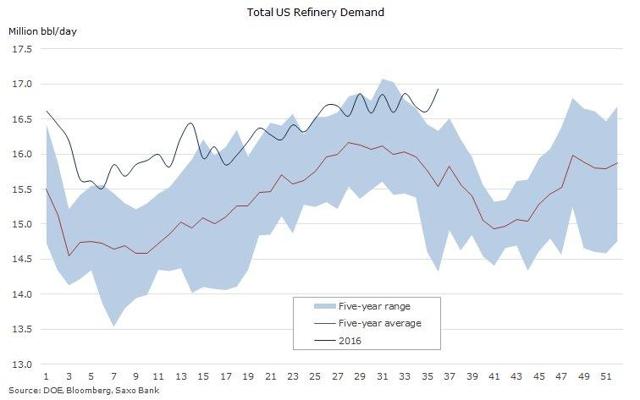 Aside from negative seasonality crude oil speculative positioning has become stretched to the upside on hopes about a potential Russia-OPEC supply cutting deal. Stretched speculative long positioning is feature of the market which is typical when price has made a short term peak, you can see this on a number of occasions in the chart below.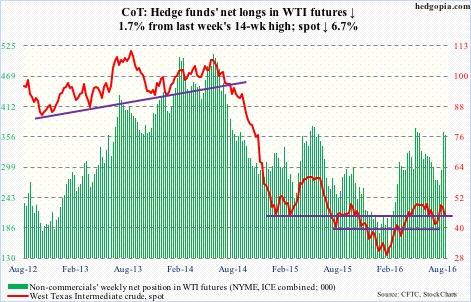 Finally, WTI crude oil implied volatility has settled at the low end of the post-crash range. While it is far from the complacent levels seen pre-crash it could be said to be at relatively complacent levels now, and thus serves as another risk factor.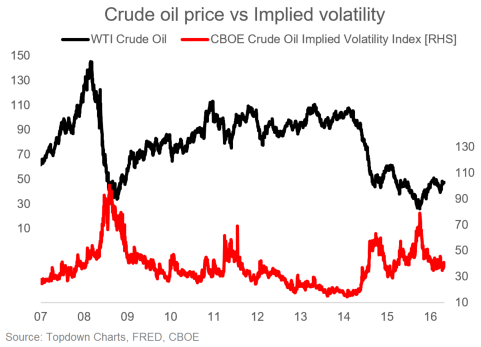 Bringing it all together, we can see a clear pattern of negative seasonality going into the later part of the year. At the same time speculative positioning is stretched to the long side, and implied volatility has become 'relatively' complacent. So it's clear that oil faces downside risk going into the 4th quarter. Thus short term traders should factor this bearish view in, and longer term buyers may want to hold-off to buy into weakness.
The key risk to this view is the supply side. The first half of this year saw a perfect storm of supply risks (Canadian wild fires, oil worker strikes, maintenance outages, Nigerian avengers, and the usual Middle East geopolitical disruptions). An OPEC deal would also complicate the above view. But it's worth remembering that supply risks can go both ways, so it would pay to be cautious if you were waiting and hoping for some kind of deal - particularly between a bunch of people who don't really like each other!
Bottom line: Negative seasonality, stretched speculative longs, and relatively complacent implied volatility are all reasons to be cautious on crude oil over the next 3-4 months.
Disclosure: I/we have no positions in any stocks mentioned, and no plans to initiate any positions within the next 72 hours. I wrote this article myself, and it expresses my own opinions. I am not receiving compensation for it (other than from Seeking Alpha). I have no business relationship with any company whose stock is mentioned in this article.