September 9th was a bad day for closed-end funds, as spreads widened dramatically. Interest rates have always been a focus for the CEF investor given the sensitivity higher rates can have on borrowing costs and spreads earned. Only two dozen CEFs finished the day up, while almost 450 fell. The main impedes for the moves was a jump in rates initiated by Draghi's inaction for ECB monetary policy, BOJ's speculation, as well as comments by Fed Chief Rosengren.
1.) Mario Draghi and the ECB kept monetary policy unchanged, which led to a bond sell-off. Many believed he would announce an extension to the ECB QE program or even increase the amount purchased per month. A two-day sell-off of long-dated bonds globally then commenced. Could negative rates not be extended further down is a question being pondered. As such, German 10-year bunds rose above zero for the first time since early July.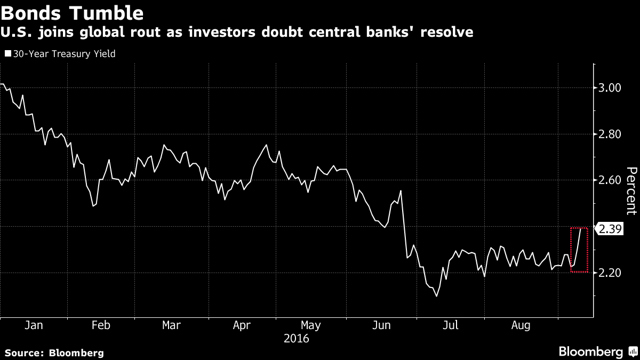 (Source: Bloomberg)
2.) The Bank of Japan also made hints at moving last week to increase the steepness of its yield curve. Japan has led the globe in its aggressive monetary policy tools, though it did only recently (this year) institute a negative rate policy. That could mean less bond buying, especially of long-dated bonds which could reverberate across all sovereign bonds. Japanese yields also rose in the largest rout in the last 13 years.
3.) Fed Chief Rosengren, long a dove on rates, stated that he was backing a gradual increase in rates. He added that waiting too long could risk certain asset markets mentioning commercial real estate specifically. He stated, "My personal view, based on data that we have received to date, is that a reasonable case can be made for continuing to pursue a gradual normalization of monetary policy."
Discounts Today
Below is the table of discounts among the fixed-income asset classes within the CEF universe. We do eliminate a couple of outlier funds like PHK and PGP.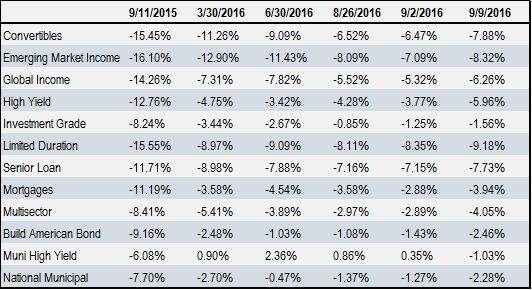 All bond CEF classes saw spread widening last week due to the factors noted above. We had gone 45 days since the last time that kind of volatility was realized. With a confluence of issues on the macro trends, infecting interest rate hike fears, many fixed-income CEFs gave back much of their gains over that time period.
We have stressed in recent articles that the national muni space is a bit overvalued given the likelihood of distribution cuts due to the decline in muni yields since the start of the year plus call risk.
The worst affected sectors included high yield, muni high yield, convertibles, and emerging market income. In fact, we would note that the Stone Harbor Emerging Markets Total Income Fund (NYSE:EDI) fell by 5% on Friday alone and declined by another 1.62% on Monday. The fear of higher rates and the strength of that market YTD clearly induced fear and profit-taking.
The following chart shows the change in discounts over the periods listed. We do round to the nearest week end on the longer time periods. In the last six months, emerging markets has been the best asset class, while high yield and muni high yield the worst. Despite the very low duration of both limited duration funds and senior (floating) rate funds, they saw spread widening.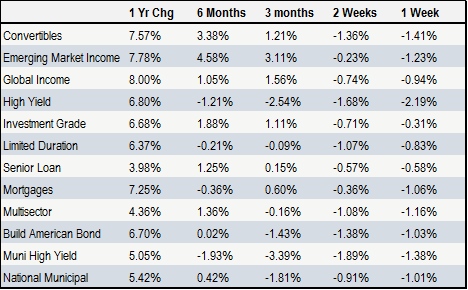 We used the sell-off to add to positions in many of our best ideas within the taxable CEF space. The NAVs of the top eight funds performed between down 5 bps and up 5 bps on the day. This indicates that the 2-3.25% drop in price was all spread widening and presented a solid opportunity to deploy some cash.
Our subscribers received real-time alerts via the chat system detailing the positions we were adding to during the sell-off in the space. For the week, the core model fell 1.88% but remains up 13.53% YTD, yielding to cost just over 9%.
Marketplace Service For Those Hunting For Yield
In April 2016, we launched our marketplace service Yield Hunting: Alternative Income Investing dedicated to yield investors who wish to avoid the froth associated with the equity, REIT, and other more volatile areas of the market. We encourage investors to utilize the free two-week trial in order to benefit from our yield opportunities within closed-end funds, business development companies, and other niche areas. We attempt to construct a "low-maintenance portfolio" with a yield in excess of 7% on a tax-equivalent basis with capital gain optionality.
Disclosure: I/we have no positions in any stocks mentioned, and no plans to initiate any positions within the next 72 hours.
I wrote this article myself, and it expresses my own opinions. I am not receiving compensation for it (other than from Seeking Alpha). I have no business relationship with any company whose stock is mentioned in this article.
Additional disclosure: The commentary does not constitute individualized investment advice. The opinions offered herein are not personalized recommendations to buy, sell or hold securities. As I have no knowledge of individual investor circumstances, goals, and/or portfolio concentration or diversification, readers are expected to complete their own due diligence before purchasing any stocks mentioned.

The strategies discussed are strictly for illustrative and educational purposes and should not be construed as a recommendation to purchase or sell, or an offer to sell or a solicitation of an offer to buy any security. There is no guarantee that any strategies discussed will be effective. The information provided is not intended to be a complete analysis of every material fact respecting any strategy. The examples presented do not take into consideration commissions, tax implications or other transactions costs, which may significantly affect the economic consequences of a given strategy.

This material represents an assessment of the market environment at a specific time and is not intended to be a forecast of future events or a guarantee of future results. This information should not be relied upon by the reader as research or investment advice regarding the funds or any security in particular.