Yesterday, Athersys (NASDAQ:ATHX) announced that its partner, Healios KK, had received the approval of Japan's Pharmaceutical and Medical Devices Agency (PMDA) to commence a pivotal trial in Japan for the treatment of acute ischemic stroke under the fast-track authorization framework for regenerative medicine products that were adopted by the government in December 2014.
The rules were adopted to promote and speed up approval of stem cell therapies, and just as significant, will include reimbursement from the Japanese healthcare system. The exact trial size was not announced but is expected to include around 200+ patients in a double blinded, placebo controlled study. Patients will be eligible for inclusion in this trial if the onset of stroke occurred within a window of 18-36 hours.
The study will evaluate patient recovery through approximately 90 days following initial treatment based on "Excellent Outcome" and other neurological, functional and clinical endpoints. Additional patient follow up will occur through one year, and other design elements of the Japan trial will be consistent with a planned international Phase 3 study that has yet to be announced.
This is a critically important clinical trial for Athersys, Healios and their respective stakeholders, not to mention stroke victims worldwide. For Athersys, this is the most advanced clinical indication in their MultiStem allogeneic stem cell pipeline.
Healios obtained the rights to stroke therapy development in Japan when it signed an agreement with Athersys in January 2016. The agreement required Healios to pay Athersys $15,000,000 in upfront cash and to commit a significant portion of its financial resources by agreeing to incur all development costs to develop this stroke therapy in Japan.
With the go ahead for the pivotal trial in Japan now in the rear view mirror, this is a good time to provide a historical review of how Athersys reached this point in its stroke program and to review the relevant scientific evidence that supports the foundation for treating stroke with MultiStem (MS). In my view, taking a deep dive into the science at this critical timeframe is an important endeavor for any serious investor as so many stem cell companies have failed to make it out of Phase II.
The Athersys stroke program has an extraordinary wealth of science behind it that will be explored in this article. In no way can this assure success but examining the evidence is the only legitimate method to even attempt to assess the odds as the stakes are high in BOTH directions.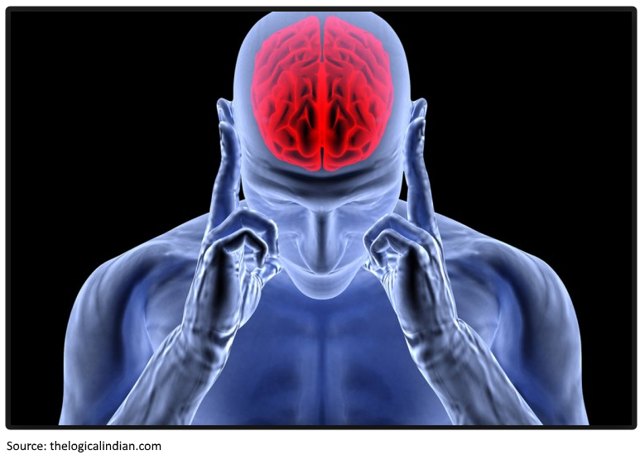 2002: Athersys Gains Rights To MultiStem Technology
The development of the stroke program can be traced back to 2002 when Athersys obtained an exclusive license to develop bone marrow derived Multipotent Adult Progenitor Cells (MAPCs) from the University of Minnesota. MS is the off the shelf allogeneic stem cell product manufactured from MAPCs that are obtained from young healthy donor(s).
It is interesting to go back in time and read this 2002 NY times article regarding the announcement of the agreement as it illustrates just how much has been learned in the ensuing years. For example, it is now well understood that, like other mesenchymal lineage adult stem cells, MultiStem does not turn into or "engraft" into other types of cells in the body. However, this quote from the article reveals how engraftment was believed to be the mechanism of action at the time:
The cells come from the bone marrow of adults but seem to be as versatile as stem cells from embryos in their ability to turn into different types of cells in the body. That means that various types of tissue might one day be made from them, defying the conventional wisdom that adult stem cells are less versatile than embryonic ones.
In the ensuing years, as will be discussed in more detail in this article, it became clear that MS acts through an active biologic drug delivery mechanism that intuitively responds to conditions in the body.
The MultiStem Pre-Clinical Rat Stroke Study
The early preclinical research that supported MultiStem as a potential ischemic stroke therapy can be traced back to a seminal paper describing pre-clinical work in rats titled, "Development of an Allogeneic Adherent Stem Cell Therapy for Treatment of Ischemic Stroke". This paper was published in the Journal of Experimental Stroke and Translational Medicine in December 2009 detailing a series of experiments conducted in rats with an induced ischemic stroke.
An irradiated and de-activated dose of MS was used as a control in various experiments as blinded animal observers took various neurological related measurements and other relevant tests to measure efficacy among various treatment sub-groups. I urge those interested in this topic to read through the entire paper and review all the compelling charts. To summarize, these were among the interesting and important findings from the study:
Surprisingly, both the rat version and the human version of MS worked to improve neurological functions in rats and neither treatment was found to require immunosuppression. Think about that for a minute, even when administered to another species, MS did not cause a significant immune response.
Intravenous administration showed benefits but had to be administered at higher doses than intracranial administration in order to demonstrate an equal and sustained neurological benefit.
Earlier administration of MS was better than later administration.
The therapeutic benefit MS provided in the rodent model of stroke is unlikely to be from direct neuroreplacement. A hypothesis derived as a result of this study is that multiple trophic factors and downstream signaling pathways may be implicated.
The Damaging Role Of The Spleen in Stroke
At about the same time Athersys was experimenting with MultiStem on stroke in rats, an NIH funded study was undertaken examining the role of the spleen in post stroke damage to the brain. In this study rats had their spleens removed two weeks before a stroke was induced. The results demonstrated the role of the spleen in exacerbating stroke related damage. The study, "The Spleen Contributes to Stroke-Induced Neurodegeneration" was published in the Journal of Neuroscience Research in August 2008 and concluded:
We hypothesized that the spleen responds to stroke by releasing stored immune cells into the bloodstream, which then infiltrate the brain and promote a secondary inflammatory response that enhances neurodegeneration, and therefore that by removing the spleen before the stroke, the amount of damage in the brain would decrease. Indeed, our results show that splenectomy before stroke significantly reduces infarction size in the brain.

A proposed mechanism of action by which the spleen could be contributing to expansion of infarct size after a stroke is through activation of the sympathetic nervous system resulting in splenic contraction and a potential release of red and white blood cells (Stewart and McKenzie, 2002). This contraction causes a release of proinflammatory immune cells, which are attracted to the brain by chemokines induced by the stroke. These peripheral immune cells could then act to increase neuroinflammation and subsequently neurodegeneration (Hausmann et al., 1998; Abraham et al., 2002). This is consistent with other reports that show a splenic response in stroked rats (Offner et al., 2006b; Vendrame et al., 2006). Removal of the spleen before stroke would decrease the peripheral immune response by removing the largest pool of immune cells, resulting in decreased neuroinflammation.
The belief that the spleen plays a significant role in stroke damage was further advanced in humans in the study, "Changes in Spleen Size in Patients with Acute Ischemic Stroke: A Pilot Observational Study", published in the International Journal of Stroke in February 2013 and summarized in this article. The study measured the size of spleens in 29 stroke patients and 20 healthy volunteers. It demonstrated in humans that the spleen shrinks in stroke victims as an inflammatory cascade is triggered by the onset of a stroke. This excerpt captures the findings:
The study included 29 stroke patients and 20 healthy volunteers. The research team performed daily abdominal ultrasounds to measure the size of the spleens. In the stroke patients, spleens initially reduced in size and then re-expanded. The spleens of the healthy volunteers showed minimal variation in daily spleen size compared with the stroke patients.

(Sean) Savitz said the study demonstrated a good correlation between the contraction of the spleen and the amount of white blood cells in the body. The results also suggested that some patients whose spleens contracted for a longer period of time, releasing more inflammatory white blood cells, had poorer clinical outcomes. Further studies will be needed to confirm and explain these early findings, Savitz said.
These findings suggested a direct connection between the spleen and stroke damage in humans.
To put these studies in perspective, a short recap of the evidence presented so far in this article is helpful. A link was provided to a study that demonstrates efficacy using MultiStem in rats with induced strokes. However, there was little evidence that MS worked by actually engrafting or directly regenerating new brain tissue as was suggested in the 2002 NY Times article.
However, strong evidence was also presented, in both rats and humans, that the spleen plays a critical role in stroke damage by releasing a cascade of damaging inflammatory cells that travel to the area of the stroke and create havoc by overreacting to the acute area of injury and causing additional damage.
The Role Of MultiStem In Mitigating The Spleen's Inflammatory Response To Stroke
An oral abstract at the American Heart Association in 2012 titled, "The Spleen is a Pivotal Target of Functional Recovery After Treatment with MultiStem for Acute Ischemic Stroke" makes the direct connection between MultiStem, the spleen and stroke damage. The study design was as follows:
We studied the effects of MultiStem®, an adherent, human pluripotent adult stem cell product, in a model of focal ischemic stroke in rats with and without a spleen. Long Evans male rats were subjected to middle cerebral artery occlusion (MCAo) for 90 minutes. At 24 hrs after stroke, animals were randomly assigned to either receive MultiStem® 12 million cells/kg (N= 9) or saline vehicle (N= 8). A separate group of animals underwent splenectomy two weeks prior to stroke and then were randomized to receive MultiStem® (N=9) or vehicle (N=9). All animals were serially evaluated on a battery of behavioral tests for 28 days. Stroke lesion volume was measured at 28 days after stroke. In another experiment, animals with and without spleens were subjected to MCAo, randomized to cell or saline treatment and then serum cytokines were analyzed at 3 days after treatment (N=5).
These conclusions, that were excerpted from a presentation that described the study, make clear the mechanism of action whereby MultiStem mitigates the spleen's role in stroke damage:
The spleen plays a pivotal role in the mechanisms underlying how MultiStem enhances functional recovery after stroke. The interaction between MultiStem and splenocytes involves immunomodulation, leading to changes in lymphocytes (e.g., increase in T regs), which might partially explain the changes in pro and anti-inflammatory cytokines. The data further support the emerging concept that intravenous administration of stem cells can enhance stroke recovery through direct effects on peripheral organs.
This MultiStem/spleen connection was further demonstrated in rodents in this more recent study titled, " Intravenous Multipotent Adult Progenitor Cell Treatment Decreases Inflammation Leading to Functional Recovery Following Spinal Cord Injury" that was published in Nature in 2015.
In this study, intravenous administration of MAPCs, one day after injury, mitigated loss of spinal cord tissue resulting in significant improvement of walking function and urinary control. The study provides additional evidence demonstrating the role of the spleen in neurological injuries:
Nervous system injuries, including spinal cord injury, traumatic brain injury and stroke, result in excessive inflammation, which is toxic to surrounding healthy tissue. Therefore, modulation of the immune system has long been an acute therapeutic target for neurological injury and disease. In this study, a single dose of MAPC was administered to rodents one day following severe spinal cord injury. Injured animals that received treatment demonstrated significantly improved voluntary control of bladder function, walking ability and preservation of at-risk nervous tissue. Further, the study defines a key mechanism of action of MAPC treatment, which occurs through the modulation of neuro-inflammation, including a significant reduction of inflammatory cell accumulation within the injury.

The authors examined the biodistribution of MAPC cells following injury and observed that large numbers homed to the spleen, a primary reservoir for inflammatory cells in the body. These findings are consistent with other evidence suggesting that a primary effect of this cell therapy occurs through modulation of systemic inflammation via splenic interactions. Close examination of the spinal cord injury site, peripheral blood, and the spleen identified meaningful changes in inflammatory pathways after MAPC administration.
Aside from the further verification of the beneficial MultiStem/spleen mechanism of action, an interesting aspect of this study as it relates to stroke is the treatment window. Statistically significant improvement was demonstrated in rats treated at 24 hours. However, rats treated at the time of injury did not demonstrate significant improvement: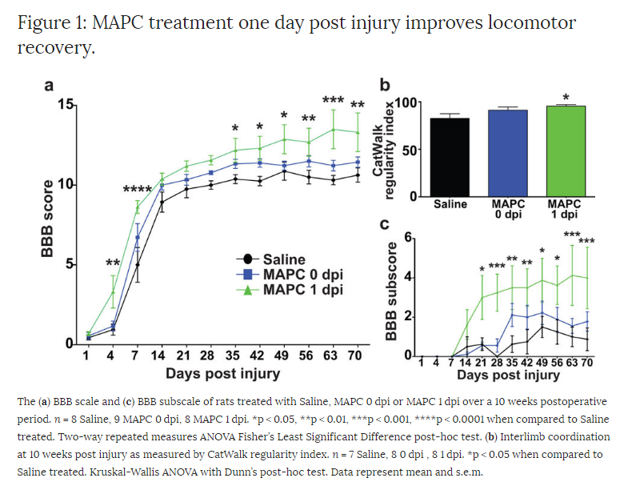 The importance of the timing of administration of the therapy will become apparent as the results of the Phase II Stroke trial are reviewed.
Phase II Stroke Trial Using Multistem
Pre-clinical data are important in developing the scientific evidence that supports the human clinical trials but the big test comes when any therapy enters human clinical trials for the first time. Cumulative safety from clinical trials in Acute Myocardial Infarction, Ulcerative Colitis and Graft vs. Host Disease as well significant animal safety data across multiple species allowed Athersys to move directly into an FDA approved Phase II trial in stroke.
On October 12, 2012, the first significant news from the trial came in a press release where a dosing level of 1.2 billion cells was established for the remaining patients in the trial:
Athersys, Inc. recently completed enrollment of the first patient cohorts of its Phase 2 study of MultiStem®, a novel adult stem cell therapy being developed by Athersys, administered to patients within approximately 1 to 2 days after they have experienced an ischemic stroke. The independent safety committee reviewed data from these patients, finding that both of the doses evaluated were safe and well tolerated, and therefore, recommended proceeding with high dose administration to patients for the remainder of the trial.

The Phase 2 study is a double blind, placebo-controlled trial evaluating the safety and efficacy of MultiStem when administered to patients who have suffered a moderate to moderately severe stroke, as defined by a National Institutes of Health Stroke Scale (NIHSS) score of 8 to 20. Patients enrolled in the study receive a single intravenous dose of MultiStem therapy or placebo in the 24 to 36 hours following the stroke, which is a significant extension of the current treatment window over existing standard of care. The study is currently being conducted at multiple centers throughout the United States.
As indicated in the excerpt above, the trial was originally designed to treat patients within a 24-36 hour window based on the best information researchers had up until that point in time. Soon thereafter, a decision was made to expand the treatment window up to 48 hours (among other changes) in order to speed up enrollment. While this change did speed up enrollment it ended up adversely affecting 90-day efficacy data.
The 90-Day Phase II Results
In April 2015, the 90-day data were released and it was clear that expanding the patient inclusion criteria to speed enrollment played a significant role in the study's inability to meet its predetermined endpoints. However, although the market did not buy it at the time, post-hoc analysis provided hope. The 90-day results were extensively covered in my December 2015 SA article and are presented here again in following paragraphs.
The following is the analysis that Athersys presented to make its case that, while the 90-day primary endpoint was not met, these data suggest that when treated within a shorter treatment window the therapy showed strong signs of efficacy among various measures:
As previously noted, the interim results following the 90-day patient evaluation demonstrated favorable safety and tolerability for MultiStem treatment, consistent with prior studies. With respect to the primary and component secondary endpoints for the intent-to-treat population, the cell therapy did not show a significant difference at 90 days compared to placebo. However, MultiStem treatment was associated with lower rates of mortality and life threatening adverse events, infections and pulmonary events, and also a reduction in hospitalization. Furthermore, a higher proportion of patients receiving MultiStem achieved an "Excellent Outcome," which is defined clinically as the patient achieving excellent recovery in each of the three clinical rating scales, as evidenced by patients achieving a score of mRS ≤1, NIHSS ≤1 and BI ≥95 (p=0.10).

In addition, analyses show that patients who received MultiStem treatment earlier (24-36 hours post-stroke) in the study's treatment window had better recovery in comparison to placebo, and this treatment effect appeared to be more pronounced the earlier the MultiStem administration within this timeframe. For example, at 90 days post-stroke, patients who were treated with MultiStem within 24-36 hours of the stroke (i.e. consistent with our original study design) had much better outcomes compared to placebo patients as measured by the proportion of patients who achieved good or excellent recovery in each of the key secondary endpoints (i.e. Global Recovery), defined as: mRS ≤ 2, NIHSS Δ ≥75% and BI ≥95, with 41.9% of MultiStem-treated patients achieving recovery in all three categories versus only 24.6% of placebo patients, a difference of 17.3% (p=0.08).

Furthermore, additional analyses demonstrate that patients who received treatment with MultiStem within 24-36 hours post-stroke versus patients receiving placebo exhibited even stronger recovery when considering all patients except those that received both tPA and mechanical reperfusion (and who were excluded in the original trial design). Among these patients, 44.4% of MultiStem-treated subjects achieved good or excellent recovery in all three clinical rating scales, whereas only 17.3% of subjects receiving placebo achieved this level of recovery, a difference of 27.1% (p < 0.01), representing a greater than 2.5 fold increase in the number of patients achieving robust recovery.

Comparison of MultiStem (MS) and Placebo (P) Treatments

At 90 days

Intent-to-Treat 65 MS v 61 P

Early MS treatment 31 MS v 61 P

Post-hoc(excludes tPA + MR) 27 MS v 52 P

NIHSS∆≥75% and BI≥95)

Δ = 6.2%

Δ = 17.3%*

Δ = 27.1%**

(mRS≤1, NIHSS≤1 and BI≥95)

Δ = 8.8%*

Δ = 9.5%

Δ = 14.7%**

Life threatening AEs / death

Δ = (13.8%)

Δ = (14.9%)

Δ = (15.8%)

Secondary infections

Δ = (10.6%)

Δ = (31.4%)

Δ = (39.0%)

Hospitalization days

Δ = (1.9 d, 19.4%)

Δ = (3.0 d, 30.6%)**

Δ = (3.6 d, 35.0%)**

* p-value ≤ 0.10; ** p-value ≤ 0.05

mRS = modified Rankin Scale; NIHSS = NIH Stroke Scale; and BI = Barthel Index

As indicated in the chart above, statistical significance was met at 24-36 hours when excluding tPA/MR patients in Global Recovery, Excellent Outcome and Hospitalization Days. However, in order accept this analysis as significant there must be must be logic behind the rationale to exclude patients treated with both tPA and MR. Other than what was mentioned earlier on this topic, the logic is not that obvious. In order to get a better explanation I posed the question by email to the company's CEO, Gil van Bokkelen, "What is the logic for excluding tPA/MR patients in your post-hoc analysis?"
This was his response:
Short answer - the groups receiving both tPA and mechanical reperfusion were unbalanced.

It's well known that patients that have good early improvement (either spontaneously, or due to intervention) will typically recover well. Recall we designed our study to exclude patients that were recovering spontaneously/well in the first 24 hours, as evidenced by improvement of 4 points or more in NIHSS. The inclusion/exclusion criteria was structured to evaluate all subjects that were potentially eligible for enrollment by applying this criteria.

It's known that following tPA and MR, patients that successfully respond will usually improve quickly (i.e. within the next few hours). Patients that did exhibit such improvement shouldn't have been enrolled in our study (as noted previously, any patients improving by 4 pts or more from screen to baseline were to be excluded - we wanted patients that had substantial and durable deficits, since these types of patients typically have poorer outcomes).

Two factors became obvious when looking at the tPA + MR patients: (1) The late placebo tPA + MR patients had substantially lower baseline NIHSS scores relative to all other tPA + MR patients (or all patients for that matter), and; (2) these same patients were screened very late relative to all other patients (e.g. ~4 hours median screen time for early MultiStem, in contrast to ~22 hours for late placebo), which shouldn't have happened. Note that all of those patients were at the hospital early (in order to be able to receive tPA and MR), and so therefore should have also been screened early. But the "late placebo" patients in this tPA + MR group, for whatever reason, were typically screened very late. That meant any early improvement that occurred was not captured, and the patients in this group were clearly responders to tPA + MR treatment. For example, a review of the records for one of the patients in the late placebo group showed they had improved by 11 pts in their NIHSS score in the first 24 hours, and therefore never should have been enrolled (i.e. a protocol violation) - whereas others were enrolled simply because the late screening didn't reflect the early improvement (or they had substantially less severe strokes to begin with). The baseline NIHSS values for the late placebo patients that received tPA + MR were substantially better than the other groups.

To be clear, among all the tPA + MR patients, the greatest absolute improvement from baseline to 90 days was in the early MultiStem treatment group. But the substantially lower baseline values for the late placebo patients makes that a moot point. Think of it as a 100 yard dash, where some runners start at the 15 yard line, and everyone else starts at the starting line - it's not a legitimate comparison. So we ran the post hoc analysis excluding all tPA + MR patients to adjust for the clear imbalance - when you do that everything is balanced, and the differences in treatment outcomes become extremely obvious.
The next big hurdle for Athersys following the release on these results was whether they would be convincing enough to persuade their partner at the time, Chugai Pharmaceutical, to exercise its option to develop the stroke therapy in Japan. Just a month and a half prior to the release of the 90-day results, Chugai paid Athersys $10,000,000 for the option to develop MultiStem for ischemic stroke in Japan pending these Phase II data.
In what appeared to be a big blow to Athersys in October 2015, investors found out that Chugai was ending its relationship with Athersys. However, as discussed in this exclusive interview in the aftermath of the announcement, Chugai sought to drastically change the terms of the agreement in their favor.
Meanwhile as investors found out later, Athersys had already been in discussions with Healios and was prepared to move ahead without Chugai. In retrospect, the "NO GO" by Chugai turned out to be a blessing in disguise, not to mention the $10,000,000 of non-dilutive capital that they left behind.
Stellar One Year Stroke Results Create Excitement
On February 17, 2016, Athersys investors were treated to some unexpected great news with the release of the one-year Phase II ischemic stroke data. Surprisingly, over the course of a year, the treated group continued to outperform the placebo group to the point that statistical significance was met in a measure called, "Excellent Outcome."
This is the same measurement used to gain approval for tPA, the only drug ever approved for ischemic stroke about 20 long years ago (a major shortcoming of tPA is that the treatment window is limited to the first few hours following onset and can become deadly with later treatment).
For this measure, no post-hoc analysis on the treatment window was required as Multistem clearly outperformed the placebo control group and met statistical significance in both the 24-36 and 36-48 hour treatment windows:
Data highlights from the 365-day follow-up data analysis include:

MultiStem treatment continued to be well tolerated through 365 days; Among all subjects who received MultiStem treatment (n=65), 23.1% of patients achieved an Excellent Outcome at 365 days, compared to 8.2% of patients who received placebo (n=61), and the 14.9% difference was statistically significant (p=0.02) and compared favorably to the 8.8% difference at 90 days; Among patients who received MultiStem treatment within 36 hours following the stroke, 29.0% achieved Excellent Outcomes (n=31), and compared to all placebo subjects (n=61), the 20.8% difference was significant (p < 0.01) and also greater than the 9.5% difference at 90 days;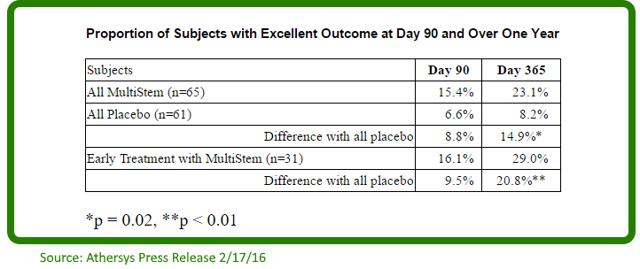 The one-year data was more extensively discussed in this April 27, 2016 SA article.
Conclusion and Potential Valuation:
Developing a new therapy is a long and arduous process. This process becomes even more complicated when the proposed therapy is a living stem cell. Based upon the cumulative depth of available scientific evidence, and this report doesn't claim to cover all of it, the evidence is compelling that these cells appear to inherently react to the in vivo micro-environment to assist the body in handling the very traumatic event of the stoppage of blood flow to the brain.
MultiStem does this through two primary mechanisms of action. First, it instructs peripheral organs, primarily the spleen, that the chemical messages emanating from the brain… "ALERT, ALERT: SEND ALL INFLAMMATORY CELLS HERE!", are erroneous. Too many inflammatory cells will only do more damage in this situation. Moreover, MultiStem can only succeed in helping a patient if it is administered within a specified "effective communication window." Treatment too early doesn't work and neither does treatment administered too late. The lines of communications only appear to be open for a limited time period for responding to an ischemic stroke.
The ability to treat stroke patients up to 36 hours would be a huge advancement over tPA's very limited treatment window of a few hours and tPA patients could also get MultiStem. Over the longer term, MultiStem also appears to leave a micro-environment in the local area surrounding the stroke that is conducive to promoting angiogenesis, neurogenesis and general healing. This is evidenced by the continued improvement shown from 90 days to 1 year in the Phase II results. An additional benefit to stroke patients is that by keeping inflammatory cells in the spleen, the body is better prepared to respond to the dangerous viruses and bacterium that make hospitals their home.
Trying to lay out the odds of success in this Phase III stroke trial is a difficult task and certainly the most critical aspect to evaluating both the upside and downside risk. The downside is easy, a dramatic decline in the share price to new lows. However, this risk is somewhat mitigated by the two distinct paths to approval under the new regenerative medicine framework in Japan.
If safety is demonstrated and efficacy is proven, full approval will be granted in a framework similar to an FDA approval, albeit with an easier reimbursement process. However, there is also a built in back-up plan in place by virtue of the recently enacted laws. If safety can be demonstrated by the trial results, and that has been one of the hallmarks of MultiStem, conditional approval with reimbursement may be granted with only indications that the therapy may be efficacious. Under the conditional approval pathway, Athersys/Healios will then have up to 7 years to collect patient data to prove efficacy and apply for full approval. Meanwhile, they will have a reimbursed stroke therapy on the market earning revenues for up to 7 years.
Healios has projected a market of 62,000 stroke treatments per year in their presentations. Using a reimbursement rate of $50,000 (the first two regmed therapies approved under this program are being reimbursed at over $100,000 per treatment regimen) would mean gross annual revenues of $3.1 billion of which Athersys would earn royalties of approximately 17%, or $527 million. In addition, the agreement calls for $30 million in developmental and approval milestones and up to $185 million in sales milestones. Needless to say that should the investment community come to the realization that these numbers are achievable within a few years, the shares would trade at substantially higher levels than where they are now.
Athersys has gone through over $300 million in shareholder funds to get to this point yet the shares currently trade at a market cap of only $170 million at $2.00 per share. Success in this trial is critical to both demonstrating that MultiStem is a multibillion-dollar platform and for providing final validation of the depth of the science behind the stroke program and how it may apply to other human afflictions already in the MultiStem clinical pipeline.
I encourage readers to scrutinize all the information presented in this article, assess the risks and share their thoughts, assumptions and potential valuations in the comments sections below.
Disclosure: I am/we are long ATHX.
I wrote this article myself, and it expresses my own opinions. I am not receiving compensation for it (other than from Seeking Alpha). I have no business relationship with any company whose stock is mentioned in this article.
Additional disclosure: These are the personal views of Wall Street Titan Research and should not be relied upon for your investment decisions. All investors should always do their own due diligence.