I've written a substantial number of articles in the past, discussing the decaying hardware business of BlackBerry (BBRY). With the company wanting to focus its future on the growing software and services segment, phone offerings have not done well. This month was the target for hardware profitability according to CEO John Chen, and without the division making money, the company would finally leave hardware. Some recent signs may make you wonder if this decision has already been made.
The first item to point out is in regards to the company's newest phone, the DTEK50. BlackBerry launched this phone at $299, and it started shipping the second week of August. It was not compatible on all US carriers, and there were only a few locations that were actually selling it. Amazon (AMZN) was one of those sellers, and the phone initially was selling for just under $330. However, as you will see in the chart below, the cheapest DTEK50 device on Amazon has continued to come down over the past month, now going for less than $280.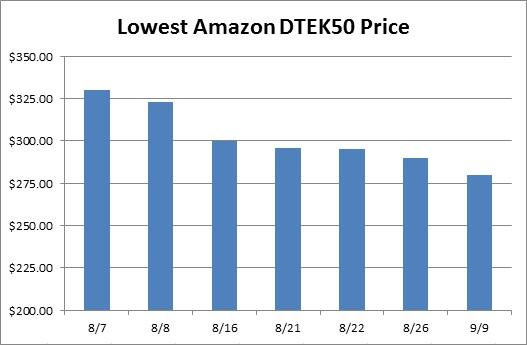 (Source: Amazon DTEK50 search)
The other interesting item to point out is that BlackBerry is running a large sale on its own site in regards to phone accessories, seen in the image below. This sale isn't just limited to one or two items, it goes across all products, like cases, batteries, chargers, audio items, etc. Even the MP-12600 charger that was going for $59.99 after the DTEK50 launch (after the free bundle offer expired) can now be had for $35.99, and if you spend more than $75, you also get free shipping.

(Source: BlackBerry shop site)
While it is hard to read in the image, the offer expires September 27th. That just happens to be the day before the company is expected to report its Q2 earnings, according to the investor events page. If you are going to leave the hardware business, why not try to sell out everything at 40% off you can before you do so, because once the announcement is made, prices could drop even further in a clearance sale.
We are just two weeks away from BlackBerry's earnings report, and this month was the imposed deadline CEO John Chen for getting the hardware segment to profitability. With DTEK50 prices falling on Amazon and the company offering a large sale on all accessories, one must wonder if the decision has already been made to exit hardware. BlackBerry's shares have fallen recently, overshadowing the positive news of its debt restructuring. I think the stock could rebound if hardware is exited, given its low margins and how investors view the company's future.