2012 is the year for tech stocks. For example, the Nasdaq (NASDAQ:QQQ) is up 13.5% and the PHLX Semiconductor Index (NASDAQ:SOXX) is up 16.5%, while Micron (NASDAQ:MU) is up a whopping 41.8% since the end of 2011. Based on this tremendous rally, many pundits are espousing the view that we have gone too far too fast. Nonetheless, regarding Micron, I beg to differ. I posit there are five core reasons to remain bullish on Micron.
Five Reasons to Remain Bullish on Micron
Micron appears technically strong. Micron is trading in a well-defined uptrend and recently broken out to the upside. Many investors live by the credo, "The trend is your friend", and will see this as a buying opportunity. Additionally, the coveted long term bullish indicator referred to as the Golden Cross was recently achieved. Micron's Golden Cross indicates the bull run may have just begun and the high trading volumes give it additional weight.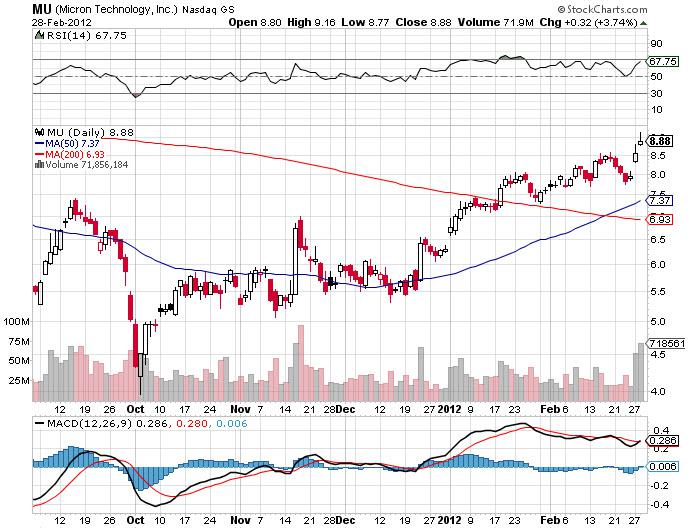 Chart provided by Stockcharts.com
Micron appears fundamentally strong. The company is currently undervalued, trading basically for book value. Micron has a fortress balance sheet with 7.8 billion in net tangible assets. Next year's EPS is expected to be a monumental 232%. Even though Micron has had outstanding 2012 performance so far, it is not overbought with a RSI of 69. Finally, Micron is still 20% below its 52 week high share price of $11.89 and significantly below its recently increased price target of $11.
Micron has had a recent positive product catalyst development. Intel (NASDAQ:INTC) and Micron agreed to augment a flash-memory joint project, improving efficiencies and adding tractability thereby increasing potential profits for both parties. Micron will supply NAND products to Intel, while Intel will sell its stake in two wafer factories for approximately $600 million. The agreement expands the companies' NAND Flash joint development program to include emerging memory technologies.
Micron has had a recent positive competitive advantage catalyst occur. Elpida Memory Inc. recently sought protection at the Tokyo District Court according to a filing with Japan's finance ministry. The bankruptcy may usher in a new era of DRAM consolidation, and will likely energize Micron's fundamentals. It is a win-win situation for Micron.
Many institutional investors take their cues from analyst upgrades and downgrades. Micron has had a rash of recent upgrades coupled with increased price targets underpinning the stock's strength based on the above criteria. See table below for recent upgrade information.

Table provided by Finviz.com
Disclosure: I am long MU.