HealthWarehouse.com (OTCQB:HEWA) is a micro-cap retail online/mail order pharmacy founded in 2007 and based in the Cincinnati metropolitan area. It caters primarily to individuals who have no prescription benefit plan and who pay cash for their medications, or those that do have prescription coverage but find HEWA's prices lower than their out-of-pocket costs through their plans. Over the last year, the stock has traded as low as $0.15 and as high as $0.85, and at the writing of this article, is around $0.40 per share. While certainly a high-risk investment, I believe HEWA deserves increased attention, and has the potential to reward risk-tolerant investors handsomely in the foreseeable future.
Retail Prescription Drug Market Dynamics
A Pharmacy Benefit Manager ("PBM") is a third-party administrator of prescription drug programs for commercial health plans, self-insured employer plans, Medicare Part D plans, and government employee health benefit programs. (The 10 largest, most influential PBMs are listed here.) The retail prescription drug market is heavily influenced - some would say controlled - by PBMs, which are largely responsible for retail drug pricing and the determination of out of pocket costs to the consumer. Increasingly, retail consumers are finding ways to cope with the impact on their wallets, including paying cash for their prescriptions. The cash prescription market is estimated at $100 billion per year in the U.S. and growing at more than 20 percent annually.
Company Dynamics
HEWA's business plan is pretty simple: Purchase prescription drugs in bulk from manufacturers and then sell them directly to the consumer at the lowest possible, but still profitable price, thus eliminating the PBMs as middle-men in the transaction. The plan seems to be working. In early August, HEWA once again reported record quarterly sales results that were astounding. In many cases HEWA's generic drug prices are less than $20 for a 3-month supply, compared to the $30-$35 co-pays commonly collected by prescription benefit plans. The table below shows how HEWA prices stack up with other players in this space.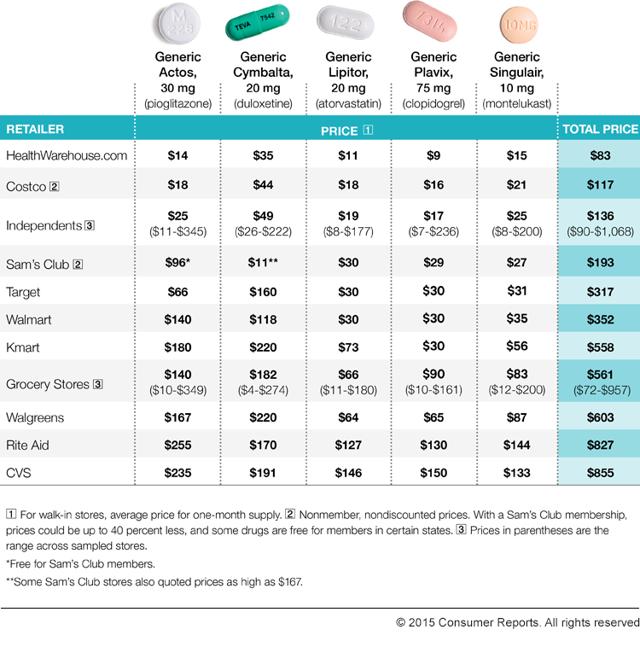 Historically, HEWA has been plagued with questionable governance and management practices that have hurt shareholder value. Recently, a group of shareholders successfully mounted a proxy campaign to replace all four board members with a group committed to increasing shareholder value and there are plans to hire an investment banking firm to advise the board on ways to increase shareholder value, including M&A options. HEWA is highly leveraged but has been working on reducing debt.
HEWA has earned Verified Internet Pharmacy Practice Sites, [VIPPS] accreditation through the National Association of Boards of Pharmacy® by demonstrating its professional operation of the pharmacy, including the maintenance of policies and procedures that protect the client-patient relationships, ensuring the proper handling of prescription medications, providing appropriate medication information, and ensuring quality pharmacy practices for all clients.

For the quarter ended June 30, 2016, net sales improved to $2,403,974 up 28.5% from the prior year ended June 30, 2015. Gross margins remained strong at 64.3% while net loss narrowed to 3.3% of sales in the quarter ended June 30, 2016 from 4.3% for the quarter ended June 30, 2015.
Total net consumer sales grew to $2,302,215, an increase of $779,275 or 51.2% and core prescription sales grew to $ 1,810,053, an increase of $598,002 or 49.3% as compared to the quarter ended June 30, 2015. Core prescriptions sales were the highest level in the Company's history.
For the quarter ended June 30, 2016, HEWA reported adjusted earnings before interest, taxes, depreciation, amortization and stock-based compensation (EBITDAS), of $25,792, continuing the Company's trend of positive cash flow and based on strong sales growth for the quarter, net loss as a percentage of revenue decreased.
I really don't want to burden readers with in-depth financial analysis here as there are mounds of data on the Company's website and in its SEC filings. The data analysis is not the story here, but rather the astonishing sales growth track the company appears to be on and the prospects that it will be acquired or merged into another much larger player in the industry.
Conclusion
As a former investment banker, my take on all this is that the most expeditious and likely scenario for increasing investor value is the acquisition by, or merger with a much larger player in the field, possibly one the companies listed in the above price comparison table. HEWA's ongoing sales growth and move toward profitability, coupled with the growth in the cash-payer prescription market will eventually catch the eye of larger competitors, if not naturally, through the efforts of investment bankers who will be charged with exploring ways to increase shareholder value.
I have no idea what a fair value for HEWA will be in the coming months, but I think it's safe to say that if sales continue to increase as expected, the M&A scenario will play out, and the sales price will be an amount that far exceeds current share value, and high enough to convince the board to accept an offer.
What I can say is that my wife and I have personally been ordering medications from Healthwarehouse.com for about a year, and their low prices and level of customer service far exceeds anything I have experienced with my local pharmacies, and I have tried them all.
With all this being said, if one decides to take a flyer on HEWA, understand that large positions are controlled by insiders, including large blocks of preferred stock. The stock often trades with wide spreads, so be careful using market orders - you could get burned. As with any stock, there is the risk of capital loss, so conduct your own research and speak with your investment advisor.
Editor's Note: This article covers one or more microcap stocks. Please be aware of the risks associated with these stocks.