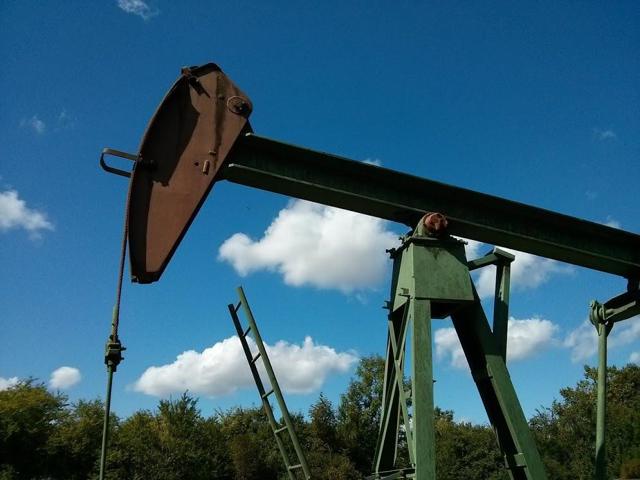 Source: Stock Photo
Recent data confirm the bullish case for oil is crumbling, as more supply is ready to come to the market, U.S. inventory continues to build, the global demand outlook is falling, and U.S. shale producers add rigs that will outperform those used in the past.
For three out of the last four weeks, U.S. oil inventory levels have climbed, as supply continues to exceed demand. On a global level, oil supply will widen its lead over demand, with OPEC saying it'll be even more robust than thought in the recent past.
Libya is also set to more than double its current supply level, and output in the Caspian Sea will add a significant amount of new supply to the market during the remainder of 2016 and into 2017.
There are very few tailwinds to point to an oil price recovery in the near future, as demand simply isn't keeping up with the projected pace of growth through the end of 2017. Until that reverses direction, the price of oil will remain under pressure.
U.S. oil inventory
U.S. stockpiles continue to climb, according to the American Petroleum Institute, which reported for the week ended September 9, it was up 1.4 million barrels. While it was lower than some were looking for, it's still an upward move confirming the supply continues to outpace demand. I see nothing that will change that in the near future. Some of that will be determined by how cold the winter will be in the U.S.
Recently, stockpile levels have been one of the key catalysts investors have traded on one way or the other. Lately, it's been on the short side of the trade. If it continues to climb, as I believe it will, it will push the price of oil to the point of testing the $40 per barrel mark and lower.
It's not the only catalyst that will bring that result, but it's one of the more important ones. Another extremely important oil catalyst will be the pace of the growth of oil supply for the remainder of 2016 and for all of 2017.
Oil supply for 2016 and 2017
For the last two to three years, in consternation OPEC and Saudi Arabia in particular, haven't been able to figure out what to do with the emergence of the U.S. shale industry. It has stated in the past it has no answer to the problem, which is why it continues to keep production at near record levels. Some OPEC members are currently producing at record levels, as they battle to maintain and grow market share.
Not only has the U.S. shale industry proved to be much more resilient than thought, but so have major competitors like Russia and Norway. Including the U.S., these three competitors will produce just under 200,000 barrels per day above previous estimates for 2016, according to OPEC.
In 2017, the outlook for oil supply was been upwardly revised by OPEC to climb to about three times what the cartel had stated in August. Its new estimate is for non-OPEC supply to jump by 760,000 barrels per day during 2017.
It doesn't appear OPEC included the increase in supply coming from the Caspian Sea and Libya, which when combined, will account for almost 900,000 more barrels per day going forward. My thought on that is it's likely OPEC included some of the potential from Libya, but not all of it.
All of this means no one is going to give up their production levels in order to artificially support the price of oil, while at the same time ceding market share. This means inventory levels are going to continue to be high, and certainly grow over the next 16 months.
Pace of oil demand growth weakening
Another change in the outlook for oil is concerning global demand, which has been downwardly revised for the rest of 2016 and all of 2017.
Past numbers have 2016 oil demand growing 1.4 million barrels per day, which has been changed to 1.3 million barrels per day. And for 2017, it has been dropped to 1.2 million barrels per day.
When including the enormous amount of supply being brought to market, this is going to be very troublesome for many companies hoping for a price rebound. This will be ominous for a number of companies having hefty debt loads maturing in 2017.
I believe the revised oil demand numbers may still be too strong, and we could be surprised on the downside because of slowing economies in Asia and the EU. It wouldn't surprise me to see global demand in 2017 falling to 1.1 million barrels per day.
Oil rig counts
Oil rig counts in the U.S. continue to climb, as companies have found ways to generate earnings with premium wells, which allows them to make a profit with oil in the $40 to $45 range per barrel.
The U.S. shale industry continues to surprise on the upside because rigs now in operation are far more efficient and productive than those in the past because of new technology and methodology, which has lowered costs while increasing well productivity.
This is why it's hard to price in these wells because they're not only more productive, but the productivity changes from well to well, and thus from rig to rig.
What can be counted on is the fact it won't take the same number of rigs it did in the past to produce the same amount of oil. U.S. supply will continue to decline in the near term, but I know it won't be near as bad as some think, and there's a strong probability U.S. supply will reverse direction in the second half of 2017.
All of that will come about because low-cost U.S. producers can make money at a much lower price point than in the past.
Conclusion
Global oil supply is going to continue to exceed demand and widen its lead over demand in 2017, which will add to inventory levels. That in turn will push down oil prices. It also looks like supply could even make bigger gains than the upwardly revised numbers, which will further exasperate the challenge to the price of oil.
There is not going to be any production freeze agreement, and that will also pressure oil because the market foolishly priced it in as it had any basis in reality. Once that illusion is realized by the market, when combined with a robust supply outlook, increasing inventory levels, and a higher U.S. rig count, that combination is going to be lethal through the end of 2017, and only a surprise on the demand side will be able to provide a tailwind for the price of oil to sustainably rebound. I don't see that happening. Everything is pointing to a slowing pace of growth in oil demand while supply levels grow. This is bad news for oil bulls, who will be caught on the wrong side of the trade.
Disclosure: I/we have no positions in any stocks mentioned, and no plans to initiate any positions within the next 72 hours. I wrote this article myself, and it expresses my own opinions. I am not receiving compensation for it (other than from Seeking Alpha). I have no business relationship with any company whose stock is mentioned in this article.