If 2016 has taught us anything it's the importance of political risk. From Brexit to the South China Sea, North Korea, Turkey, refugees, referendums, and elections, this year seems to have brought an unusual amount of political risk. And it's not over, the impending US election has the potential to extend an existing trend of rising policy uncertainty in the US. There is an observable historical link between rising policy uncertainty and rising risk for equity markets, as this article will detail.
What is policy uncertainty?
For the purposes of this analysis we are using the US Economic Policy Uncertainty Index from the website Economic Policy Uncertainty. In short, the index is designed to quantitatively reflect the level of economic policy uncertainty in a country:
"To measure policy-related economic uncertainty, we construct an index from three types of underlying components. One component quantifies newspaper coverage of policy-related economic uncertainty. A second component reflects the number of federal tax code provisions set to expire in future years. The third component uses disagreement among economic forecasters as a proxy for uncertainty."
Why does it matter?
On to the important part; it's one thing to say political risk is rising and this is bad for markets, but it's another thing to look at the data and determine the historical relationships.
The first implication, and perhaps the most obvious, is that volatility is generally higher when policy uncertainty is higher.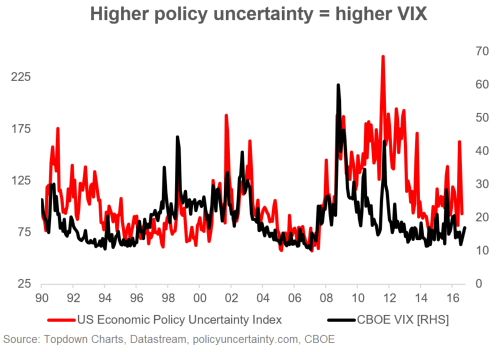 This would make sense in that a higher VIX generally reflects higher uncertainty, but also in that higher levels of policy uncertainty are likely to be stemming from issues that are likely to drive risk-off episodes such as the government shutdown, Fed policy announcements, and tax changes. Economic policy uncertainty is also generally higher when economic conditions are more challenging.
The second implication, which is a logical follow on point, is that the equity risk premium is generally higher when policy uncertainty is higher.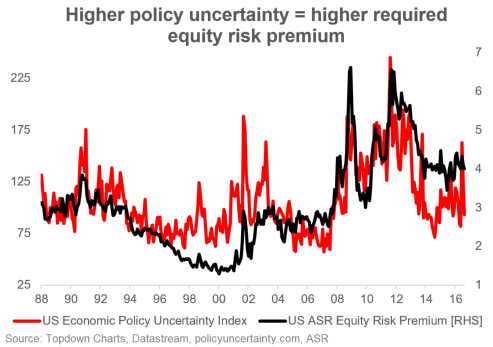 This makes sense; given higher uncertainty investors will require a higher risk premium to compensate them for the higher perceived amount of risk that they will be taking on.
But is it really bad news?
You might think that higher uncertainty is a bad thing, and well yes bad things usually happen to markets at the same time that economic policy uncertainty is higher. But that's the point, it is a coincident indicator (very much like the VIX), rather than a leading indicator of political risk.
Think of it this way, does lower economic policy uncertainty mean lower risk? Looking at the chart below, if we focus on the periods where policy uncertainty was the lowest it certainly cleared the way for market performance e.g. during the late 90's, the mid 2000's credit boom, and towards the later part of the QE bull market. But what you probably also notice is that the policy uncertainty index tended to hit the low points around the top of the market.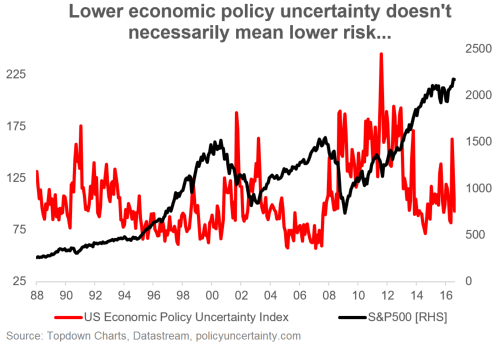 Indeed, the times when policy uncertainty was the highest was typically the same time as the market was putting in a bottom. This is consistent with the previous finding that the equity risk premium is usually higher when policy uncertainty is higher. So if you can stand the higher uncertainty you may end up banking better equity returns by buying when policy uncertainty is higher rather than lower.
Summary
As the US presidential election approaches and the Fed continues its gradual normalization process it's fair to say that the trend of rising economic policy uncertainty is likely to extend. Historically, higher economic policy uncertainty is consistent with a generally higher VIX and higher equity risk premium. Partly as a consequence, while risk of drawdown and risk-off episodes are higher, buying when policy uncertainty is elevated can offer rewards to the patient and thick-skinned investor.