Overview: VanEck's natural resources investment strategy spans the breadth of raw materials commodities sectors, and the industrial and base metals sector plays a critical role. Global infrastructure and industry are dependent on supplies of copper, nickel, zinc, aluminum, lead, and tin, and on the companies who mine and refine them. As of August 31, 2016, industrial and base metals-related holdings accounted for approximately $2.5 billion of the firm's assets under management.
Zinc is Top Performer in 2016
2016 has been a notable year for zinc, with the metal's price soaring 41.3% year to date through August 31, 2016. The world's third most important base metal in terms of dollar trading volume (behind copper and nickel; see Chart A), zinc has been the top performer among base metals in 2016 - a position traditionally held by the red metal, copper. From our investment perspective, falling supply and resilient demand have made zinc one of the most attractive base metals in 2016.
Supply/Demand Fundamentals are Supportive
Most metals suffered during what was a protracted commodities downturn (2008-2015), the worst seen in 40 years. But we believe the turnaround began in this year's first quarter (read more on the commodities rebound), and zinc has been a major beneficiary. The fallout from the commodities recession resulted in significant shutdowns of mines and production. Zinc production has fallen, as evidenced by tightening treatment and refining charges, and weak supply growth. Inventories have also declined since early 2013, both at smelters and in warehouses, but demand remains resilient, supported by ongoing global infrastructure spending.
We believe that the current supply and demand fundamentals in zinc are very supportive of this year's higher prices, which, in our opinion, may have the potential to climb even higher. Several significant catalysts, described below, are likely to continue to strengthen as the year progresses and should be supportive of zinc over the next three to six months.
Chart A: Base Metals by Trading Volume
Average 3-Month Volume in $ Millions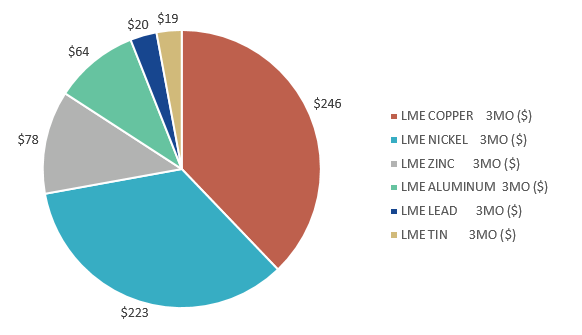 Source: LME, London Metals Exchange as of 8/31/16.
Strong Catalysts for Zinc
Lack of Capital Spending by Mining Companies
Among the big six base metal mining companies, capital spending, both growth capital and sustaining capital, peaked at about $80 billion in 2012 and has contracted yearly since then to approximately $23 billion in 2016 (see Chart B). This is due to subdued prices, lower margins, and, in particular, stretched balance sheets. Drastically reduced capital spending has resulted in a drop-off in mine production, with zinc ore being among the most impacted.
Chart B: Total Capital Spending of Big Six Base Metal Mining Companies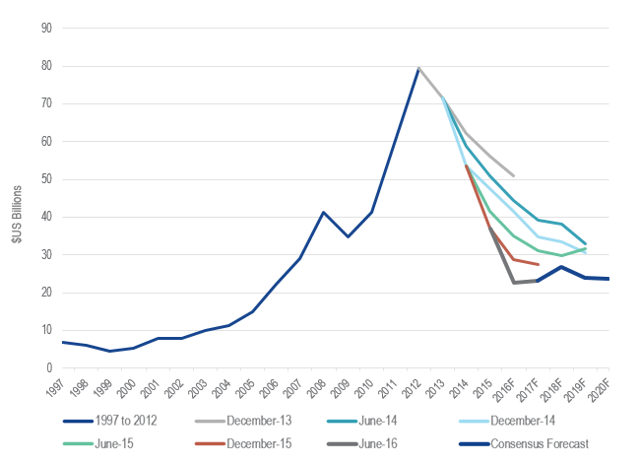 Source: VanEck, Company Reports as of 7/31/16. The Big Six Metal Mining Companies are BHP Billiton (NYSE:BHP), Rio Tinto (NYSE:RIO), Glencore (OTCPK:GLCNF), Anglo American (OTCQX:AAUKF), Vale (NYSE:VALE), and Freeport-McMoRan (NYSE:FCX)1. These are not recommendations to buy or sell any security. Sectors and holdings may vary.
Falling Zinc Ore Production
Global zinc ore production for 2016 is, on an annualized basis at the end of June, already 1.6 million tonnes lower than it was in 2015. The run rate2 for 2016, as of the end of June, was approximately 11.5 million tonnes, compared with 13.1 million tonnes in 2015, a 12.5% drop in supply (Chart C).
Aging mines have been closed, and production has been cut around the world. Last year, MMG Ltd. (OTC:MMLTF) closed its Century mine in Australia, Vedanta Resources (OTCPK:VDNRF) closed its Lisheen mine in Ireland, and Glencore announced a cutback of some 500,000 tonnes in annual zinc production, including the closure of its Iscaycruz3 mine in Peru and its Lady Loretta4 mine in Australia. Zinc mine production has also fallen in Europe by as much as 10.1% and in India by as much as 39.5%.
China, the world's largest zinc producer, has also experienced significant production cutbacks (China's output is trailed by Australia, Peru, the U.S., and India). At the end of June 2016, Chinese production was approximately 6.9% lower than in 2015, with a run rate for the year (annualized based on six months ending June 30) of 4.4 million tonnes, compared with 4.7 million tonnes in 2015. Chinese reductions are not just price-related, but are also a direct result of the administration empowering, enforcing, and policing more stringent environmental policies. Annual production for all of Asia has dropped 11.5% from 2015 to 2016, when comparing the full year 2015 to the first six months of 2016 annualized (Chart D).
Chart C: Global Zinc Ore Production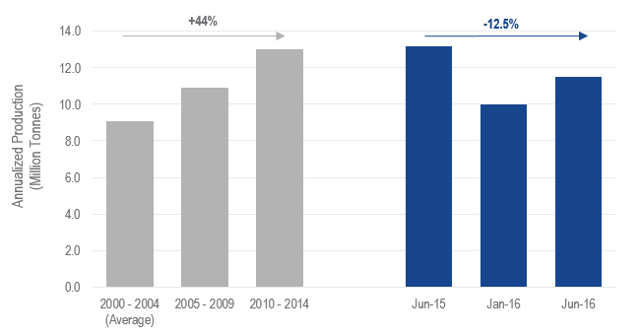 Source: VanEck, Bloomberg, World Bureau of Metal Statistics as of 7/31/16.
Chart D: Regional Zinc Ore Production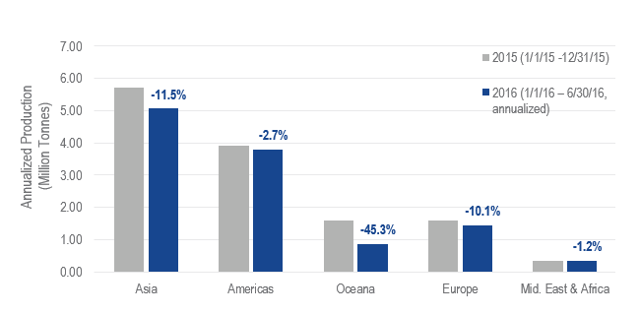 Source: VanEck, Bloomberg, World Bureau of Metal Statistics as of 7/31/16.
Falling Inventories
Deliverable inventories5 of zinc metal held in both LME6 and SHFE7 warehouses have been falling and continue to fall (Chart E). For most of 2015, SHFE inventories had been building, but now due to the lack of mine supply, they are rolling over. Inventories stood at around 206,000 tonnes at the end of July8, down from a peak of 274,000 tonnes in March 2016. LME inventories have also continued to fall, to 432,000 tonnes in July, down from a peak of 504,000 tonnes in February 2016.
Chart E: Global Zinc Inventory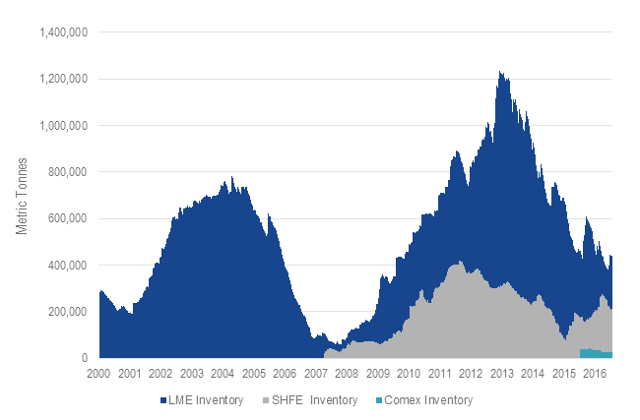 Source: VanEck, Bloomberg, Commodities Exchange Center, London Metals Exchange, Shanghai Futures Exchange as of 7/31/16.
Resilient Demand
Demand for refined zinc, supported by global infrastructure spending, has remained resilient. Some 25% of refined zinc demand is directly related to infrastructure spending, and because of its anticorrosive properties, about 50% of all zinc demand is used for galvanizing (a process of electromagnetically laying a thin layer of zinc on iron or steel to prevent rusting).
Recent Chinese Fixed Asset Investment (FAI) data, a key indicator of refined zinc demand, have shown that infrastructure spending in the country has accelerated.9 Thus far in 2016, Chinese apparent demand (domestic production + imports - exports) has been very strong, building from a low in January of 301,000 tonnes per month to 408,000 tonnes in May. Although this is slightly below the 2015 monthly average of 433,000 tonnes, we believe that this trend will continue, as the second half of the year is seasonally a stronger period for demand.
Our Positive Outlook for Zinc
Given the strong catalysts we have described, we believe zinc should continue to perform well as the year comes to a close. To be balanced in our outlook, we do see possible headwinds from potential new supply and/or demand destruction as substitute materials such as cadmium and aluminum alloy anti-corrosive coatings become more prominent. But at the same time, industries are benefiting from several new applications, such as zinc's use in organic fertilizers and in potential applications for battery storage.
IMPORTANT DISCLOSURE
1 As of 8/31/16, Glencore represented 3.58% and Freeport-McMoRan represented 0.94% of the net assets of VanEck Global Hard Assets Fund; Anglo American, Vale, BHP Billiton, and Rio Tinto were not held by the Fund as of 8/31/16.
2 The estimation of future production assuming present trends continue.
3 The Wall Street Journal: Glencore Cutbacks Shift to Zinc in Metal Rout.
4 Ibid.
5 Inventories of tangible metal.
6 London Metal Exchange.
7 Shanghai Futures Exchange.
8 July 29, 2016.
9 Goldman Sachs: Metal Detector: Zinc preferred - bullish supply dynamic meets exposure to China infrastructure; The Washington Post: Goldman Singles Out Zinc as 'Bullish Exception' Among Metals.
This content is published in the United States for residents of specified countries. Investors are subject to securities and tax regulations within their applicable jurisdictions that are not addressed on this content. Nothing in this content should be considered a solicitation to buy or an offer to sell shares of any investment in any jurisdiction where the offer or solicitation would be unlawful under the securities laws of such jurisdiction, nor is it intended as investment, tax, financial, or legal advice. Investors should seek such professional advice for their particular situation and jurisdiction. You can obtain more specific information on VanEck strategies by visiting Investment Strategies.
The views and opinions expressed are those of the author(s), but not necessarily those of VanEck, and these opinions may change at any time and from time to time. Non-VanEck proprietary information contained herein has been obtained from sources believed to be reliable, but not guaranteed. Not intended to be a forecast of future events, a guarantee of future results or investment advice. Historical performance is not indicative of future results. Current data may differ from data quoted. Any graphs shown herein are for illustrative purposes only. No part of this material may be reproduced in any form, or referred to in any other publication, without express written permission of VanEck.
Please note that Van Eck Securities Corporation offers investment portfolios that invest in the asset class(es) mentioned in this post. Hard assets investments are subject to risks associated with natural resources and commodities and events related to these industries. Commodity investments may be subject to the risks associated with its investments in commodity-linked derivatives, risks of investing in a wholly owned subsidiary, risk of tracking error, risks of aggressive investment techniques, leverage risk, derivatives risks, counterparty risks, non-diversification risk, credit risk, concentration risk and market risk.
Investing involves risk, including possible loss of principal. An investor should consider investment objectives, risks, charges and expenses of any investment strategy carefully before investing. No part of this material may be reproduced in any form, or referred to in any other publication, without express written permission of Van Eck Securities Corporation.