It confounds me that while dividend growth investors are typically small retail investors that could easily buy smaller stocks (which historically outperform), they instead focus on the largest, most well-known and efficiently-priced stocks in the market. It further confounds me that dividend growth investors seem relatively valuation indifferent.
Dividends are great as a return of capital and I have warmed up to them relative to share repurchases over the last few years, but they are not the most important thing. The most important thing is long-term total returns. And a few of the most important determinants of those returns are the size the company whose stock you are buying and the price you pay for those shares.
Characteristics of the DGI Lot
Dividend Growth Investors are small retail investors generally managing less than $1mm of personal assets. They do not invest full-time but are interested and passionate and 'invest' sufficient time in their portfolio. Presumably they like control and involvement, making passive strategies unappealing to them. They enjoy the investing process: learning about companies, reading the news, and making money work for them. The process is fun and exciting.
As far as what they invest in, they seem to focus on companies that pay dividends, preferably those that are increasing their dividends. For some reason, dividend growth investors also seem attracted to large and mega cap stocks. A few that seem very popular among the community based on mentions in articles and SA followers are:
| | | |
| --- | --- | --- |
| Company (Ticker) | Div. Yield | SA Followers |
| Apple (NASDAQ:AAPL) | 2.11 | 1,564,000 |
| General Electric (NYSE:GE) | 3.08 | 368,000 |
| AT&T (NYSE:T) | 4.8 | 265,000 |
| IBM (NYSE:IBM) | 3.59 | 245,000 |
| Exxon Mobil (NYSE:XOM) | 3.52 | 243,000 |
| Johnson & Johnson (NYSE:JNJ) | 2.72 | 191,000 |
| Verizon (NYSE:VZ) | 4.49 | 179,000 |
| Pfizer (NYSE:PFE) | 3.53 | 154,000 |
| Wells Fargo (NYSE:WFC) | 3.24 | 152,000 |
| Coca-Cola (NYSE:KO) | 3.31 | 151,000 |
| Procter & Gamble (NYSE:PG) | 3.08 | 146,000 |
| Wal-Mart (NYSE:WMT) | 2.8 | 136,000 |
| McDonald's (NYSE:MCD) | 3.1 | 128,000 |
| Caterpillar (NYSE:CAT) | 3.84 | 119,000 |
| ConocoPhillips (NYSE:COP) | 2.44 | 119,000 |
| Philip Morris (NYSE:PM) | 4.12 | 66,000 |
| Altria (NYSE:MO) | 3.84 | 102,000 |
I doubt it's intentional (why would anyone intentionally pay more for a stock unless it's some weird trend-following/social strategy capitalizing on market fanaticism?), but another common theme among these DGI names is that they are generally expensive. In many ways, this is closely related to their size. It's long been my view that large caps in the US are among the most expensive stocks on the planet, and all of these names are US large caps.
What's concerning to me is that dividend growth investors don't seem particularly concerned with the prices they are paying. They don't seem to care much about valuation. That's not a blanket statement and I don't mean it in the strongest sense. I have seen some mention book value and PE. But on the other end of the spectrum, I'll see some articles such as this one which do not even mention valuation at all. I just don't think DGI investors are nearly as price-aware and price-sensitive as they should be.
Dividends do matter
I used to be strongly opposed to dividends as a means of capital allocation. Like Warren Buffett, I thought that dividends were extremely tax inefficient compared to share repurchases. Dividends effectively force a stockholder to pay taxes when the dividend is paid instead of allowing them to defer taxation for many years or pay it on their own terms via share repurchases on the part of the company and annual or infrequent "trimming" on the part of the shareholder. I also felt that the effectiveness of share repurchases compared to dividends could be further exacerbated through good timing:
Companies could do better by timing their share repurchases when their stocks were cheap
Shareholders could do better by timing their stock sales when the held stock is expensive
The tax argument still holds, but I've come to appreciate that many DGI investors are primarily using tax-deferred accounts anyway - although what's the point of income-focused investments if you're not spending it now and still in the accumulation phase??
The share repurchase argument, in general, does not. First, I am no longer convinced that companies time share repurchases well most of the time. Here is a chart of share repurchase dollars against the S&P 500 through the last market cycle: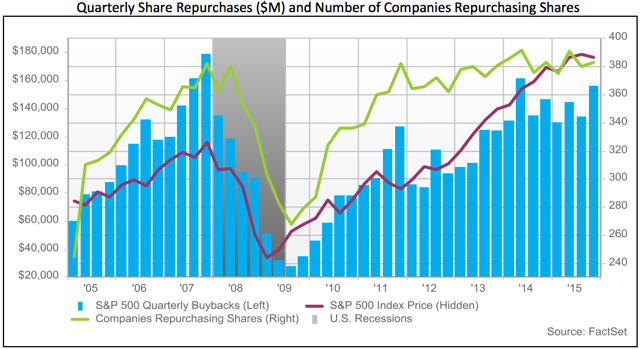 Source: Factset
As you can see, companies effectively bought high and didn't buy low. The problem is that when their share prices are low, companies are also typically experiencing some distress and aren't bringing in as much cash. The tendency is to batten down the hatches and so there isn't much capital available to use opportunistically buying back shares. The inverse is true when the stock is expensive. So theoretically share repurchases are attractive, but if I am the evidence-driven investor I claim to be, I must admit this is a pretty damning picture for share repurchases.
As far as timing on the part of investors, I have lost faith in the ability of most investors, professional and retail. The incompetence of most professional investors is illustrated by the dramatic underperformance of most mutual funds. Roughly 3/4ths underperform the benchmark that they themselves said they would beat. Individual investor timing isn't any better. Fund investors put money in and pull money out at precisely the wrong times. More money flowed into stocks in early 2000, which happened to be the top of the internet bubble, than ever before. More money than ever before came out in late 2008 in the depths of the financial crisis. The result is that the actual compounded annual returns ("money-weighted returns") investors experience are almost 2%/yr. lower than the returns the funds they are invested in are delivering ("time-weighted returns").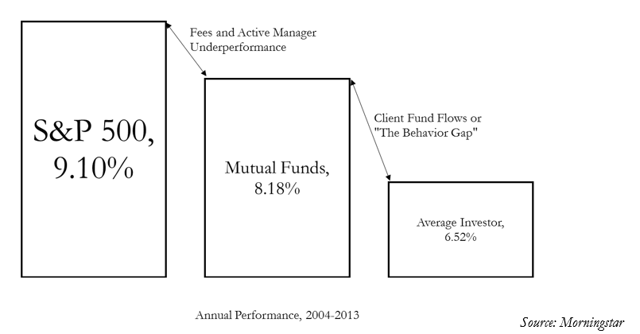 So no, investors and companies are not good at timing, making dividends a good capital return option given it takes timing out of the question.
Dividends are actually somewhat predictive
On top of the appeal of dividends as a form of capital return relative to share repurchases, some readers may be surprised to hear that dividends actually work moderately well as a quantitative criterion. Academics would call this a "factor." Basically, dividend yield can be used to filter out stocks that will, on average, outperform the broader market. Dogs of the Dow should be familiar evidence of this. I also recall seeing some good backtest results on dividend yield in What Works on Wall Street and here is a post highlighting some backtest results showing the highest dividend yield stocks outperforming low dividend stocks by 1.1% annually since 1926: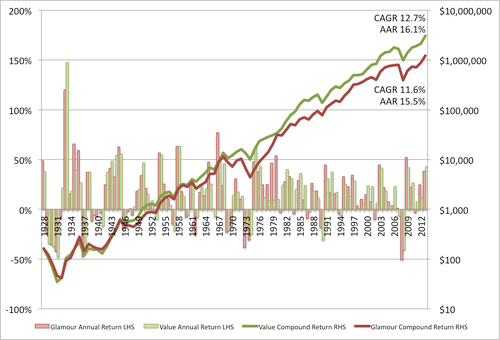 Source: Greenbackd
While the outperformance is not dramatic and I question whether it is due to correlation with value factors rather than causation (see chart below), I think I've seen enough to say the dividend yield has some value as a quantitative factor.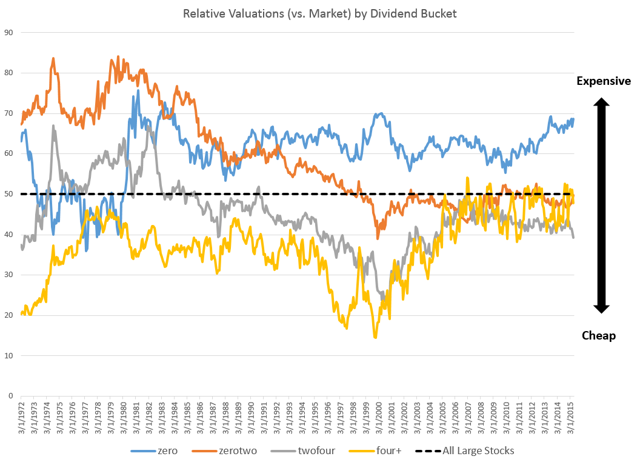 Is it correlation with value factors that is driving these results? Source: InvestorsFieldGuide
Size and valuation matter way more though
The reason I preach buying small, cheap stocks is because that is what has worked most powerfully. In Fama and French's 1993 paper on the three factor model, which some might say pioneered quantitative investing, company size was one of the factors, as was valuation in the form of price/book.
My favorite resource on "what has worked in investing" is Tweedy, Browne's classic white paper of the same name. They did a meta-analysis of a few dozen of the most popular and compelling academic results. Here is a personal favorite which shows the impact of both size and valuation in one chart: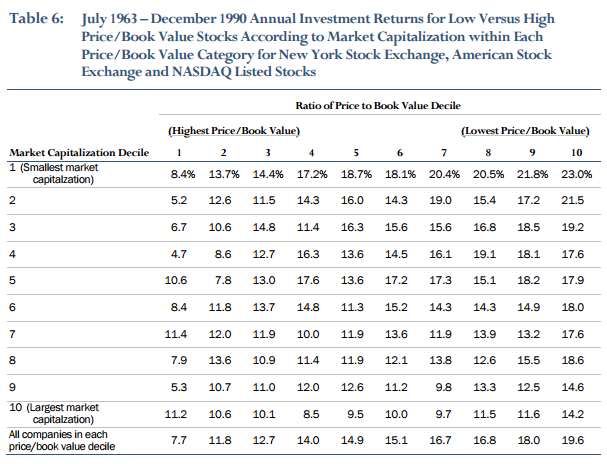 Source: What Has Worked in Investing, via Fama & French "The Cross-Section of Expected Stock Returns," Working Paper 333, Graduate School of Business, University of Chicago, January 1992
I could introduce far more empirical evidence. For example, price/book is not the only valuation metric shown to be predictive. In fact, it seems to me based on the evidence I've seen that almost any conceivable valuation metric works to some extent. EV/EBIT is a particularly effective one.
The Irony: DGI Investors could easily buy small and cheap
What is ironic to me is that not all investors can invest in small and cheap stocks. There are plenty of mutual funds with growth mandates and index funds are of course passive, but more important is size. Many high net worth individuals and institutional investors are just too large to buy microcap stocks such as OPT Sciences (OTCPK:OPST) which I wrote up recently. These investors are relegated to the large, efficient, and expensively priced stocks in the market. That's unfortunate.
But what's more unfortunate is that the other guys - small retail investors who can invest in cheap microcaps - are asleep at the wheel. Instead, they are investing in the largest stocks in the market. Why?
Because they pay dividends. Well plenty of microcaps pay dividends. I'll show you several in a second.
Or maybe because DGI investors desire predictable businesses. That's somewhat reasonable in that large companies do tend to have more stable profits than smaller companies. I have two qualms here though.
First, the notion that all microcaps are like startup penny stocks with no revenue or profits, stocks promotions, the whole nine yards, is totally wrong. There are two kinds of microcaps. The profitless promotion just described is one. The other, far more common type is small, niche businesses that are family controlled, have been around for decades, and have no reason to raise capital or be public. OPST is an example of one of them. Others in the US are Solitron Devices (OTCPK:SODI), George Risk Industries (OTCPK:RSKIA), Micropac (OTCPK:MPAD). In Japan, it seems like every microcap you encounter fits this description.
Second, although microcaps should be sized very small because of the larger fluctuations in performance, DGI investors are almost universally managing very diversified portfolios of like 50 stocks already.
How about because they feel safe investing in what they know? Are you optimizing how you feel about your investments, or how they are actually performing?
Isn't it fun investing in what you know? Well then, sorry to be the bearer of bad news, but investing is first and foremost about making money. If you're optimizing fun and intellectual stimulation over investment returns, you're not investing, you're engaging in a hobby, like watching TV. Be careful that the "cable bill" on this hobby isn't too high!
Lack of investor sophistication? You don't need to be a rocket scientist to buy cheap stocks. PE, P/B, EV/EBIT, P/FCF, etc. are simple numbers you look for that many websites like Morningstar will easily give you. Kind of like… dividend yield.
Dividend Growth… Microcaps?
Because I know many readers will not believe me when I say that there are plenty of microcaps that pay dividends, I want to introduce some.
First, an interesting head-to-head. Three popular DGI stocks are the tobacco names:
These sin stocks have at least one thing going for them (sin stocks outperform), but they seem very expensive to me and I think we can do better with a microcap called Ecology & Environment (NASDAQ:EEI) which is a business that is on the opposite end of the "socially responsible investing" spectrum as an environmental consultant. This stock will really "clean up" your DGI portfolio!
EEI has been around since 1987 and paid 59 consecutive semi-annual dividends since going public. The yield is currently 3.92%. Their dividend is well supported by profits and cash flows. At the current $0.40 annual rate, they should pay out about $1.7mm annually, which compares to EBIT of $5.3mm and FCF of $7.1mm. Those numbers are sustainably well above the dividend. Average EBIT and FCF over the last 10 years have been $5.8mm and $3.9mm respectively.
Here are a few more:
Most importantly, these new DGI names I introduced are far smaller and cheaper than those typical of the DGI community. Here's a chart showing the market cap and valuation of all the stocks mentioned in this article, with a cutoff between the small and cheap ones I recommend and the typical crowd I recommend against after CNRD.
Company (Ticker)

Div. Yield

Followers

Market Cap

P/B

P/E

P/S

Ecology & Environment

3.90

337

44mm

1.2

15

0.4

Nichiwa Sangyo (TYO:2055)

2.08

6

39mm

0.2

10

0.1

Taisei Oncho (TYO:1904)

3.01

5

67mm

0.3

5

0.1

Bank of Utica

3.11

113

103mm

0.6

10

5.2

Mind CTI

12.62

2,131

42mm

2.2

8

2.0

Conrad Industries

1.67

845

124mm

1.0

13

0.6

Apple

2.11

1,564,000

616B

4.8

13

2.8

General Electric

3.08

368,000

274B

3.2

28

2.3

AT&T

4.80

265,000

255B

2.0

17

1.6

IBM

3.59

245,000

150B

9.4

13

1.9

Exxon Mobil

3.52

243,000

360B

2.1

34

1.6

Johnson & Johnson

2.72

191,000

326B

4.5

22

4.6

Verizon

4.49

179,000

217B

10.9

15

1.7

Pfizer

3.53

154,000

210B

3.3

30

4.0

Wells Fargo

3.24

152,000

240B

1.3

12

4.7

Coca-Cola

3.31

151,000

188B

6.8

24

4.3

Procter & Gamble

3.08

146,000

236B

4.1

25

3.6

Wal-Mart

2.80

136,000

226B

2.9

15

0.5

McDonald's

3.10

128,000

100B

-

22

4.0

Caterpillar

3.84

119,000

49B

3.1

43

1.2

ConocoPhillips

2.44

119,000

51B

1.3

-

2.1

Altria

3.84

102,000

129B

-

22

5.0

Philip Morris

4.12

66,000

159B

-

24

6.1

Reynolds American RAI)

3.88

17,320

71B

3.2

13

5.8

S&P 500 (NYSEARCA:SPY)

2.8

25

1.9

Notes:

EEI net income in PE adjusted for 35% normalized tax rate.

2055 also trades at 40% of NCAV

1904 also trades at 45% of NCAV and 62% of net cash

BKUTK 177 consecutive semi-annual dividends and never decreased
Perhaps some investors may find it helpful to simply swap a few of these names into their DGI portfolios, replacing a few of the most expensive large caps like General Electric and Procter & Gamble.
Conclusion
Dividends do have value, both as a method of capital return and as a quantitative factor, but there are far more important determinants of investment returns, namely company size and stock valuation. Compared to the rest of the market, the dividend growth investment community is particularly well positioned to take advantage of small, cheap stocks that score highly on these important criteria, but instead are being distracted by their obsession with dividends from companies they know. I think there are far worse ways to invest a dollar than dividend growth investing, it's just far from optimal in my opinion.
Disclosure: I am/we are long RSKIA, TSOCF, BKUTK, EEI, NCWAF, CNRD, MNDO, OPST. I wrote this article myself, and it expresses my own opinions. I am not receiving compensation for it (other than from Seeking Alpha). I have no business relationship with any company whose stock is mentioned in this article.
Editor's Note: This article covers one or more microcap stocks. Please be aware of the risks associated with these stocks.