Citigroup's presentation today at Barclay's Financial Services Conference gave a powerful and straightforward message. John Gerspach, the CFO, stated very simply that Citigroup is focused on lifting its return on tangible capital (ROTC) as well as lifting the return of capital to shareholders.
The CFO went on to state that ROTC shall continue to improve as 1) DTA consumption continues at roughly $2 billion per year, 2) there are more non strategic asset sales and 3) risk weighted assets are adjusted lower. The CFO stated there is roughly $34 billion of capital supporting Citi Holdings and disallowed DTA that can be released and returned to shareholders as Citi Holdings and DTA diminish. The slide below illustrates that Citi has reduced its DTA from $55 billion to $45 billion during the past 5 years or about $2 billion per year. That is expected to continue. However, since Citigroup is also growing its capital base at the same time, Citigroup is allowed to include an ever larger amount of DTA in its CET1 capital, thus, the disallowed DTA is shrinking by $3 billion per year, or more than $1.00 a share per year. This is expected to continue for another 14 years and can be considered an annuity stream for purposes of investment analysis (add it to earnings per share if you wish to appreciate how quickly Citigroup is improving).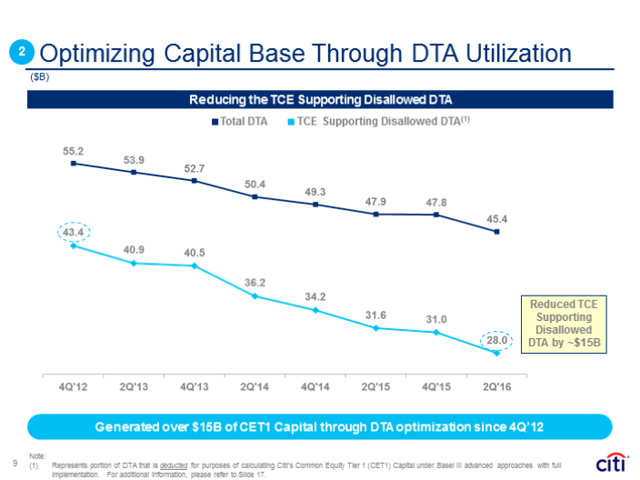 With the rapid consumption of so much DTA, Citigroup is able to do something very few companies have ever had the pleasure of accomplishing. Citi is growing its regulatory capital far faster than its retained earnings. It is rather remarkable, while retained earnings have been growing by only 5% a year in a rather weak economic environment, core capital has been accumulating by 12% a year, as a result of the DTA consumption.
The CFO went on to explain that on-going conversations with the Federal regulators suggest that Citigroup is done repairing and done building its balance sheet and is now poised to pay out 100% of its excess capital, annually. In a fast growth environment, Citi will no doubt keep some portion of its capital accumulation in order to support future growth, but in a slow growth environment, such as we have today, Citigroup is being unshackled and allowed to reward its shareholders. The prior June CCAR results were the first real indication of this change, while next year's 2017 CCAR results will likely pound home this new reality.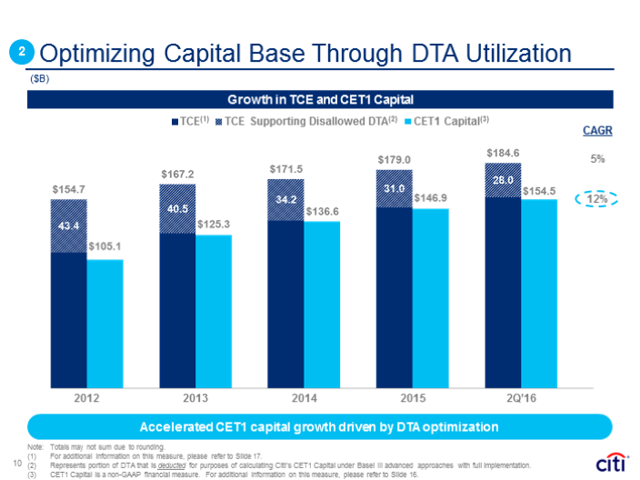 The CFO, John Gershpach, then specifically and clearly stated that investors "ought to follow the trends" as Citigroup consistently lifts its shareholder returns. As the 3rd chart below clearly shows, citi is quickly returning an increasing amount and percent of its capital generated each year to shareholders. Presently, Citi is expected to return 65% of its capital generated, up from 45% last year and up from just 11% in 2014.
If you are to take anything of value from this article, consider the following quote from the CFO. When asked how long it ought to take Citigroup to reach its goal of returning 100% of its annually generated excess capital, he responded " I can't tell you whether we will reach our goal in one step or two, but in the fairly near term, our goal is to get to 100% as quickly as possible." When commenting upon the slide shown below, Mr. Gerspach stated, "follow the trends" Citi has successfully lifted its return of capital to shareholders from $1.3 billion in 2014, to $6.8 billion in 2015, to $10.4 billion in 2016 and intends to reach $15.9 billion "as quickly as possible."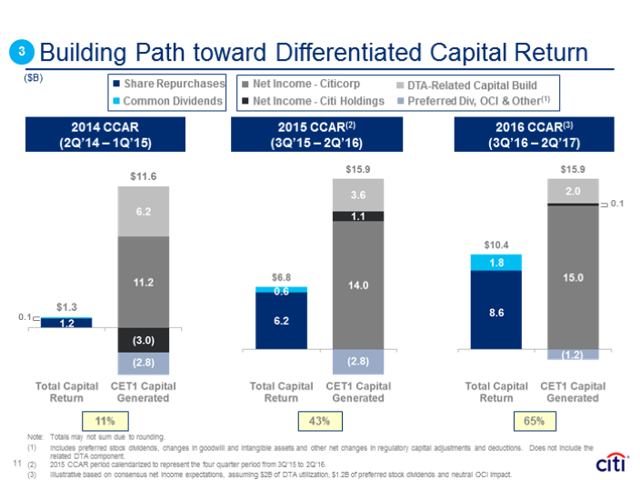 Later, when pressed on whether the dividend would become a larger percentage of the total shareholder return, Mr. Gerspach said "yes", the mix of the payout ought to change with time and there was no reason why Citigroup would not lift its dividend to the 30% to 35% level already enjoyed at some of the other banks.
If we assume Citi does reach a return of capital of $15.9 billion in the next two years and Citi does raise its dividend to 33% of the payout, then that suggests Citi will be paying $5.2 billion annually in common share dividends while it is busy buying back $10.6 billion annually in common shares. Doing the math, this suggests the share count in 2018 will have declined to less than 2.6 billion shares and the dividend we will receive will approach more than $2.00 a share, more than a triple from here.
Keep in mind, nothing all that special must take place for this reality to take place. Nothing mentioned here requires a stronger economy nor higher interest rates. If those things come to pass, the results will likely be even better.
Some writers have suggested that all of this discussion and its details are already well known and fully reflected in Citigroup's share price. With due respect to those that continue to believe in Burton Malkiel's efficient market hypothesis, we do not believe the "market" appreciates just how quickly Citigroup is going to triple its dividend while it continues to buy back more than $10 billion in shares annually. A $2.00 dividend provides more than a 4% yield on today's stock price. Toss in 5% earnings growth and a proper revaluation of the company as a percent of any book value definition you wish to use, and this stock offers significant upside and virtually no lasting downside.
Supporting Documents