Nidec (NJ) is a manufacturer of electric motors, electronic components and other miscellaneous products, headquartered in Japan and with manufacturing operations across Asia. As shown in the figure below, the largest product group is small precision motors with those for use in hard drives representing 25% of sales (all figures for first nine months of the current fiscal year) and those used for other purposes such as in computer fans, representing 19% of sales.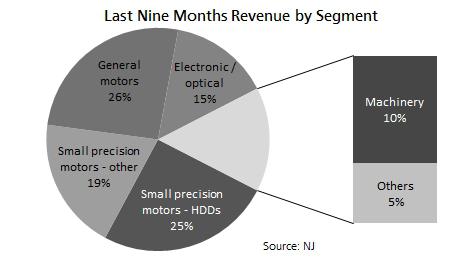 The general motors category at 26% of sales comprises electric motors primarily used for appliances and automobile accessories. Products in the electric and optical category consist of motion control motors, sensors and other electronic components and represent 15% of sales while the machinery category is made up of robotics and circuit testing equipment and represents 10% of sales. The other category at 5% of sales contains some automobile components and components used in hard disk drives as well as a large variety of miscellaneous manufactured goods; for example, the company produces extraordinarily expensive and exquisite music boxes.
Nidec dominates the market for hard drive motors with an 80% market share. Their production largely takes place in Thailand and has been significantly impacted by the flooding in that country.
While motors used in hard drives represent 25% of sales, their importance to profit is greater, at around 35% or more. The company does not provide profit by segment, but rather by subsidiary; therefore, it is difficult to be precise. Profit for the remaining categories seems to be distributed fairly evenly.
Nidec's revenue and operating income have grown at a compounded rate of 4.5% and 4.7%, respectively, since 2006. A portion of this growth has been driven by acquisitions, especially in the last year. Growth in revenue and operating income has outpaced growth in net income which has been at a rate of 1.1%. Part of the discrepancy between operating and net income growth is due to recent currency related losses.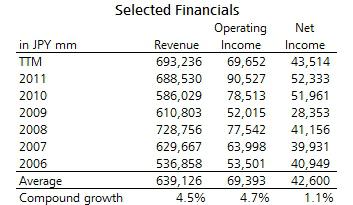 Average net income over the period was JPY 42,600 million which compares to JPY 43,514 million in the TTM period. Analyst estimates for the year ending March 2012 (fiscal 2012) suggest the company will earn about JPY 45,800 million while estimates for the year ending March 2013 are at about JPY 72,000 million, a significant increase over the current level of profit.
Returns on capital are fairly modest at about 8.5% in real, inflation-adjusted terms based on projected fiscal 2012 profit. This level is rather subpar for a technology-oriented manufacturing company, but a turnaround in profitability would bring returns up to more normal levels.
Nidec currently trades at 23.8x fiscal 2012 earnings and 21.5x after adjusting for cash. Based on estimates for fiscal 2013, the ratios fall to 14.7x and 13.3x, respectively. In my view, 2013 estimates seem quite aggressive and are probably not achievable. A return to the level of profit achieved in 2010-11 plus a small addition for recent acquisitions seems more reasonable and would imply a PE ratio of about 20x before adjusting for cash and 18x after such an adjustment. Cash appears quite elevated so some adjustment is probably warranted and the company earns virtually no interest on it so earnings would not be impacted.
These latter ratios still seem a bit on the expensive side even after taking consideration of the company's Japanese domicile. Equity discount rates for Japanese firms are in the area of 7% in my view, given the lack of inflation, but long-term growth in yen terms is also likely lower. Taken together, Nidec's justified PE is probably in area of 16-17x. The company's earnings and hence PE will rest heavily on how well it rebounds from the troubles in Thailand as well as supply chain disruptions in Japan due to the earthquake, but currently I believe such a recovery is embedded in the share price. If the company can show progress on regaining historical levels of profitability without the stock rallying too much, the shares may become interesting but at these levels, I believe it is slightly overvalued.
Western Digital (NYSE:WDC) and Seagate (NASDAQ:STX) may represent better plays on the hard disk market in the long-term, although those stocks have rallied quite substantially in the past several months. Investors will still need to get comfortable with the long-term demand for hard disk drives.
Disclosure: I have no positions in any stocks mentioned, and no plans to initiate any positions within the next 72 hours.