The word "growth" is the central word in the phrase Dividend Growth Investing, yet DGI often gets a bad rap as a stodgy method of saving for retirement. I think this misperception arises from the fact that some proponents of the strategy (who may be more focused on income than returns) require a certain minimum yield threshold for their investments. This, in turn, screens many of the higher growth companies from their radar, as higher growth companies generally have lower payout ratios than their slower growth counterparts.
As a result, many of the same old slow-growing blue chips like Coca-Cola (NYSE:KO), Proctor & Gamble (NYSE:PG), and General Mills (NYSE:GIS) are widely held and discussed in the "Dividends" section of Seeking Alpha, while other higher growth opportunities are passed over. This is unfortunate, because there are several very high quality companies that are being disqualified simply because of a lower yield.
These lower yield, higher growth companies can be excellent investments for those with an extended time horizon, and even for retirees they can be a nice boost for a portfolio. For all the angst of wanting enough immediate income, a freshly minted retiree should realize that they are also likely looking at a 20 year time frame for their investments. As the ssa.gov life expectancy calculator shows, a male turning 62 years old in 2016 can expect to live an additional 21.6 years.
So the question becomes, is it really worth passing by an additional 5-10% of earnings growth simply to add 1-2% of yield? I attempted to answer that question in June with, "High Yield Or High Growth: Which Belongs In Your Portfolio", so if you are interested in the comparisons, it may be worth checking out. All things equal, if you focus strictly on initial yield rather than growth you may be giving up substantial capital gains, especially if the investment time frame is for a longer time period.
With those thoughts in mind, I decided to scan through the U.S. Dividend Champions, which is a compilation of companies that have produced 25+ consecutive years of dividend growth, to identify the best high growth companies of the group.
The companies that were selected have all produced double-digit dividend growth with the most recent increase, as well as in the 3YR, 5YR and 10YR time frames. The companies have also produced double-digit EPS growth over an extended time frame, and have been consistent in doing so, with few years of negative growth. Finally, they are all projected by analysts to continue growing at a double-digit EPS rate going forward.
Here are the six companies I found that met those standards:

These companies cover a nice cross-section of industries, with the health care, consumer staple, information tech, materials, and consumer discretionary sectors all being represented.
I find it a pretty remarkable accomplishment that five of the six companies having dividend growth streaks of more than 38 years, and they are still cranking out double-digit annual growth, and doing so while maintaining payout ratios at reasonable levels.
Becton Dickinson and Co. (NYSE:BDX) is a medical instruments and supply company headquartered in Franklin Lakes, New Jersey. The company has a 44-year streak of dividend growth and has consistently grown both earnings and dividends at a ~10% rate.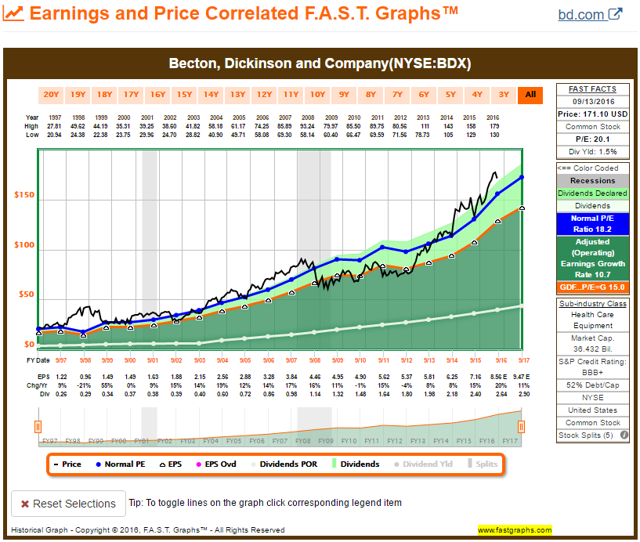 As the F.A.S.T. Graph shows, the company has grown EPS at a 10.7% annual rate over the last 20 years, and has continued that of late, with 15% growth in 2015 and 20% in 2016.
The dividend growth has slightly exceeded EPS growth, leading to a gradual expansion in the payout ratio from 20% to 35% over that time frame. This strong growth combination has resulted in 11.4% annual returns since 1996, well above the 7.0% produced by the S&P.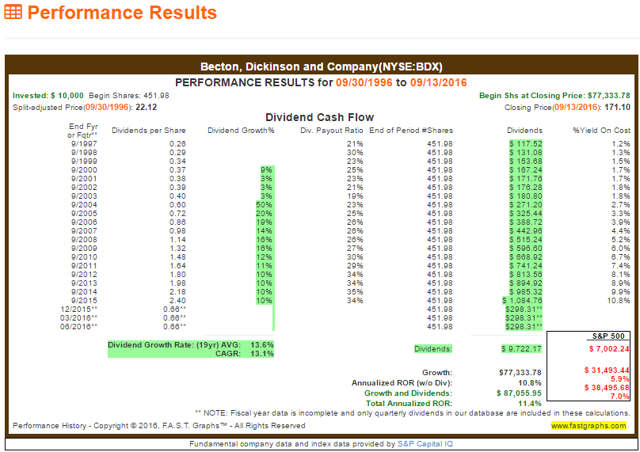 With a current PE of about 20, shares are roughly 10-20% overvalued when compared with a historical PE in the 16-18 range, so it may not be the ideal time to open a new position. However, this is an excellent company, and is one to watch should there be a market correction.
Hormel Foods Corp. (NYSE:HRL) is a packaged foods and meat processor located in Austin, Minnesota. The company has a 50-year streak of dividend increases, and has produced 13% annualized EPS growth over the last two decades.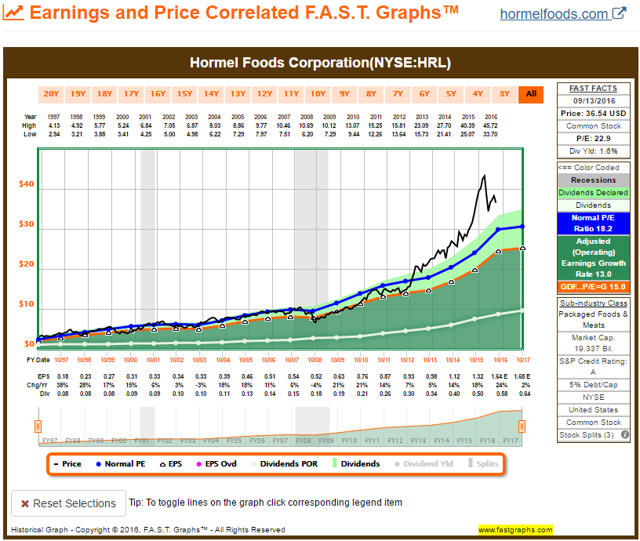 Hormel's dividend payout ratio has generally been maintained in the 30-40% range during the period, and management has guided for dividend growth to roughly match EPS growth going forward.
Looking at returns, you can see that Hormel's 14.1% annual ROR has more than doubled the 6.9% from the broader market. Doubled growth sounds impressive enough, but when looking at its effect over 20 years, it becomes even more so, as Hormel's total value of $137,180 is 3.6 times greater than the $37,640 for the S&P.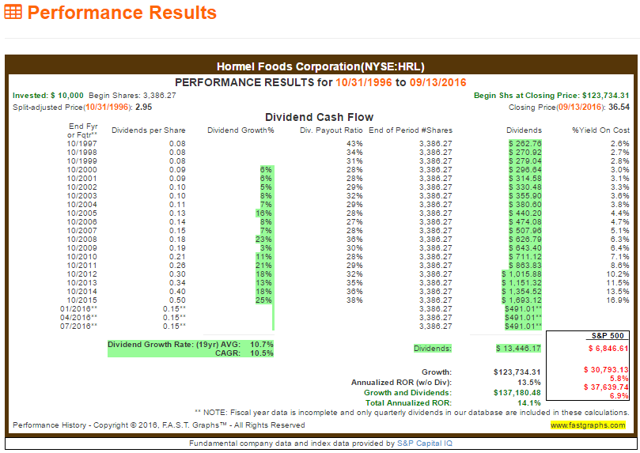 Similar to Becton Dickinson, a 22 PE has Hormel trading 10-20% above its normal historical valuation level of 18-20 times earnings. Earnings growth is also expected to be fairly low in 2017, so I'm hesitant to pay a premium at this time. A further pullback to the $33 level would start getting me interested in scaling into a position.
Jack Henry & Associates, Inc. (NASDAQ:JKHY) is a company that provides technology solutions and payment processing services for financial services institutions in the United States. The company is located in Monett, Missouri and has been a publicly traded company since 1985.
Jack Henry has paid increasing dividends for the last 26 years, and has done so in an impressive fashion with an 18.7% annual growth rate over the last decade. This has been accompanied by a strong earnings growth rate of 14.5%, although this has decelerated a bit recently, with roughly 11% growth over the last five.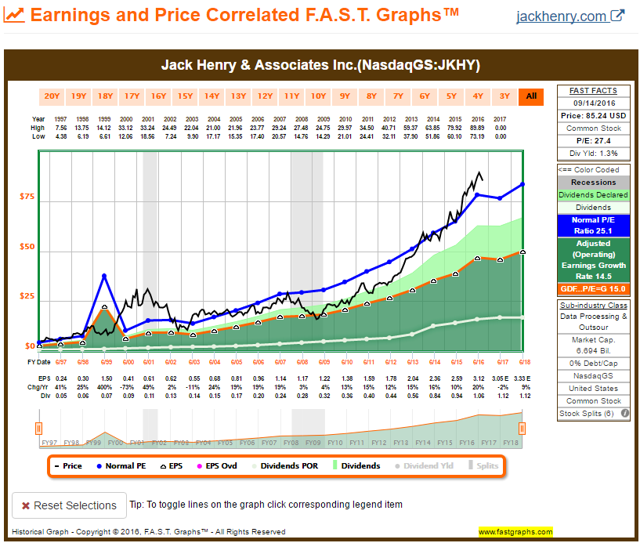 As you'd expect, this growth has translated into impressive returns, as the company has produced a 15.4% annualized ROR compared to 7.1% from the market.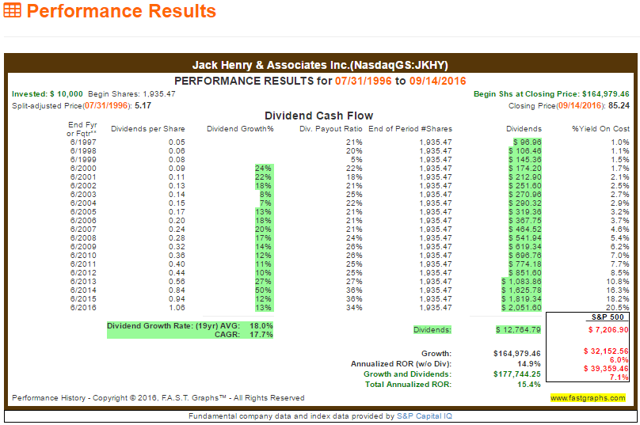 Looking at valuation, Jack Henry has historically traded with a PE in the 21-23 range. With it now trading at just over 28 times expected 2016 earnings and nearly 26 times 2017 numbers, the stock appears to be 15-30% overvalued at current prices.
For a company with this type of resume, I find it a bit surprising how little coverage or discussion there is on the stock, it certainly appears to be flying under the radar of investors on Seeking Alpha. While valuation keeps me from showing much interest in buying right now, this will definitely be a company I'll add to my watch list.
Lowe's Companies, Inc. (NYSE:LOW) is a home improvement and hardware store retailer headquartered in Mooresville, North Carolina. The company has a 54-year streak of dividend growth, which has exceeded earnings growth over the years as the company matured and expanded its payout ratio.
That's not to say that earnings have disappointed, as they've grown at a very impressive 16.1% rate going back to 1997. I mentioned it in my recent coverage of the stock, but will again point out that Lowe's has produced 15%+ EPS growth in 16 of the last 20 years, and has had positive growth every year except the three years surrounding the Great Recession.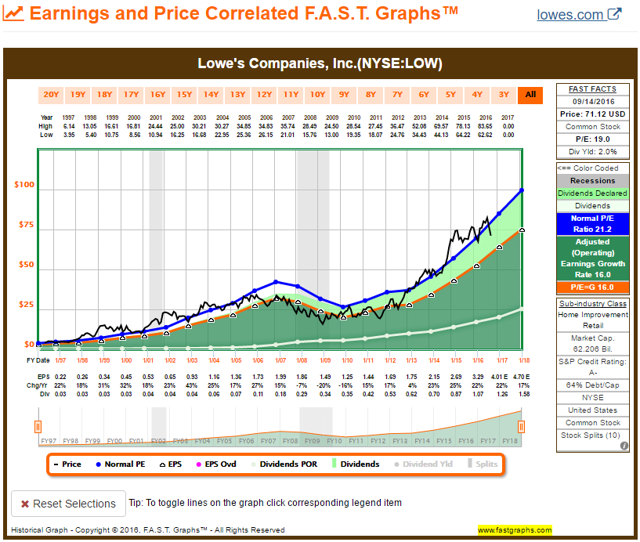 As one would expect, this has once again resulted in superior returns, as Lowe's shareholders have enjoyed a 15.7% annual ROR over the time period. Analysts are projecting mid-teens growth going forward, which along with a near 2% yield, should produce similar returns in the years ahead.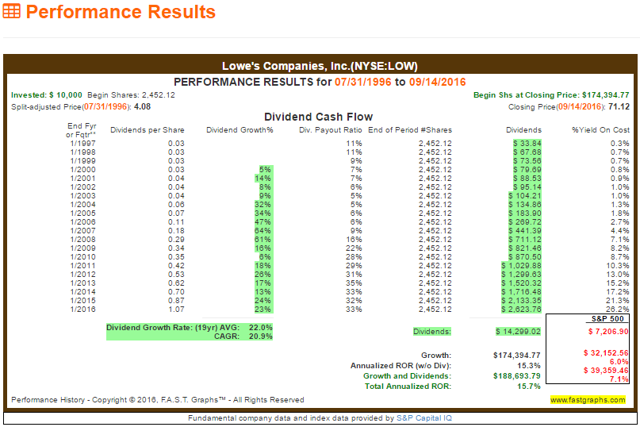 Lowe's has historically traded with a PE in the 18-21 range, so with the recent pullback, it is now trading at a discount to fair value. The company is expected to earn $4.01 in 2016 and $4.70 in 2017, which equates to a current PE of under 18 and a forward PE of 15.2. While not a huge bargain yet, I believe it may be time to start accumulating, and I recently opened a position in the company.
Sherwin-Williams Company (NYSE:SHW) is a company that develops, manufactures, distributes, and sells paints and related products in the United States and abroad. The company has a 38-year streak of dividend growth, and has grown its payout at a 12.6% annual rate over the last decade.
It's dividend and earnings growth has generally followed in lock-step over the years as it's maintained a 25-30% payout ratio. To further that growth, Sherwin-Williams agreed to acquire Valspar Corp. (VAL) back in March. Should the merger close, it is expected to be accretive to earnings, and will also expand the companies reach in international markets.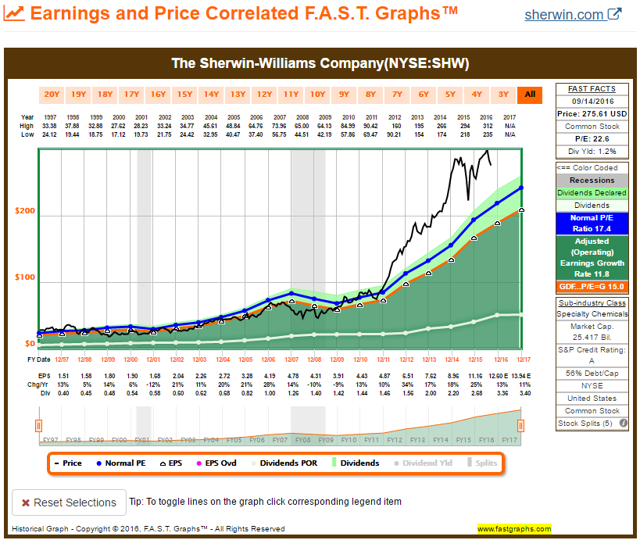 Moving to returns, Sherwin-Williams has slightly lagged the others mentioned, but has still far out-performed the general market by producing 12.8% annual returns.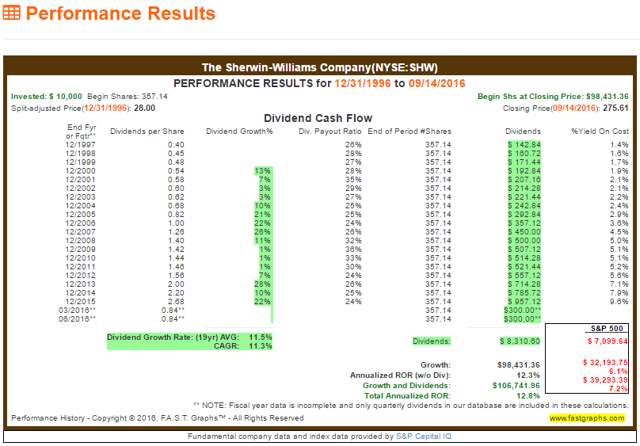 As mentioned, dividend growth has generally followed earnings growth, and it appears the company prefers a payout ratio of around 25%. With a current payout ratio of 26.6% and analysts expecting 11% growth going forward, the trend of double-digit dividend growth should continue as well.
As to valuation, the stock has generally traded at a ~17 PE over the very long term. However, as growth has accelerated coming out of the recession, the market has been willing to pay up for growth, and the normal PE over the last 6 years has expanded to 21.6. Shares are currently trading at around 22 times 2016 EPS and 20 times 2017 estimates. While the argument could be made that this is fair value, I personally wouldn't be interested until about the $250 price level, which would be an 18 PE on a forward basis.
V.F. Corporation (NYSE:VFC) is an apparel, footwear, and accessories company that is headquartered in Greensboro, North Carolina. The company has a 43-year streak of dividend growth and has produced a 17.1% dividend growth rate over the last decade.
V.F. doesn't have quite the earnings growth that the previous companies do, but it's still produced 9% growth over the last 20 years, and this has accelerated since the recession to a 12% growth rate over the last 5 years.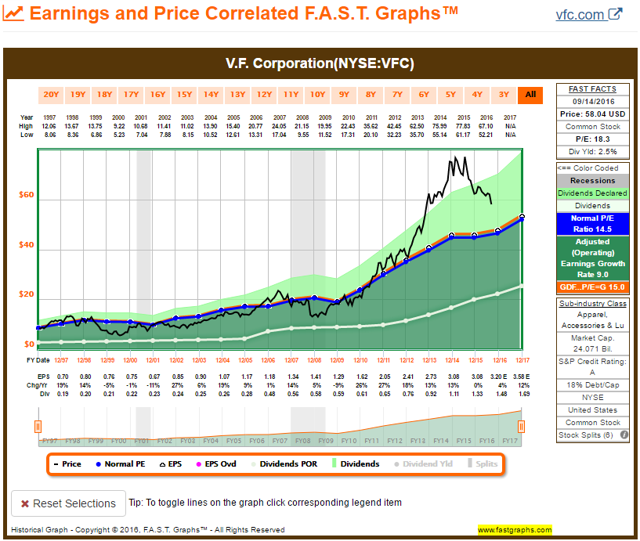 The out-sized dividend growth in recent years has been driven by an increased payout ratio, as the rate has increased from 30% to the current 40% target since 2011. Like the others, VFC has far outperformed the market by producing 11.2% annualized returns going back to the 1990's. Analysts are expecting 12%+ growth going forward, which along with a 2.5% yield should continue to produce solid returns for shareholders.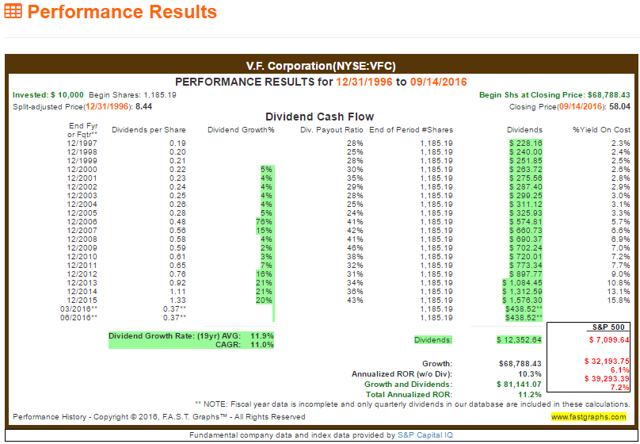 The company has also seen a shift in valuation over the years, as its normal PE has expanded from 14.5 to 18.5 since the recession. So while it appears to be quite overvalued when looking at the 20YR F.A.S.T. Graph, I actually think it is close to fair value at 17.6 times 2016 EPS and 15.7 times 2017 estimates. My target would be around the $55 level, which is a 2.75% yield and 17 PE.
Conclusion
These six companies have all been consistent performers that have grown their earnings and dividends at double-digit rates for many years. This has resulted in them far outperforming the returns seen by the overall market.
Looking forward, I think they all remain in attractive industries that should see continued growth, and with payout ratios at comfortable levels, I expect dividend growth to continue as well.
Of the six mentioned, Lowe's looks the most attractive to me at current prices, with Becton Dickinson and V.F. Corp next in line. I also think the others are worthy candidates, and will continue watching them for future opportunities to add.
I hope this focus on growth allays some of the concerns about investing in lower yielding companies. Certainly there are situations where higher yields are needed for income, but to completely ignore these types of companies simply because of their lower payout ratios can result in missing out on excellent long-term returns.
Part II of the series will be taking a look at higher growth companies on the Dividend Contenders List, and I also plan to cover the Challengers in the future as well.
If you would like notifications when those and other similar articles are published, please click the "follow" button next to my name at the top of the page.
Disclosure: I am/we are long BDX, LOW, KO, GIS. I wrote this article myself, and it expresses my own opinions. I am not receiving compensation for it (other than from Seeking Alpha). I have no business relationship with any company whose stock is mentioned in this article.
Additional disclosure: I am a Civil Engineer by trade and am not a professional investment adviser or financial analyst. This article is not an endorsement for the stocks mentioned. Please perform your own due diligence before you decide to trade any securities or other products.