Donald Trump wants to increase the amount of corn ethanol blended with gasoline, while eliminating the primary incentive for blending corn ethanol with gasoline.
That, at least, is my major takeaway from Mr. Trump's most recent economic policy speech. The media has focused on Mr. Trump's pledge during the speech to achieve U.S. GDP growth of 4% per year if he is elected to the White House in November. (The Republican nominee clearly didn't hire the braintrust at Oxford Economics to calculate this target.) Energy investors should pay closest attention to his comments on the revised Renewable Fuel Standard (RFS2), however, as they change the outlook for a number of companies in the event that he is inaugurated in January.
First, it should be noted that this is not a purely academic exercise. Mr. Trump's decision to stop engaging in high-profile spats with Gold Star parents and start (mostly) focusing on policy issues has reaped his campaign dividends in the polling numbers. He is now just 1 point behind rival Hillary Clinton in a 4-way national race, according to the RealClearPolitics poll of polls, and surging support in swing states now has the betting markets giving him better odds than at any time since May. Nate Silver over at FiveThirtyEight gives Mr. Trump a 40% chance of becoming the next U.S. president, high odds given the nominee's incredibly unorthodox campaign.
Mr. Trump's economic policy speech called for faster economic growth to be achieved via the wholesale elimination of environmental regulations, including the Clean Power Plan, the Waters of the United States rule, and the Renewable Identification Number (RIN) mechanism of the RFS2. Mr. Trump's attack on RINs is unlikely to be a coincidence, given that his ally and fellow billionaire Carl Icahn has publicly asked the Obama administration to take steps to reduce RIN costs on merchant refiners.
Investors are encouraged to read my previous articles on the subject for a more detailed look at how the RIN mechanism works and why merchant refiners are adversely affected by it. To summarize, however, RINs are a tradable compliance commodity used to incentivize the blending of qualifying biofuels under the RFS2 while also ensuring that the program's "obligated blenders" - i.e., refiners - satisfy their share of the national mandate. An obligated blender can acquire its RIN requirement by either blending sufficient biofuel with petroleum-based fuels prior to retail or purchasing RINs on the open market from the holder of a surplus.
Restrictions on the use of ethanol in the existing refined products infrastructure mean that virtually all of the biofuels, primarily in the form of corn ethanol, that are blended in the U.S. enter the supply chain at the point of either refined products terminals or retail stations. While vertically-integrated refiners such as Exxon Mobil (NYSE:XOM) and Chevron (NYSE:CVX) own sufficient terminal and retail assets to avoid needing to purchase RINs on the open market to meet their blending obligation, many merchant refiners do not. Making matters worse, some of the merchant refiners that owned blending capacity in the past have since spun those assets off as downstream logistics MLPs.
RIN prices have soared in 2016, as rising fuel demand in response to low crude prices has caused the amount of ethanol permitted by the 10 vol% blend wall (15 vol% is technically possible, but remains rare due to a lack of consumer acceptance) to exceed accessible blending capacity. The result has been very high RIN expenses for the merchant refiners that have needed to purchase sufficient RINs to meet their obligation due to a lack of in-house blending operations. Those that publicly report their annual RIN costs - Alon USA Energy (NYSE:ALJ), Calumet Specialty Products Partners LP (NASDAQ:CLMT), CVR Refining LP (NYSE:CVRR), Delek US Holdings (NYSE:DK), HollyFrontier(NYSE:HFC), Marathon Petroleum (NYSE:MPC), PBF Energy (NYSE:PBF),Tesoro (NYSE:TSO), Valero (NYSE:VLO), and Western Refining (NYSE:WNR) - are on track to incur around $2.5 billion in RIN expenses in 2016, a large increase over even the "RINsanity" of 2013 (see figure).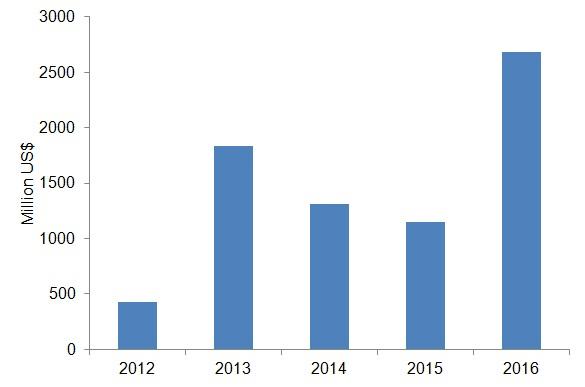 Annual RIN expenses for publicly-traded U.S. independent refiners. 2016 is an estimate. Sources: Quarterly earnings reports, quarterly earnings calls, 10-K filings.
The ethanol-soaked primaries
Mr. Trump's new stance is complicated by the fact that, while in the middle of a bruising Iowa primary fight with rival Ted Cruz, he called for the amount of ethanol that is blended under the RFS2 to be increased to new highs. That was in February, of course, and it is hardly unheard of for presidential candidates to adopt one plank during their primary battles and then a very different plank during their general election campaigns. Mr. Cruz went on to win the Iowa primary despite (or perhaps because of) his opposition to the RFS2, though, so it requires no stretch of the imagination to attribute Mr. Trump's earlier stance to politicking rather than to policy-making. On the other hand, the Trump campaign's portrayal of his recent opposition to RINs as a stance that is antagonistic to "Big Oil" rather than to "Big Ag" suggests that his February and September positions are not necessarily incompatible.
Or are they? As I've written in previous articles here, the high RIN price has developed alongside a large premium to the price of ethanol relative to the price of gasoline on both energy and volumetric bases (ethanol has roughly 67% of the energy content of a gallon of gasoline and, other things being equal, should trade at a discount to gasoline on a volumetric basis as a result). This premium has steadily increased over the last year, albeit with a substantial amount of volatility (see figure). The premium has also allowed ethanol producers to achieve positive margins despite the presence of the lowest gasoline prices in several years. I do not consider this to be a coincidence given that the purpose of the RIN market is to incentivize enough blending and, by extension, enough biofuel production to achieve the targets established by the mandate.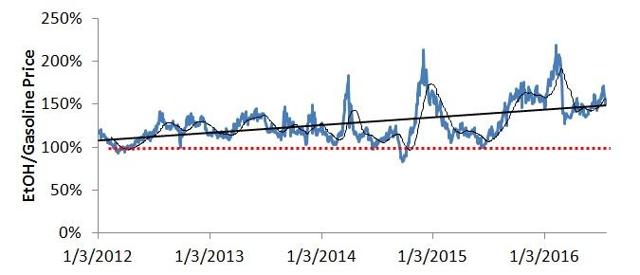 Source: CARD, EIA (2016)
How feasible is it?
Investors who are familiar with the RFS2 will be quick to point out that a President Trump would not have as much influence over the RFS2 as he would over, say, the Clean Power Plan. The latter is the culmination of the Obama administration's threat to resort to executive branch command-and-control restrictions on the energy sector in the event that Congress failed to impose a price on carbon emissions. The Clean Power Plan was created by the executive branch and, as such, can be eliminated by the executive branch.
The RFS2, on the other hand, was created by Congress and cannot be eliminated without the approval of Congress. Opposition to the blending mandate on the wings of both main political parties has been insufficient to result in a legislative repeal and this is unlikely to change after November's elections. Congress tasked the executive branch in the form of the U.S. Environmental Protection Agency (EPA) to implement the RFS2, however, and a Trump presidency could therefore neuter the RIN market without violating the Constitution.
The EPA even provided a precedent and roadmap for this in 2013 when, in response to a heavy lobbying effort from merchant refiners, it reduced the blending volumes below 10% of expected gasoline volumes. RIN prices collapsed from a high of $1.45 to under $0.20 in response. With RIN prices again hovering around the $1 mark, a President Trump could order the EPA to take a similar step. This would conflict with his previous statements in support of the RFS2, of course, but it would be only one of the primary pledges that he would need to break, along with the promise to make Mexico pay for the construction of his "big, beautiful" border wall.
Winners and losers
Merchant refiners would be the clear winners from Mr. Trump's proposal. Investors have been asking why shares of CVR Refining have outperformed so strongly over the last week, and today's events are a possible answer, given Carl Icahn's outspokenness on RINs. It is hard to solely attribute the merchant refining sector's recent outperformance to Mr. Trump's speech given that crude prices have been declining this week (see figure), but investors in those firms should be pleased at the very least that a presidential candidate is now explicitly in their corner.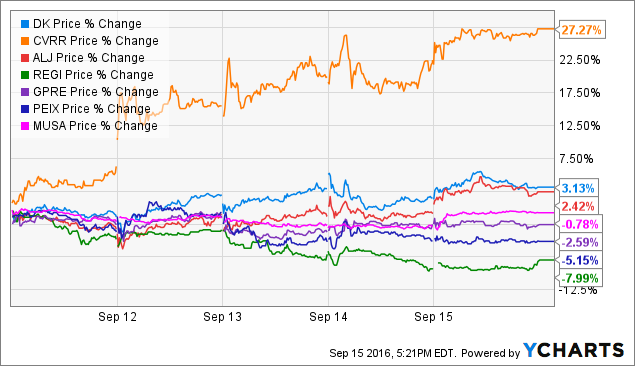 That said, biofuel producers in general, and ethanol producers in particular, would be indirectly harmed by Mr. Trump's proposal, his previous support for them notwithstanding. Green Plains, Inc. (NASDAQ:GPRE), Pacific Ethanol (NASDAQ:PEIX), and REX American Resources (NYSE:REX) have all benefited from the presence of a high ethanol price premium in recent quarters, and I would expect this to shrink in the event that RIN prices collapsed.
The biggest losers, however, would be Casey's General Stores (NASDAQ:CASY) and Murphy USA (NYSE:MUSA). The two fuel retailers have reported large contributions to their incomes resulting from their abilities to generate and sell RINs for high prices, to the point that merchant refiners and their advocates have been explicitly naming them as Exhibits A and B in their arguments that the RFS2 creates windfall profits for certain companies at the direct expense of others. These amounts would be substantially reduced in the event that RIN prices collapsed.
There are still several weeks of campaigning left before America elects its next president, and the odds are still against a Trump victory. That said, the recent trend is in his favor, given Ms. Clinton's numerous missteps and overall unpopularity with the broad electorate, and the prospect of a Trump victory can no longer be dismissed out of hand as a result. Today's speech certainly suggests that he intends to shake up the energy markets with major consequences for the RFS2 in the event that he wins.
Disclosure: I am/we are long WNR, PBF. I wrote this article myself, and it expresses my own opinions. I am not receiving compensation for it (other than from Seeking Alpha). I have no business relationship with any company whose stock is mentioned in this article.