On A Jet To The Best Foreign Retirement Possible
Summary
Many people dream of exciting travel in retirement, but others want to be fully immersed in a foreign culture, and are willing to actually live abroad.
Practical matters like the cost of living, tax rates, natural beauty of the country, language, type of political regime, and prevalence of disease and other natural hazards are major factors.
Other considerations include the level of difficulty and cost of buying a home, the quality and cost of medical care, crime rates, and proximity to other ex-patriots.
A review of data compilations and global maps for many factors serves as an example of how to cull one's list of foreign locations in choosing where to live.
Investors might want to consider owning CCL, HQH, MAR, MPW, OHI, PJP, RCL, VAC, and WYN.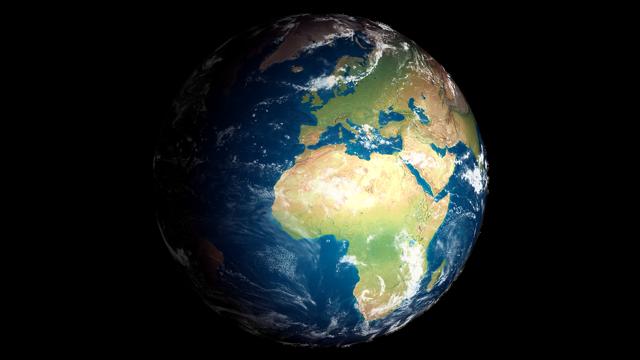 Source: irsmedic.com
Often for those who have saved enough to have choices, one of the big decisions is where to live in retirement. While many people dream of exciting travel in retirement, others want to be fully immersed in a foreign culture, and are willing to live abroad in pursuit of that goal. Over the years I have spoken with or visited a number of people who were living as part-time or even full-time ex-patriots in countries like Indonesia, Mexico, Costa Rica, Guatemala, the Dominican Republic, Grand Cayman, Bermuda, Fiji, Australia, Brazil and South Africa. There was often a lot of work done by these people in preparing for a foreign retirement, and then in executing their plans. A common consideration is often the cheaper cost of living in some countries, and of course yet another consideration is the natural beauty of the new surroundings.

There are other important considerations, such as the cultural activities available in a new location, the language, the type of political regime, the nature of the climate, the quality and cost of medical care, the prevalence of disease, the prevalence of dangerous animals, natural hazards like earthquakes, crime rates, and proximity to other ex-patriots. In this posting all of these issues will be discussed in a survey of some of the data available to help in such decisions.
If one is fortunate enough to be wealthy at the time of retirement, the cost considerations are perhaps less important, but foreign and US taxes may be a major consideration. It is well known that some countries have tax benefits for Americans that others do not. For example, there is a foreign housing exclusion (up to $100,800 in 2015) available on US taxes on earned income for certain countries of residence, including Canada, France, Germany, India, Italy, Japan, Switzerland, and the UK. The amount varies with both the country and the city you live in, but if you are working part-time in retirement, this can be very useful information. If you are self-employed you would get a deduction instead of an exclusion amount. Unearned income, like Social Security payments, does not receive an exclusion or deduction based on housing costs. There is also generally a foreign tax credit or deduction available on US taxes for income derived from foreign investments that have also been taxed by a foreign government, or on US income that is subject to foreign taxes because it has been received in a foreign country.
There are also a number of countries (scores of them- see IRS Publication 54) that have tax treaties with the US, designed to avoid double taxation, that allow Social Security and pension income to go untaxed in the foreign jurisdiction. There are different kinds of taxation systems (Chart 1) in various countries as well. For example, the Bahamas, Bermuda, British Virgin Islands, Cayman Islands, Monaco, and Saint Kitts & Nevis have no individual income taxes at all, a very nice arrangement for those attracted to these islands. A few more countries, such as Costa Rica, Hong Kong, Panama, the Seychelles, and Singapore, have income taxes but do not tax the foreign income of resident foreigners.
Chart 1: Taxation Systems Worldwide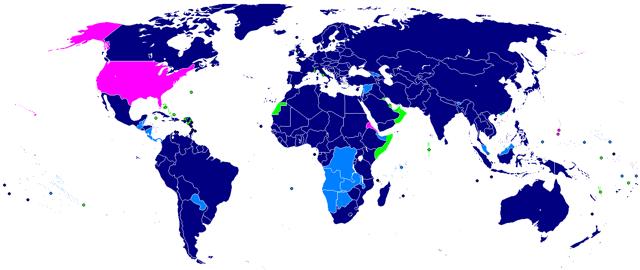 Legend: Green = no individual income tax; Lt. Blue = territorial taxes; Dark Blue = residential taxes; Pink = citizenship-based taxes
Source: en.wikipedia.org
If you will be buying a home in a foreign country, there are of course many things to consider. One of the advantages to such a move is that you get some diversification in your portfolio, since you are putting money into a foreign market with a different currency (cf. Kathleen Peddicord, 2015). Of course, there is also risk associated with foreign currencies, especially in recent years with all the devaluations going on. It might make sense (if you are buying real estate) to evaluate whether the country's population is growing, since that might drive home prices over time (Chart 2). Likewise it may make sense to evaluate the GDP growth of a country to better ensure that property values will not decline over time (Chart 3).
Chart 2: Global Population Growth by Country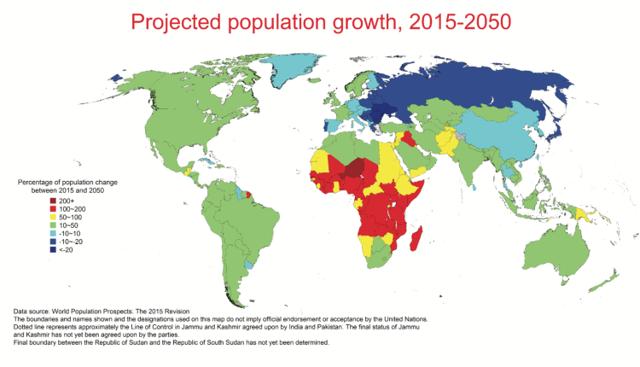 Source: jobmarketmonitor.com
Chart 3: Global GDP Density Per Square Kilometer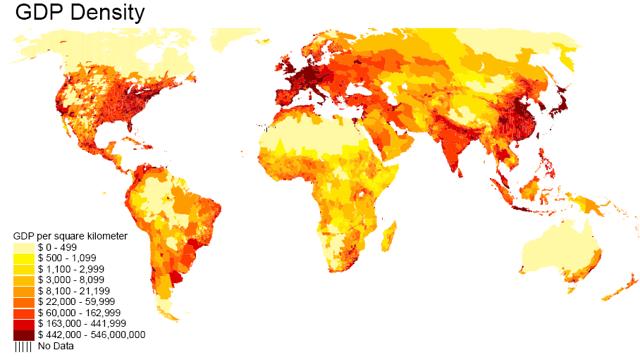 Source: econbrowser.com
Also, there are vastly different laws regarding foreign property ownership and property rights in different countries. For example, the father of a friend of mine was pulled into litigation over land in the Cayman Islands, and even though it is a British Protectorate, it took over 30 years to finally win his case in court. It is good general advice to get professional help in the local market from both a real estate agent and a lawyer. There are many horror stories about would-be buyers getting fleeced by the locals when they try to buy direct from a home owner. Some countries may have unusual property rights laws, as my wife's father discovered many years ago in Costa Rica. He learned through experience that back then, if you left a property for a long time, under some circumstances squatters could move in and claim the property as abandoned. This was not the only country doing this in the 1970s, and perhaps these practices have been changed in the interim, but it would be important to ask about how property rights work in a given country.
In some countries it may make sense to have a private entity like an LLC buy a property to avoid potential liability, according to Lief Simon at the Live and Invest Overseas blog (2015). If you instead put the property in your own name, your family will eventually face a probate court problem in a foreign jurisdiction when you pass away. Anyone who's ever dealt with such a problem will tell you that in general it can be a nightmare. One useful source for evaluating the real estate situation in various countries is the comparison table (Chart 4) that has been compiled by International Living magazine using qualitative data for 80 countries. Note that this table also scores several other factors, including the cost of living, benefits for retirees, ease of integration, entertainment & amenities, and climate. Good real estate scores are earned by all the countries on Chart 4 except perhaps Belize, Honduras, Philippines, Uruguay, Cambodia, Vietnam, Ireland, Italy and France. Good overall scores are earned by Panama, Mexico, Columbia, Spain, Portugal, Italy, Ireland, France, Costa Rica, the Dominican Republic, and others.
Chart 4: 2016 Country Comparisons by International Living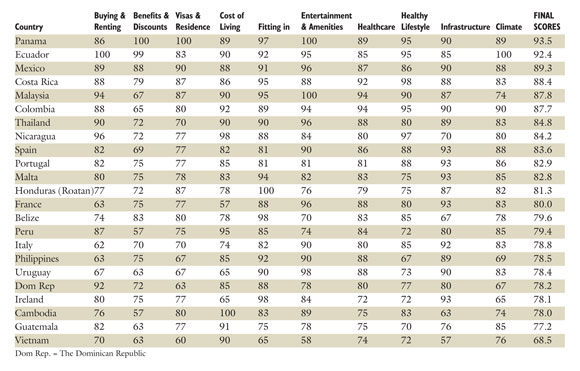 Source: internationalliving-magazine.com
It may make sense for some retirees to first rent for six months in a new country before buying, so that one really has a feel for the place before one commits. In a number of countries it is far easier to rent than to own. As a very experienced mover myself, I can tell you that there is nothing more stressful than buying the wrong home, or buying a good home in the wrong place. There may be some major markets that it would make sense to avoid because of unsustainably high rental and home ownership costs (Chart 5).
Chart 5: Expensive Locations to Rent or Buy Around the World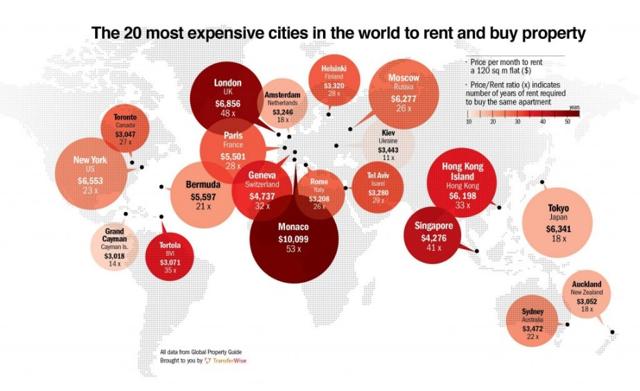 Source: transferwise.com
Whether you are wealthy or not, factors like climate and natural environment can play a big role in where you decide to retire. I will again use my own approaching retirement and our family's goals (as I did in a previous article) as a way to discuss how some of these factors can play out. For example, my wife and I are not particularly fond of hot weather, which may explain why we live in Minnesota; anyway, that rules out a lot of tropical islands. We also love seeing the four seasons; however, we are a bit tired of the relentlessly long winters of the far north. So in our dreams we might winter in the south and summer in the north, although the majority of our time would still be spent in the north. Importantly, my wife is also an expert gardener and really would like to experience a better growing season than what we see in Minnesota (not much of a challenge, really). Maps such as Charts 6, 7, 8, 9, 10 and 11 can be used to conveniently narrow down one's list of possible retirement locations around the world. In our case, the aforementioned preferences, together with the maps below and our travels over the last 40 years, would suggest that we would like living in eastern maritime Canada, western Europe, parts of eastern Europe, southeastern Australia, New Zealand, Costa Rica, Peru, or Chile.
Chart 6: Global Climate Map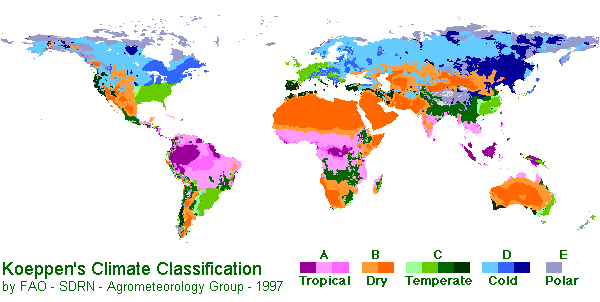 Source: blueplanetbiomes.org
Chart 7: Global Temperature Map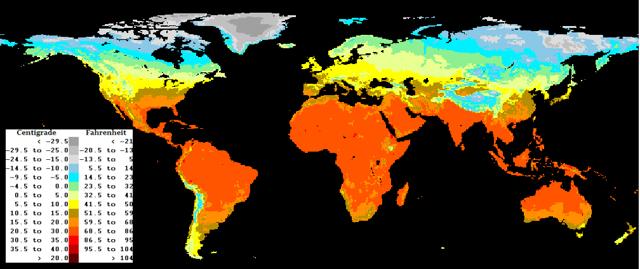 Source: climate-charts.com
Chart 8: Global Precipitation Map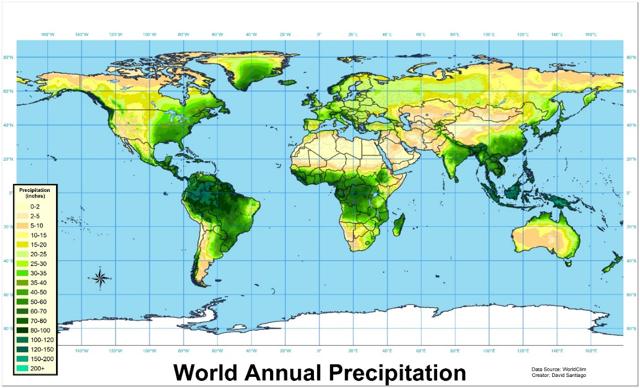 Source: dasgeographer.wordpress.com
Chart 9: Global Snow Depth in Log (MM)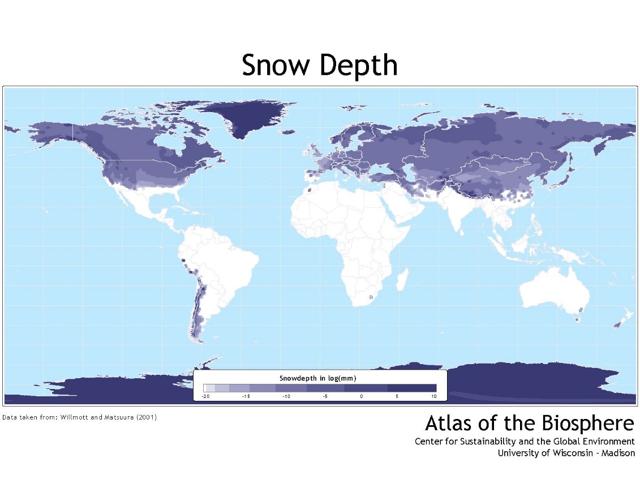 Source: nelson.wisc.edu
Chart 10: Global Vulnerability to Climate Change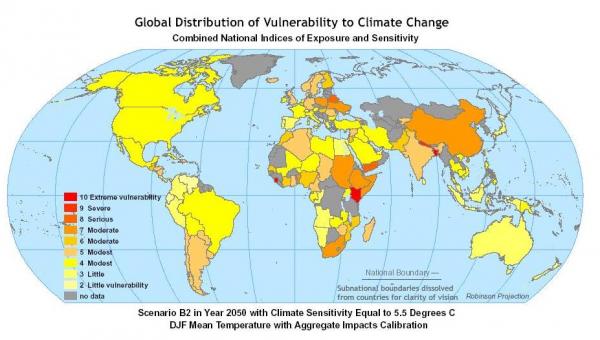 Source: globalchange.umd.edu
Chart 11: Global Vegetation Map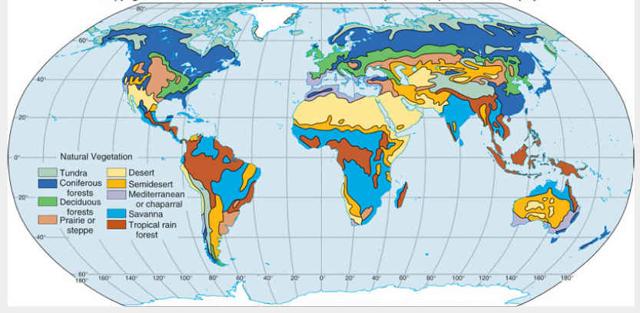 Source: worldgeographygold.mmswiki.wikispaces.net
If we start evaluating certain natural and other hazards we may find reasons to narrow our list down a bit, which is necessary because about 50 countries remain as contenders. A global earthquake risk map (Chart 12) indicates that our choice of Peru or Chile could be a little on the risky side, since they occasionally get very large earthquakes. The same goes for the parts of Europe that have Mediterranean shorelines (e.g., Italy, Greece, or the Balkan countries), since many of these countries have moderately high seismic risk. Another natural hazard is large tropical cyclones (hurricanes and typhoons), which can really mess with one's relative comfort when the old retirement home gets picked up and blown to pieces (Chart 13). My wife saw one of these large hurricanes in the Caribbean once, and her father lost everything (twice over) due to hurricanes in Cozumel and Roatan, so we are not likely to go to the shores of the Caribbean (e.g., eastern Costa Rica).
Chart 12: Global Earthquake Risk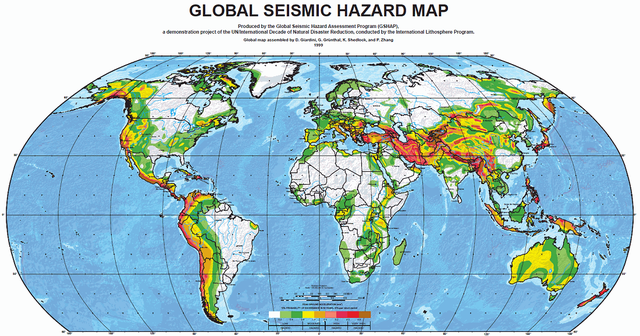 Source: geology.about.com
Chart 13: Global Tropical Cyclone Risk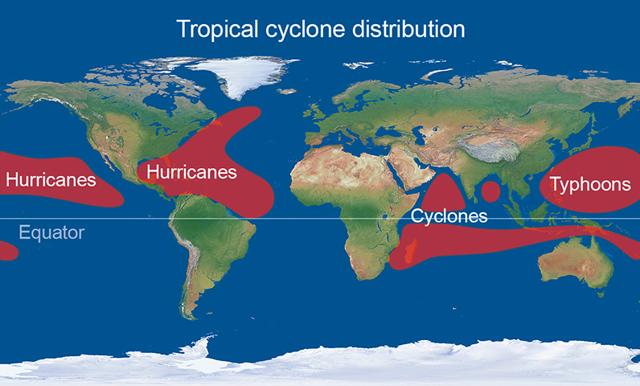 Source: metoffice.gov.uk
Another consideration is the occurrence of dangerous animals. Chart 14 shows the global distribution of venomous animals; we saw some when we visited South Africa, and we now have a very healthy fear of things like Black Mambas and Cape Cobras. When I was in Australia many years ago I went on some geological field trips in the jungles of Queensland, and I must say that between snakes, poisonous spiders, and saltwater crocodiles, they've got the bases covered. It would take a lot to get my wife to move to Australia, even the more temperate southeastern part. Costa Rica again looks suspect, but Chile looks very good, as does most of Europe.
Chart 14: Global Distribution of Venomous Animals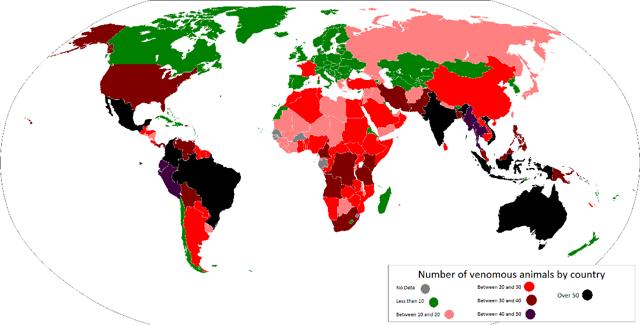 Source: reddit.com
Another factor that must be considered nowadays is the prevalence of terrorism in some countries (not that we have avoided it in the US, but why go someplace even worse?). Chart 15 indicates recent terrorism index values around the world. Our list doesn't have a very bad terrorism index in most cases, although France would be a bit questionable now. Then of course there is violent crime, a proxy for which is the global homicide rate (Chart 16). Here we see that Peru looks a little risky, as does Costa Rica, but Europe and New Zealand look great. Lastly with respect to hazards, one can look at the level of corruption in various countries (Chart 17). This can effect things like ease of travel, crime rates, and the rule of law. Here we can see that Canada, Australia, New Zealand, and Sweden are excellent in this regard.
Chart 15: Global Terrorism Index Values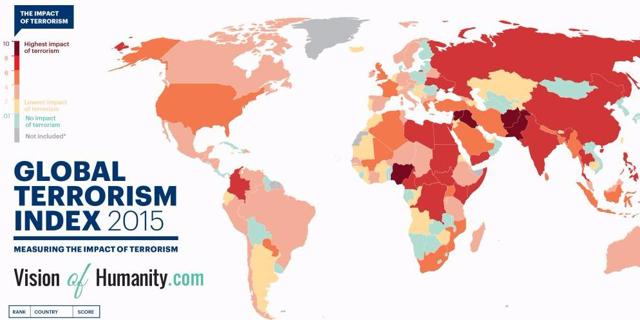 Source: visionofhumanity.com; businessinsider.com
Chart 16: Global Homicide Rates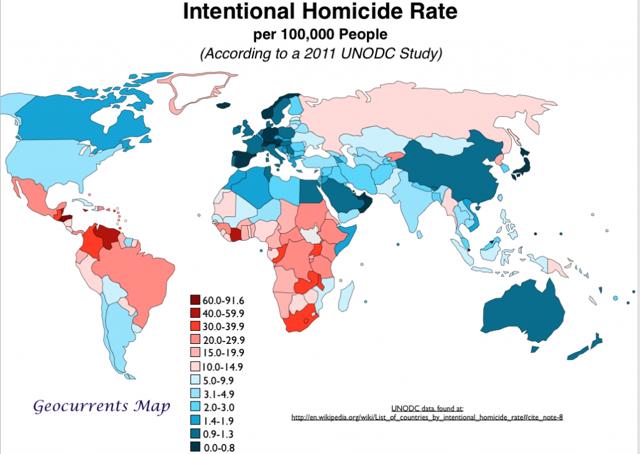 Source: geocurrents.info
Chart 17: Global Corruption Index in 2010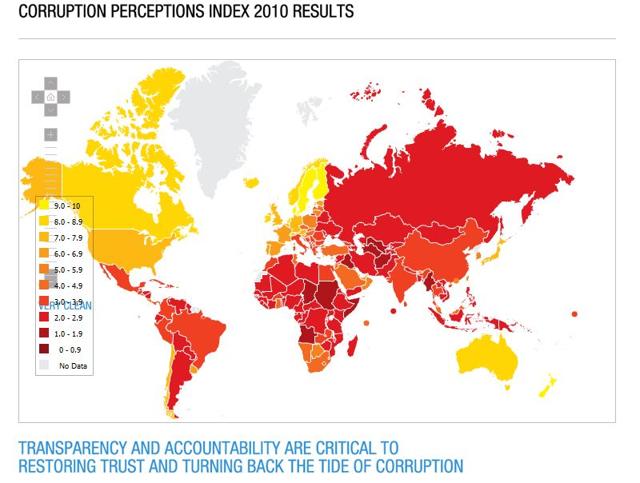 Source: saferview.blogspot.com
There are no doubt many other factors to consider in choosing a foreign place to retire. Intangibles like proximity to other ex-patriots can be very important, for example. Those interested should probably check out the local ex-patriot community's news blog for tips and contacts. For example, the Costa Rican ex-patriot news blog is called the Tico Times. I would reiterate here what I have said before, which is that:
"Although it amuses me to take a quantitative approach to the question, there are many other factors that can easily trump the logical choices seen on all of these charts. In the end such decisions are often emotionally based, as might be expected. People like to return to a favorite vacation spot to live, or they like some combination of factors that is both pragmatic and emotionally satisfying. As I often tell people when discussing such big life-changing decisions, it often pays to make the decision that makes you and your spouse happiest, regardless of the numbers backing it up. But by working through all of these charts, we have at least cut out the outliers and narrowed our list."
With regard to investing themes, again I think it makes sense to consider buying or holding some stocks that will take advantage of the aging of the boomer population. This would include biotech (Tekla Healthcare Investors [HQH]) and pharma (Powershares Pharmaceuticals Portfolio [PJP]) stocks, and healthcare REITs like Medical Properties Trust (NYSE:MPW) and Omega Healthcare Investors (NYSE:OHI). Travel will probably pick up as boomers retire also, making some hospitality and travel names worth holding, like Carnival Corp. (NYSE:CCL), Marriott International Inc. (NYSE:MAR), Royal Caribbean Cruises Ltd. (NYSE:RCL), Marriott Vacations Worldwide (NYSE:VAC), and Wyndham Worldwide Corp (NYSE:WYN).
This article was written by
Kevin was the CEO and founder of Blue Water Capital Advisors, which he sold and retired from in late 2017. He is now working on a book about natural history, and writing once in a while for Seeking Alpha. He was in the financial advisory business for 25 years. This was not his first career. He was a petroleum geologist and academic research scientist for 17 years before joining the financial industry. Kevin's keen sense of risk-reward dynamics was developed during his geological career when he served as an exploration team leader and senior manager in the oil and gas exploration business. He drilled over 100 wells on his own geological interpretations and found millions of barrels of oil. This was a very high risk kind of business, and Kevin learned a great deal about how risk really works from his experiences in exploration geology. He was also an instructor at The University of New Hampshire and an Asst. Prof. at Bryn Mawr College for several years and has published 12 papers in international scientific journals and books. Highlights of Kevin's geological career include surviving a violent well blowout, working as a consultant to Phillips Petroleum, Texaco, Exxon, and numerous independent firms, acting as a Principal Investigator on a dinosaur dig in Montana, working as a team member and lead author on paleoclimate research, diving Australia's Great Barrier Reef, teaching and advising students, receiving numerous research awards and grants, and conducting funded scientific research on sedimentology, paleoceanography, paleoclimatology, geochemistry, and global plate tectonics. Kevin left his geology career when the global oil price collapse finally caught up to him in 1992. He went into the financial advising industry because his father had been a nationally-ranked leader in that field with a major national firm, so he felt comfortable with making the transition. Over the years he was awarded the Chartered Financial Consultant (ChFC) designation and completed about half of the coursework for a Master's degree in Financial Services. Kevin served as a Trust Officer and Vice President for a major Midwestern regional bank for seven years, and served as a Senior Vice President at National Bank of Commerce in Duluth, MN for four years. He was a member and board member of the Arrowhead Estate Planning Council for a number of years. He has a refined sense of the big economic picture that is grounded in his ability to differentiate meaningful information from "noise," as he once did while working in science and petroleum geology.
Analyst's Disclosure: I am/we are long HQH. I wrote this article myself, and it expresses my own opinions. I am not receiving compensation for it (other than from Seeking Alpha). I have no business relationship with any company whose stock is mentioned in this article.

This article is intended to provide information to interested parties. As I have no knowledge of individual investor circumstances, goals, and/or portfolio concentration or diversification, readers are expected to complete their own due diligence before purchasing any stocks or other securities mentioned or recommended. This post is illustrative and educational and is not a specific recommendation or an offer of products or services. Past performance is not an indicator of future performance.
Seeking Alpha's Disclosure: Past performance is no guarantee of future results. No recommendation or advice is being given as to whether any investment is suitable for a particular investor. Any views or opinions expressed above may not reflect those of Seeking Alpha as a whole. Seeking Alpha is not a licensed securities dealer, broker or US investment adviser or investment bank. Our analysts are third party authors that include both professional investors and individual investors who may not be licensed or certified by any institute or regulatory body.