I've created a simulation of past and future oil production in the Bakken in the form of a virtual oil field.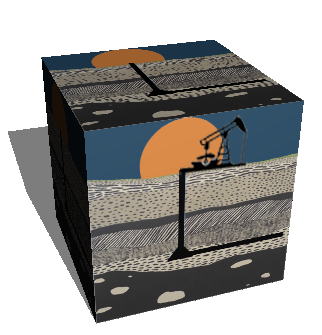 (image source:Illinois DNR)
In this simulation, I created a number of virtual oil wells for each week, over time, based on Baker Hughes Rig Count data.

Note that drilling rig activity above, for the purpose of modeling, is assumed to remain constant in future months. This is a simple case that allows for the presumption that if future drilling activity increases then future production would increase above the modeled result, and visa versa.
Virtual oil wells are completed a number of weeks after drilling and then begin producing oil. The rate of production from each virtual oil well declines, as a percentage of initial production, per well decline curves on Shaleprofile.com.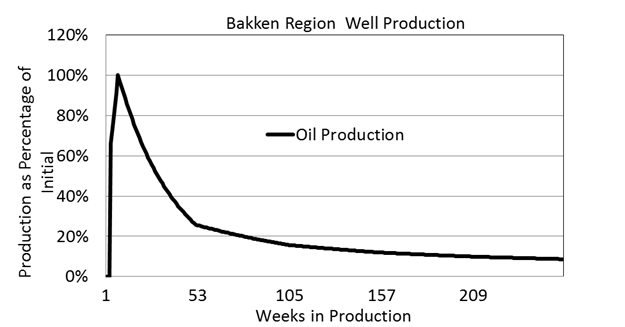 The relative changes in initial production rate from each virtual oil well, over time, is determined based on data from the Energy Information Administration Drilling Rig Productivity Report (DPR). The EIA calculates Drilling Rig Productivity based on the number of active drilling rigs and total production from newly completed wells. Initial production rates for each virtual well are calculated based on 2011 well production rates and virtual Oil Well Productivity Factors. The virtual Oil Well Productivity Factors, shown below, are generated from changes in EIA calculated Drilling Rig Productivity over time.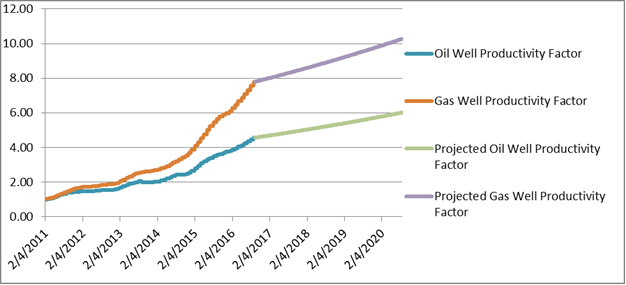 My suspicion is that Drilling Rig Productivity at Bakken is nearing the end of an innovation S-Curve and will now begin to flatten out, at least temporarily. Therefore, future oil well productivity factors are assumed to taper off somewhat as shown above.
After a well is drilled, it must be worked to completion. Newly drilled wells are added to the inventory of drilled but uncompleted wells (DUCs). Starting this month, the inventory of Bakken DUCs is included in the EIA monthly DPR DUC Supplement (many thanks to the EIA for this). The DUC Supplement is helpful for gaining insight into production and productivity trends at the seven major shale basins.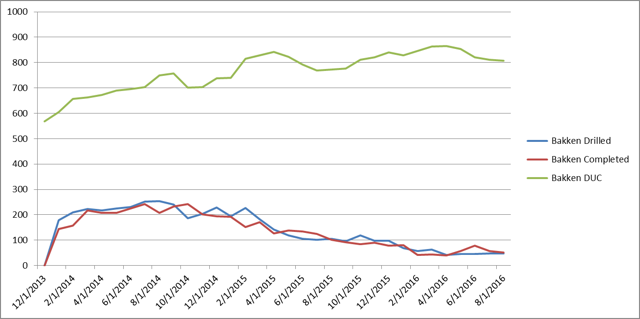 Based on the DPR DUC Supplement, the number of drilled wells at Bakken is fairly consistent with the number of completed wells. This data suggests that future EIA Drilling Rig Productivity is more likely to be affected by innovation and efficiency rather than by changing DUC inventories.
With all this data now entered into the virtual oil field model, total oil production at Bakken is simulated over time and compared to past Bakken oil production in the DPR. Results indicate that the model generates oil production consistent with actual production and that oil production at Bakken has bottomed.

Considering that drilling rig activity has dropped substantially compared to two years ago, it would be reasonable to guess that production will continue trending downward for some time. Computer modeling, however, suggests otherwise.