Oil and gas equipment and services provider National Oilwell Varco (NYSE:NOV) has made an impressive comeback on the market in the past five months, gaining close to 20%. In fact, National Oilwell has recovered approximately 32% of its value from its 52-week lows in February this year. This improvement in National Oilwell's stock price performance is despite weakness in the company's financial results of late, which means that slight improvements in the end-market are acting as catalysts for National Oilwell.
For instance, the North American rig count, on an average, has increased 34% to 642 rigs in the current quarter from the 480 rigs at the end of the second quarter of 2016. Coupled with this improvement in the rig count and National Oilwell's forecast that it will generate higher EBITDA in the second half of the year, investors have become bullish about the stock.
As such, in this article, we will take a closer look at the reasons why National Oilwell Varco's performance can continue improving.
An increase in the rig count bodes well for the company
Driven by the rally in oil and gas prices, rig counts have started picking up pace. According to Baker Hughes, the rig counts comprising of land, inland, and offshore rigs in the U.S. have accelerated 17% to 508 rigs for the week ending September 9 th as compared to 497 rigs in the preceding week. Outside the United States, the rig counts have increased by 8 rigs in the Gulf of Mexico to 18 rigs in just a week.
As a result, the North American rig counts have climbed to 642 rigs for the reported week from the previous week's close of 634 rigs. The point to note here is that both oil and gas rigs have started increasing, with crude oil rigs growing by 7 and gas rigs increasing by 4 for the week. This is given in the chart below.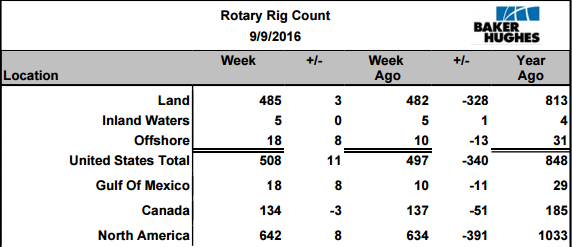 Source: Baker Hughes
As shown in the above snapshot, this recovery in the rig counts will have a positive impact on National Oilwell Varco's completion tools, hydraulic fracture stimulation, and pressure pumping equipment businesses. In fact, the company has already started seeing an improvement for certain products and services such as artificial lifts, drilling motor rentals, and other items.
For instance, its service and repair work was higher due to the reactivations of rigs across the United States last quarter. Its monitoring service revenue during the quarter increased by over 50% on a sequential basis, as customers placed more orders for its condition-based monitoring service solution such as the RIGSENTRY service that the company introduced last quarter.
Apart from this uptick in its products and services business, National Oilwell's completion & production solutions will also benefit from the acquisition of Trican's completion tools business that was completed just recently. This acquisition is on the top of the earlier acquisition of Tolteq in the first quarter of 2016 that equipped National Oilwell with a mud pulse MWD system.
The most important thing to note is that due to the improvements in the offshore and onshore rig market, National Oilwell expects its Wellbore Technologies revenue to expand by a couple of hundred basis points with mid-30% incremental EBITDA margins in the third quarter of 2016. As such, National Oilwell Varco expects its revenue to increase more than 10% in the third quarter of 2016 on a sequential basis.
This uptick in the revenue is due to the execution of certain large projects that the company had booked earlier in the year. In fact, these projects are expected to generate 30% incremental revenue as the market picks up pace, which is a positive sign for National Oilwell Varco.
Costs control measures will improve its bottom line performance
National Oilwell Varco is managing costs aggressively by way of improving operational efficiencies, reducing capacity, and lowering its SG&A expenses. For instance, last quarter, the company reduced its workforce by over 10% that enabled it to lower its SG&A expenses by more than 16% on a year-over-year basis.
Apart from this, National Oilwell has closed approximately 250 facilities and in-sourced as much work as possible that was previously outsourced. As a result, the company has managed to improve its operational efficiency as it can now extract more value from its existing assets. In fact, as a result of such costs control measures, National Oilwell has identified around $400 million of annualized savings for the next couple of quarters. In fact, with these costs reductions taking place across the business, its annual personnel costs have been reduced by more than $2 billion from the peak levels seen in 2014.
These costs containment efforts had a positive impact on its earnings last quarter. For instance, National Oilwell's losses for the quarter came in at $0.30 per share, which was below the analyst estimate of $0.32 loss per share.
Looking ahead, National Oilwell Varco is expected to earn an additional $15 million through its ongoing cost containment and operational efficiency efforts that should further reduce its net loss.
Robust operating cash flow generation is another advantage
While the offshore drilling market has faced difficult times in the first half of 2016, National Oilwell has been able to generate higher cash flow that shows its ability to perform well under difficult circumstances. For instance, its cash flow from operations for the first six months came in at $750 million, which was more than twice the amount the company had generated in the first half of 2015.
Moreover, National Oilwell is efficiently covering its capital expenditure with its cash flow. For example, its cash flow from operating activities totaled $128 million in the second quarter of 2016, which was more than enough to cover its capital expenditure of $77 million. More importantly, the company used its cash flow to pay down nearly $14 million in other items, thereby reducing its liability.
In addition to this increasing cash flow, National Oilwell Varco continues to reinforce its balance sheet. In this regard, last quarter, the company paid down nearly $100 million in commercial paper that left it with net debt of approximately $1.6 billion. In contrast, National Oilwell has a cash balance of $1.7 billion and an undrawn capacity on its credit facility of $4.4 billion. This means that National Oilwell Varco has a stronger liquidity position as compared to its debt, indicating that the company is well-placed to overcome any downturn in the market.
Conclusion
In my opinion, things will start looking up for National Oilwell Varco as the drilling environment improves in the U.S. More importantly, National Oilwell has managed to keep its costs low and liquidity strong in difficult times, which is another reason why investors should stay positive about the stock. So, it will be a good idea to remain invested in National Oilwell Varco since the company can sustain its momentum going forward.