News of yet another investigation into Exxon Mobil's (NYSE:XOM) valuation of its fossil energy assets by New York State Attorney General Eric Schneiderman was revealed in the Wall Street Journal on Friday. The AG's office must have a working group dedicated to investigating the company based on its activity over the last several months. From the Journal:
"New York Attorney General Eric Schneiderman is investigating why Exxon Mobil Corp. hasn't written down the value of its assets, two years into a pronounced crash in oil prices.

Mr. Schneiderman's office, which has been probing Exxon's past knowledge of the impact of climate change and how it could affect its future business, is also examining the company's accounting practices, according to people familiar with the matter.

An Exxon spokesman declined to comment about the investigation by the Democratic attorney general but said Exxon follows all rules and investigations."
The article, which is well worth reading in full, goes into some detail about how Exxon Mobil's accounting practices, specifically its limited use of energy asset impairments, stand in contrast to those employed by the broader E&P sector. Upstream firms reported write-downs of $163 billion in 2015 alone as the prices of petroleum and natural gas set new multi-year lows. Exxon Mobil's lack of impaired assets on its own balance sheet has stood out against this backdrop, catching the attention of Mr. Schneiderman's office in the process.
On its own the probe is not especially noteworthy. This isn't even the first time that the company has been investigated for its lack of impairments in falling energy price environments, having already been the subject of a class-action lawsuit on the subject in 2004 that was ultimately dismissed. In 2013, the U.S. Securities and Exchange Commission raised its own questions about the company's lack of impairments in response to falling natural gas prices. What makes the most recent investigation notable for energy investors is the fact that it follows on the heels of two previously-announced securities fraud investigations of the company by Mr. Schneiderman's office.
The first investigation, which I critiqued here and which a variety of legal experts have disparaged, accused Exxon Mobil of having buried the results of its own climate change models in the late 1970s and early 1980s when it maintained at the time that no threat was posed to its operations by a changing climate. This investigation quickly ran into problems when it became known that, far from having orchestrated a cover-up of the research in question, the company actually allowed for it to be published in numerous peer-reviewed articles.
Last month the AG's office changed tack. Mr. Schneiderman announced in an interview with the New York Times that the investigation was actually looking at the possibility that Exxon Mobil committed securities fraud by failing to devalue its energy assets on the assumption that future climate legislation or regulations would transform them into so-called stranded assets. In other words, Mr. Schneiderman believed that the company may have vastly overstated its book value by failing to assume that it will be forced to permanently leave its fossil fuel assets in the ground. This new approach was also roundly criticized on a number of grounds, including the fact that there is simply no precedent for the making of such an assumption.
On Having Cake And Eating It Too
Savvy investors will note that Mr. Schneiderman's last two investigations are at cross-purposes with one another. The August investigation equates securities fraud with failing to employ what the AG's office considers to be appropriate future asset prices (specifically, zero). The September investigation equates securities fraud by the same company with failing to employ current market prices in place of what Exxon Mobil considers to be appropriate future asset prices (i.e., prices that are higher in the future than they are today). Mr. Schneiderman can't argue that the company has committed securities fraud by both following the markets, which broadly attribute value to fossil fuels despite the argument by stranded assets theory proponents that they will have no value in the future, and overlooking recent market price volatility. So which one is it?
The former, as I have written before, is the weakest argument in a market economy. If the market believed that fossil fuels will have zero value in the future due to climate policy, then today's market price would reflect this. Of course, today's low prices are a reflection of high current supply rather than low future demand; global demand for petroleum and natural gas is at record levels and still rising (see figure). Furthermore, recent history indicates that the type of policy required to completely devalue the type of fossil fuel assets that Exxon Mobil holds is becoming less rather than more probable. Australia implemented a price on carbon emissions before repealing it in 2014. The United States was unable to muster enough political support to impose its own price on emissions in 2010 despite having a Democrat in the White House and Democratic majorities in the House of Representatives and Senate. Even the European Union, which has operated a cap-and-trade scheme for several years, has allowed its carbon price to hover at a level that is too low to devalue fossil fuels for most of its existence.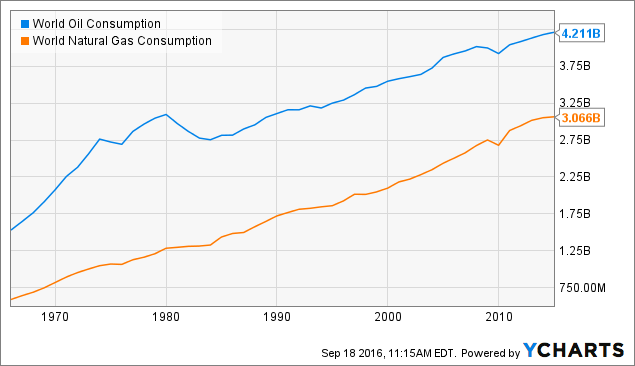 World Oil Consumption data by YCharts
That leaves the argument that Exxon Mobil isn't relying heavily enough on current market prices. Here Mr. Schneiderman's probe has some credibility, although this is hardly an open-and-shut case. The company's own documents outline its methodology for evaluating and impairing asset values. Among the trigger events that it lists for impairment evaluations, "a significant decrease in the market price of a long-lived asset" comes first. Such a decrease has clearly occurred since the first half of 2014 for petroleum and natural gas prices. "A current-period operating loss combined with a history and forecast of operating or cash flow losses" is another of the company's stated trigger events. Such a loss from an E&P asset could easily be imagined in the current energy price environment.
Exxon Mobil also explicitly states that it "does not view temporarily low prices or margins as a trigger event for conducting impairment tests", let alone as grounds for actually impairing assets, due to the high volatility exhibited by petroleum and natural gas prices. Whether or not it is overstating its asset value depends, then, on the employed definition of the word "temporary." My well-worn copy of Black's Law Dictionary (7th Ed.) defines "temporary" as
"lasting for a time only; existing or continuing for a limited (usu. Short) time; transitory." (emphasis added)
In other words, unchanging. Are the current prices of petroleum and natural gas, immediate volatility excluded, likely to remain at their current levels for the foreseeable future? Goldman Sachs analysts believe that WTI crude will remain under $50/bbl for at least another year. The U.S. Energy Information Administration [EIA] expects that WTI crude will have an average price that is above that threshold next year, but only just. It also expects the price of U.S. natural gas to remain below its 2014 average, although it should be pointed out that this price varies widely by country and Exxon Mobil operates internationally.
The forecast changes as the time horizon is extended, however. The EIA expects the real price of natural gas to increase by roughly 50% over the next decade. Likewise, it expects the real price of WTI to nearly double over the same period (see figure). Upstream E&P capex through 2020 has been reduced by $1 trillion, or nearly a quarter, in response to low prices. Global demand has only picked up its growth pace in response to the same low prices, however, leading to widespread expectations that future supply will be unable to meet future demand. This is just a prediction of course, and it is uncertain as a result, but it is based on current trends.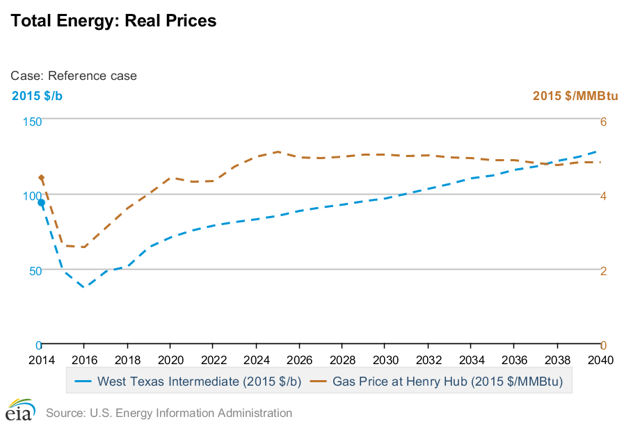 I would not be at all surprised if the newest investigation by Mr. Schneiderman's office follows the same route as the SEC's own interest in Exxon Mobil's accounting practices followed in 2013: by the time anything substantive happens, energy prices will have rebounded and rendered the questions moot in the process. That said, this investigation is on more solid ground than the AG's previous investigations, if for no other reason than that the company's practices make it stick out from the rest of the industry. Not to say that it will result in a successful securities fraud prosecution, of course, but Exxon Mobil's investors will want to pay more attention to it than they have to Mr. Schneiderman's earlier investigations into the company.
The good news for investors in the broader energy sector is that this most recent probe does not adversely affect their investments and could even signal that the previous investigations have failed (although the Wall Street Journal article does not explicitly state this latter possibility, which is supposition on my part). My previous articles on this subject discussed why Mr. Schneiderman's earlier investigations posed a threat to both fossil and renewable energy companies via the dangerous precedent that they would have set if fully pursued, so any retreat by the AG's office on that front would be a positive development for the broad energy sector.
To borrow an analogy from American football, it strikes me that Mr. Schneiderman's office called Hail Mary passes on the first two plays of possession. Those failed to result in a quick touchdown and now, with allegations swirling that they were actually part of a campaign fundraising effort, his office has settled for a basic run play in the hope of extending the drive or, at the very least, gaining better field position for a punt.