Coca-Cola (NYSE:KO) has been a very consistent generator of earnings and dividend growth. Consequently, the company enjoys a stellar reputation and status among dividend growth investors, including Mr. Warren Buffett himself. The following earnings and dividend only graph since 1998 on Coca-Cola depicts the consistency of its operating history.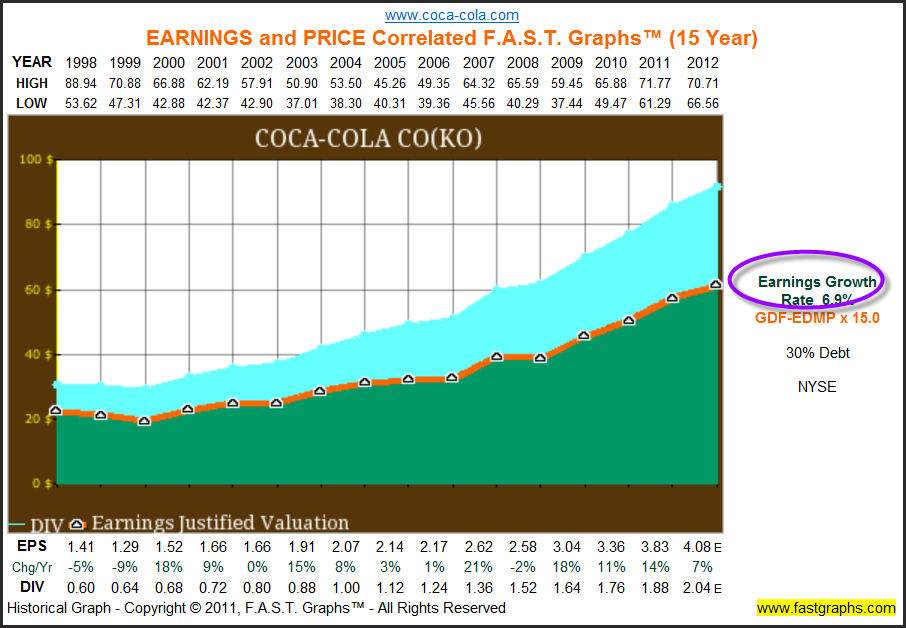 Coca-Cola Performance Suffering From Chronic Overvaluation
Even though Coca-Cola has produced an exemplary record of earnings growth and accompanying dividend increases, shareholder performance has suffered since calendar year 1998 due to their shares trading at an excessive valuation. Therefore, even with earnings consistently growing, Coca-Cola's share price had nowhere to go but down based on fundamentals. By late February 2009, Coca-Cola's share price has once again become aligned with its earnings justified valuation level.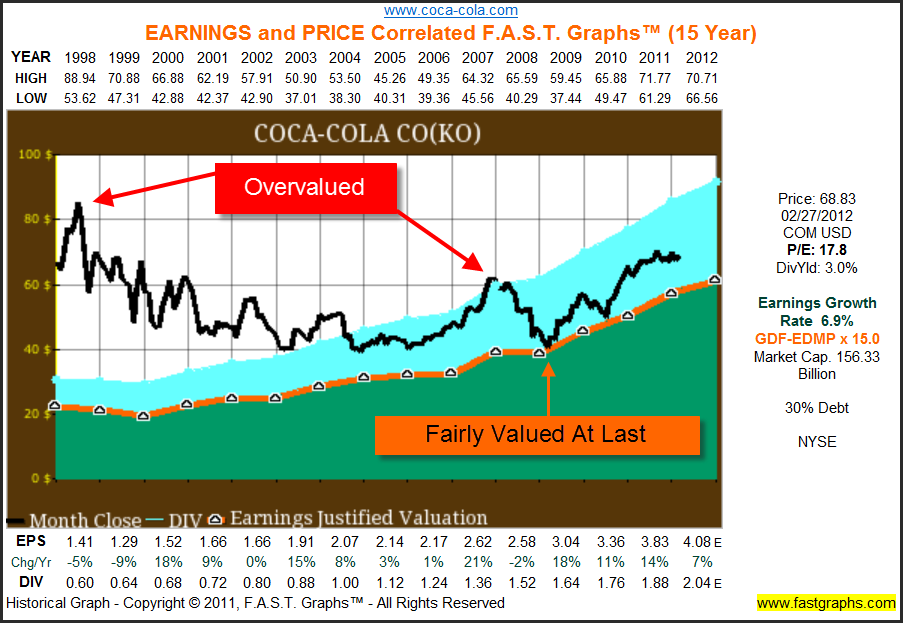 Due solely to overvaluation, Coca-Cola shareholders have only been able to barely breakeven based on shareholder appreciation since the beginning of 1998. However, since dividends are a function of earnings, steady dividend increases each year did enable investors to eke out a meager 1.7% total annualized rate of return which includes appreciation plus dividends paid but not reinvested.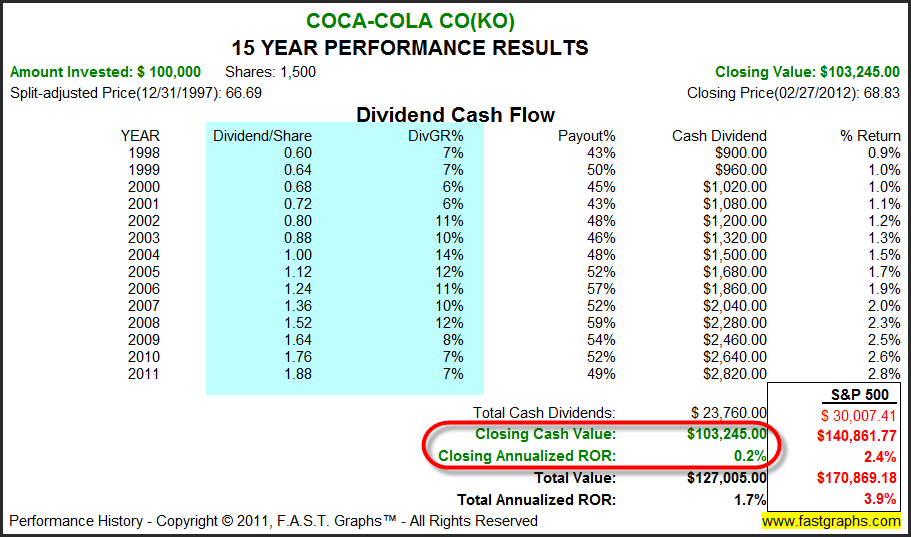 The Amazing Difference That Valuation Makes
This next graph shows Coca-Cola over the most recently completed five-year period, calendar year 2007 to current. There are two very interesting distinctions that the shorter time frame reveals about Coca-Cola and how it has been able to reward its shareholders. First of all, although beginning valuation was still high based on earnings justified valuations, at the beginning of calendar year 2007, Coca-Cola was only moderately overvalued; perhaps you could argue that they were receiving a quality premium from the market on their share price.
However, the second most distinguishing fact is that Coca-Cola's earnings per share growth rate over this recent five-year period has accelerated from averaging 6.9% over a 15-year time span, to averaging 11.1% over the past five years. Consequently, as the graph depicts, capital appreciation was stronger than it was when the company was massively overvalued.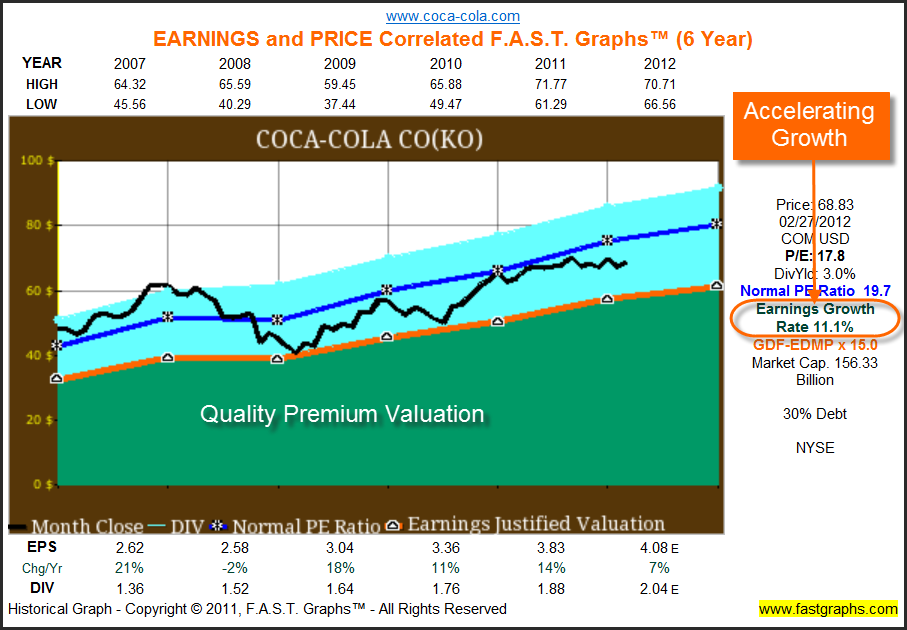 Since the beginning of calendar year 2007 (actual dates December 31, 2006 - February 27, 2012), Coca-Cola shareholders received market beating capital appreciation of 7.1%. Add in dividends that grew strongly during this period of accelerated growth, and Coca-Cola shareholders received a total return of 9.5%.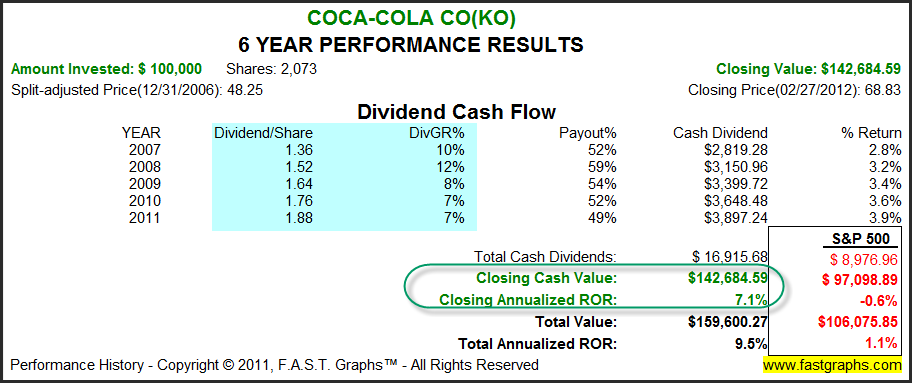 The following graph plots the historically normal PE ratio (the dark blue line) correlated with 10-year Treasury note interest. Notice that the current price earnings ratio on this quality company is as low as it has been since 1998.

A further indication of valuation can be seen by examining a company's current price to sales ratio relative to its historical price to sales ratio. The current price to sales ratio for Coca-Cola is 3.35 which is historically low.

Looking to the Future
Extensive research has provided a preponderance of conclusive evidence that future long-term returns are a function of two critical determinants:
1. The rate of change (growth rate) of the company's earnings
2. The price or valuation you pay to buy those earnings
Forecasting future earnings growth, bought at sound valuations, is the key to safe, sound, and profitable performance.
Therefore, it logically follows that measuring performance without simultaneously measuring valuation is a job half done. Coca-Cola is clearly an industry leading superior business, which based on the consensus estimates from leading analysts, appears to be capable of growing earnings at an above-average rate for the foreseeable future. At its current price, which is attractively aligned with its True Worth™ valuation, Coca-Cola represents an opportunity for growth at a reasonable price. The important factor is that Coca-Cola, with its strong balance sheet and potential for future earnings growth, has real assets and cash flow underpinning its stock price. This solid economic foundation offers shareholders the potential for both a strong margin of safety and an opportunity for outsized future returns.
The Estimated Earnings and Return Calculator Tool is a simple yet powerful resource that empowers the user to calculate and run various investing scenarios that generate precise rate of return potentialities. Thinking the investment through to its logical conclusion is an important component towards making sound and prudent commonsense investing decisions.
The consensus of 17 leading analysts reporting to Capital IQ forecast Coca-Cola's long-term earnings growth at 9.3%. Coca-Cola has low long-term debt at 30% of capital. Coca-Cola is currently trading at a P/E of 17.8, which is inside the value corridor (defined by the five orange lines) of a maximum P/E of 18. If the earnings materialize as forecast, Coca-Cola's True Worth™ valuation would be 95.44 at the end of 2017, which would be a 8.5% annual rate of return from the current price.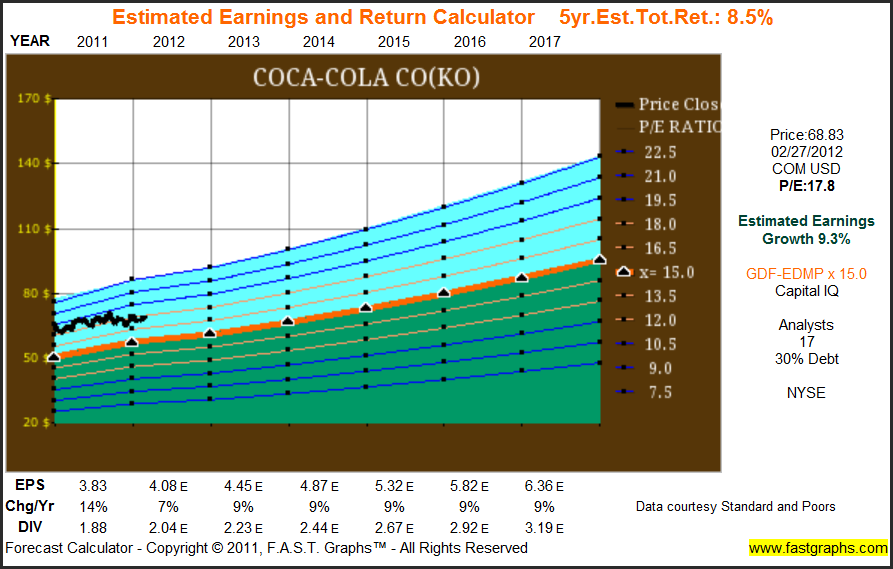 Earnings Yield Estimates
Discounted Future Cash Flows: All companies derive their value from the future cash flows (earnings) they are capable of generating for their stake holders over time. Therefore, because Earnings Determine Market Price in the long run, we expect the future earnings of a company to justify the price we pay.
Since all investments potentially compete with all other investments, it is useful to compare investing in any perspective company to that of a comparable investment in low risk Treasury bonds. Comparing an investment in Coca-Cola to an equal investment in 10 year Treasury bonds, illustrates that Coca-Cola's expected earnings would be 4.6 times that of the 10 Year T-Bond Interest. (See EYE chart below). This is the essence of the importance of proper valuation as a critical investing component.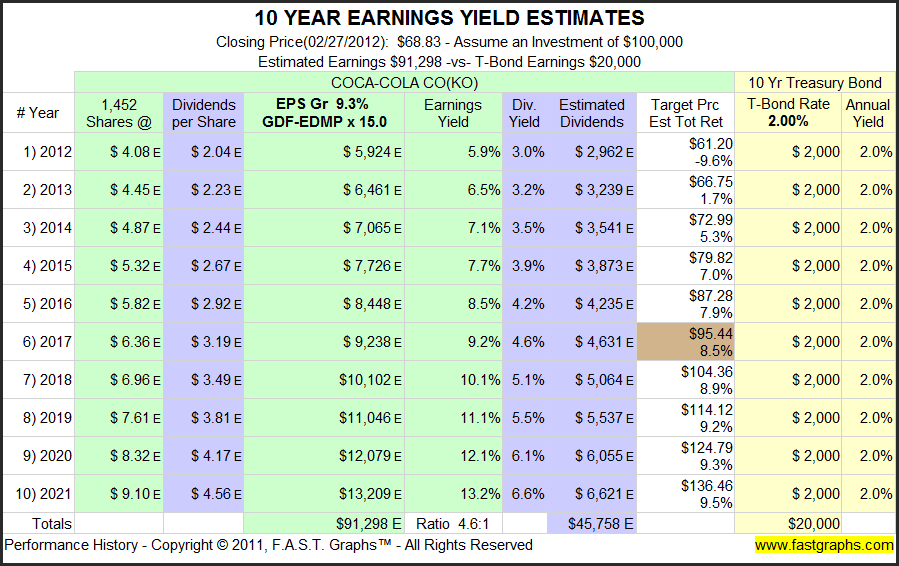 Summary & Conclusions
This report presented essential "fundamentals at a glance" illustrating the past and present valuation based on earnings achievements as reported. Future forecasts for earnings growth are based on the consensus of leading analysts. Although, with just a quick glance you can know a lot about the company, it's imperative that the reader conducts their own due diligence in order to validate whether the consensus estimates seem reasonable or not.
We recently published an article on Coca-Cola's nearest and biggest competitor PepsiCo (NYSE:PEP), a link to that article can be found here. In the comment stream one reader requested that they would like to see a similar analysis on Coca-Cola, and we agreed as we thought it would be an interesting contrast that highlighted the importance of valuation. At today's levels, Coca-Cola appears to be fully valued, but not overly valued based on earnings expectations. Consequently, we would suggest that Coca-Cola represents a sound investment, but not necessarily a screaming buy, for such an attractive blue-chip company.
Disclaimer: The opinions in this document are for informational and educational purposes only and should not be construed as a recommendation to buy or sell the stocks mentioned or to solicit transactions or clients. Past performance of the companies discussed may not continue and the companies may not achieve the earnings growth as predicted. The information in this document is believed to be accurate, but under no circumstances should a person act upon the information contained within. We do not recommend that anyone act upon any investment information without first consulting an investment advisor as to the suitability of such investments for his specific situation.
Disclosure: I am long KO.