As Venezuela begs investors to help it avoid default, a statue of Chavez is unveiled to great fanfare.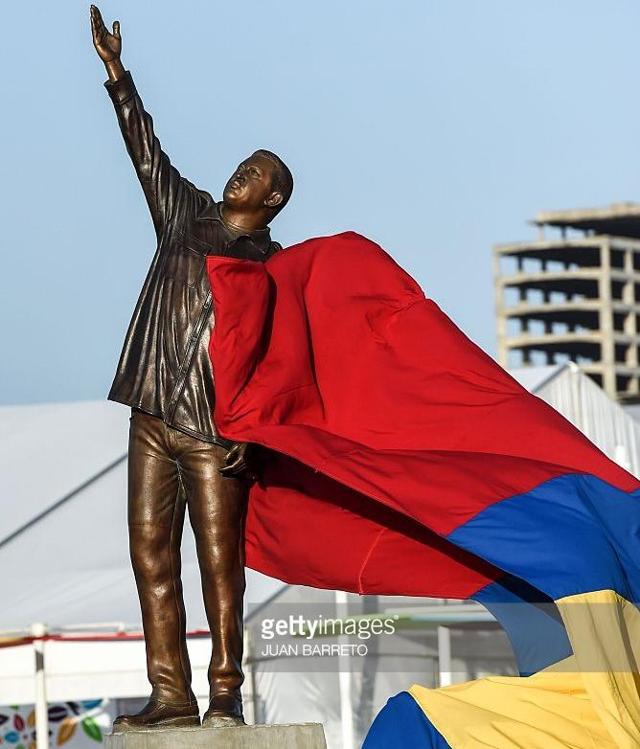 (Photo Credit: Getty Images)
The state-owned Petroleos de Venezuela (PDVSA) is offering to swap $7 billion of bonds maturing in the next year to avoid default. The notes maturing in April and November 2017 will be exchanged with bonds with staggered maturities over the next four years and offers 50.1% of Citgo, PDVSA's US refiner.
Venezuela is driving a hard bargain with its oil debt-investors. In the swap announcement bonds will be exchanged at par until September 29, 2016; after that, each $1000 face-value of old bonds will be swapped with only $950 of new bonds.
While it may sound enticing to swap unsecured US-denominated debt for secured debt, the value of the collateral is questionable. Citgo is embroiled as a defendant in at least 86 unresolved court cases of either tort or environmental matters.
Venezuela is quickly running out of hard foreign currency as it attempts to maintain its many currency pegs.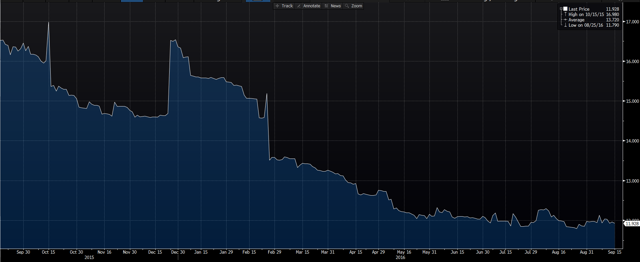 (Venezuela total reserves in US dollars. Source: Bloomberg)
The base Venezuelan Bolivar was last devalued by nearly 60% in March 2016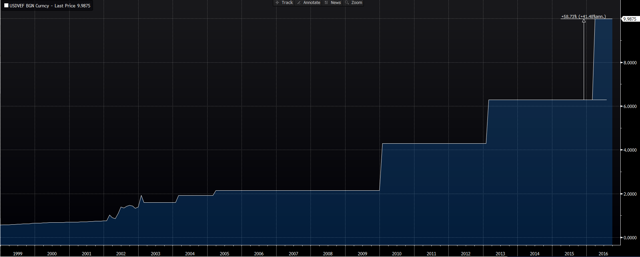 (USDVEF cross. Source: Bloomberg)
and the SIMADI -- short for Sistema Marginal de Divisas -- rate was allowed to depreciate as well, from about 200 to 650 bolivars per US dollar.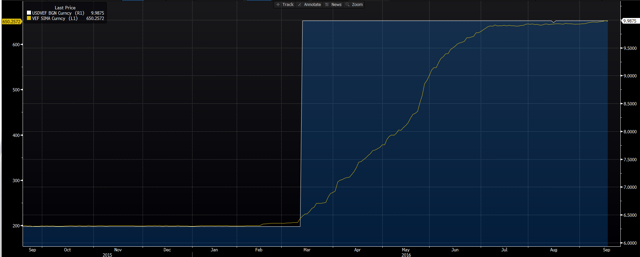 (Simadi and Official rates for each US dollar. Source: Bloomberg)
As the Venezuelan government struggles to preserve its dwindling reserves and currency pegs, companies in the US feel the effects of the crisis. From Mattel (NASDAQ:MAT) which
reported EPS included a $0.06 negative impact from the re-measurement of our Bolivar-denominated assets

(Earnings call 20/04/2016)
to Procter & Gamble (NYSE:PG) which stated that
the total impact of Venezuela was $0.05 per share or 6% in terms of core EPS. Assuming these financing constraints continue, the bottom line impact on the year will be up to $0.10 per share or minus 3%

(Earnings call 26/04/2016)
and Merck (NYSE:MRK)
Venezuela negatively impacted Q1 revenues by approximately $240 million

(Earnings call 05/05/2016)
The bond swap with over half Citgo as collateral would not be offered if the country were not down to its last dozen billion.
As the crisis deepens, a statue is unveiled. Consider reducing exposure to firms which have significant revenue from Venezuela, firms which hold Venezuelan debt, and from Colombia (NYSEARCA:GXG), Brazil (NYSEARCA:EWZ) and Argentina (NYSEARCA:ARGT) whose exports will be affected by a complete collapse of Venezuela.
Continue Reading: Venezuela's Imminent Collapse Threatens The World
Disclosure: I/we have no positions in any stocks mentioned, and no plans to initiate any positions within the next 72 hours.
I wrote this article myself, and it expresses my own opinions. I am not receiving compensation for it (other than from Seeking Alpha). I have no business relationship with any company whose stock is mentioned in this article.