Most oil-market observers believe that a production freeze by OPEC -- first brought up at the recent G-20 summit, and further followed by Vladimir Putin's visit to Saudi Arabia to see Deputy Crown Prince Mohammed bin Salman -- is dead in the water as no further development has been announced. So many observers now believe that the meeting in Algeria later this month at which the world's biggest producers will -- or won't -- commit to freezing their crude production, will not produce an agreement. Here is the reason for the skepticism: while talking about freezing supply may have helped push up and put a floor under oil prices, the outcome of the meeting itself seem to be becoming redundant as almost all the world's top producers are now doing exactly the opposite -- raising production.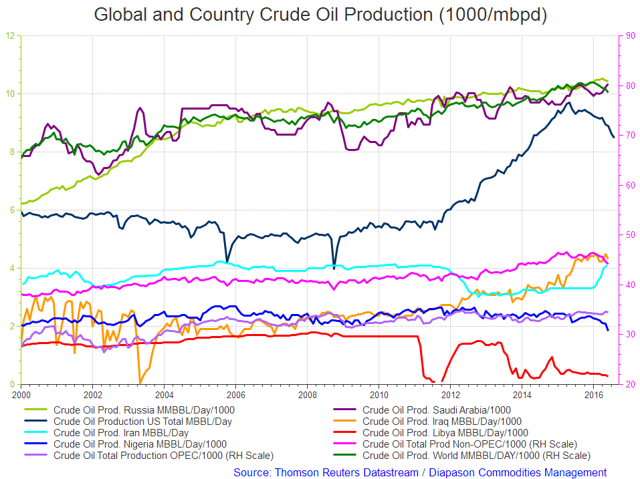 The big Gulf Arab OPEC countries -- Saudi Arabia, Iraq,the U.A.E. and Kuwait -- are all producing at, or very close to, record levels. At the same time, production from nearby Iran, another OPEC member, is at a five-year high, as the country races to restore pre-sanctions output and exports. Two OPEC members, whose production has been hit hardest by civil unrest, are also having better times: according to Bloomberg, in Nigeria, Exxon Mobil (NYSE:XOM) is preparing to resume shipments of Qua Iboe crude, while Royal Dutch Shell (NYSE:RDS.A) lifted restrictions at the Bonny terminal earlier this month. The combined exports will average more than 500,000 barrels a day.
Libya also has lifted force majeure at two of the country's three largest export terminals which have been out of operation since December 2014. This may allow Libya to double output to 600,000 barrels a day within four weeks and to 950,000 barrels a day by the end of the year. These OPEC members are going flat-out. In 2012, OPEC hit output high of 34.825mln bpd. They are now doing 34.556, so its pretty close to the max.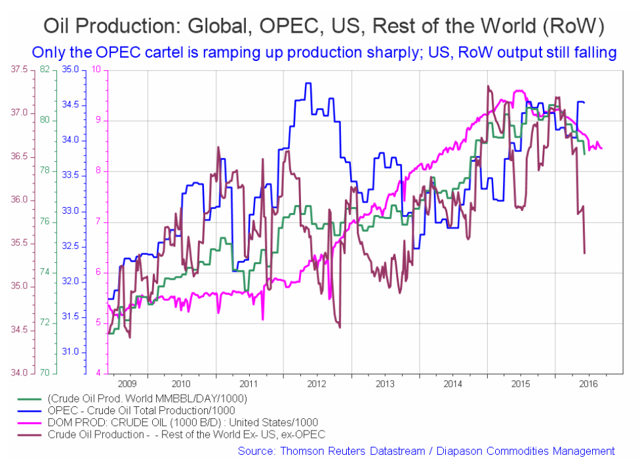 This is the culmination point for OPEC and Saudi Arabia's strategy of putting crude oil prices low with the end in view of strangling high cost producers, more specifically, the U.S. shale producers. Today, Only OPEC has a positive output number yoy. Everywhere else has shown decline in oil production (see chart above).
Today's production situation is exactly the reverse when OPEC production went down sharply in 2012-13 as the global economy started to stall due to the high price of crude oil. They tried to raise the price, which was by then flat for a while, by cutting production. It did not work because the U.S. shale oil universe was hitting its production stride during late 2012 and whole of 2013 (see chart below). By mid-2014 KSA started to bellyache but shale output kept rising -- before the year was over, KSA implemented Grand Strategy No. 1, and pulled the trigger that started the "oil wars," and what happened next will forever be etched in the minds of oil investors.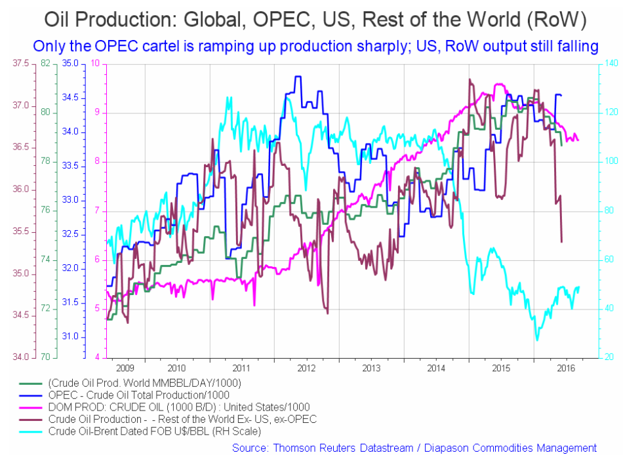 KSA flooded the market with oil, even as shale output continues to rise -- that really killed the oil price -- and the Saudi are now at it again (see chart below). Some analysts now say KSA is throwing in the towel insofar as the Grand Strategy is concerned and talk about production freeze is th evidence. However, the OPEC/KSA output data do not lie -- they are is still rising (see chart below). Those analysts are not focusing on the correct data set, and are failing to see what could be a switch to Grand Strategy No. 2, which likely has two basic elements.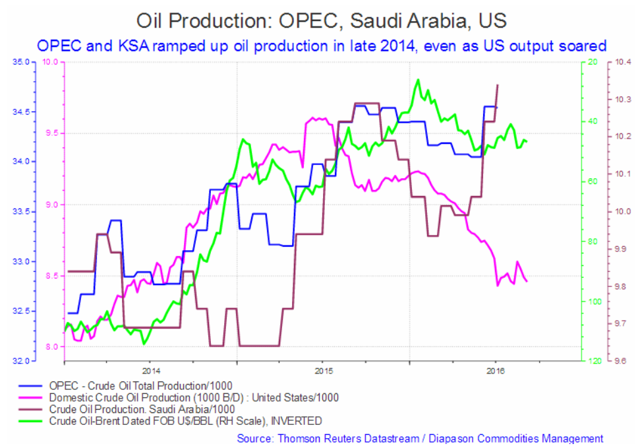 Element No. 1 -- Demand may stay steady at the worst, and could improve at the best scenario (see chart below) -- guess who is in the critical position to benefit from filling in the new delta between demand and supply? Its OPEC/KSA. US, and the RoW production are all declining. This is something that many analysts have not focused on. KSA is really cementing its market share, by default.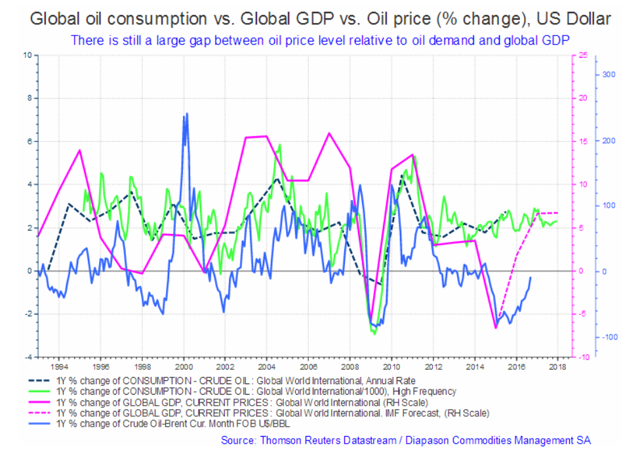 This leads to the next, corollary, question. Have KSA and OPEC given up on killing shale oil? No, they are not throwing in the towel -- not when they are in a unique position to cement their market share. KSA has been undercutting everyone -- hence even Oman/Dubai is really angry with KSA, which took away some market from them as well. Earlier this month, the state oil company Saudi Aramco revealed that it would cut export prices for customers in Asia. This provides an incentive for customers in Asia to buy oil from Saudi Arabia rather than its competitor Russia.
KSA is flooding the U.S. market with imports (keeping the U.S. inventory high). And this is what Saudi Arabia wants -- the U.S. produces less oil but buys more oil from the Middle Eastern country. And that U.S. inflow is coming from KSA inland storage -- which provide them storage space for the next round of the oil war, if necessary.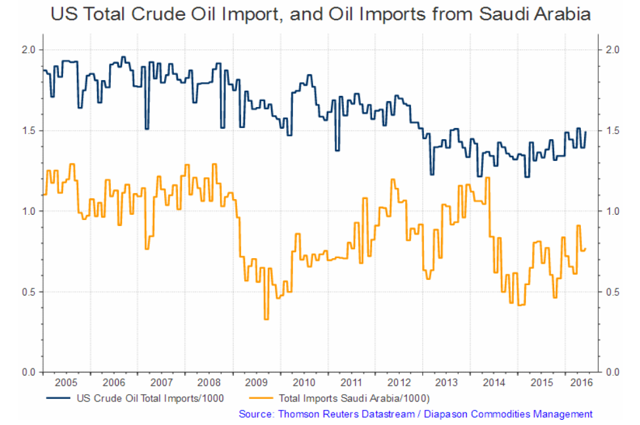 All in all, it does look as if Saudi Arabia does not really care that oil prices are still comparatively low to that of two years ago, and therefore hurting the country's finances, just so long as they cement their market share, and hopefully kills off competition in the long run. And it also does look like KSA really believes they will eventually prevail.
Meanwhile, even if OPEC/KSA are going all-out in production, they still managed to push oil prices higher due to superb theatrics, in coordination with Russia. Russia is at max output as well, understanding the game KSA is playing (see chart below). They have no intention of cutting back output -- only in raising the oil price, hopefully via theatrical effects, even if no freeze deal can be reached. Theatrics, of course, can only go so far, and an output freeze may not be enough -- only a cut in production could stabilize oil prices at higher levels.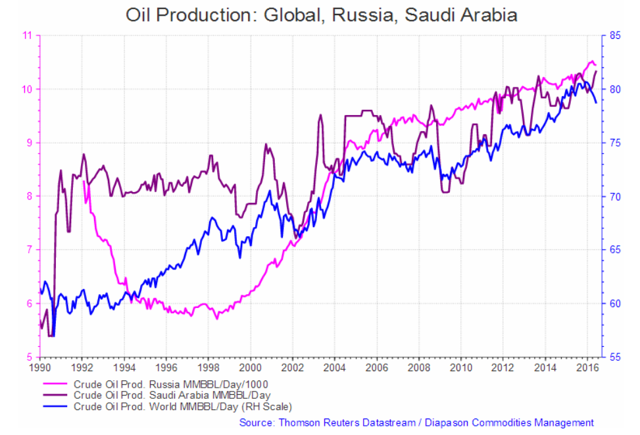 OPEC's overall hope, indeed, seems to be that global growth and demand will finally return or the high-cost oil producers go out of business, whichever comes first. This was elaborated on in December 2014 by Mohammed Al Sada, Qatar's energy minister, who said: "We are now in a provisional, correctional period. Markets have stabilization mechanisms that will bring stability. We don't know exactly how long it will take but it will stabilize because the current prices will separate the efficient producers from the producers who have high costs."
This strategy can only work effectively if there is real global growth soon -- because there is also the possibility that many in the OPEC (indeed even KSA is not immune) can become bankrupt first before global growth returns. And we believe there will be growth in 2017. Look at the EM markets; look at high yield. These two asset classes will not be rallying this much if we have catastrophe waiting for us in the medium term. These two assets have been since February, the best performing assets in the world, bar none (see other charts posted below).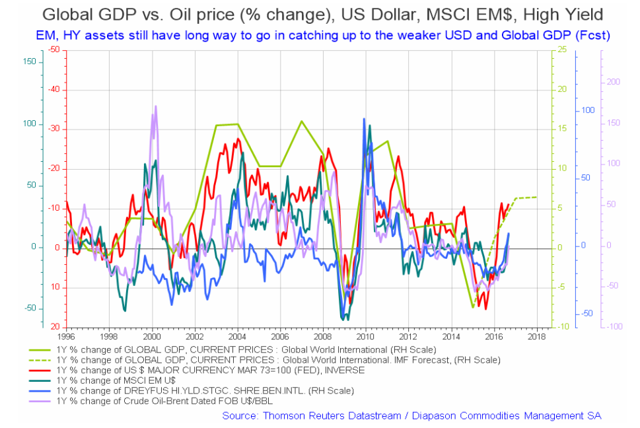 If global growth returns next year, governments should start to spend, the bond market will peak, and all that money fleeing the bond market goes back to stocks and alternative assets. Rising rates will not be deleterious this time around because they will be rising as a consequence of growth and rising inflation. It is also a strong likelihood that the U.S. dollar will be significantly weaker next year as a consequence of global growth -- U.S. capital will flow outward. It also helps, that by the middle of next year, demand may finally outstrip supply, according to projections of the U.S. Department of Energy (see chart below).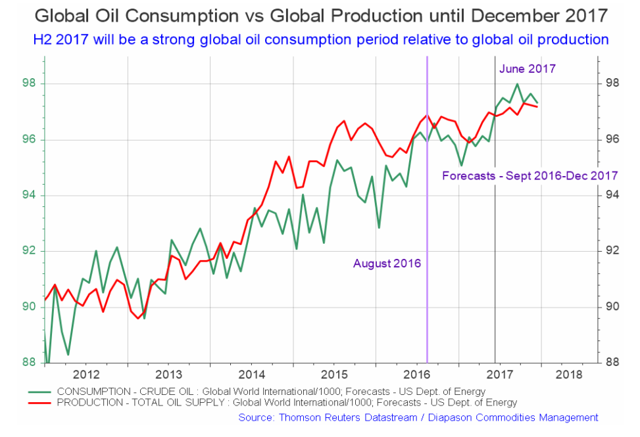 Meanwhile, KSA/OPEC will be bumping into some hard reality pretty soon. The truth is they are very close to the maximum (see the chart below). There will be little spare capacity -- the surplus capacity at this time is just 1 million bpd, the lowest since 2009. So given the global growth outlook, any small problem with output integrity (e.g., Nigeria, Iraq) could push prices higher again. The outage issue could overlay still steady demand, which could improve if global growth does happen in 2017.
Not a great lot of analysts are doing these equations involving slim spare capacity, but as we saw during summer, the market balance can quickly change depending on the severity of the outages. Indeed, if unplanned outages occur, oil prices may rise again even without the big producers cutting back on output, similar to what happened after fires threatened Canadian oil sands output. The question however is: How long will that price support last?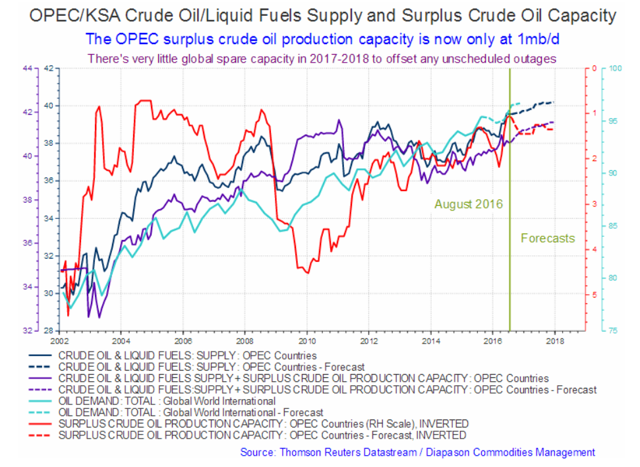 Finally, the element No. 2 of what could be strategy No. 2: produce as much as you can now so that if or when an output freeze comes, you will have stronger bargaining power over the share that will be allocated to you. Case in point: Iran has been the stumbling block at the Doha attempt to limit output, and has been cast by KSA as the "villain" for the failure to reach a deal. In the past few days, we read of reports that Iran has quickly boosted it output and is well within reach of its stated-objective of at least 4.2 mmbpd oil production, or even better at 4.5-5.0 mmbpd (see chart below). Iran would only need to raise exports 300k b/d to reach 2.5-3% of global market share it had in 2010, the year sanctions were imposed. The country's crude exports were at 2.2m b/d in August, ~300k b/d lower than the peak in August 2010. These are indications that the delta between its actual production and its stated minimum objective is so small, it can be described as a mere rounding error relative to the entire output of the Cartel.
It is therefore interesting to read today that Iran says it supports any move to stabilize the oil market. As reported by Reuters:
'Tehran welcomes any move aimed at market stability and improvement of oil prices based on justice, fairness and fair quota of all the oil producers,' Iran's President Hassan Rouhani said on Sunday. 'Instability and falling oil prices are harmful to all countries, especially oil producers.'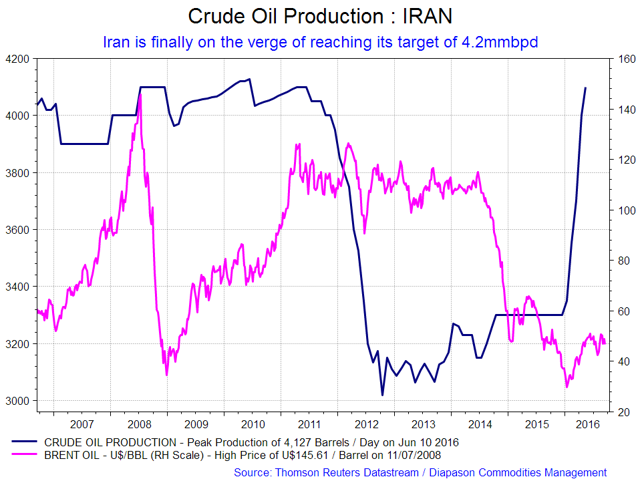 This climb down is remarkable. We think there are practical reasons for the change in attitude. Our conjecture is that Iran's higher objective of circa 5.5 mmbpd production or better, is currently impossible given the state of their oil infrastructure. Some reports say they need at least $8 bln investments on upgrades or new production to reach those targets. But there is no way foreign investments will be coming into Iran in droves, given the current low levels in the price of oil. With higher price of oil, at the expense of a only a small portion of its national pride, Iran could get better price for its output, and get the external capital for upgrading its oil infrastructure -- a much better deal than remaining a stumbling block on the way to an output freeze agreement.
OPEC members and Russia will therefore likely revive talks on freezing crude production levels when they meet at the upcoming International Energy Forum in Algeria on Sept. 26-28. And with Iran apparently more cooperative, they may finally get a deal this time around. It will be interesting to watch how the market reacts to a major part of global oil output being frozen at high levels in the near term at least.
Disclosure: I/we have no positions in any stocks mentioned, and no plans to initiate any positions within the next 72 hours.
I wrote this article myself, and it expresses my own opinions. I am not receiving compensation for it. I have no business relationship with any company whose stock is mentioned in this article.