There's a play in which the two main characters spend the entire performance waiting for some mysterious man to arrive. He never does.
It's hard to fault investors if they feel the same way this year about the Federal Reserve, which originally signaled a series of rate hikes in 2016 but keeps ending its meetings without changing interest rates. That's the expectation again as the Fed's Federal Open Market Committee (FOMC) meets this coming Tuesday and Wednesday, but what the Fed says after the meeting may bear close watching. With expectations growing for a possible rate hike in December, investors might want to stay on the lookout for any more evidence of hawkish sentiment in the Fed's words.
Let's look at what the Fed has said and where things now stand. After meeting in late July, the Fed cited a strengthening labor market, moderate expansion of economic activity and strong gains in jobs and household spending. On the other hand, the Fed noted "soft" business fixed investment inflation running below its long-term objective of 2%. The Fed said it was keeping its stance "accommodative" to support further improvement in the labor market and inflation.
A number of Fed officials have spoken publicly since that meeting, including Fed Chair Janet Yellen, and many indicated they could support a rate hike, though it's unclear when. Yellen herself said rate hike odds have "strengthened."
But that was before some disappointing economic numbers this month, including August job growth and retail sales that came in below expectations. Industrial production and business inventories also lagged behind Wall Street's consensus. Chances of a rate hike this coming week fell to just 15% as of midday Friday, down from 30% earlier in the month, according to CME Group futures, and much of the talk has been around a possible December increase instead. Odds for December are above 50%. There is a November meeting, too, but it comes just ahead of the U.S. election, which would seem to make it a less likely time for any sort of rate move.
So the question is less what will the Fed do this coming week, and more what might the Fed say in its post-meeting statement Wednesday afternoon. After Friday's Consumer Price Index (CPI) data for August showed a bigger than expected 0.3% rise in core CPI, the market turned lower, apparently out of concern that a higher inflation reading could play into the Fed's decision making, perhaps resulting in a more hawkish statement. But trading could be slow in the early part of the week as many investors may seek to avoid risk ahead of and during the Fed meeting. That was already evident to some extent in slow trading Friday.
The Fed meeting isn't the only Fed-related event of the week. On Friday, there will be a panel of regional Fed presidents speaking. That could represent a chance to get some immediate feedback after the Fed's statement Wednesday.
Aside from the Fed, the Bank of Japan also meets Wednesday (see below). And there are some reports on the economic calendar, including housing starts and building permit data due Tuesday morning and existing home sales Thursday.
There's also an earnings report worth watching, with FedEx (NYSE:FDX) scheduled to report after the close Tuesday. Consensus among Wall Street analysts is for earnings per share of $2.78, up from $2.42 a year ago, according to Briefing.com. FDX earnings can sometimes be a nice way to synthetically look at consumer confidence and business growth, and at normal times it might draw a good deal of attention. But coming amid the Fed meeting, both FDX earnings and next week's other numbers may get overshadowed unless they're well above or below expectations.
As the market got ready for the Fed meeting and the subdued trading that frequently accompanies it, volatility, which had been surging earlier in the week, stepped back a bit Friday. As of midday, the VIX index, which tracks volatility, was down to 16.12, compared with readings above 20 on Sept. 12. Despite this pullback, volatility does tend to be more of a factor this time of year, and the coming Presidential election could play into that as well as that event draws closer.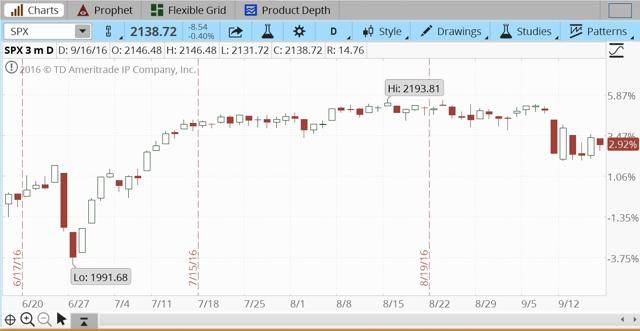 Figure 1: Carving a Trading Range: The S&P 500 (SPX), plotted here through midday Friday on the TD Ameritrade thinkorswim platform, pulled back early in the session after testing resistance at the 2147 level. Support is at around 2112. Source: Standard & Poor's. For illustrative purposes only. Past performance does not guarantee future results.
Sentiment Sluggish: University of Michigan consumer sentiment, reported Friday, came in below expectations at 89.8 for the preliminary September reading, unchanged from August. Analysts had expected a rise to above 91. Modest gains in the outlook for the national economy have been offset by small declines in income prospects as well as buying plans, the University of Michigan said in a press release Friday. "Overall, consumers remain reasonably optimistic about their economic prospects," the press release said. "Real personal consumption expenditures can be expected to grow by 2.6% through mid 2017." Still, the flat consumer sentiment is another reminder that a number of consumer data points haven't met expectations recently.
Rising Sun to Light Up Bond Market? U.S. 10-year Treasury yields posted nearly three-month highs last week up around 1.74% before slipping on Thursday and Friday. Even with the late week slide, yields remain well above the range they traded in most of the summer below 1.6%. Why would yields be rising in an environment where a September rate hike looks less likely? Perhaps it's an unwinding of long-term bets on higher bond prices, some analysts said last week. Or it could be a reflection of talk that the Bank of Japan might start pulling back on its easing program soon. Japanese bond yields have risen lately amid speculation that the Bank of Japan might begin buying shorter-duration bonds rather than longer-duration bonds in an attempt to steepen the yield curve and help struggling Japanese banks, media outlets reported this week. The Bank of Japan, like the Fed, meets this coming week, with an announcement expected Wednesday. Back home, there's also growing expectation for a possible December Fed rate hike, and that may be playing into some of the strength in yields.
Harvest Moon: Friday marked the appearance of a full harvest moon, which reminds us that U.S. agricultural harvests are fast approaching. And bountiful harvests they appear to be, judging from recent forecasts released by the U.S. Department of Agriculture (USDA). Record soybean yields appear likely thanks to improved growing conditions in August, the USDA said last week. Corn production estimates got a trim, but the crop is still seen at above 15 billion bushels, a healthy number. Soybean production is expected to come in at 4.2 billion bushels. Shares of some of the big agricultural equipment companies like Deere & Co. (NYSE:DE) and Caterpillar (NYSE:CAT) have been relatively flat over the last month, but big harvests can sometimes help shares of agricultural companies by increasing demand for their goods. Agricultural companies were in the news last week, with seed company Monsanto (NYSE:MON) agreeing to a $66 billion merger with Germany's Bayer AG (OTCPK:BAYRY).
Disclosure: I/we have no positions in any stocks mentioned, and no plans to initiate any positions within the next 72 hours.
I wrote this article myself, and it expresses my own opinions. I am not receiving compensation for it. I have no business relationship with any company whose stock is mentioned in this article.
Editor's Note: This article discusses one or more securities that do not trade on a major U.S. exchange. Please be aware of the risks associated with these stocks.