Equity valuations seem to be sky high and fully priced in. Bond yields make you believe that you are handling hot coals, hoping you don't get burned. So what are you to do?
Over the last few months we have been looking at alternative sources of growth and income within the closed end fund space. Closed end funds are an interesting fund structure and the inefficiencies of being traded on the public markets creates opportunities to pick up great assets at below net asset value.
Retail investors looking for a diversified income stream are likely to look at a variety of mutual funds or buy a basket of a few different ETFs.
Investment advisors who have been in the business for a while would know to look at a Unit Investment Trust such as a First Trust Portfolio's or Guggenheim's many Strategic Income, Balanced Income or Multi Income UITs.
But what if you can get the benefits of multiple institutional managers, in one closed end fund?
That fund is the Nuveen Diversified Dividend & Income Fund (NYSE:JDD).
Fund's Sales Pitch
The fund is targeted to income investors or anyone wanting access to institutional managers in alternative asset categories.
The Basics
Sponsor: Nuveen Fund Advisors
Managers: Kevin W. Bedell, Anthony R. Manno Jr., Thomas J Ray
AUM: $360.822 Million in Investment Exposure, $258.42 Million net assets
Historical Style: Non-US/Other Global Growth & Income
Investment Objectives: The Fund high current income and total return.
Number of Holdings: 426
Current Yield: 9.52% based on market price, Quarterly Distributions
Inception Date: 9/25/2003
Fees: 1.25%+0.47% Interest Expense, 1.9% Total
Discount to NAV: 10.71%
Source: CEF Connect, YCharts, & Nuveen CEF site
The Alpha
The marketing material does not go into too much detail on the underlying alpha strategy besides the basics.
In short, the fund believes that by having a diversified portfolio of non-correlated asset classes and employing institutional quality managers, retail investors would be ahead of the game.
From the fact sheet, we get these specifics.

Source: Nuveen CEF Site
As with the last fund that we covered, the Nuveen Tax Advantaged Total Return Fund (NYSE:JTA), JDD is multi managed.
Joining the two affiliated Nuveen advisors, NWQ and Symphony Asset Management are Security Capital Research & Management Incorporated and Wellington Management Company LLP.
The Portfolio
The overall portfolio holds true to the stated purpose, about a 50/50 equity/debt.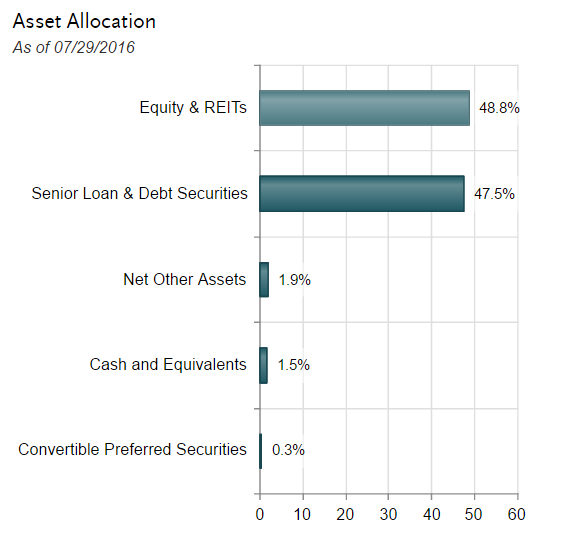 Source: Nuveen CEF Site
The Top 10 Holdings represent a good amount of emerging markets sovereign debt with a number of household REITs. With the top holding representing a mere 2.4%, you have an overall well diversified portfolio.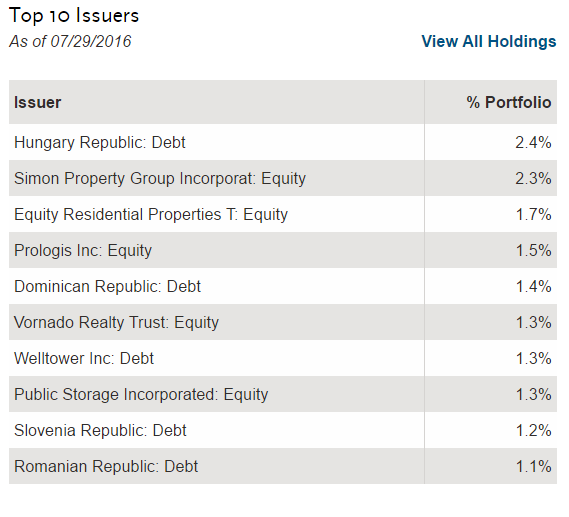 Source: Nuveen CEF Site
You can take a look at the entire holdings list at this link.
Price & Performance
One of my new favorite charts from YCharts is one showing the relationship between the market price and the net asset value, along with the historical ratio between the two.
As you can see in the chart below, we can draw two conclusions.
First, the fund was launched at a great time in 2004 and quickly made up for the fund's sales charge and load, trading at a very low discount and even trading at a premium during the peak before the Great Financial Crisis.
The GFC destroyed the fund, causing the fund to trade at discounts of up to 35% to its net asset value.
Bottom pickers and thrifty investors took advantage of those discounts all the way to 2013 where the fund was once again trading at near parity or at a slight premium. From 2013, the discount opened up and stayed around the 11% mark until this year when the discount shrunk to nearly 5% during the overall search for yield.
Fortunately for those looking to buy in, the discount has opened back up to around the levels we have seen over the last 3 years.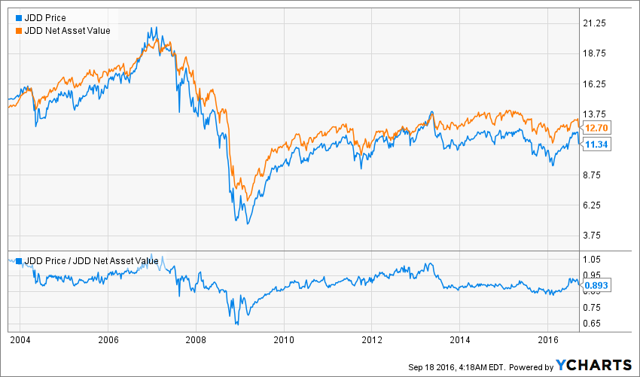 Looking at the performance, Year To Date the fund has returned a solid 14.54% on a total return basis.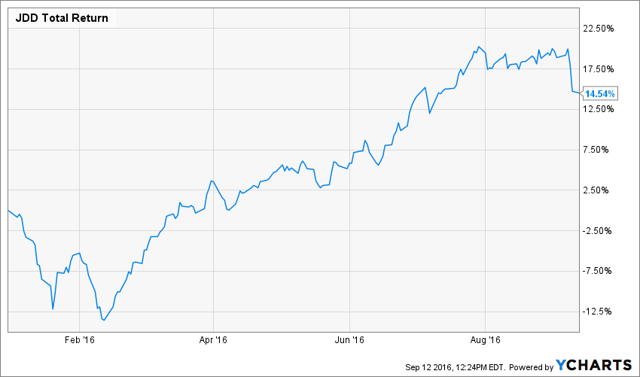 Looking back to the last year, the fund has returned 21.55%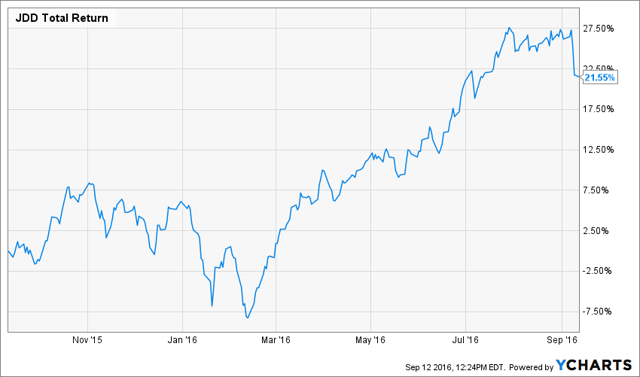 A 5 year time period yielded investors about 73%.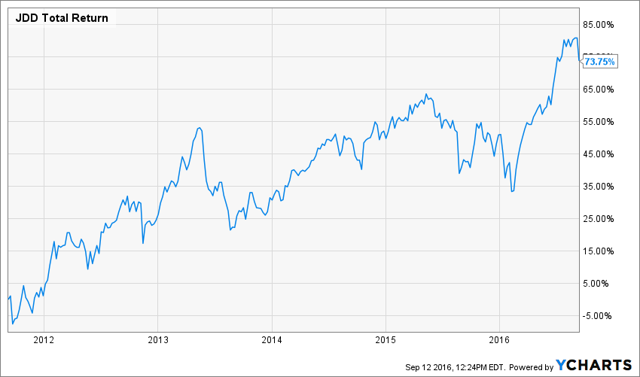 For investors purchasing in at inception, the fund has made up the sales load and more than doubled the investors capital, returning a total 161%.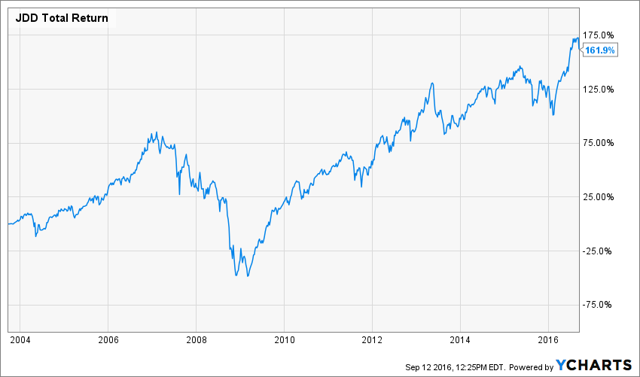 Since someone asked for the difference in returns between the market price and net asset value, here you go.
As you can see, yes, a good amount of gains for the 1 year numbers come from the closing of the discount to NAV. Over time however the two tend to reflect one another.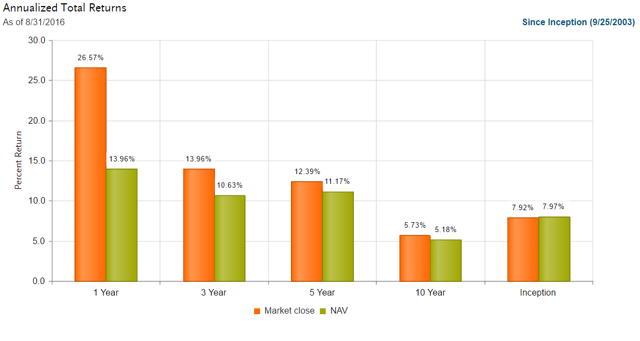 Source: CEF Connect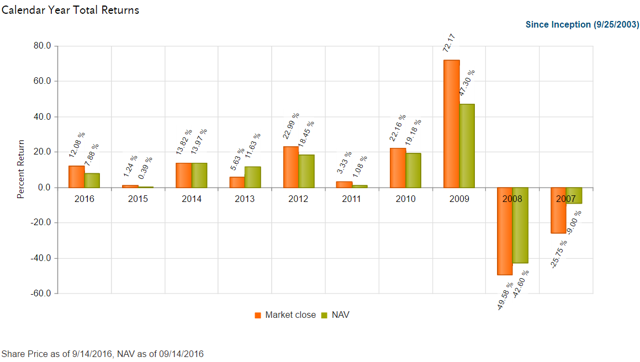 Source: CEF Connect
So how does it do against some indexes? To compare this fund, let's take a look at the performance of the fund versus the S&P 500 ETF (NYSEARCA:SPY) and the iShares High Yield ETF (NYSEARCA:HYG).
On a YTD basis, JDD outperforms the S&P and slightly edges out the high yield ETF.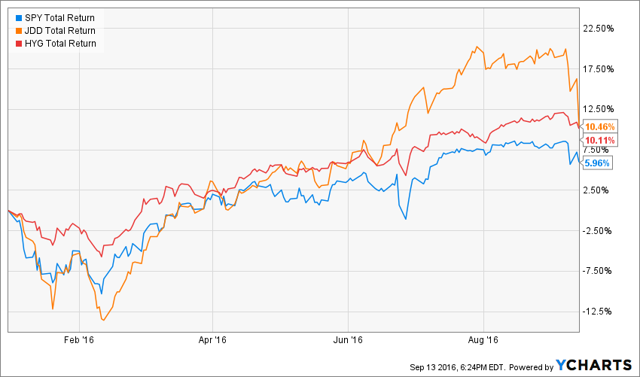 On a 1 year number JDD was outperformed both, again a good amount contributed by the shrinking of the discount to NAV.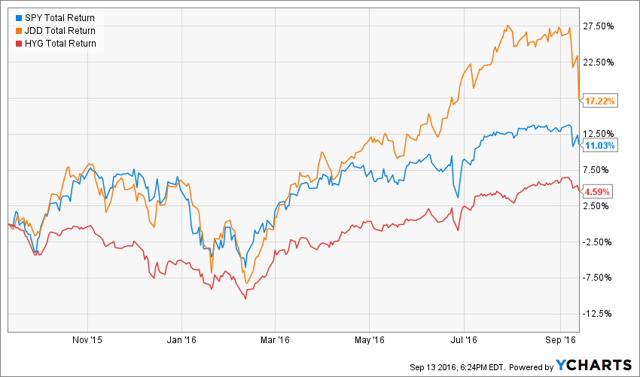 Looking at this long term, we go back to the first common date for all three, back to 2007. Here the fund lags both, for one simple reason. Leverage.
... and obviously the discount to NAV exploding up to 35% does not help either.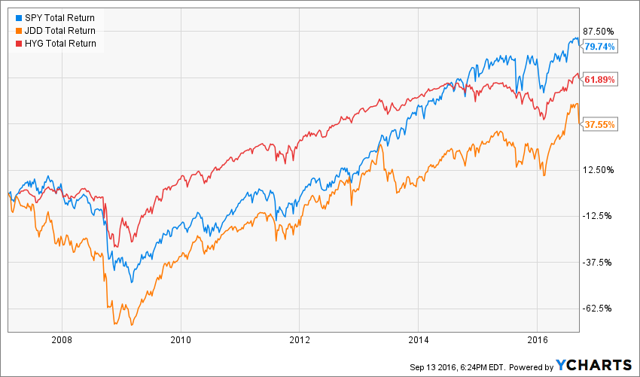 Are those comparisons fair? Eh, not really, but it was interesting to take a look at them as someone will always bring up that the S&P 500 or some other investment would of done differently.
It is as silly as saying that a Chevrolet Corvette will go 0-60 faster than a Volvo XC90. Obviously it will, but both are designed for different purposes. Of course, if you are merely using both to go 2 miles to work, and have no need to haul anything, you can look at either of the two.
If we look at how the fund has done against its peers, we can see that pretty much over every measured time frame, the fund delivers alpha.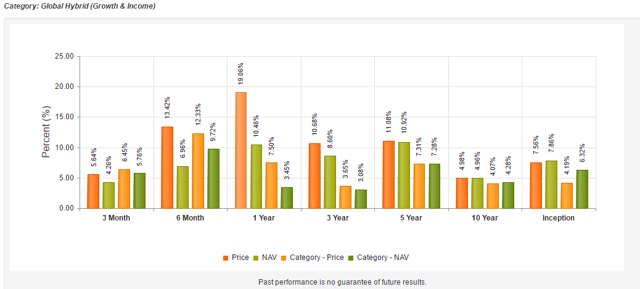 Source: CEF Connect
Who's It For?
This fund is unique in that you have a multiple institutional managers managing a multi asset portfolio.
If you are looking for income of any sort, and are okay with the quarterly distributions, this fund is absolutely worth adding to your due diligence list.
With hundreds of closed end funds and unfortunately little to no sales support from the fund companies past the initial public offering, you pretty much have to look and find the funds yourself.
The best way to describe this is like going to Wal-Mart (NYSE:WMT) on Black Friday and checking out those massive bins of discount DVDs and BluRay movies.
They may be sorted by price, but you have to dig deep and sift through them one by one to find some real gems.
I had a phone conversation with a contact from Fidelity Investments where we discussed amongst other things the markets, and I asked them what areas of opportunity exist in the eyes of Fidelity capital markets groups.
Two of the areas identified were REITS and Emerging Markets sovereign debt.
When I saw that those two make up about half of this closed end fund, it was instantly added to my due diligence list. Perhaps it belongs on yours?
Personally, we will be doing a bit more homework on the fund, but it will likely makes its way to a slot on the CEF portfolio.
Questions? Let's keep the conversation going.
I believe in active management that works, and I am here to help you find those opportunities. Please follow me here on Seeking Alpha as we look for those opportunities and sort out the good managers from the mediocre.Simply click the "Follow" button next to my name at the top of the article or on my profile page.
Disclosure: I/we have no positions in any stocks mentioned, and no plans to initiate any positions within the next 72 hours.
I wrote this article myself, and it expresses my own opinions. I am not receiving compensation for it (other than from Seeking Alpha). I have no business relationship with any company whose stock is mentioned in this article.
Additional disclosure: Maks Financial Services is a registered investment advisor and our Form ADV Part 2 is available upon request. We certify that the opinions and predictions in these articles are our professional beliefs at the time of publication and should not be construed as personal investment advice. Please consult your financial professional to see how anything discussed here applies to you. Furthermore this is not a solicitation to buy or sell any securities. This is not Tax Advice. Please consult your tax professional.