I write this article in the hopes of stimulating discussion about the present state of the market, especially for retired dividend growth investors. Hopefully some insights will be of benefit to all who read this.
Nearly one year ago, I posted an article that discussed dealing with the Required Minimum Distribution mandated by the IRS. (seekingalpha.com/article/3623186-retired...) The portfolio that I developed consisted of about 40 different stocks, including about 20% REITs and 15% preferreds, plus a number of solid dividend payers including XOM, JNJ, T, VZ, CMI, O and other high quality issues. Not only was my original goal of producing enough income to cover the RMD achieved, the portfolio is producing about three times the RMD for my age (73), and even though a couple of issues have reduced the dividend (KMI, AGNC), more have increased it. Also, I was very fortunate to have rolled over a substantial IRA that was invested in mutual funds the first of the year. While I spent time doing enough research to reinvest these funds into stocks, the market did a nose dive and I was able to buy several issues at what turned out to be bargain prices. However, this is not to suggest that I am able to time the market; in fact it was serendipity that produced this happy confluence. I doubt that I can achieve this again in my lifetime.
But this fortunate circumstance has produced another problem that causes me to spend a lot of time pondering. Do I take profits at this point and sit on cash until the next market correction (dare I say the B word?), take a chance and wait until the capital gains taxes will be lower next February (I should mention that about half the portfolio is not in an IRA), or just do nothing and continue to collect a very decent 5.6%? For those of you totally in a tax deferred account this may cause you to reach a somewhat different solution than I will. But since I have been investing in the market for a long time, I do remember the angst that was produced in 2000-01 and again in 2008. A 35% drop in capital is not pretty, even if you have other sources of income in retirement. Since I'm pretty confident that my market timing skills are nonexistent, and remembering the time I thought the market was definitely going South in 1992 so went 100% in cash, I face the possibility that this bull market may still be alive for another year or so. Or maybe not.
One mantra I keep repeating to myself: This is not a stock market, but a market of stocks. So far, most the issues that I did sell, such as JNJ, O, WD and a couple of others (you don't lose money by taking a profit) have continued to rise, reminding me still again that my timing skills are near zero. And, trying to hedge a little with VXX has been a disaster - stay away from this dog; it is structured to drop over the long term as the market goes up. It can rise spectacularly if the market tanks, however. Also Kinder Morgan (NYSE:KMI), Cal-Maine (NASDAQ:CALM) and a couple of others are not doing well at the moment, but I'm hopeful that this will change in '17 or '18. Anyway, for better or for worse here are my current investments: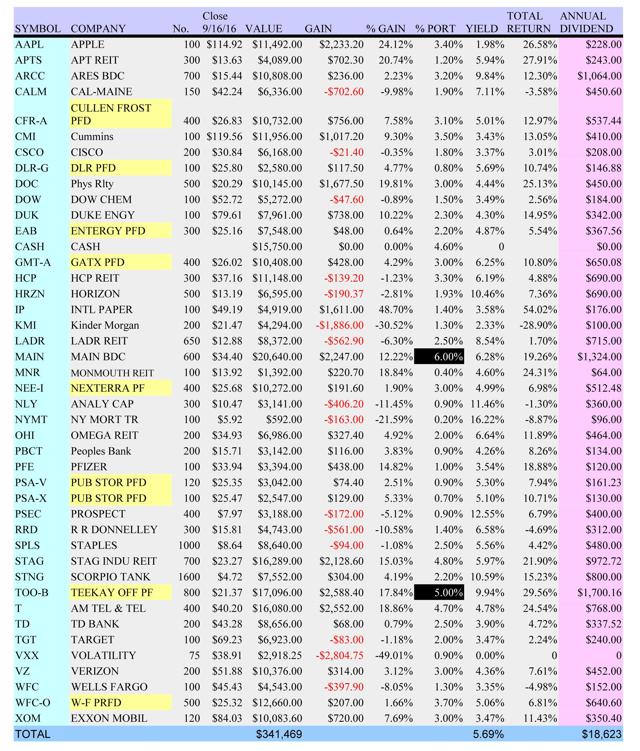 For those who are in the process of accumulation, my portfolio is fairly well distributed among more than a dozen industries, and no issue takes up more than 6% of the total; MAIN is 6% of the whole and TEEKAY OFFSHORE PF is 5%.
| | | |
| --- | --- | --- |
| ENERGY | | 9.2% |
| TECH | | 5.2% |
| REIT | | 18.2% |
| REIT PFD | | 2.4% |
| UTILITIES | | 7.6% |
| COMMUNICATIONS | | 7.7% |
| CHEMICAL | | 1.5% |
| CASH | | 4.6% |
| INDUSTRIAL | | 4.9% |
| MATERIALS | | 1.4% |
| CONSUMER | | 6.4% |
| BANKS | | 11.6% |
| VOLATILITY | | 0.9% |
| BDC'S | | 12.1% |
| PHARMACEUTICALS | | 1.0% |
| TRANSPORT | | 5.3% |
| | | 100.0% |
Currently preferred stocks are 22.5% of the portfolio. I would like to increase this amount even more, but I will not buy a preferred over par (usually $25) because companies will often call these issues as soon as possible. There are very few issues selling at or below par today. Those that are almost certainly are too risky for a retirement portfolio. Except for issues that are called, or a mammoth problem hits the company, preferreds are mostly SWANs (Sleep Well At Night). Even when the common stock dividend is cut, the preferred dividend will be maintained (again, absent a huge problem with the company's finances). This happened to TOO this past year; the common dividend was cut, the preferred continues to pay nearly 10% and has given a total yield of about 30%. The only changes I have made to preferreds has been to buy more.
I welcome your comments, both positive remarks and (hopefully) constructive criticism.
Disclosure: I am/we are long ALL THE ISSUES INCLUDED IN THE CHART ABOVE.
I wrote this article myself, and it expresses my own opinions. I am not receiving compensation for it (other than from Seeking Alpha). I have no business relationship with any company whose stock is mentioned in this article.