Equity markets have been rather calm throughout summer, characterized by thin volume and near-flat performance. Big exception to that occurred in mid-June, when U.S. Markets dropped more than 5% after "Brexit" decision by the U.K. Still, equity investors showed quite a resilience recouping their losses. As of Friday, markets were less than 2.5% removed from the all-time highs reached in mid-August.
My thoughts on asset flows in the market.
Last week, however, the trend we've seen for the majority of summer, was broken sharply to the downside, with volume picking up as investors got back from summer vacations, and into the action, sending jitters across global markets. Last week's activity, coupled with hefty equity valuations, might imply investors' retreat from riskier assets such as equities, and towards the safety haven, such as cash and fixed income.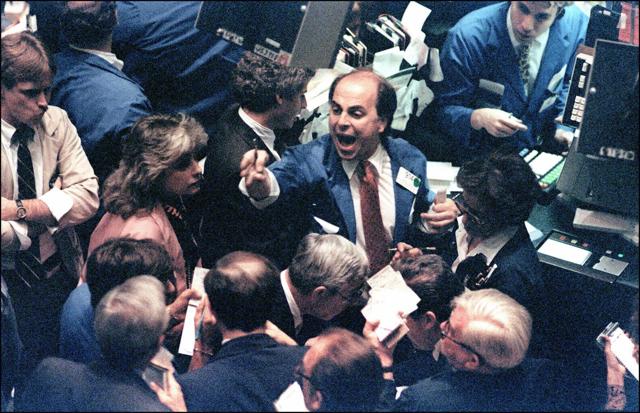 While a speculation, it is certainly backed by the numbers from fund manager surveys. Recent research suggests that hedge fund managers were steadily increasing cash allocation of their portfolios over the past 5 years. From nearly 3.5% in 2011, fund managers' cash balances grew to a staggering 5.7% as of June 2016, according to Bank of America Merrill Lynch. This is the largest percentage of cash since 2001, and is likely to continue growing, as we approach key September FOMC meeting, as well as crucial November presidential elections. Raising cash means two things: (1) institutions are weary of being fully invested due to risks that persist globally, and (2) investment opportunities available do not warrant taking that risk due to low expected return. The U.S. Dollar has been appreciating lately, becoming an investment vehicle on its own. If interest rates rise, I expect to see a proportion of cash growing, particularly due to the anticipation of further U.S. Dollar appreciation due the tightening in money supply.
Fixed income as an asset class has been also receiving plenty of investors' love lately. BlackRock, the world's largest asset management firm with $4.9 trillion in AUM, seem to be quite bullish on U.S. Municipal and Corporate debt, European Corporate Credit, and Emerging Markets Sovereign Debt (issued by countries with low exposure to commodity complex volatility, such as Brazil, India, Indonesia and Poland). In my opinion, low investor returns and elevated price fluctuation of equity assets will likely continue forcing investors to search for predictable income: fixed income Exchange Traded Products experienced the highest net inflow of funds, with $76 billion pouring into the asset class globally year-to-date, according to ETF Flows statistics on Bloomberg. In fact, this trend prevailed over the past two and a half decades, with governments, institutional and retail investors purchasing overwhelming amounts of debt, pushing global yields lower.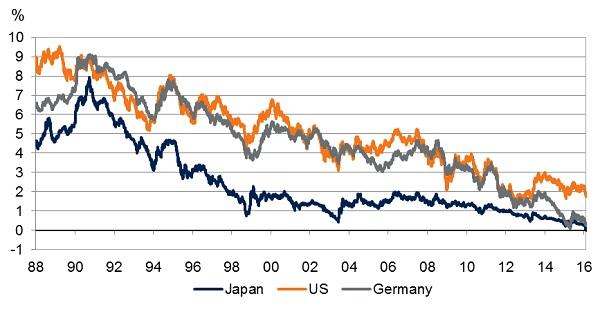 The fact that $12.6 trillion of government bonds worldwide currently offer yields below zero is a mere reflection of what investors are willing to accept to safeguard their assets against the uncertainty ahead. I expect this trend to continue, for as long as global central banks, including Europe and Japan, advocate sub-zero interest rate policy.
How much equity does the Fed have left?
Equity markets have recorder rather exceptional returns over the past 8 years. Strong corporate earnings growth and stabilizing economy allowed for solid price appreciation. United States of America has by far the most compelling capital market available to the investors around the world. The chart below compares the cumulative performance of G7 indices. Note that S&P 500 (NYSEARCA:SPY) index comes out on top, with a staggering 216% return since the bottom of 2008 financial crisis.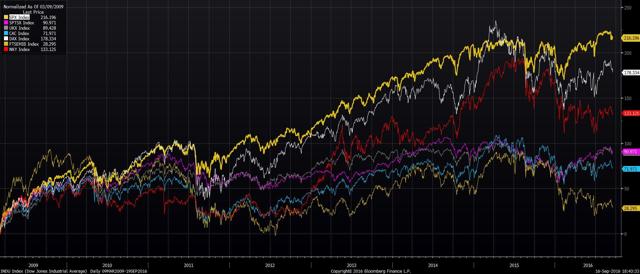 Nevertheless, much of these returns is likely attributed to over-accommodating monetary policy exercised by global central banks. Much like morphine, it took the pain of major Financial Crisis away from enterprises, particularly in the U.S. It has also made companies addicted to cheap credit, at the expense of people who relied on interest on savings to finance their long-term goals. And while companies continue to put great emphasis on debt when it comes to financing their organic and inorganic growth, individual investors are struggling to reach their investment goals in the midst of era of ultra-low returns. In the face of these averse effects, monetary easing should be scaled back. But it's easier said than done. Currently markets are dominated by the perception that U.S. economy is not yet strong enough to enter the course of interest rate normalization, particularly when FOMC commences in Sept. 20. It is anecdotal that after years of significant unemployment reduction, and with headline inflation being adequately close to the 2% target set by Federal Reserve, markets are currently pricing in roughly than 15% chance of the rate hike.
It is even more anecdotal that employment report for the reference month of August, short of 29,000 jobs vs the consensus, and dovish commentary from Joel Brainard on Monday was enough to throw markets off-balance and send them in a tail-spin, even though Fed Chair Janet Yellen has clearly indicated in the past that the economy only needs 100k jobs-a-month to accommodate new entrants and sustain near-full employment in the United States. Payrolls were growing on average by 204,000 over the past 12 months.
Such a situation when facts (economic data) diverge with consequences (Fed action) creates a potential for disruption. I believe that markets are significantly under-estimating the chances of the rate hike, particularly due to the "wait-and-see" policy implemented over the past 9 months. If Fed moves on Sept. 21, this will rattle the markets as they price-in remaining 80% of the move over the immediate- to short-term. From my perspective, September move is fully justifiable given strong economic environment and increasing dangers that come with easy money policy sponsored by Federal Reserve. Waiting longer simply loses Fed credibility, and provides more incentive for a credit bubble to inflate. Don't forget, lower rates and lending requirements mean easier access to credit for the companies that experience a capital crunch, and might not be able to sustain the liability once the fed-funds rates move closer to the longer-term target of 3%. Waiting longer now means dealing with more bad debt later.
Trumped convictions.
Another potential for disruption comes with the elections, particularly with the possibility of Donald Trump being appointed as Commander-in-chief of Oval Office, and with it the largest economy in the world. Currently the situation does not spell the doom. Polling by Reuters indicates that Hillary Clinton retains an upper-hand in this election. Latest results suggest the number is around 4% lead for Clinton over Trump, although the overall race has been undeniably tight.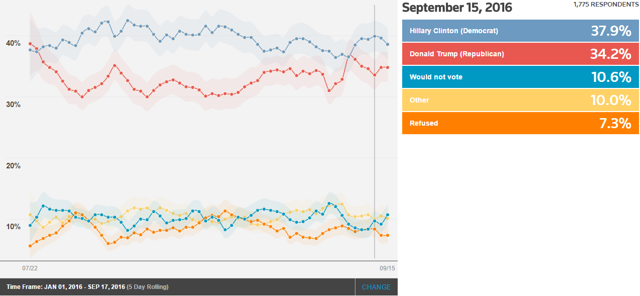 I would like to point out two things here. First, Clinton's popularity has been rather stable. She started March with 46% rating, and as of today is hovering around 44%, as per National Polling average compiled on Saturday. Trump's campaign, on the other hand, saw a very volatile approval rate throughout this year, climbing from 36% in April to 42% today. The general trend for Trump has been an increase in popularity, especially after we learned last week that Clinton suffered from pneumonia. This has the potential to undermine her running efforts as we approach a crucial date. Voters have all the right to be skeptical about democratic nominee. Not only did she fail to be transparent with her supporters about the health issues, she might also not be capable to govern the country if her current state persists. Paul Tsongas, for example, who was running against Bill Clinton in 1992 failed to disclose his history with cancer. Shortly after the elections, he went back to treating the disease, and has died 3 years later. Pneumonia by itself is not severe, but the viral flu caused by this disease can be fatal.
Secondly, Trump's approval rate experienced an inverse correlation with the number of people abstained from polling, or those not yet decided for whom to cast their votes. Those are the folks that have hard time trusting either one of the candidates, and are likely to choose "the lesser of two evils" at the election date. Arguably, this segment of the population will play a major role in the outcome of elections, as they comprise roughly 19% of voters, according to the latest Reuters poll. Even then the data is a weak indication of overall D. Trump popularity, as not many people will openly admit their affection for Trump for various reasons, however might tick the box on November 8th.
To connect this with Capital Markets, there might be a significant dislocation between the facts and market expectations (the degree they are priced in). Right now, the markets don't seem to price in the possibility of Donald Trump being elected. Not yet. It is hard to gauge exactly how much of this is in the markets, but is very easy to draw a parallel between the upcoming election and U.K. Referendum. Back in June, both camps headed toe to toe. At the end, those "on the fence" cast their votes, tilting the scales towards the decision to leave. Smart money never saw this coming, and the markets panicked.
Final takeaway.
We live in the era of very low investment returns, coupled with pretty high asset price volatility. Thorough due diligence of the investment environment is therefore required in order to assess the risks, prior to making an investment decisions. Asset flows might point the direction where the institutional money is flowing. Individuals can use this data to interpret how institutional investors approach macro situations and upcoming events, and anticipate the magnitude of their reaction to adjust for rapidly changing global economic and political landscape.
My take on the current situation in the market is "wait and see". There has been too much complacency lately in the markets, that created a potential for a low-probability high-risk event, albeit macro-scoped, to disrupt the stability and bring about market volatility.
For me, the safest time to put cash to work without the short-term urge to pull it out due to the uncertainty would be post-September meeting, and after the election. Investors should clearly monitor the developments in Fed Fund futures. Historically a reset in market expectations for the near-term rate increase correlated with temporary declines in equities. Consecutively, strong economic data would re-introduce the case for rate environment normalization, propelling markets higher. At the end, it's all about how much real economic data is priced-in into the consensus. Another thing to keep on the radar is the approval rate of Donald Trump, and how that influences capital markets. Lack of reaction might suggest further dislocation, and will require to assess how much data is baked into the asset prices. In the eye of upcoming events, the potential for mis-pricing is high. I urge market participants to stay on the sidelines until more clarity persists, and form their own view on what is good and bad for capital markets. Stay focused. Best of luck to all investors!
Disclosure: I/we have no positions in any stocks mentioned, and no plans to initiate any positions within the next 72 hours.
I wrote this article myself, and it expresses my own opinions. I am not receiving compensation for it (other than from Seeking Alpha). I have no business relationship with any company whose stock is mentioned in this article.