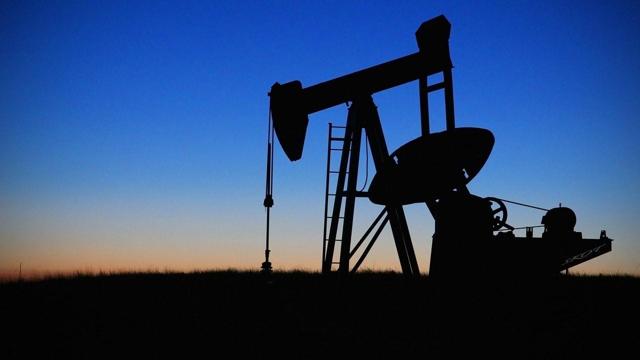 source: Stock Photo
Shares of Diamondback (NASDAQ:FANG) have been on a strong run since early January, climbing to a record high of just under $99 per share before pulling back to under $90 per share at the market close on September 16.
The major impetus for the upward move has been its increasing exposure to assets in the Permian Basin, financing acquisitions via equity offerings, a strong balance sheet and solid cash flow.
Diamondback now faces the challenge of where it will find further tailwinds as it has the visible catalysts already priced into the stock. That means as the company stands, it is reliant upon the price of oil rising if it wants to have meaningful growth going forward. That could of course change with further acquisitions, but it has to be careful it doesn't stretch itself too thin and dilute its shares.
With its primary focus on the Permian Basin, it is getting more expensive to acquire assets as competitors vie for premium locations. It will cost more to grow via acquisitions in the Permian than it has in the past. That's not going to change anytime soon.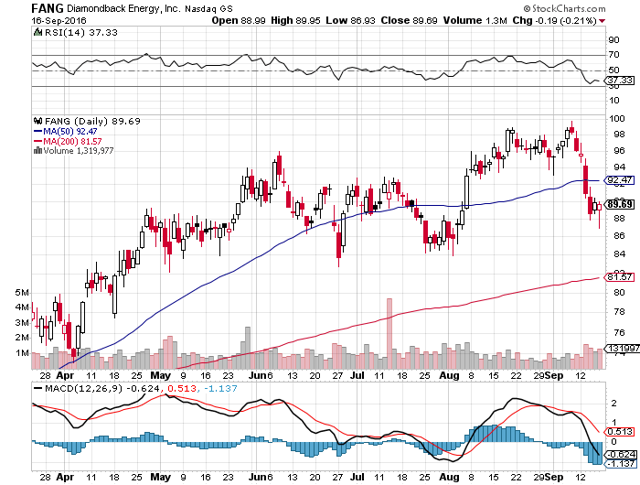 source: StockCharts.com
Latest earnings report
In the second quarter Diamondback had net income after adjustments and impairment of $19 million, or $0.26 per diluted share. Adjusted EBITDA came in at $78 million,
Capital expenditure on drilling, completing and equipping was $55 million. The company only spent $10 million on acquisitions for the quarter.
Diamondback has over $219 million in cash and an undrawn secured revolving credit facility of $500 million. The company was offered $700 million from its lenders, but as in the past chose to go with a lower amount.
The company has plenty of liquidity and flexibility for drilling and further acquisitions if any attractive assets become available align with its strategy.
For full-year 2016 Diamondback has the goal of completing up to 75 wells, with a minimum of 60 on the low end. Production for the year was upwardly revised to a range of 38,000 to 40,000 BOE per day, an 11 percent increase from guidance given in February.
CapEX guidance was also bumped up, increasing to $425 million from $350 million.
Its strong balance sheet and liquidity will allow it to work its way through the lower-for-longer oil prices better than many of its peers.
Financing acquisitions and potential dilution of shares
While the second quarter was a quiet one for acquisitions, the company quickly moved in July to spend $560 million more in the Permian, targeting the southern section of the Basin. It used equity to finance the deal, offering 5.5 million shares to get the deal done.
While Diamondback is known for its conservation acquisition strategy, meaning it prefers using equity instead of debt, it does have some risk on the dilution side of the play as it grows its portfolio. I don't think the company is there yet, but if it continues down this road on a consistent basis, as it has been, it will eventually weaken the value of its shares.
That said, the expected increase in revenue has a good chance of offsetting the growing number of shares held by investors.
Again, its strong balance sheet it decent cash flow will has positioned it to outperform most of its competitors when the price of oil sustainably climbs, but it's going to take a lot longer for that to happen, and if faces some headwinds as the market has priced in much of its current supply.
Once oil does move higher, which I see as taking at least 14 to 18 months, it will do very well. The question is how many more shares will it issue to finance acquisitions, and whether or not that will put downward pressure on its share price.
Oil price outlook
I don't see any reason to be optimistic about the price of oil though 2017. The growth pace of demand is slowing, with it being downwardly revised to 1.3 million barrels per day for the rest of 2016, and to 1.2 million barrels per day for 2017. I think for 2017 that could easily be lower than that, based upon the slowing global economy.
Add to that a seemingly endless amount of supply being added to the market, with Nigeria, Iran and Libya all increasing production, which could add as much as 700,000 or more to supply in the near future.
Russia, Norway and the U.S. also are exceeding expectations, with the U.S. shale market continuing to beat expectations.
I believe oil will take another dip into the $30s, and will rebound to the range I see it moving in for the next 15 to 16 months, which is from $40 to $50 per barrel. That isn't going to do much for Diamondback's performance, but it will be able to weather the low price environment better than a lot of its competitors for the reason mentioned earlier in the article.
Conclusion
Diamondback has done a lot of things right, but there is a lot of visibility with the company, and I see most of it already priced in. That of course means the company is expensive, and I would hesitate at this time to take a position in it.
That could change if there is some high quality asset it acquires, and it appears the company can at least avoid some of the dilution accompany financing it through an equity offering.
Investors liking the oil market could use Diamondback as more of a defensive stock, although there are other competitors that would serve that purpose better.
Management has done a lot of things right, and shareholders have made some nice gains this year. But there isn't a lot of meat left on the bone, and the share price is a little too rich for my taste.
Once the price of oil does move sustainably upward, that outlook will change, but for now I wouldn't take or add to a position in Diamondback. There are other companies that more upward potential at this time.
Disclosure: I/we have no positions in any stocks mentioned, and no plans to initiate any positions within the next 72 hours.
I wrote this article myself, and it expresses my own opinions. I am not receiving compensation for it (other than from Seeking Alpha). I have no business relationship with any company whose stock is mentioned in this article.